Cueto's return to Cincy brings mixed emotions
Former Reds starter greeted with cheers before giving up six-run inning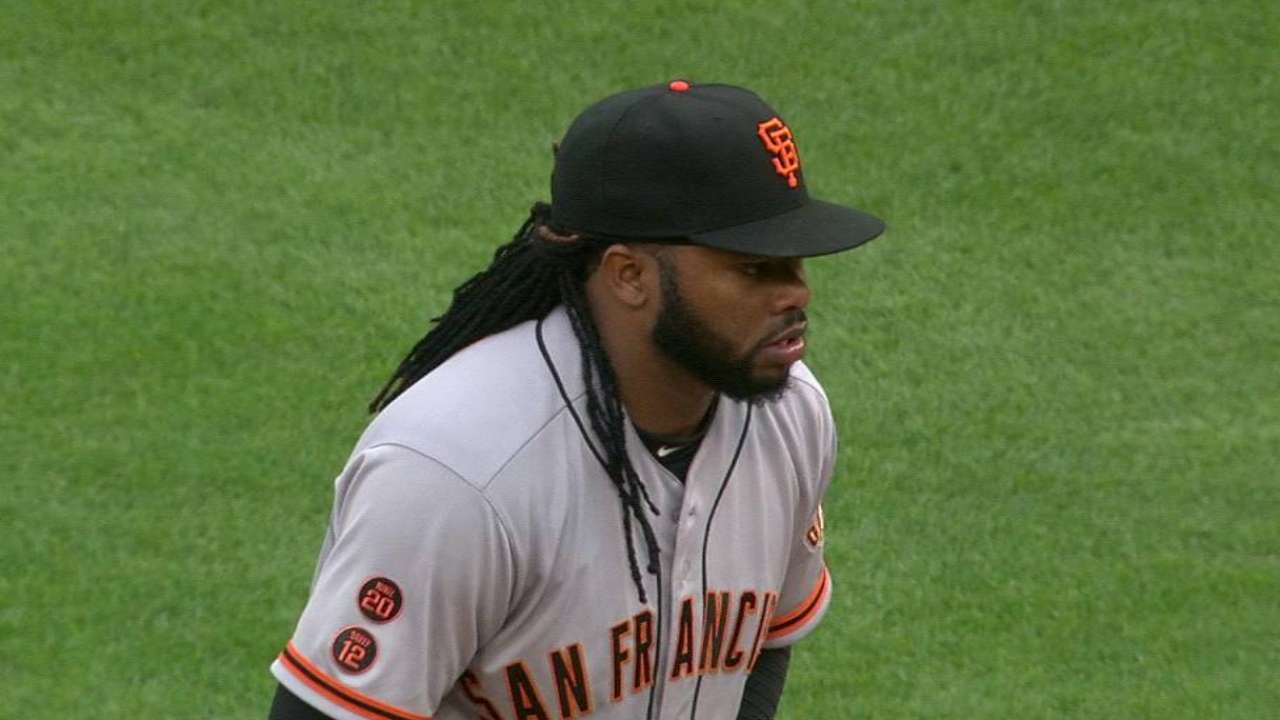 CINCINNATI -- The first bursts of noise that Johnny Cueto heard Monday night came from the fans. Thanking him for the charisma he displayed and the mound presence he maintained during his 7 1/2 seasons with the Reds, the Great American Ball Park patrons greeted Cueto with warm ovations as he began warming up for the first inning and when he batted one inning later.
The next round of sound wasn't so pleasant for Cueto. His evening nearly came to an early end in the third inning, when he threw 46 pitches while allowing six runs and five hits. But the right-hander regained enough equilibrium to finish his five-inning performance with two shutout innings, helping stabilize the Giants as they roared back to win, 9-6.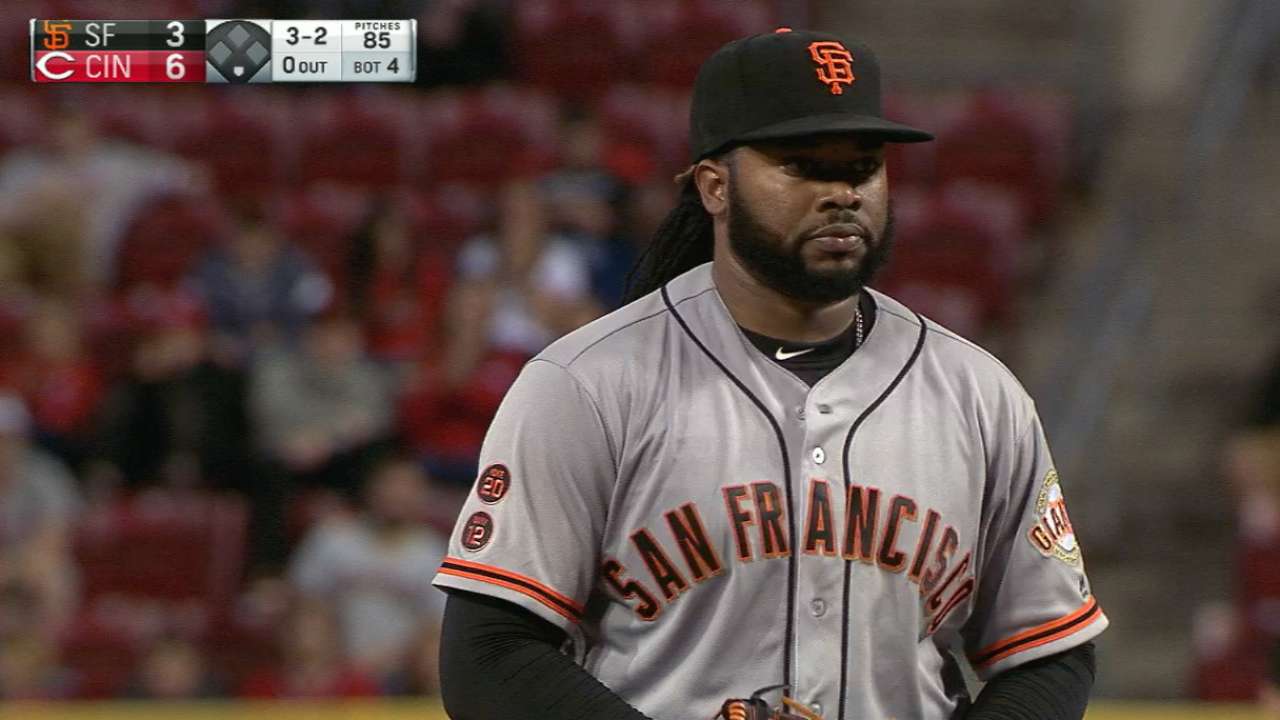 Cueto said it "felt great to hear the support." Later, many of the same fans who cheered him started taunting him by turning his surname into a derisive sing-song chant, as is done in venues in every professional sport.
"It's normal," Cueto said. "I understand it. Things didn't come out the way I wanted them to."
That was partly because Reds speedster Billy Hamilton, the third batter in the Reds' big third, delivered a one-out RBI double and succeeded in distracting Cueto. Hamilton seemed to toy with Cueto by taking a big lead and sustaining plenty of movement.
Said Cueto, "I was paying too much attention to him."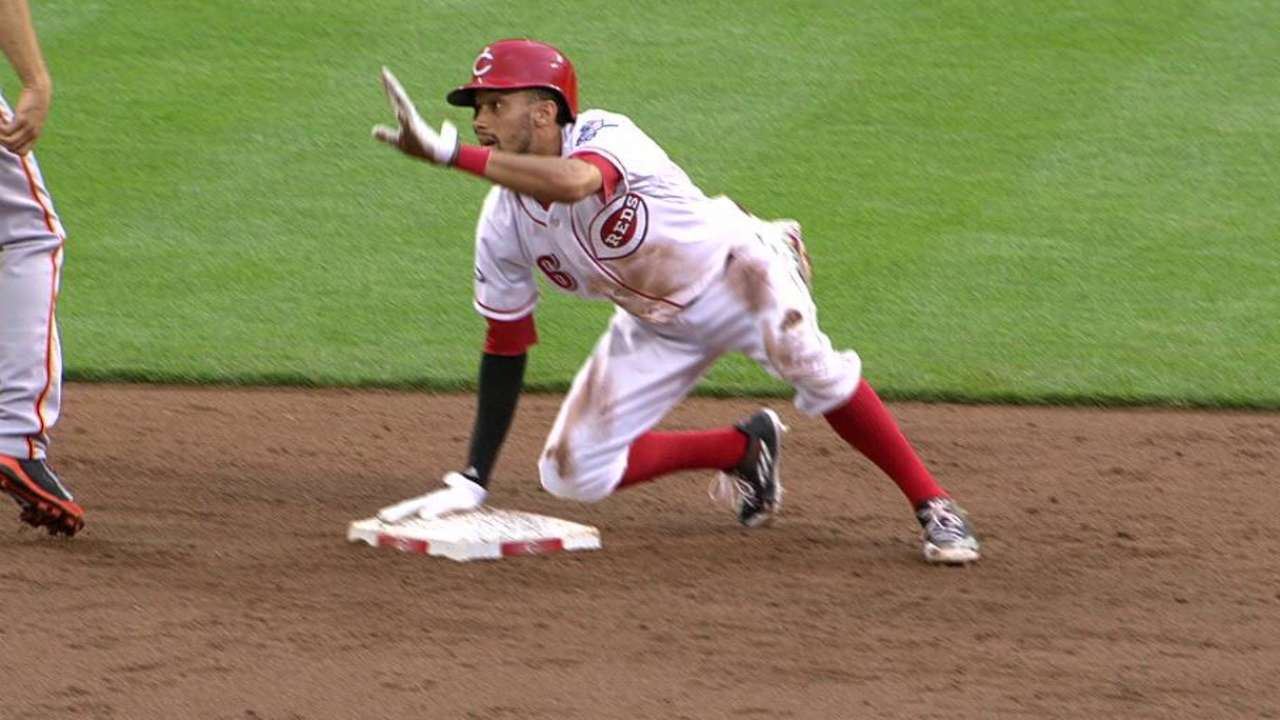 "Ever since I've been here, he's always told me he could pick me off from first. I didn't get a chance to do it at first. I was at second, so I didn't get a chance to see his pick-off move," Hamilton said. "He said that every day when I'd get on base and everything. 'I'd pick you off easy. I got you.' He does have one of the best moves I've seen. I was talking to Joey [Votto], and he's very accurate. He puts it on the money every time. It was just fun being out there."
The Reds traded Cueto to the Royals for lefty pitching prospects Cody Reed, John Lamb and his opposing starter Monday -- Brandon Finnegan -- last July 26. Cincinnati did not get to face Cueto last season, but it was bound to happen someday once its former ace returned to the National League by signing with San Francisco.
"It's weird, especially being with him for a long time and him being in a Reds uniform for a long time," Hamilton said. "I'm happy for him, man. He's a great guy, a great pitcher. It's always good to play those guys that are real good people. To see him again and face him was pretty fun."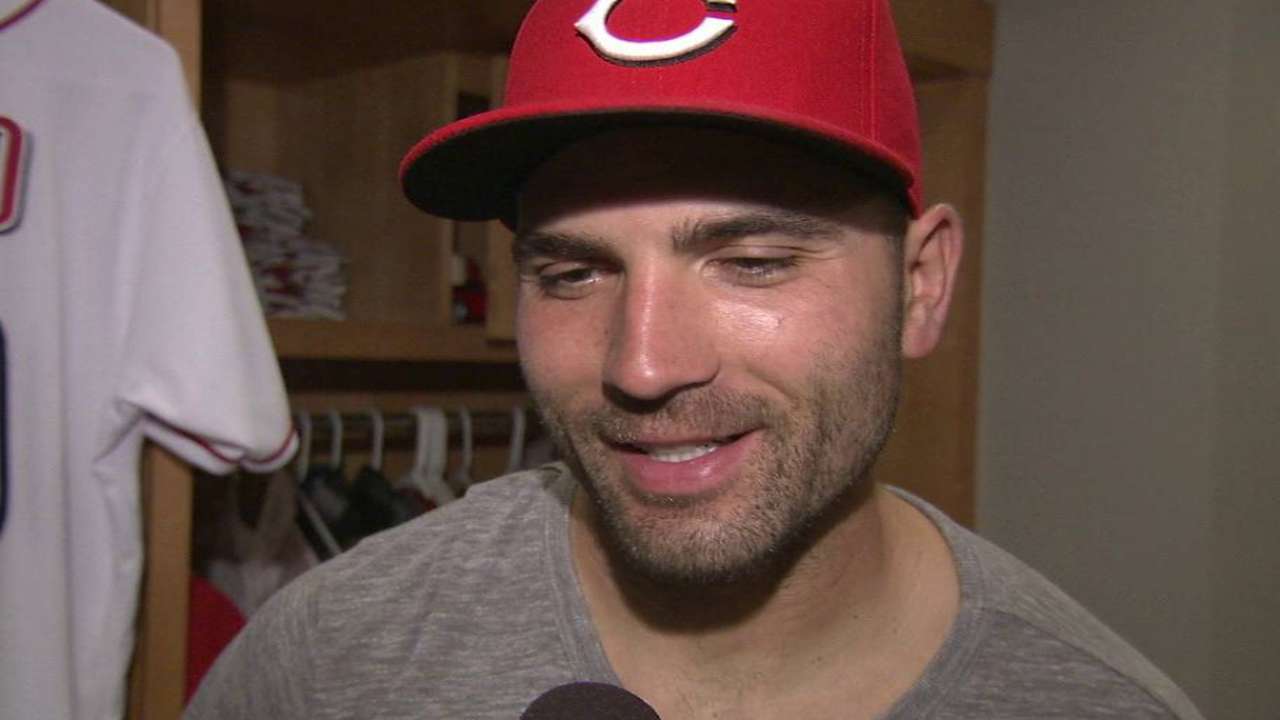 Hamilton scored on Votto's three-run homer, which put the Reds ahead, 4-3. Hours earlier, Votto spoke of his former teammate in the kindest of terms.
"Johnny, he's a real piece of work, in a good way," Votto said in a TV interview before the game. "It'll be fun compeing against him. We had really good memories together and it was really fun playng with the guy, not only as a man but he was such a great player and such a great competitor."
Cueto demonstrated that competitiveness by finishing his evening with that pair of shutout innings. It's often said that keeping the score close for his team is a starting pitcher's most essential task. Considering that, Cueto's effort was a success, since he froze the Giants' three-run deficit -- which, in turn, enabled them to pass Cincinnati with their five-run, seventh-inning rally.
"I tried to concentrate. I tried to see what I was missing. I tried to make better pitches," Cueto said.
Chris Haft has covered the Giants since 2005, and for MLB.com since 2007. Follow him on Twitter at @sfgiantsbeat and listen to his podcast.

Mark Sheldon has covered the Reds for MLB.com since 2006, and previously covered the Twins from 2001-05. Read his blog, Mark My Word, follow him on Twitter @m_sheldon and Facebook and listen to his podcast.

This story was not subject to the approval of Major League Baseball or its clubs.