Ortega, Angels lament costly mistakes vs. Crew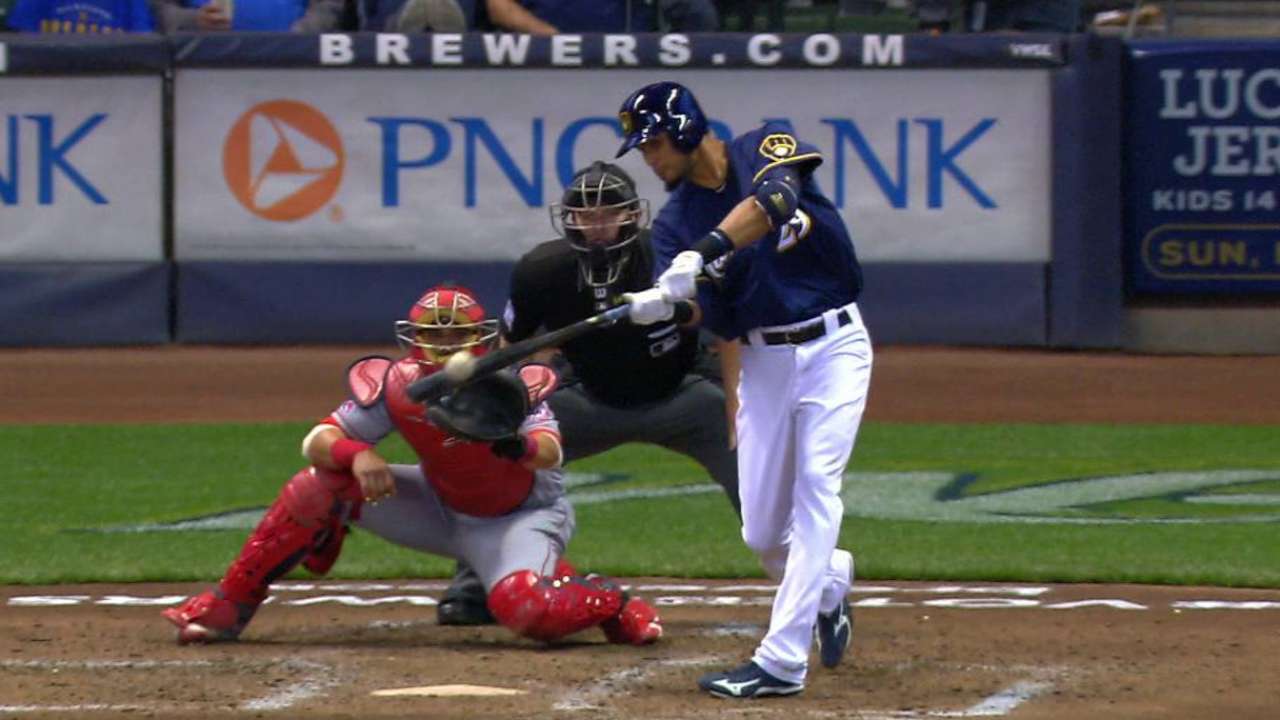 MILWAUKEE -- The line drive was just high enough that Rafael Ortega thought he had a chance, just low enough to make him consider playing it on a hop.
"Not too high, not too low," Ortega said. "I feel like those are the toughest plays for us outfielders, those line drives like that."
Ortega's indecisiveness lasted only a split second in Monday's fifth inning, but it was long enough to produce an in-between hop, long enough to reward Yadiel Rivera with two extra bases, and long enough to show up as a critical mistake in the Angels' 8-5 loss to the last-place Brewers at Miller Park.
Jered Weaver never recovered.
"[Stuff] happens," Weaver said. "You have to be able to put it aside and pitch. I wasn't able to."
The Brewers totaled eight runs on eight hits and three walks in the fifth and sixth innings, using that to snap the Angels' eight-game road winning streak against them. It began ominously, with light-hitting infielder Aaron Hill, who entered with a .491 OPS, drawing a leadoff walk.
The fifth pitch of his at-bat -- a 2-2, 82-mph fastball -- appeared to catch the inside corner, but home-plate umpire Clint Fagan deemed it a ball, irritating Weaver.
"I thought we should've had that pitch," Angels catcher Geovany Soto said. "But sometimes that's how it goes."
The next batter, Rivera, laced a sinking liner towards left field. Ortega charged forward, then stopped just a fraction of a second too late and watched the ball whiz past him, rolling all the way to the warning track to score a run and put Rivera on third base. Angels manager Mike Scioscia said the liner landed "in no-man's land" and felt it "had a little bit of top-spin on it," making it difficult to corral once it hit the grass.
"In that situation, I feel like I should've kept the double play in order," said Ortega, a premier defensive outfielder. "There was a guy on first, we were winning by a run, no outs. It was a bad decision on my part. A little late."
The next batter, opposing pitcher Jimmy Nelson, faked a sacrifice bunt, pulled the bat back and lined a 2-1, 81-mph fastball to the right side for an RBI single. Three batters later, after an intentional walk to Ryan Braun, Brewers catcher Jonathan Lucroy turned on a first-pitch slider that stayed up and lined it into the left-center-field gap for a two-run double.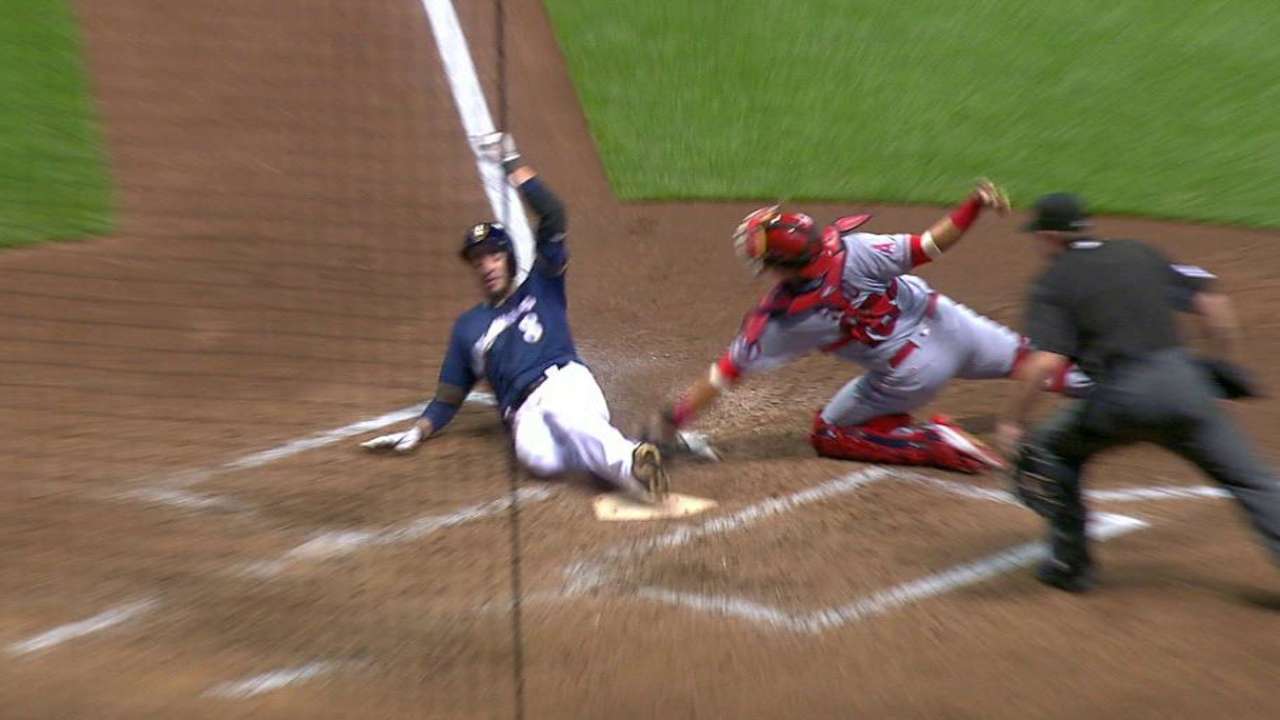 Weaver came back out for the sixth, gave up three consecutive singles to the sixth, seventh and eighth hitters in the Brewers' lineup, and exited. He watched Greg Mahle give up a two-run double on a line drive that ricocheted off him, and Cam Bedrosian surrender an RBI single on a ground ball that barely traveled five feet.
All told, Weaver was charged with seven runs on 11 hits and two walks in five-plus innings, five days after surrendering seven extra-base hits. His ERA has jumped from 3.12 to 5.40 over those two starts.
"Frustrating," Weaver said of his latest outing. "I hit a little speed bump, just couldn't slow down."
Alden Gonzalez has covered the Angels for MLB.com since 2012. Follow him on Twitter @Alden_Gonzalez and Facebook , and listen to his podcast. This story was not subject to the approval of Major League Baseball or its clubs.