Fredi, Folty optimistic despite shaky debut
Young right-hander allows three homers in first inning vs. Mets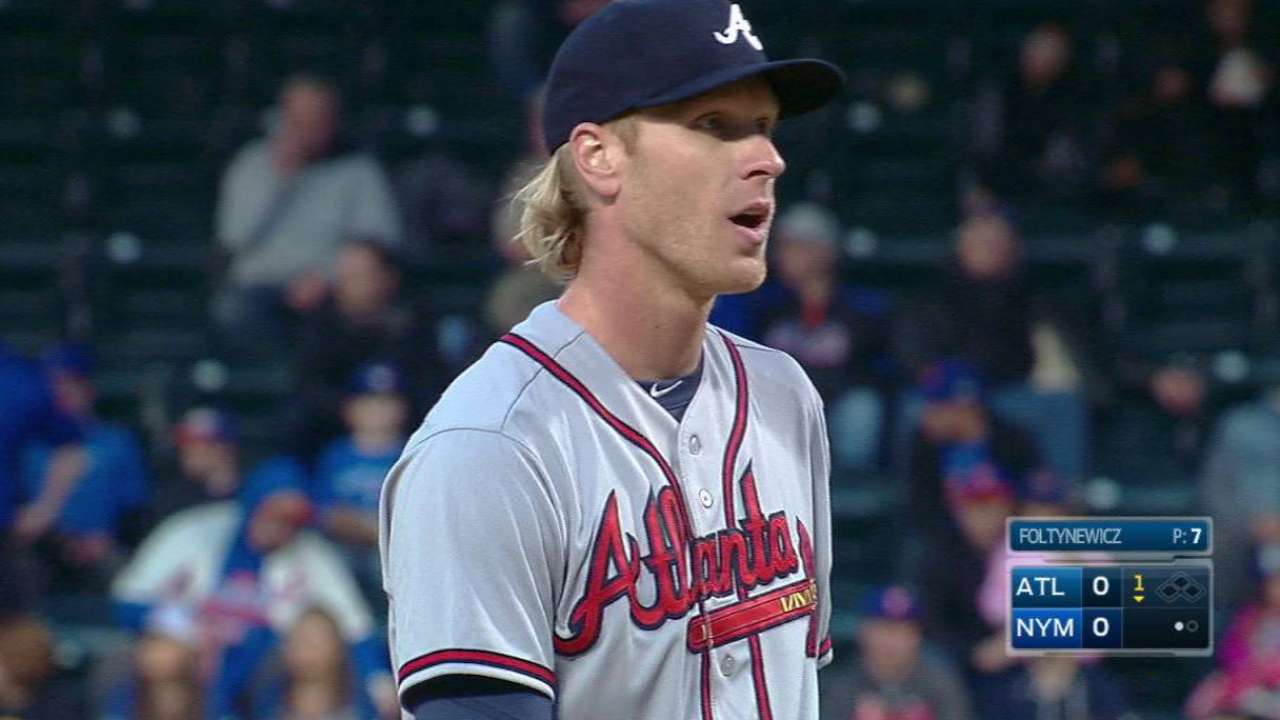 NEW YORK -- One ugly inning did not alter the Braves' hope that Mike Foltynewicz will prove more effective than Bud Norris was in their starting rotation. But his rocky first frame was a reminder that Foltynewicz has not yet distanced himself from some of the struggles that haunted him during frustrating 2015 rookie season.
On Monday, Foltynewicz understandably had to battle the added excitement of making his first Major League start since undergoing emergency surgery to remove a blood clot in September. But it did not take the former prospect long to be humbled as he surrendered home runs to three of the first five batters he faced in a 4-1 loss to the Mets.
"I don't want to use that as an excuse," Foltynewicz said. "I was ready for this game, and it was probably the best I've felt all year coming into the game. But I might have gotten a little too amped up in the first inning and maybe kind of rushed through the first nine batters without taking my breaths and thinking [about] what to throw."
During his 42-pitch first inning, Foltynewicz surrendered a solo homer to David Wright on a 3-2, 93-mph fastball. Yoenis Cespedes drilled a two-run shot on a 1-1, 96-mph fastball, and Lucas Duda followed by whacking a 92-mph, full-count fastball off the front of the upper deck in right field. Within a span of 16 pitches, Foltynewicz allowed more home runs (3) than the Braves have hit (2) over the past 20 games.
"These guys are Major League hitters, and those balls are right over the middle of the plate," Braves manager Fredi Gonzalez said. "But [Foltynewicz] competed. He had a [42-pitch] first inning and gave us a couple more innings, and he shut them down. He started mixing his pitches and started commanding his fastball."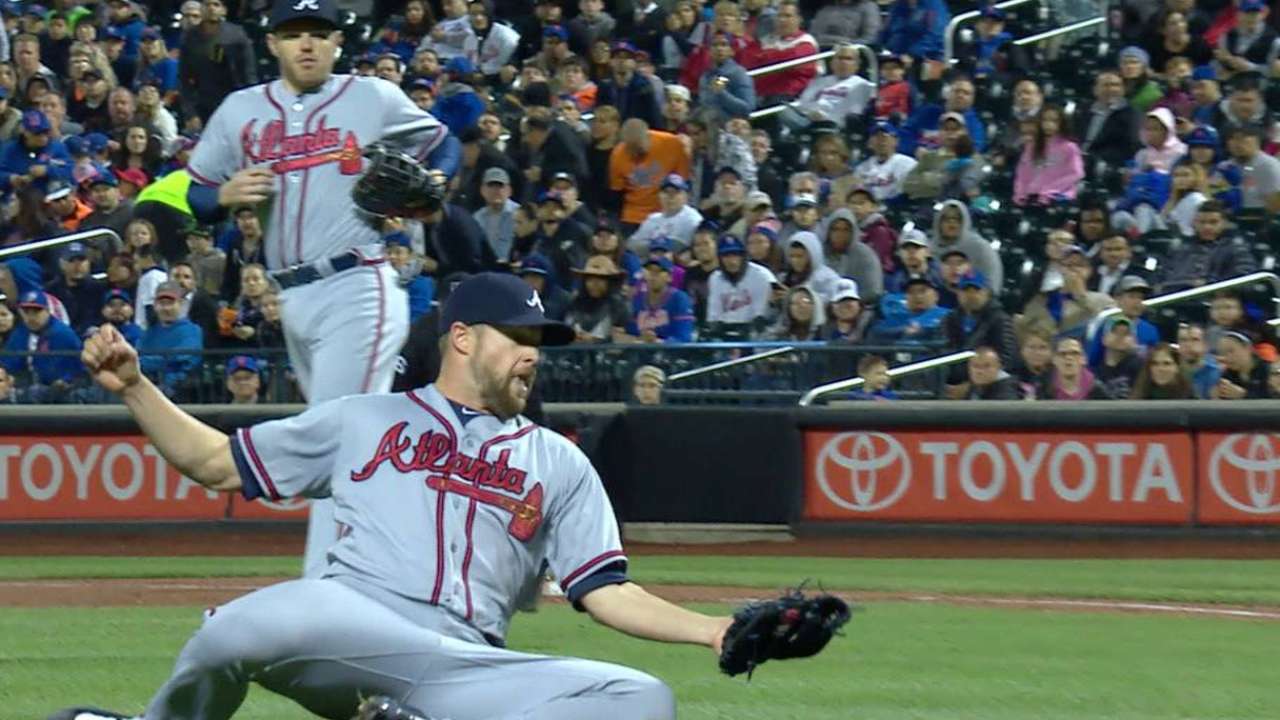 Foltynewicz surrendered just three more hits after the fateful first inning, keeping the Mets scoreless over the remainder of his 3 2/3-innings, 98-pitch outing. Norris stranded the two baserunners he inherited in the fourth inning and didn't surrender a hit during a 2 1/3-innings relief stint that proved much more efficient than any of the five starts he made before being removed from the rotation last week with a 8.74 ERA.
"[Norris] is a guy who can give us whatever we need him to do," Gonzalez said. "He can spot start or give us those innings right there. Hopefully, he can fill that [long-relief] role for us."
In other words, the rotation spot still belongs to Foltynewicz, who has allowed at least two home runs in five of his past eight MLB starts dating back to last year. The 24-year-old hurler possesses an incredibly high ceiling and the kind of overpowering stuff that could see him develop into a frontline starter if he improves his command.
"The balls that were hit -- and even some of the outs that were made -- were [pitches] out over the middle of the plate, center-cut fastballs" Gonzalez said. "You've got to throw 110 mph for those guys to miss that."
Mark Bowman has covered the Braves for MLB.com since 2001. This story was not subject to the approval of Major League Baseball or its clubs.