Finnegan pushes to 6th despite sore hamstring
Reds lefty turns in quality start, doesn't expect to miss next turn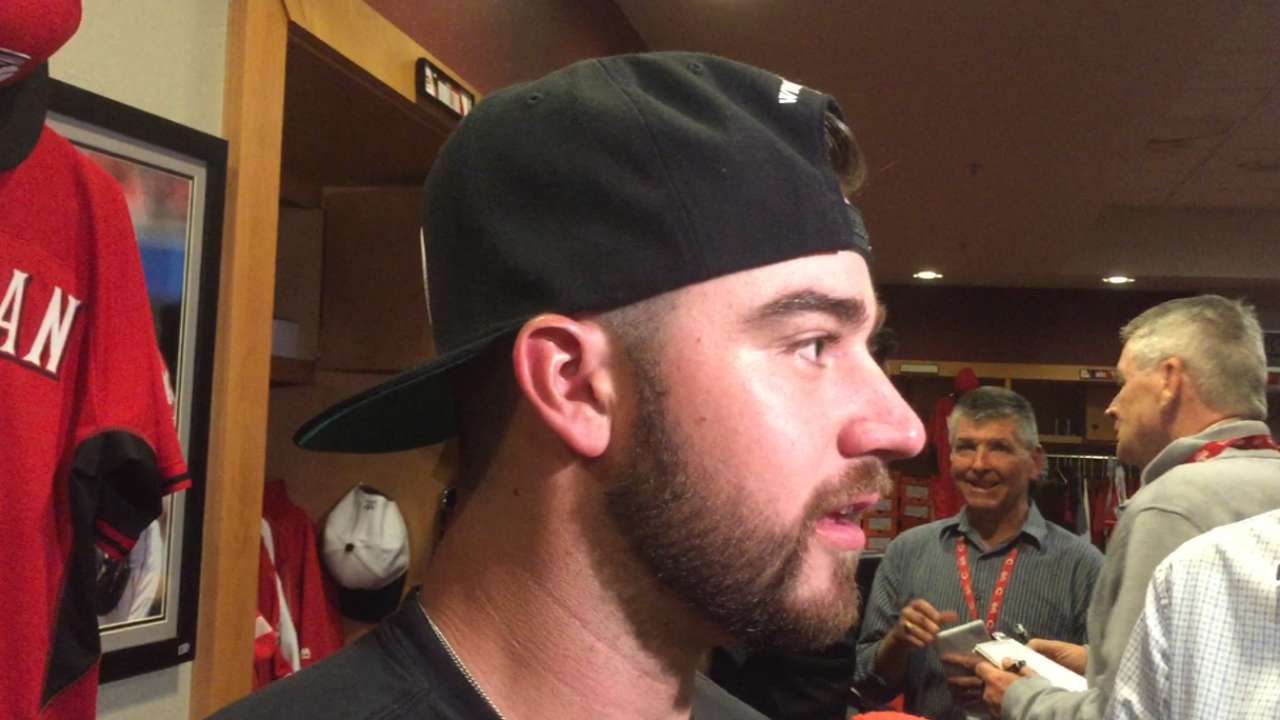 CINCINNATI -- As starting pitchers have fallen victim -- one after the other -- to injuries on the Reds this season, Brandon Finnegan had seemingly been immune. Not only had Finnegan been comparatively durable, he had been mostly solid and able to go deeper in games.
That's why it was initially curious during a 9-6 Reds loss to the Giants on Monday that manager Bryan Price lifted Finnegan after six innings and 90 pitches. Cincinnati had a 6-3 lead when Price went to the struggling bullpen and reliever JC Ramirez. It turns out there was a very good reason. Finnegan had developed a sore hamstring in the third inning on the left leg he needs to push off from when delivering a pitch.
"We were actually a little bit more aggressive than we probably wanted to be simply because of our shortage of bullpen pieces for the night," Price said. "So he went out there and threw three more innings.
"The current state of the health of our team, it was hard for me to think about pushing him beyond the sixth inning, so I didn't. Subsequently, things got a little bit sideways on us."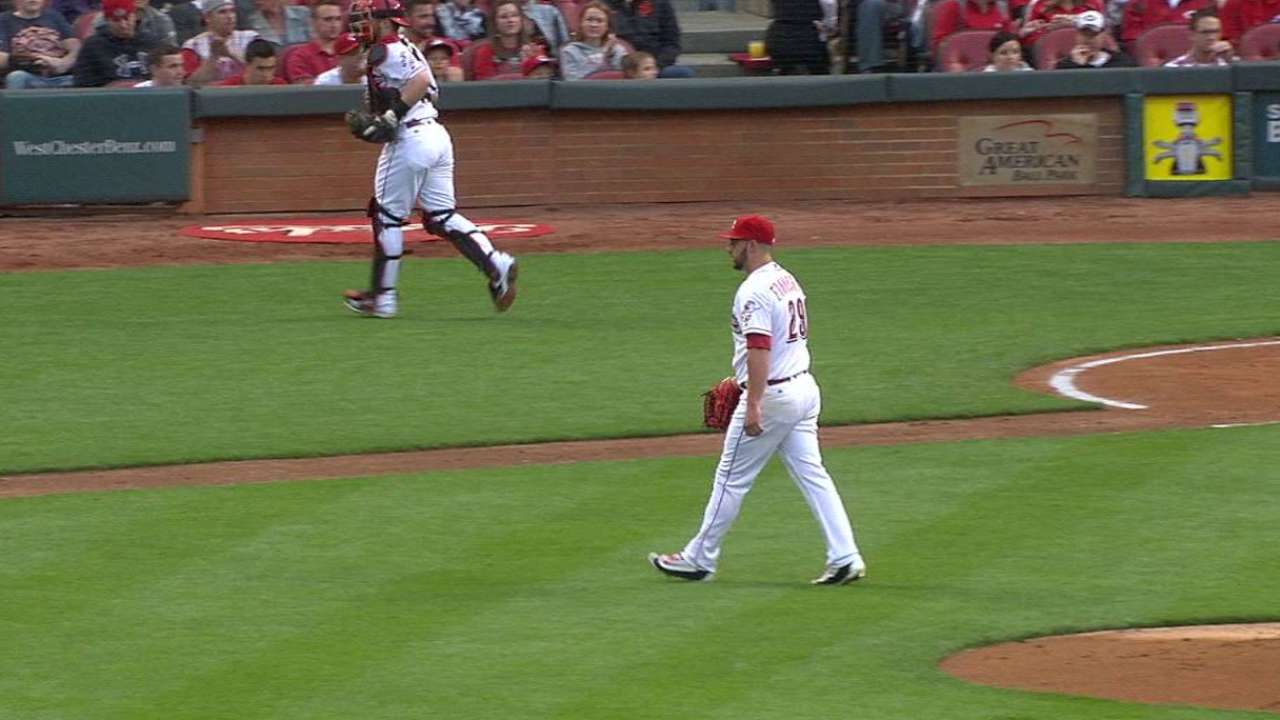 For the 20th consecutive game, the Reds bullpen gave up at least one run as Ramirez and Drew Hayes combined for six runs allowed -- including five in the decisive top of the seventh.
Finnegan turned in a quality start for a no-decision with six innings, three earned runs, six hits, three walks and four strikeouts. He allowed all three runs, along with two walks and a hit batter, in the second inning that included a two-run single by Johnny Cueto.
"It was barking a little bit," said Finnegan, who has a 3.97 ERA after seven starts. "I couldn't really push off tonight. I stayed low in the zone all night, so it helped me out a little bit."
Raisel Iglesias already went on the disabled list this week while Jon Moscot is iffy to start Tuesday because of a sore shoulder in his non-throwing left arm. Alfredo Simon missed one start with a sore throwing shoulder. Pitchers Homer Bailey and Anthony DeSclafani were shut down from rehab assignments due to setbacks.
"We're having a tough time right now with our staff," Finnegan said. "Guys are having recurring injuries that are coming back up. Nobody can do anything about that. That's tough."
Will Finnegan be the next to go on the DL or have to miss a start?
"I'll be fine. Nothing serious at all," Finnegan said. "They checked it out and nothing bad. I've just got to take care of it and get treatment every day and I'll be fine. I'm not going to miss any starts."
Price realized he took a calculated risk by letting Finnegan pitch while feeling soreness.
"I had already done it for three innings and it was a gamble for him to be out there," Price said. "I don't think it's something we'll look at and go, 'Oh my goodness, he's going to be out.' But in the environment we're in, it's really hard to ask your players to do more than I've already asked them to do."
Mark Sheldon has covered the Reds for MLB.com since 2006, and previously covered the Twins from 2001-05. Read his blog, Mark My Word, follow him on Twitter @m_sheldon and Facebook and listen to his podcast. This story was not subject to the approval of Major League Baseball or its clubs.