Colon earns 220th win, passes Pedro on list
Veteran right-hander now second-winningest Dominican-born pitcher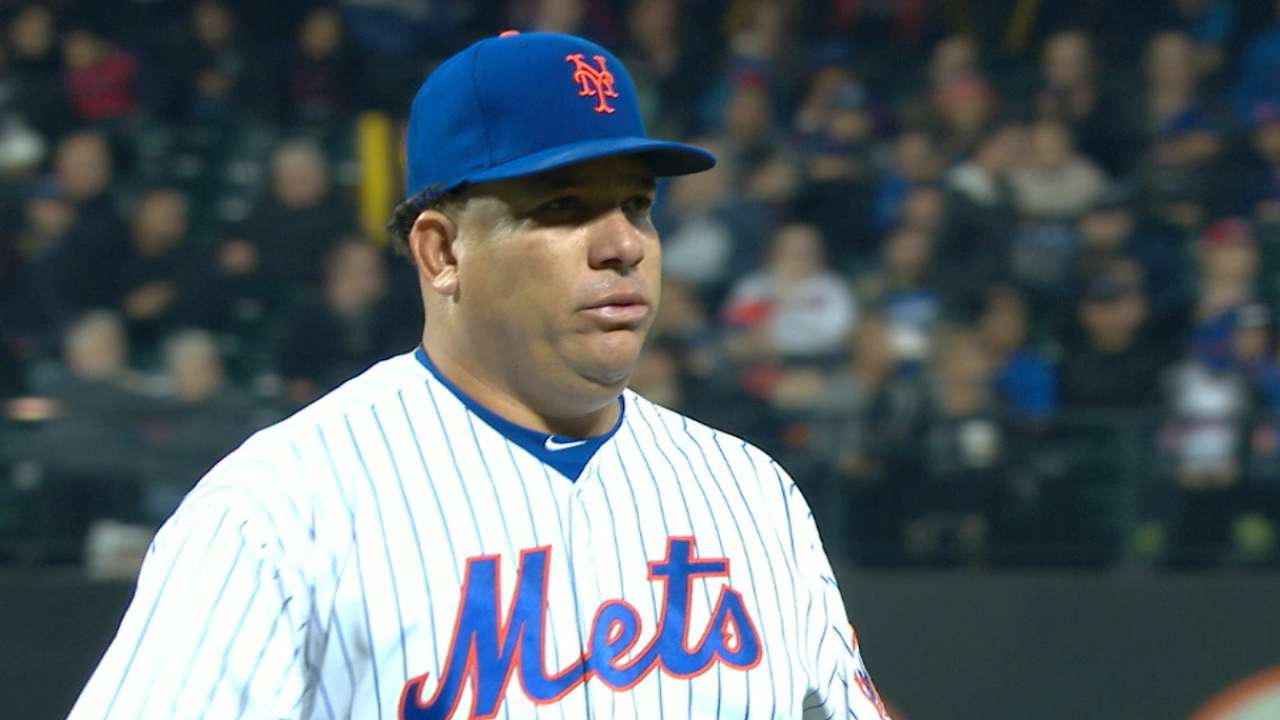 NEW YORK -- When Bartolo Colon tied Pedro Martinez last month for the second-most wins ever among Dominican-born pitchers, Martinez reached out via mutual friends on Twitter to congratulate him.
"Of course I don't have Twitter," Colon said, laughing, as if the idea of a 42-year-old on social media seemed preposterous.
At 42, Colon is the oldest player in Major League Baseball. But off his cell phone and on the field, he is still very much game. The latest example: in delivering eight shutout innings Monday in a 4-1 win over the Braves at Citi Field, Colon passed Martinez once and for all with his 220th career victory.
"You know, he hasn't shown much emotion, but I think he should," Mets manager Terry Collins said. "I think it's truly a great honor. Pedro, as great as he was -- to move ahead of him in wins, it shows the durability of what Bartolo's had to go through to get to this point."
The early snapshots of Monday's victory were classic Colon. Relying almost exclusively on three variations of his fastball -- a sinker, cutter and straight four-seamer -- Colon allowed plenty of contact but nothing damaging. Escaping jams in each of the first three innings, Colon pitched to contact with a four-run lead.
From there, he found his middle-aged groove, retiring 12 straight batters from the third through seventh innings. By the middle of the eighth, Colon was at 99 pitches, expecting to go back out for the ninth. But Collins, citing Colon's age and upcoming pitching schedule, had other plans.
It was about the only thing that could stop Colon on this night.
"Bartolo with a lead, you know he's going to pound the strike zone," third baseman David Wright said. "You know he's going to keep the opposing hitters off balance. It allows him to keep his pitch count down and pitch deep into the ballgame like he did tonight. It's nice to get on top early. It's nice to be able to allow Bartolo to set it on cruise control."
This is what the Mets have come to expect from Colon, who will turn 43 later this month. Though just 31 of his 220 wins have come with the Mets, Colon has earned all of those as a card-carrying 40-something. And he has done it with remarkable consistency from season to season, last year leading the National League in walk rate.
The other stuff -- the helmet-flying at-bats, the surprisingly athletic defensive plays, the grins and smiles and laughs -- is all just noise, distracting from the fact that Colon remains an excellent pitcher. Through five starts and one relief appearance this year, he has a 2.56 ERA.
"I mean, I'm amazed he goes out there every fifth day and just goes through it, and nothing seems to faze him," Collins said."
"Yeah," first baseman Lucas Duda agreed, "he's amazing."
Currently, Colon's 220 victories ties him with Jerry Reuss for 76th all time, and most among active pitchers. At this rate, he could conceivably catch Juan Marichal, who holds the record among Dominican-born pitchers with 243 career wins, within the next two years.
It would require him pitching at an age when even the sturdiest pitchers in history have taken to the golf course. But Colon, who consistently demurs when asked about retirement, has often surprised before.
"I can't think about that," he said of chasing Marichal. "You just can't get your mind set like that. Right now, I'm just thinking about 221."
Anthony DiComo has covered the Mets for MLB.com since 2008. Follow him on Twitter @AnthonyDiComo and Facebook, and listen to his podcast. This story was not subject to the approval of Major League Baseball or its clubs.