Hellickson hurt by long ball as Phillies fall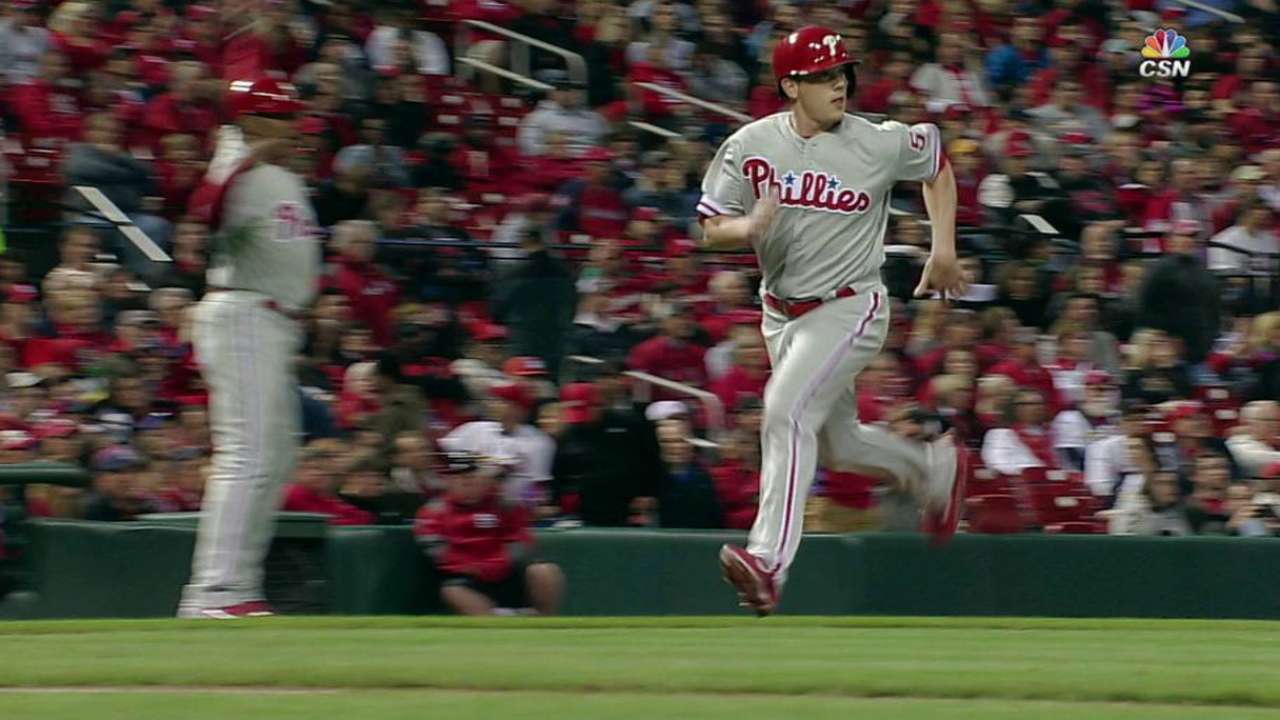 ST. LOUIS -- Two streaks for the Phillies came to an unceremonious end Monday night: their six-game winning streak and Jeremy Hellickson's road dominance.
After being staked to an early 3-0 lead, Hellickson was victimized by a familiar nemesis. The right-hander gave up three home runs, including a three-run blast from pitching counterpart Adam Wainwright, in a 10-3 loss to the Cardinals.
"Just couldn't find the zone," Hellickson said. "I didn't throw too many first-pitch strikes and I couldn't get myself back into counts with off-speed. Just a lot of balls up. A lot of balls early in the count."
Hellickson (2-2) entered the game with a 2-0 road record this season. Through his first three road starts, he had a 0.96 ERA and had held opponents to a .127 batting average. According to Elias, since earned runs started being kept in 1912, the only other Phillies pitcher to have an ERA and an opponent's average that low through his first three road starts was Dick Ruthven (0.76 ERA, .127 BA) in 1979.
Wainwright changed that with a 408-foot home run into the upper deck in left field, which erased the Phillies lead.
"Games like this happen," Phillies manager Pete Mackanin said. "He just didn't make good pitches. He made too many mistakes. You make too many, you're not going to get away with them. You make one or two sometimes you get away with them, sometimes you don't. He didn't get away with them.
"I know Wainwright's a good hitter for a pitcher, but the ball he hit out was right down the middle."
Going to a 3-1 count against Wainwright put Hellickson at a disadvantage.
"I fell behind," Hellickson said. "I don't want to walk the pitcher. I just got to get ahead. I think that was the story in general. Just beside the first inning I fell behind way too many guys, got too many three-ball counts, too many walks."
Matt Adams and Aledmys Diaz led off the sixth with back-to-back homers to give the Cardinals a 5-3 lead.
"One curveball I think was up," Phillies catcher Carlos Ruiz said. "That curveball was a little different than the first three innings, a little sharp, he hung that one. The next one was a changeup. Nothing you can do about that, when you leave the pitch up, you're in trouble."
Hellickson's night ended two batters later after a Randal Grichuk pinch-hit single. Grichuk, who entered the game on a 0-for-20 slide, scored on a Stephen Piscotty single off of Brett Oberholtzer.
The three Cardinals home runs pushed Hellickson's season total to 7 in 26 1/3 innings. So far this season, 19.4 percent of the fly balls Hellickson has given up have left the park.
The Phillies winning streak ended at a season-long six games. The streak was their longest since a seven-game winning streak from Sept. 5-12, 2012.
"We haven't had one of those games in a while," Mackanin said. "They're bound to happen. Everybody has them."
Joe Harris is a contributor for MLB.com based in St. Louis. This story was not subject to the approval of Major League Baseball or its clubs.