How's this for a debut? One batter, two outs
D-backs' Curtis, recalled from Class A, throws DP ball to first hitter he sees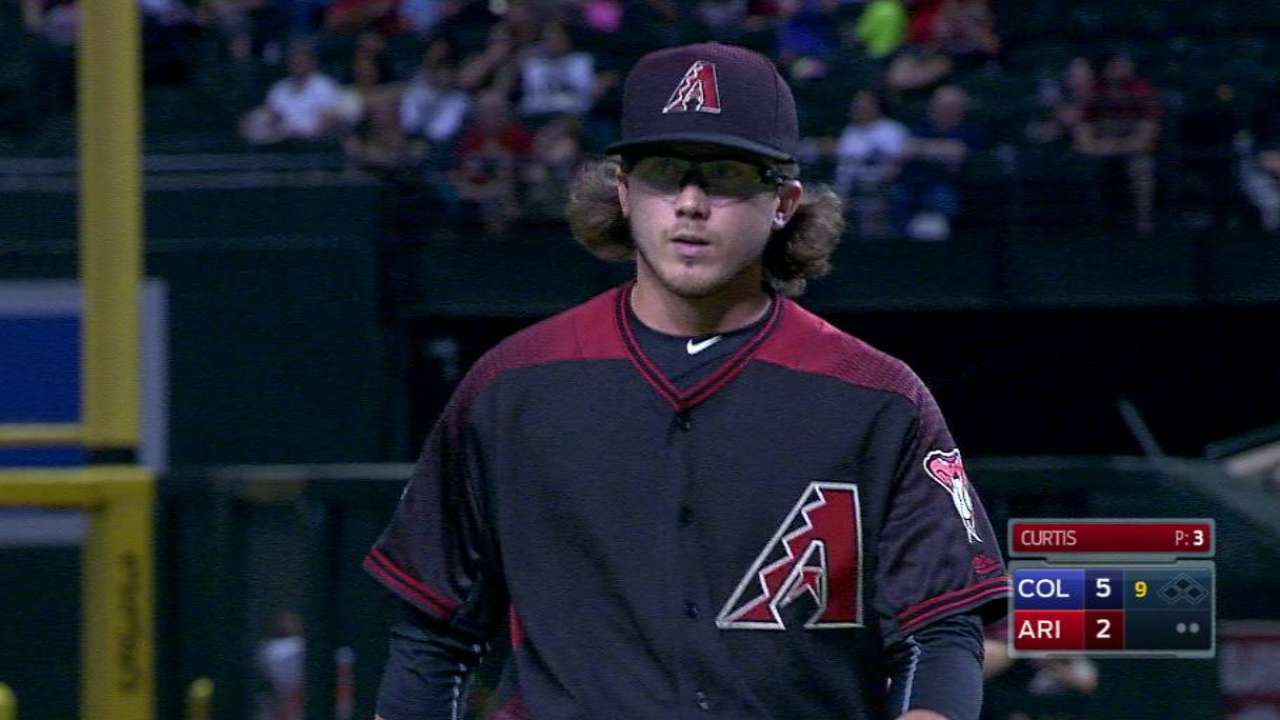 PHOENIX -- On his first day in the big leagues, Zac Curtis got some good advice from a friend: Put your phone away so you aren't tempted to check your text messages and Twitter mentions.
Hours later, after the left-hander had made his Major League debut by getting an inning-ending double-play ball, Curtis looked at his phone and found text messages from around 200 people.
"I didn't know that 200 people knew who I was," Curtis said. "I probably had 10 of those numbers saved in my phone. It was overwhelming."
It's not fair to say that Curtis was an unknown before being called up from Class A Visalia on Saturday, but it's not a stretch to say his promotion was unexpected. Even to him.
"It was a 100 percent surprise," Curtis said. "I just thought I was going to go to [Double-A] Mobile. I thought maybe one of the lefties in Mobile was coming up. It wasn't that I didn't think I could pitch up here; it's just that I wasn't expecting it."
The final couple of spots in Arizona's bullpen this season have been a revolving door. With the starting pitchers struggling to pitch deep into games and three extra-inning games on top of that, there has been a need for fresh arms in the 'pen.
Matt Buschmann, Jake Barrett, Evan Marshall, Enrique Burgos, Dominic Leone, Silvino Bracho, Archie Bradley and Kyle Drabek are among those who have ridden the shuttle between Triple-A Reno and the big leagues.
This time, though, the D-backs wanted a left-hander who could take some of the workload off lefty Andrew Chafin, who has appeared in almost half of the team's games. General manager Dave Stewart talked things over with director of player development Mike Bell, and they decided Curtis was the guy.
"Both of them really feel like this guy fits that bill, all the things we want out of our relievers," D-backs manager Chip Hale said. "Whether he was in [Class] A ball or Triple-A, this was the guy we all felt was the best fit right now. At that point, we haven't seen a whole lot of him other than video, so you trust your people. You trust your player development people, which we think are as good as anybody's. I don't think we would have called him out of [Class] A ball unless we felt like he was a special kid for us."
Curtis faced just the one batter Saturday night, and he got Gerardo Parra to ground into a double play to get out of a first-and-second jam.
"It was nerves, but it wasn't scared nerves," Curtis said of his emotions. "I was trying to do exactly what they asked. As soon as I came in, they said our bullpen needs to leave guys on base, compete and put zeros on the board. So when I came in with two guys on, I really took pride in just ending the inning how it was, leaving it like that. Once I got a couple of pitches in, I kind of started settling in."
Steve Gilbert has covered the D-backs for MLB.com since 2001. Follow him on Twitter @SteveGilbertMLB. This story was not subject to the approval of Major League Baseball or its clubs.