Gray racks up whiffs, but takes tough loss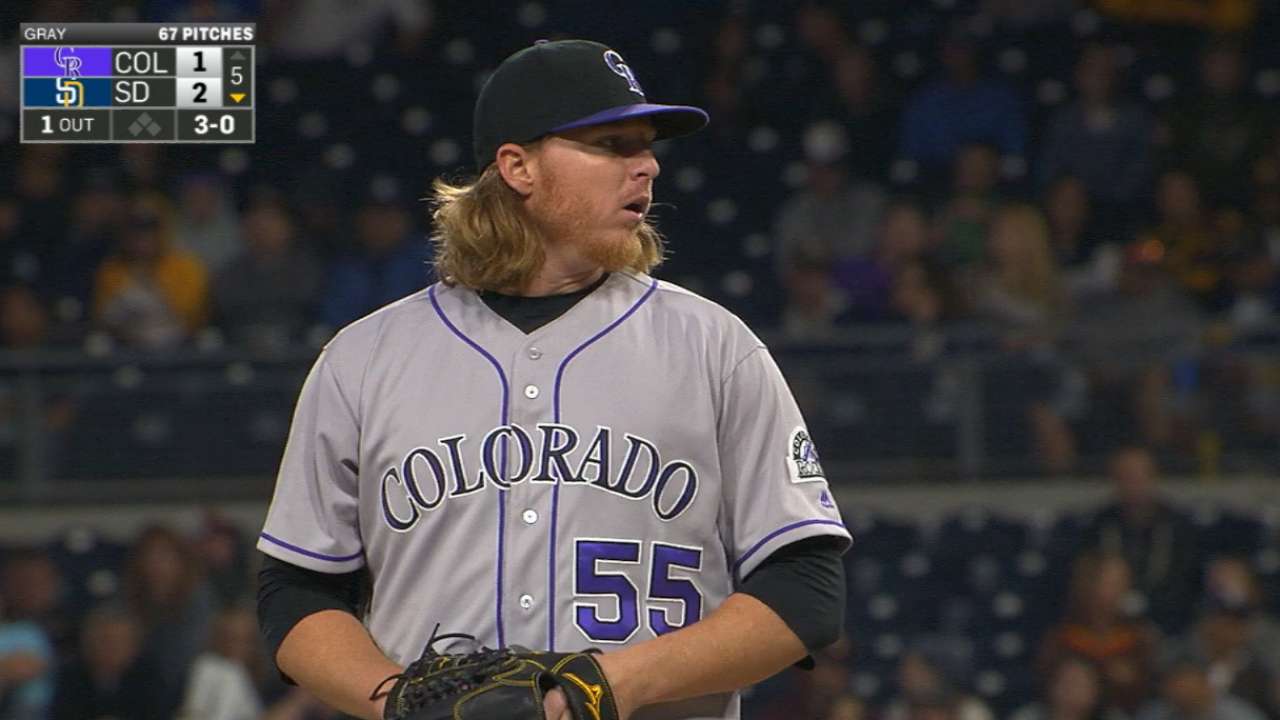 SAN DIEGO -- Rockies rookie right-hander Jon Gray was all skill and no luck Monday night.
Gray struck out a career-high 11 in six innings and would have pitched longer had the Rockies not pushed for offense that never came in a 2-1 loss to the Padres at Petco Park.
"It's the best I've had in a while," said Gray, who threw 89 pitches and had more in him when he was removed. "I can go out there next time and look for it."
Gray gave up three hits, including Matt Kemp's two-run double on a ground ball down the third-base line, and a walk to the first four batters of the game. From there, he retired 18 of the next 19 hitters and displayed the dominance the Rockies sought while making him the third overall pick in the 2013 Draft out of Oklahoma.
Yet the offense couldn't solve Padres starter James Shields, and Gray found himself 0-1 in three starts since being activated from the disabled list after missing the start of the season with an abdominal strain.
"Jonny was outstanding," Rockies manager Walt Weiss said. "Even the runs they got in the first inning, I thought they were well-placed hits. I thought he threw the ball extremely well. It's unfortunate we couldn't get him a win. He doesn't have his first win yet, but if he pitches like that, he's going to get a lot of wins."
In two of his three starts, Gray has reached career strikeout highs. He fanned 10 against the Dodgers in his season debut -- a no-decision in which he went five innings and gave up five runs in a Rockies win. He fanned 11 Monday.
There was even a heartening takeaway from an odd 3 2/3-inning, six-run, nine-hit mess against the Pirates last week. Gray threw strikes on 63 of his 96 pitches, as the experienced Pirates hitters kept fouling off pitches they couldn't put in play until they finally found the pitches they could.
Gray was angry that the results weren't better against the Pirates, but he felt he had the right game plan and was aggressive enough. Monday's numbers were more in line with what a pitcher can expect when he attacks the strike zone.
"It didn't take much of an adjustment," Gray said. "I made some adjustments with the curveball, but I had pretty much the same game plan -- just attack the zone, beat the guys in the zone."
By the middle of the first inning, Gray was throwing his fastball 97 mph consistently, which left batters flailing at other pitches -- especially a slider that is hard to touch when batters are firing early to hit the fastball.
"His slider was really good and he threw some good curves," Weiss said. "And his fastball, he held his velocity throughout the outing. His fastball was explosive."
Thomas Harding has covered the Rockies since 2000, and for MLB.com since 2002. Follow him on Twitter @harding_at_mlb, listen to podcasts and like his Facebook page. This story was not subject to the approval of Major League Baseball or its clubs.