Volquez, Duffy add silver lining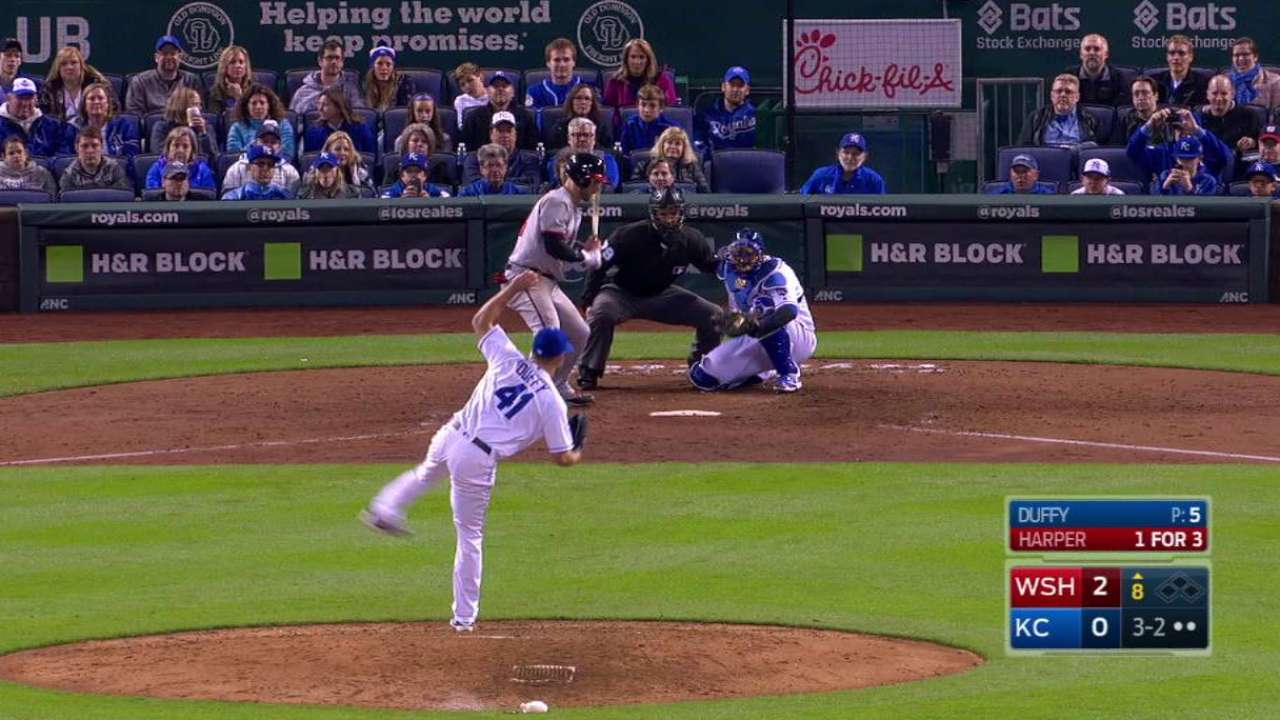 KANSAS CITY -- As is often the case when teams are mired in offensive slump, solid and gritty pitching performances are wasted.
Thus was the case Monday night as the offensively challenged Royals fell, 2-0, to the Nationals.
Royals fans know too well the numbing statistics. The Royals have lost six of seven and have been shut out in three of their last four games. They have scored in four of their last 44 innings.
There has been a whole lot of zeros going on with the Royals' offense.
"We have a great offense," left-hander Danny Duffy assured. "They have carried us in the past, and they will carry us again."
Duffy, along with starter Edinson Volquez, kept the Royals within striking distance. Duffy struck out the dangerous Bryce Harper with two out in the eighth, then worked out of a bases-loaded jam in the ninth.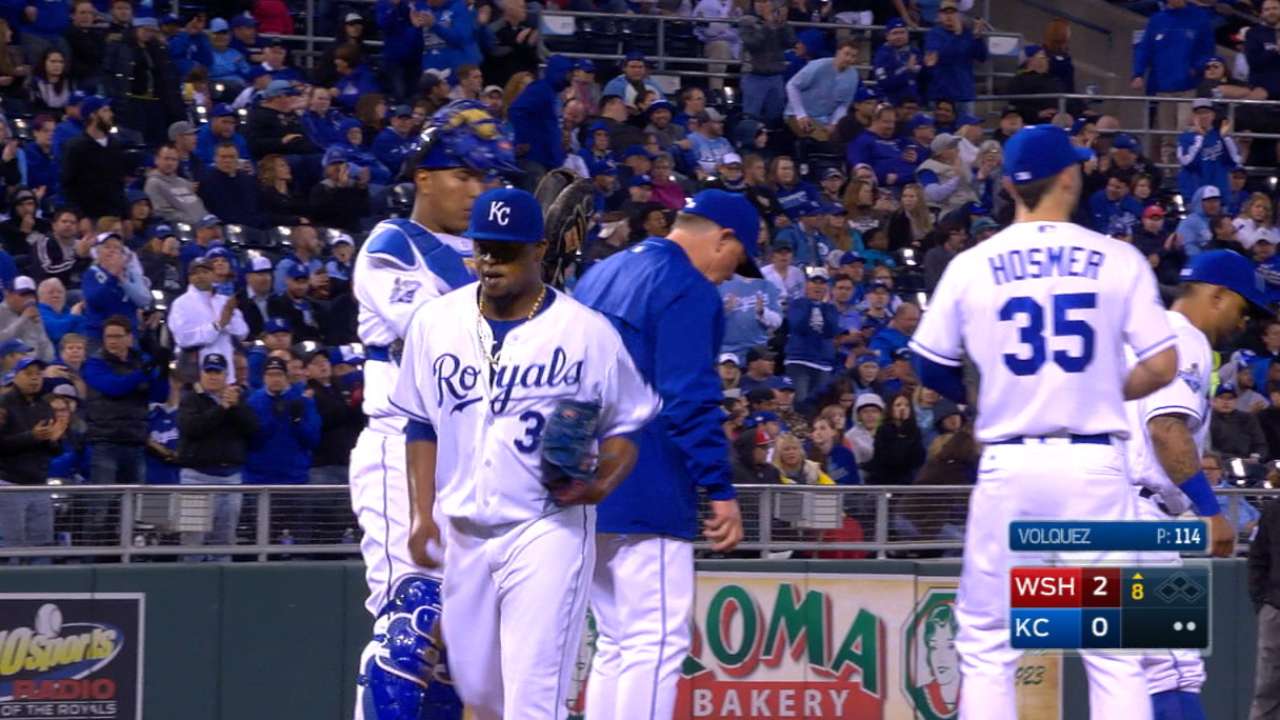 Volquez allowed the first two batters of the game to reach base, struck out Harper, but then surrendered an RBI double to Ryan Zimmerman. Volquez was nicked for another run in the inning on Daniel Murphy's RBI groundout, but that was it. Volquez held off the Nationals before exiting so Duffy could face Harper. Volquez finished with seven strikeouts and lowered his ERA to 3.13.
"He was tremendous," Royals manager Ned Yost said. "Sometimes it takes guys an inning to get going. Unfortunately it cost Eddie two runs, but from that point on, he was fantastic.
"To get us through two outs in the eighth really helped us. We were down two runs and we had used everyone but [Luke] Hochevar yesterday, so we didn't want to use [our other bullpen] guys in a loss. He really helped."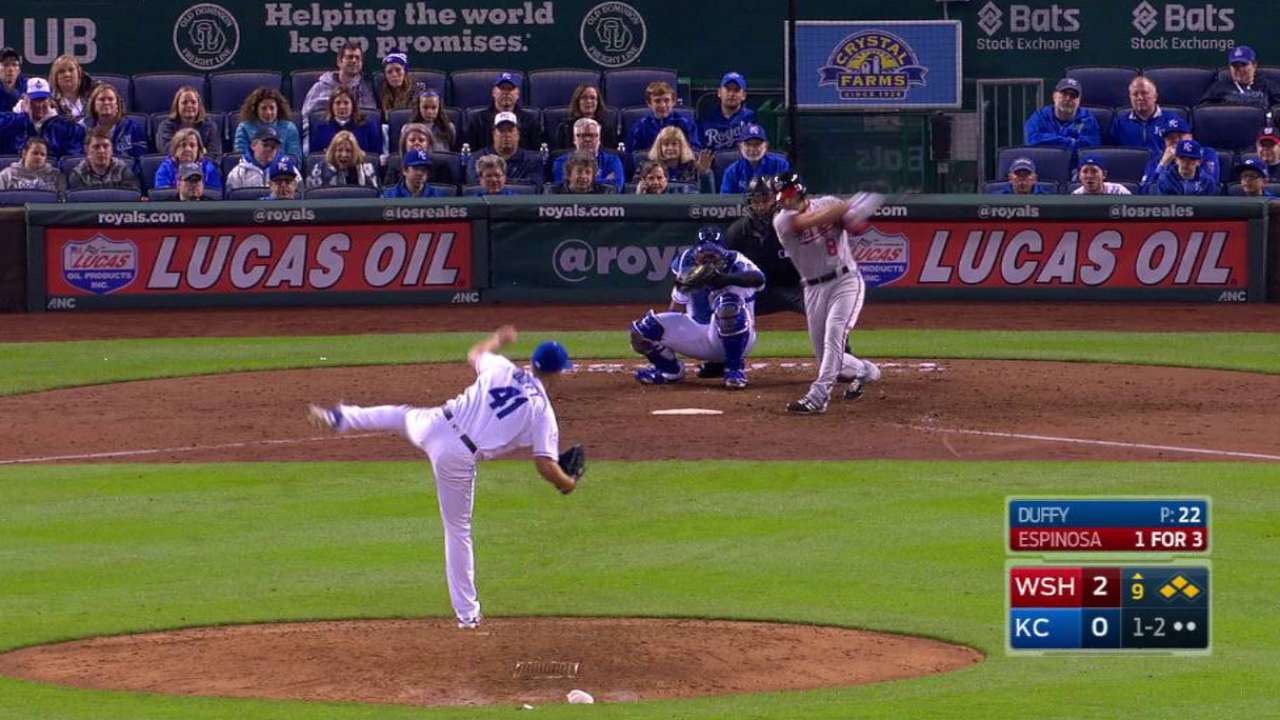 Volquez said he really couldn't explain the slow start.
"Sometimes you pitch good and they get hits," he said. "Sometimes you don't and they don't."
Volquez isn't too worried about his team's offensive struggles.
"Nah, those guys know they can hit," he said. "This will turn around. It's only May."
Yet another winnable game slipped away as the Royals fell 4 1/2 games behind the first-place White Sox in the American League Central.
"Every game is a winnable game, if you want to look at it like that," Yost said.
Jeffrey Flanagan is a reporter for MLB.com. Follow him on Twitter at @FlannyMLB. This story was not subject to the approval of Major League Baseball or its clubs.