Roenicke 'really enjoyed my time' with Crew
Angels-Brewers series marks former manager's first return to Milwaukee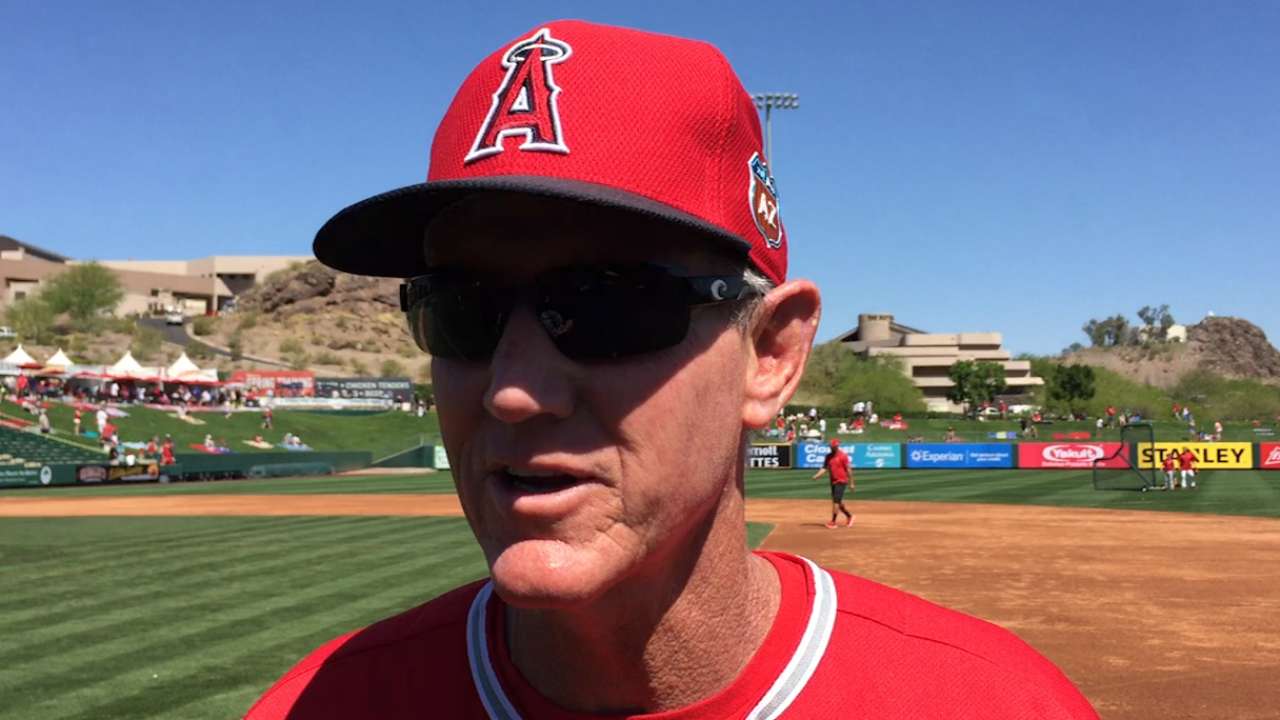 MILWAUKEE -- This was all a bit "uncomfortable," Ron Roenicke admitted Monday after returning to Miller Park for the first time since the Brewers dismissed him a year ago Tuesday.
"Even though I really enjoyed it and had a great time here," said Roenicke, now the Angels' third-base coach, "I realize that you're not going to stay in one place forever. It's uncomfortable, but it's a good feeling, because I really enjoyed my time here."
Roenicke managed the Brewers from the start of 2011 until May 3, 2015. His tenure began with the best regular season in franchise history; 96 wins plus five more in the playoffs, when the Brewers fell two victories shy of the World Series. But it also included an historic collapse in 2014, when Milwaukee spent 150 days in first place only to miss the postseason, and a just-as-tough start to 2015. When he was dismissed on a Sunday night following a winning series at Wrigley Field, the Brewers were 7-18.
The circumstances of his dismissal remain a matter for healthy debate. Were the Brewers justified to hang responsibility for the team's dismal record on Roenicke? Or was he made the fall man for the decision to keep the 2014 team largely intact following its late-season collapse?
"My responsibility is to not let those things happen, and they happened," Roenicke said. "We got off to a lousy start. I felt like things were starting to change, but I understand. I understand when a team wants to win and they feel like they have to do something."
But was it a mistake not to make changes during the offseason between 2014 and 2015?
"The thing with me is, I'm really responsible for what they give me and what they put on the field," Roenicke said. "They asked me questions, and we met and talked quite a bit before going into last season. There were some things I had concerns about, but so did Doug [Melvin, Milwaukee's former general manager] and so did [principal owner] Mark [Attanasio].
"We all had concerns about that team coming into last year. Whether you want to say that team was supposed to win or we were starting to be on a redevelopment [path], however you want to say that, we knew we had to play really almost flawless ball to be able to win our division and to get to where we wanted to be."
The switch from Roenicke to Craig Counsell marked the start of the Brewers' full-blown rebuilding project. A year later, the team has a new GM, assistant GM, farm director, four new coaches, and has turned over more than half of the 40-man roster.
On Monday, only three of the Brewers' nine starters played under Roenicke: Ryan Braun, Jonathan Lucroy and Jimmy Nelson.
"It's really different," Roenicke said. "Really unusual for that fast. [Angels pitching coach] Charlie Nagy asked me three, four days ago if we could sit down and go over their hitters. I looked at their lineup and said, 'Charlie, I'm sorry. I can help you with two guys.'"
Roenicke said he's enjoyed returning to the coaching ranks, first with Don Mattingly and the Dodgers last season, and now with Mike Scioscia and the Angels, for whom he worked 12 years before managing the Brewers.
Roenicke reiterated that he wants to manage again, even if it means someday getting dismissed again.
"Ron has one of the best baseball minds I've ever been around, and he's definitely helped us," Scioscia said. "It was tough [to watch Roenicke's Brewers tenure end]. Ron did an incredible job there. I don't think you bring a team as far ahead as he did -- and he would never say it, but he could stand on the merits of what he did there. There were some things that obviously unraveled a little bit at the end, but there was nobody who could have done a better job under the circumstances. …
"He's got an incredible reputation in this game. We're happy to have him."
Adam McCalvy has covered the Brewers for MLB.com since 2001. Follow him on Twitter @AdamMcCalvy, like him on Facebook and listen to his podcast. This story was not subject to the approval of Major League Baseball or its clubs.