Having reflected, Gibbons turns page on ALDS
TORONTO -- Blue Jays manager John Gibbons isn't expecting much carry-over this week from his team's 2015 American League Division Series meeting with the Rangers.
Toronto battled back from a 3-2 deficit in Game 5 of that series, highlighted by a monster three-run home run from Jose Bautista in the seventh inning, which included a memorable bat flip from the Blue Jays outfielder.
The Blue Jays trailed 2-0 in the best-of-five series before winning Games 3 and 4 in Texas and defeating the Rangers, 6-3, in Game 5.
"This is a new year, 2016. That's over with," Gibbons said on Monday as his club prepared to open a four-game series with the Rangers.
Gibbons isn't worried about retribution against Bautista for his bat flip during the emotional seventh inning of the Oct. 14 meeting.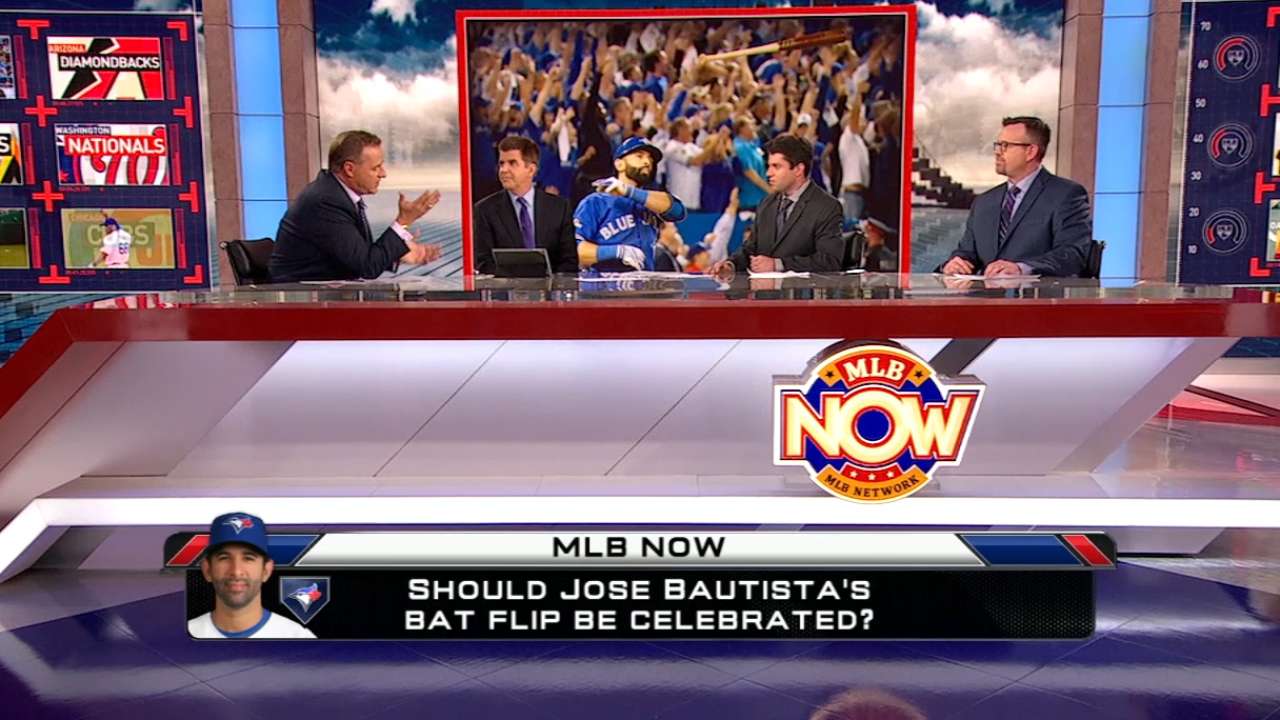 "I don't give it much thought," he said. "I think they've got more to worry about, and we do too."
The Blue Jays eventually fell in six games of the AL Championship Series to the Royals.
A month into the 2016 season, with his club sitting third in the AL East with a 12-14 record, Gibbons joked he didn't see any impact from last season's postseason run on this year's version of the Blue Jays.
"Well, if you look where we're standing right now, not much," Gibbons laughed. "To be honest with you, the way that year turned out, that run we got on after the trades, to go out in the first round would have been disappointing to everybody.
"We all thought we were better than that. But I tip my hat to our guys. We were down two games and we came back and ended up winning, so yeah, I think that was big."
The 53-year-old skipper didn't get an opportunity to fully appreciate what his team accomplished last season until the offseason. Toronto snapped the longest active playoff drought by qualifying for the postseason for the first time since 1993.
As he met with the media before the game on Monday, Gibbons highlighted some of the more memorable moments he saw during the run.
"Our backs against the wall [in Game 3], we turn to our guy, [Marco] Estrada. He'd always come through at the right time," Gibbons said. "And that was that game that Tulo [Troy Tulowitzki] hit that home run to give us breathing room late. Then that next game, we came out swinging and held them off there at the end.
"Really, that whole time in the playoffs, I don't think I got to enjoy any of it, because it was hectic and it was go-go-go-go, that kind of thing. When you finally get away from it, you reflect on some things and you appreciate it more."
Texas makes its first return to Toronto since that series, holding a 14-11 record while sitting atop the AL West standings.
Dhiren Mahiban is a contributor to MLB.com and covered the Blue Jays on Monday. This story was not subject to the approval of Major League Baseball or its clubs.