1st 'W' for Berrios, rare home loss for Keuchel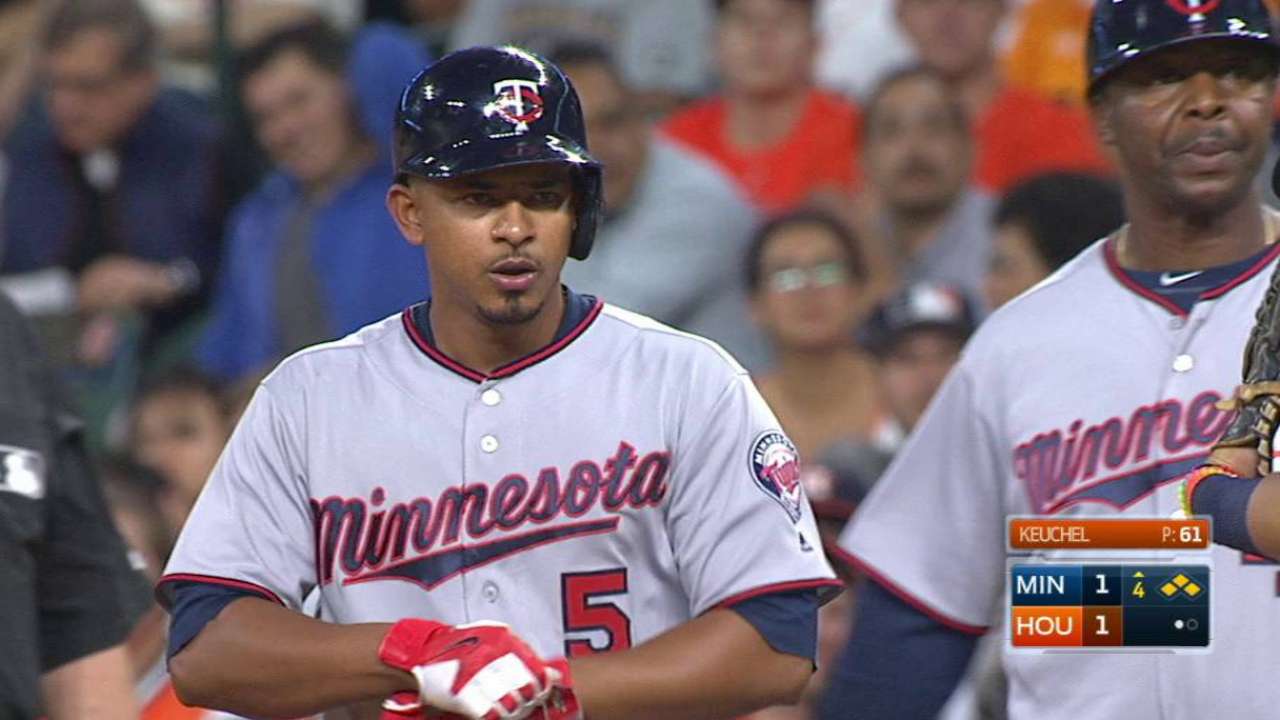 HOUSTON -- Astros ace Dallas Keuchel suffered his first defeat at Minute Maid Park in a span of 23 regular-season starts on Monday night, allowing five runs, five walks and seven hits in 4 1/3 innings in a 6-2 loss to the Twins in the series opener. The Astros have yet to win consecutive games.
Twins starter Jose Berrios, making the second start of his career, held the Astros to three hits and two runs in 5 1/3 innings for his first Major League win. The only runs he allowed came on solo homers by Preston Tucker in the second and George Springer in the fifth. He pitched around five walks and struck out eight.
"With the matchup, I knew I had to compete a lot tonight," Berrios said. "I wanted to get my first Major League win, and that's what I was able to do. It's awesome. To help my team win, I'm happy about that."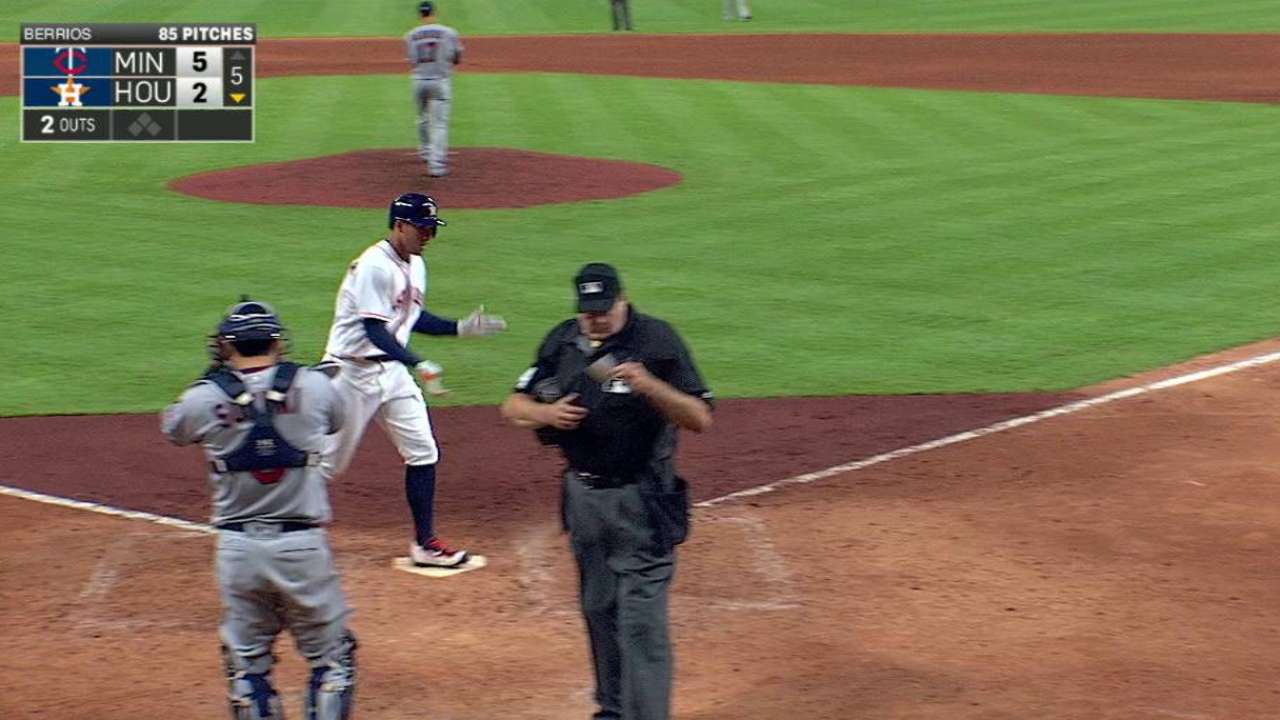 The Twins, who snapped a four-game losing streak, took advantage of four Keuchel walks during a 46-pitch fourth inning to score three times -- on an RBI single by Eduardo Escobar, a sac fly by Eddie Rosario and a walk to Eduardo Nunez to take a 3-1 lead. Byung Ho Park chased Keuchel with a two-run triple in the fifth, and Nunez blasted a solo homer off Josh Fields in the sixth to make it 6-2.
"We're very comfortable with Dallas on the mound and in this ballpark," Astros manager A.J. Hinch said. "Coming off a nice win yesterday, getting outplayed is disappointing, losing a game is disappointing. Kick-starting a homestand this way with a loss is not great, but all the pressure isn't on Dallas to be some stopper. He just needs to do his part and pitch well in the game he's asked to pitch. And that goes for the next guy, too."
MOMENTS THAT MATTERED
Patience pays off: Twins manager Paul Molitor said before the game that one reason for Keuchel's effectiveness is his propensity to throw pitches out of the zone to get hitters to chase. The Twins listened to Molitor's advice, scoring three runs in the fourth against Keuchel, keyed by four walks. Escobar delivered a single with the bases loaded to set up a sac fly from Rosario and a bases-loaded walk from Nunez.
"Part of his effectiveness is that he gets hitters to expand the zone, and we really tried to preach that in our game plan, to be patient and get the ball up," Molitor said. "He tries to expand down. For the most part, particularly in that inning where we had the rally, we drew walks and made him throw pitches." More >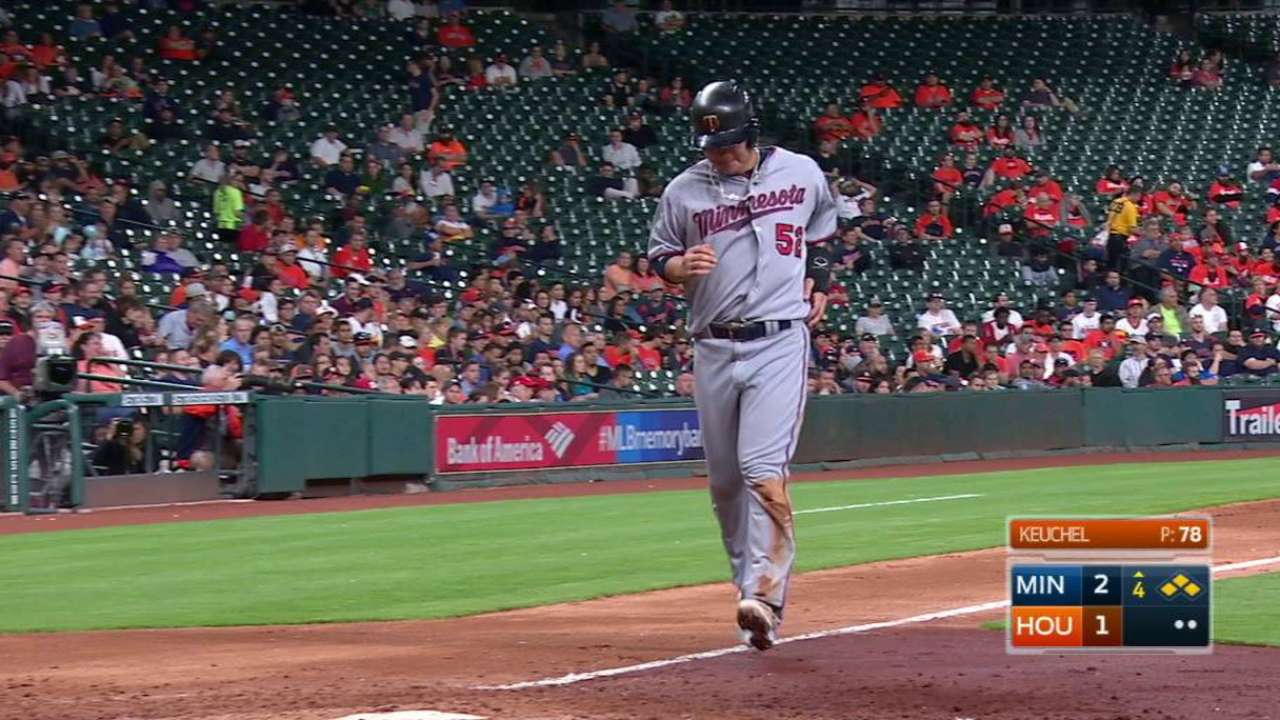 Win streak ends: Keuchel took his first loss at home since Aug. 10, 2014, when the Rangers beat him. He went 17-0 with a 1.47 ERA in his next 22 regular-season starts at home, including 15-0 last year. After six starts in 2016, the reigning American League Cy Young winner is 2-4 with a 5.11 ERA.
"I've had plenty of opportunities to lose, and the offense has helped me out quite a few times," Keuchel said. "That's one of the joys of baseball. You never know what's going to happen. More times than not, I've been on the winning side of things here at home. I'll just start a new one up." More >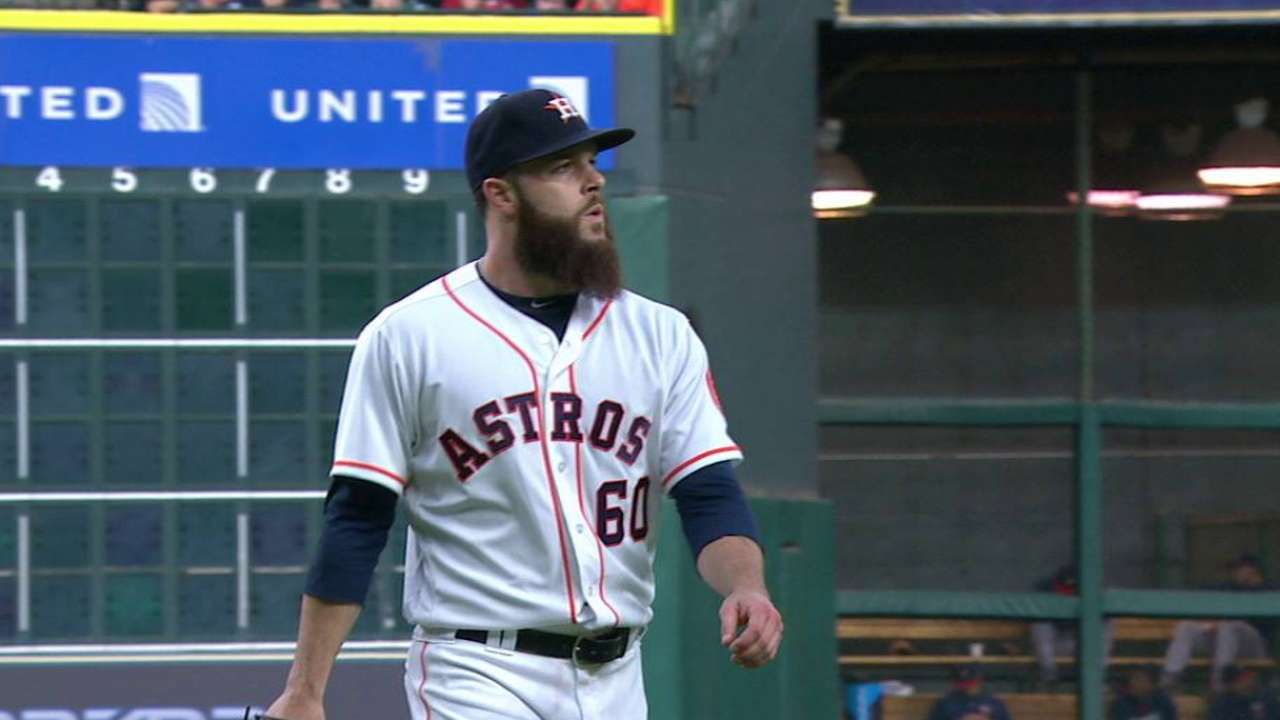 Berrios gets first 'W': Berrios struggled in his debut, against the Indians on Wednesday, allowing five runs in four-plus innings, but he looked much better against the Astros. He showcased his electric stuff, striking out eight, but he also had trouble harnessing it, with five walks. The key for him going deeper into games going forward will be limiting his walk total.
"With Keuchel pitching at home and us starting a guy in his second start in the big leagues, it didn't look very good on paper," Molitor said. "With Jose it seems like early in the game, he fights himself to establish his pitches. But it seemed like after we scored there, it really energized him. He seemed to up his game a little bit." More >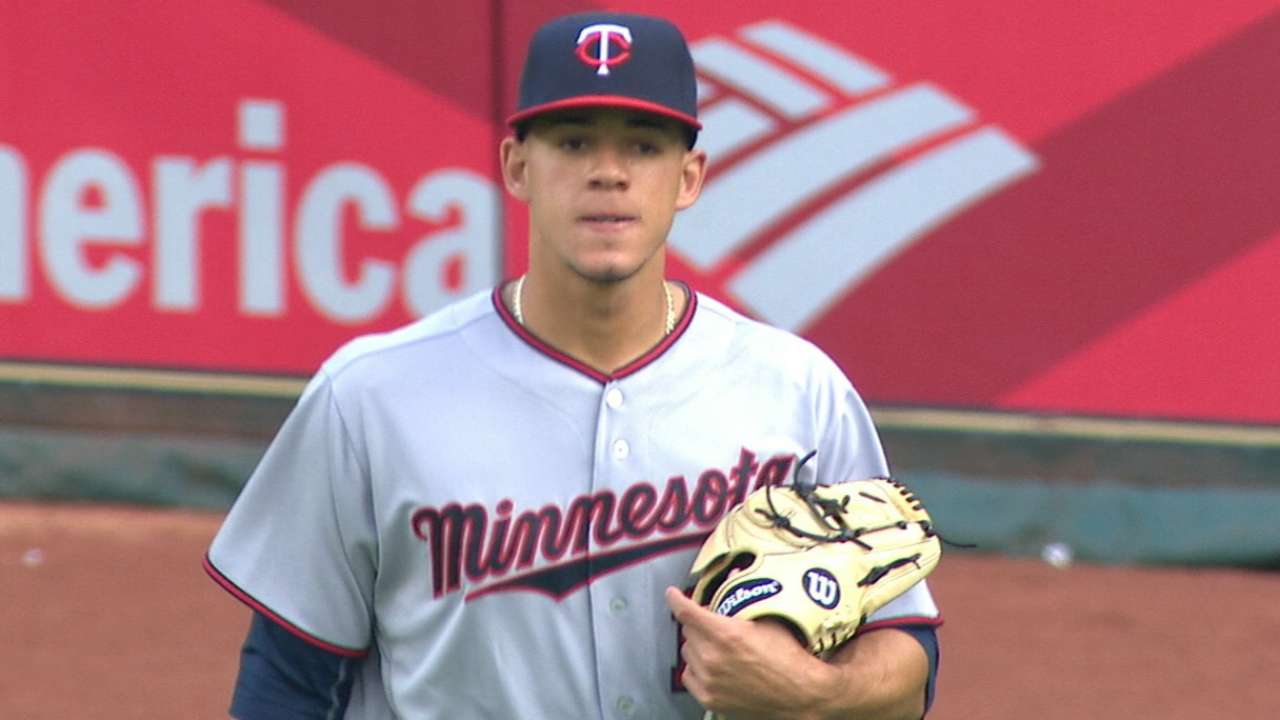 REPLAY REVIEW
The Twins won a challenge in the fourth, when Brian Dozier was ruled out at first on a close play to open the inning. After a review, the call was overturned, and Dozier was credited with an infield single that helped spark a three-run rally.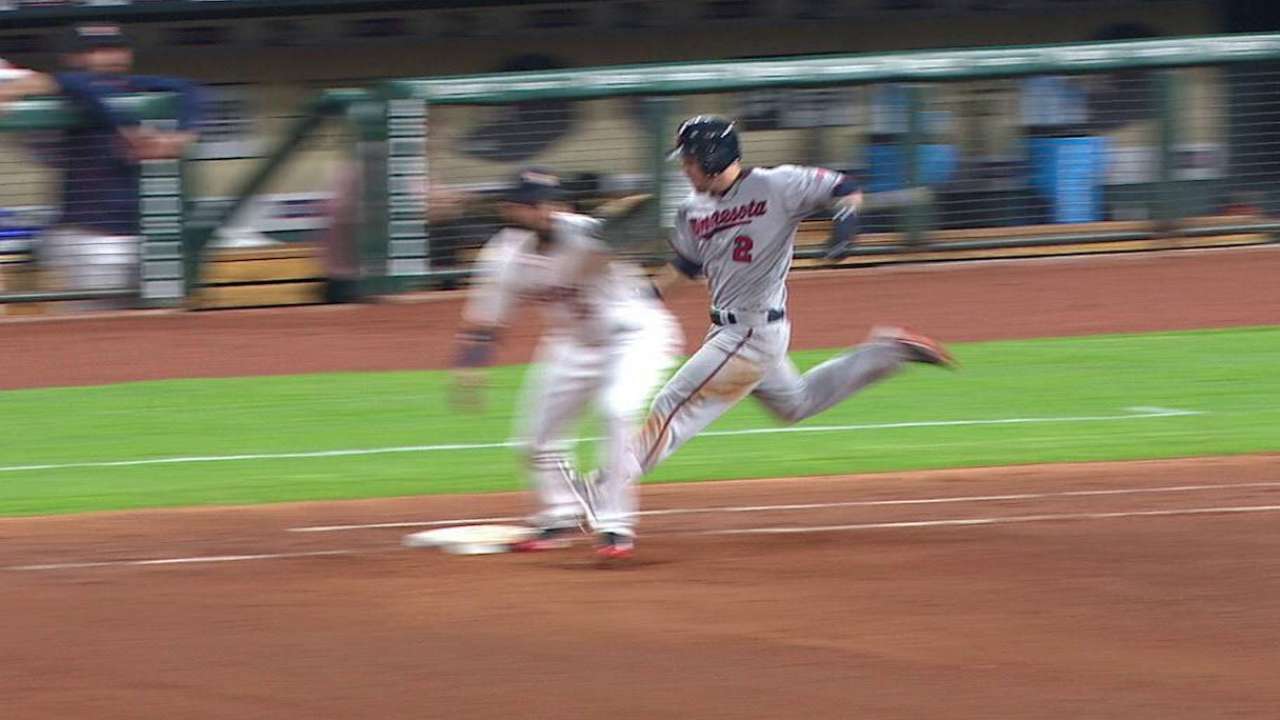 QUOTABLE
"We've been punched in the mouth the first five weeks. No one is going to feel sorry for us. This is a team that's tough enough to be resilient and get through this lull. We've had tough stretches had a group. This is the big leagues. This is a tough league, and we're going to have to counterpunch to get better." -- Hinch, on his team's 8-18 start
MURPHY EJECTED
Twins catcher John Ryan Murphy was ejected by home-plate umpire Jerry Layne for arguing balls and strikes while catching with one out in the fifth. Murphy thought a 1-2 curveball from Berrios to Jose Altuve was a strike, and was thrown out after turning around to argue. After a short delay, Kurt Suzuki replaced Murphy, and Berrios struck out Altuve looking on almost the exact same pitch.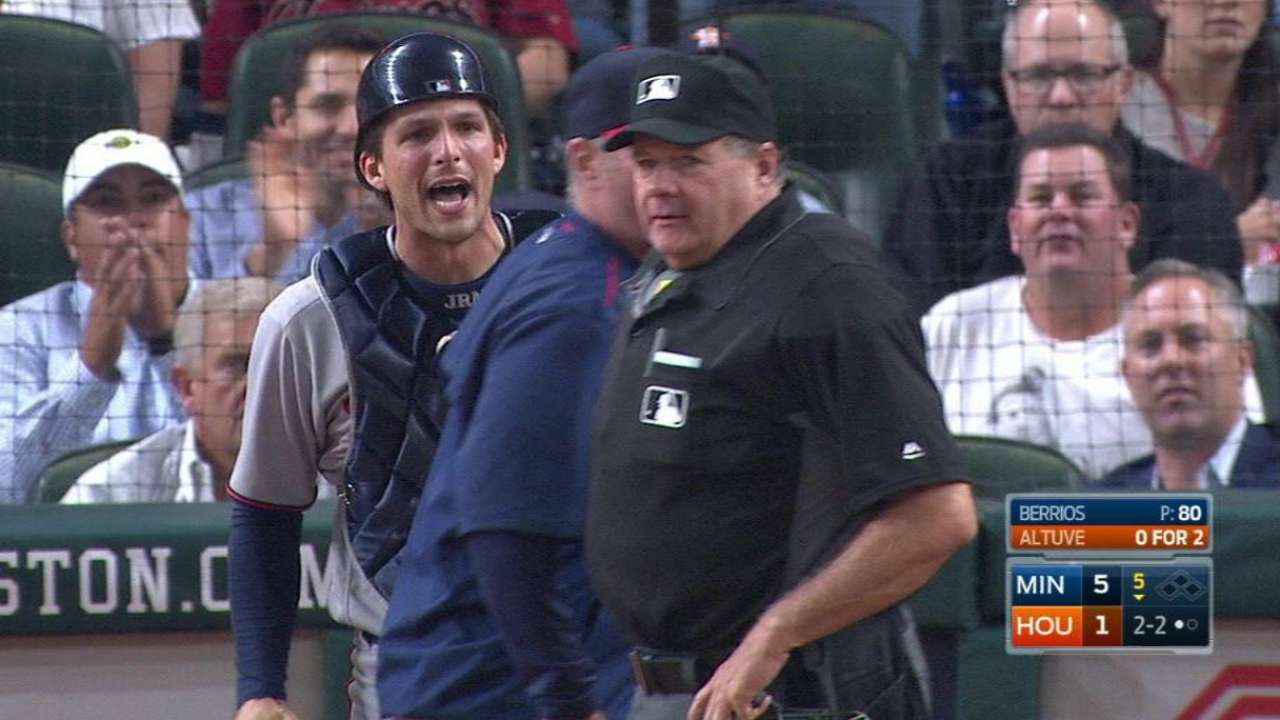 "I asked him where he had the pitch, and he didn't respond, so I turned around again and asked him where he had the pitch, and he responded by saying not to show him up by turning around," Murphy said. "So then I said, 'I just want to know where you had the pitch.' And then I got tossed."
WHAT'S NEXT
Twins: Right-hander Alex Meyer is set to make his first Major League start against the Astros on Tuesday at 7:10 p.m. CT. Meyer, who has made three career relief appearances, posted a 1.18 ERA with 19 strikeouts and four walks in 17 1/3 innings with Triple-A Rochester before being called up last week.
Astros: Collin McHugh makes his sixth start when the Astros face the Twins at 7:10 p.m. CT on Tuesday at Minute Maid Park. McHugh is 1-2 with a 6.91 ERA in his last three starts, allowing 25 hits in 14 1/3 innings.
Watch every out-of-market regular-season game live on MLB.TV.
Brian McTaggart has covered the Astros since 2004, and for MLB.com since 2009. Follow @brianmctaggart on Twitter and listen to his podcast.

Rhett Bollinger has covered the Twins for MLB.com since 2011. Read his blog, Bollinger Beat, follow him on Twitter @RhettBollinger and listen to his podcast.

This story was not subject to the approval of Major League Baseball or its clubs.