MLB.com Columnist
Mike Petriello
Braun's rebuilt value makes for interesting trade possibilities
Slugger's 142 wRC+ over past calendar year is near-identical to career mark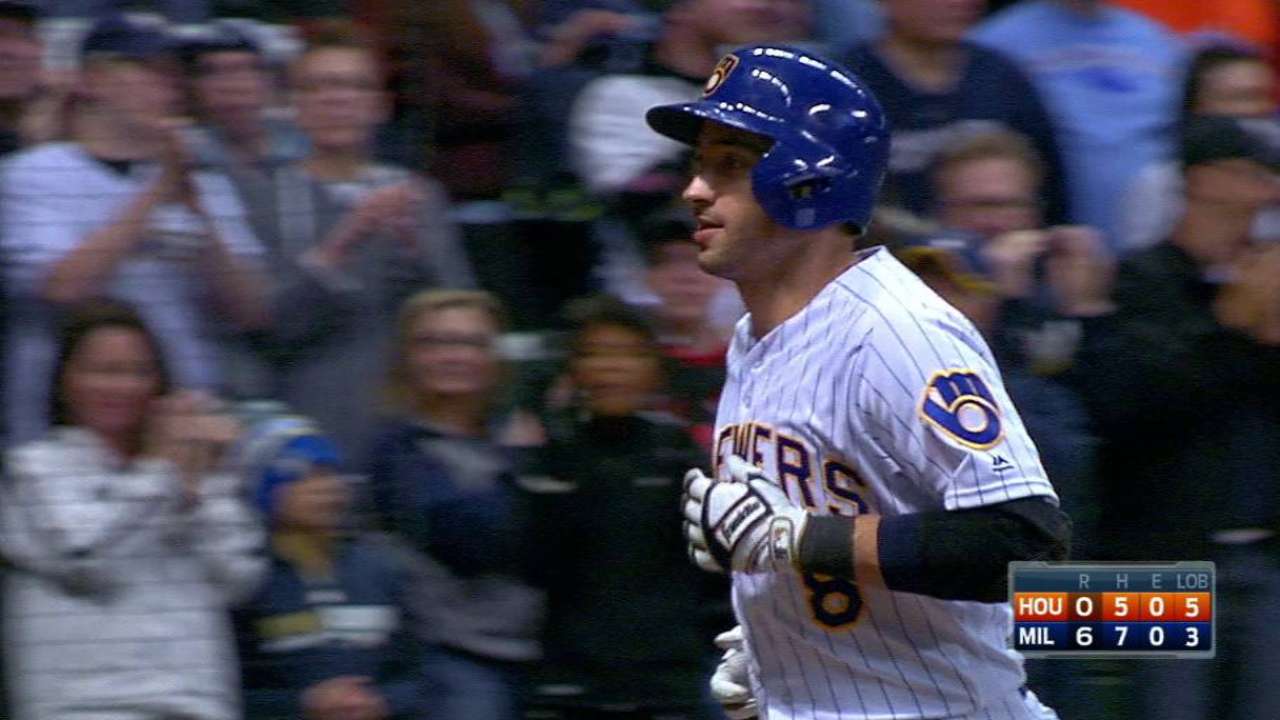 If Ryan Braun's spectacular start to 2016 means that he is "back," then it's also fair to note that he never really left, at least not in the way that most people think. No, he's not the same player he was when he was winning the 2011 National League Most Valuable Player Award with what was arguably the best offensive season in Milwaukee Brewers history. It's just that Braun has been hitting the ball extremely well for the past year -- even if few noticed as the Brewers slid into the basement of the NL Central.
Since we put that out there, let's back it up. Using Weighted Runs Created Plus -- a league- and park-adjusted all-inclusive offensive stat that is set so 100 is "league average" -- Braun is tied for 16th best of the 142 hitters with at least 500 plate appearances over the past calendar year.
Top hitters by wRC+, past 365 days, minimum 500 plate appearances
1. Bryce Harper -- 199
2. Mike Trout -- 170
3. Josh Donaldson -- 159
------
15 (tie). Braun / Anthony Rizzo -- 142
------
140. Michael Taylor -- 60
141. Chris Owings -- 58
142. J.J. Hardy -- 56
That 142 mark means that Braun has been 42 percent better than average, and better than contemporaries like Kris Bryant, Carlos Gonzalez and Robinson Cano. It's also nearly a dead-on match for his career average of 143, which is to say that Ryan Braun is hitting exactly like Ryan Braun always does.
Yet while Milwaukee's rebuild is off to a promising start -- though a 10-15 record doesn't look like much, the on-field product is at least competitive as a once-thin farm has been revitalized by the trades of Carlos Gomez, Mike Fiers, Khris Davis, Jean Segura and others -- this is still a rebuilding team a couple of years away from contention.
So, while acknowledging that it is probably too early to be looking ahead to the Trade Deadline, let's suggest some possible landing spots for Braun anyway. The best fits reside in the American League, partially because it's more wide open than the NL, but the presence of the DH doesn't hurt. Braun has a limited no-trade clause, but that's hardly a roadblock if he were compensated and liked the potential fit. And while a past PED suspension might turn off some clubs, we've now seen a number of players return from some sort of PED penalty and thrive for new teams, so it's likely not as big of an issue as some might assume.
Chicago White Sox
The White Sox are off to what is a somewhat shocking 18-8 start, the best record in the AL, and yet the concerns that were apparent in the offseason haven't disappeared. Once you get past a truly elite (and, importantly, win-now) core led by Chris Sale, Jose Abreu, Jose Quintana, Carlos Rodon, Adam Eaton and Todd Frazier, the White Sox have a below-average offense (95 wRC+, even with hot starts from Brett Lawrie and Melky Cabrera). After Adam LaRoche's retirement, the designated hitter spot has largely been manned by Avisail Garcia, who has a career OPS below .700.
This is a roster that's clearly built to win in 2016-17, and it received the benefit of LaRoche's $13 million unexpectedly clearing when he retired this spring. Beyond that, there's approximately $23 million more coming off the books this offseason when John Danks, Jimmy Rollins and Austin Jackson likely depart after 2016. There's a clear need, and a clear window. No fit could be better.
Los Angeles Angels
From a baseball perspective, the match here is completely obvious. Braun is a Southern California native who reportedly cannot block a trade to the Angels, and the team has a hole in left field, where Craig Gentry and Daniel Nava are both injured, leading to a situation where Rafael Ortega and Shane Robinson lead a group that has combined to hit .222/.320/.233 without a single home run. In terms of the AL West having no dominant team and the need to get the most out of Trout and Albert Pujols, the baseball fit is perfect.
And yet, it's difficult to see it actually happening. The Angels were up against the luxury cap this past offseason and chose not to exceed it in order to add a left fielder like Justin Upton or Cespedes. Their farm system doesn't have a single prospect on the MLBPipeline Top 100 list. That means that the Halos probably couldn't make it worth the Brewers' while in talent -- unless a third team got involved.
Texas Rangers
An expensive over-30 power-hitting outfielder with baggage? Well, it might seem that the Rangers have that role more than capably filled by Josh Hamilton. Toss in the big dollars owed to Shin-Soo Choo and Prince Fielder, and it may seem hard to see how this fits.
But it's perhaps not as crazy as it sounds. Texas is only on the hook for about $2 million of Hamilton's contract this year and next, so if he becomes a bench player, that's not untenable. Ian Desmond isn't a left fielder by trade, is only signed through this year and is hardly lighting up the plate at .233/.324/.378. Overall, the Rangers have hit just .257/.317/.397 (94 wRC+), with more homers than only four teams, and they need to find some offense to supplement a rotation that will soon have Yu Darvish alongside Cole Hamels and Derek Holland. Even with Joey Gallo hitting well in the Minors, there's room for both.
Braun could easily slot into a left field/DH situation to add some offense, but the appeal here is that this could be a larger deal. With Robinson Chirinos out with a broken arm, the Rangers' catching situation is led by Bryan Holaday (.154/.233/.179) and Brett Nicholas (35 career plate appearances). For months, rumors have swirled about Milwaukee catcher Jonathan Lucroy possibly being a Texas target, even before Chirinos' injury. The Rangers have a deep system that also includesJurickson Profar , who isn't technically a "prospect" anymore but is healthy with no clear path to playing time in Texas. For what seems an odd fit at first, the Rangers end up being a potentially nice solution as part of a blockbuster trade.
Mike Petriello is an analyst for MLB.com and the host of the Statcast podcast. This story was not subject to the approval of Major League Baseball or its clubs.