Taking stock of Red Sox's roller-coaster April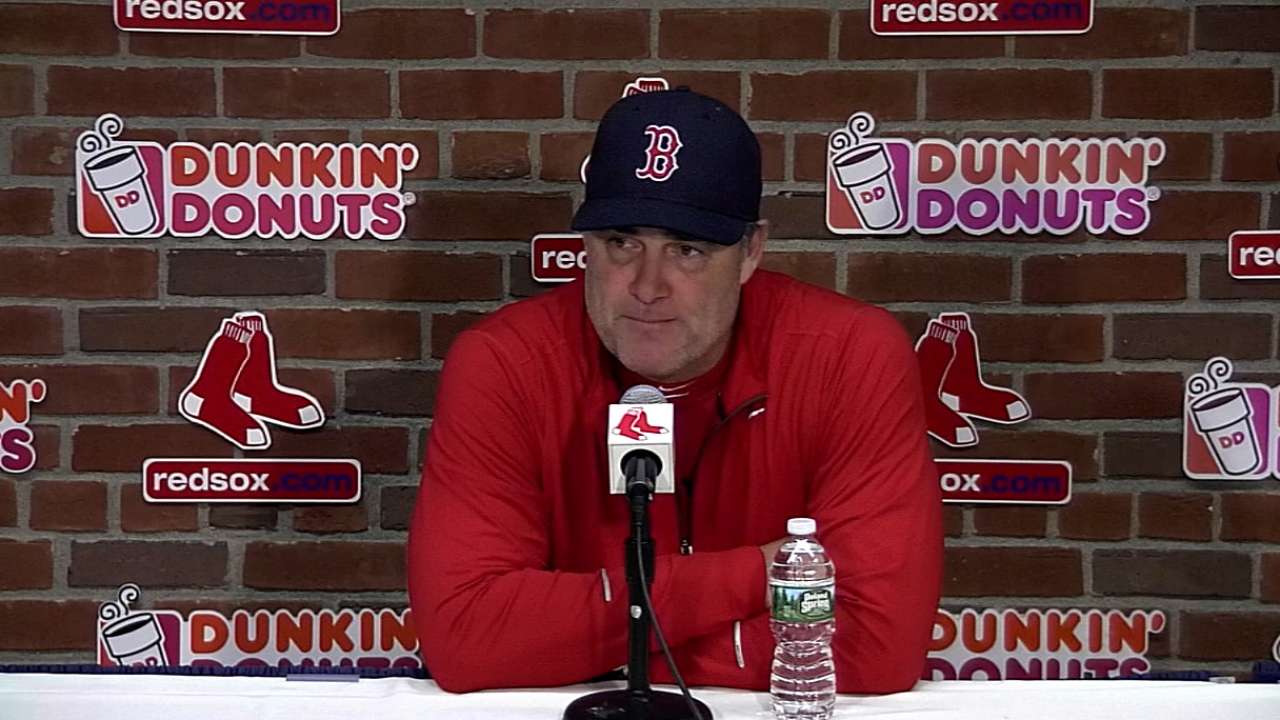 BOSTON -- One month (plus one day in May) into the season, the Red Sox are creating some excitement for a fan base that hasn't gotten to experience the thrill of a pennant race the past two summers. At 15-10, the Red Sox can already boast this: At no point in 2014 or '15 did Boston have a record that was five games over .500.
The Red Sox spent Monday -- their first off-day since April 14 -- in sole possession of first place in the American League East for the first time this season. This, after sweeping the Yankees at Fenway over the weekend.
"It's early, but it feels good," said Boston designated hitter David Ortiz. "As long as you play good, you feel good. You just keep building up your confidence. We had a good April, and now we're going to try and have a good May. There's a lot of games left. I like what I see so far."
As Ortiz would be the first to tell you, they don't throw parades for teams that lead the division through 25 games, but there are some things to build on. Already, this team has established an identity of never being out of a game.
"I think there's a pretty good vibe in our clubhouse and our dugout right now, and that's carrying through," said Red Sox manager John Farrell.
Many positives have emerged, as well as some areas that need improvement. Here is a categorical breakdown.
THE GOOD
The lineup
The best Red Sox teams in recent memory have had relentless lineups that grind through starting pitchers and get into the other team's bullpen. That's what this team has done coming out of the gate. The top four in the lineup (Mookie Betts, Dustin Pedroia, Xander Bogaerts and Ortiz) have done their part. Perhaps more important are the contributions of players like Travis Shaw, Brock Holt and Jackie Bradley Jr. Boston has started countless rallies already this season from the Nos. 6-9 portion of the order.
"Seems like it's a new guy every night," said Shaw. "And no matter the score, the inning or the situation, we're going to continue to fight. And I like the way this offense works. It's not one guy trying to do it every single night. It's a different guy up and down the lineup. There's not an easy out."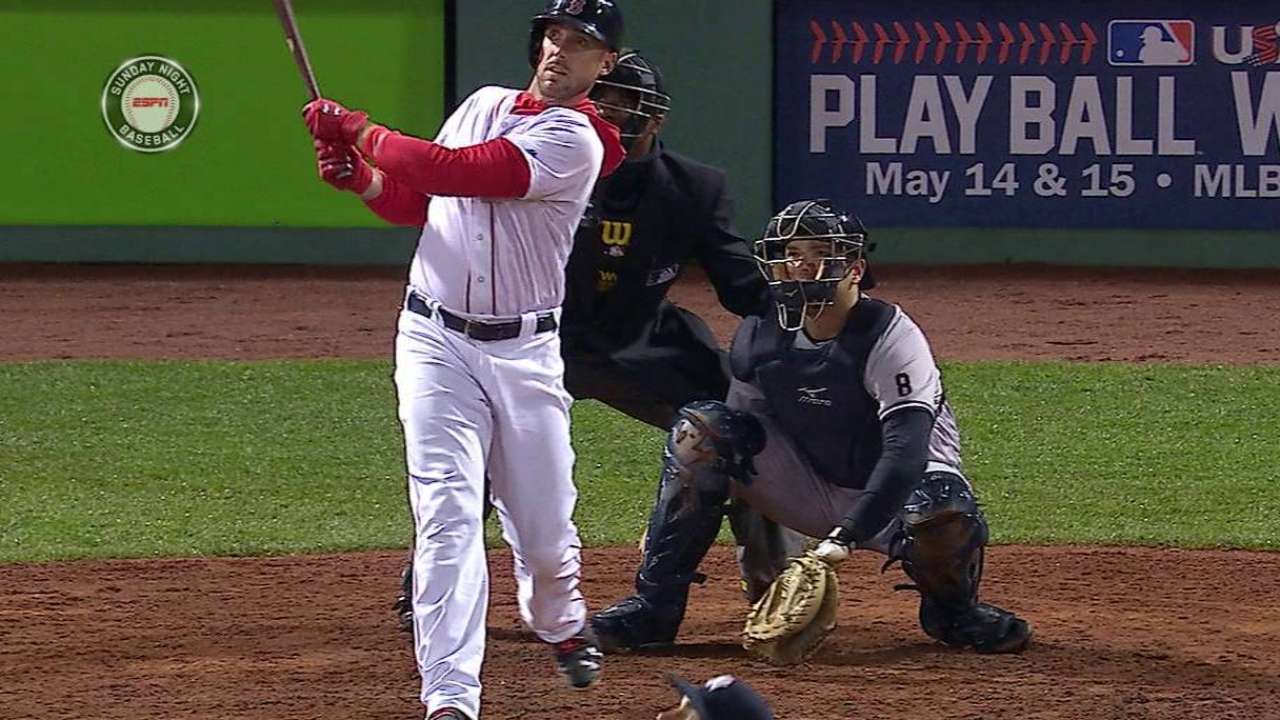 Shaw's emergence
When Farrell awarded the third-base job to Shaw at the end of Spring Training over incumbent Pablo Sandoval, he did it with complete confidence. At the time, perhaps too much was made of Sandoval's demise and not enough of Shaw's emergence. Shaw is clearly proving he belongs. He has a slash line of .322/.390/.533 with eight doubles, three homers and 17 RBIs. Though Shaw has made four errors at third base, he's also made a lot of standout plays.
The bullpen
Closer Craig Kimbrel did have a tough outing in the home opener and a blown save in Houston, but aside from that, he's been dominant in the ninth inning, striking out 21 batters in 12 innings. The rest of the bullpen has been tremendous on most nights. Koji Uehara, except for one tough outing on Patriots' Day, has dominated in the eighth inning. Junichi Tazawa (0.93 ERA) looks revived after getting some rest at the end of last season. Perhaps most unexpected has been the work of Heath Hembree (no runs allowed in four outings) since being called up from Triple-A Pawtucket. The fact that the bullpen has been exceptional even without Carson Smith, who returns Tuesday from a season-opening stint on the disabled list, can only be considered a positive.
Porcello and Wright, lights out
Rick Porcello and Steven Wright have given the Red Sox the kind of performances they were expecting from David Price and Clay Buchholz. In particular, the performance of Porcello has been welcomed after his shaky first season in Boston. The sinkerballer (5-0, 2.76 ERA) has his confidence back and looks as if he was born to work with batterymate Christian Vazquez, who missed all of last season due to Tommy John surgery.
After winning the fifth-starter job in Spring Training, knuckleballer Wright's performance has been the best (1.37 ERA in four starts) in the rotation so far. However, knuckleballers are known for having ups and downs, so it would be unreasonable to expect sustained success. But it's not unrealistic to think Wright can be a key member of the pitching staff. He also pitched well when given the chance last year.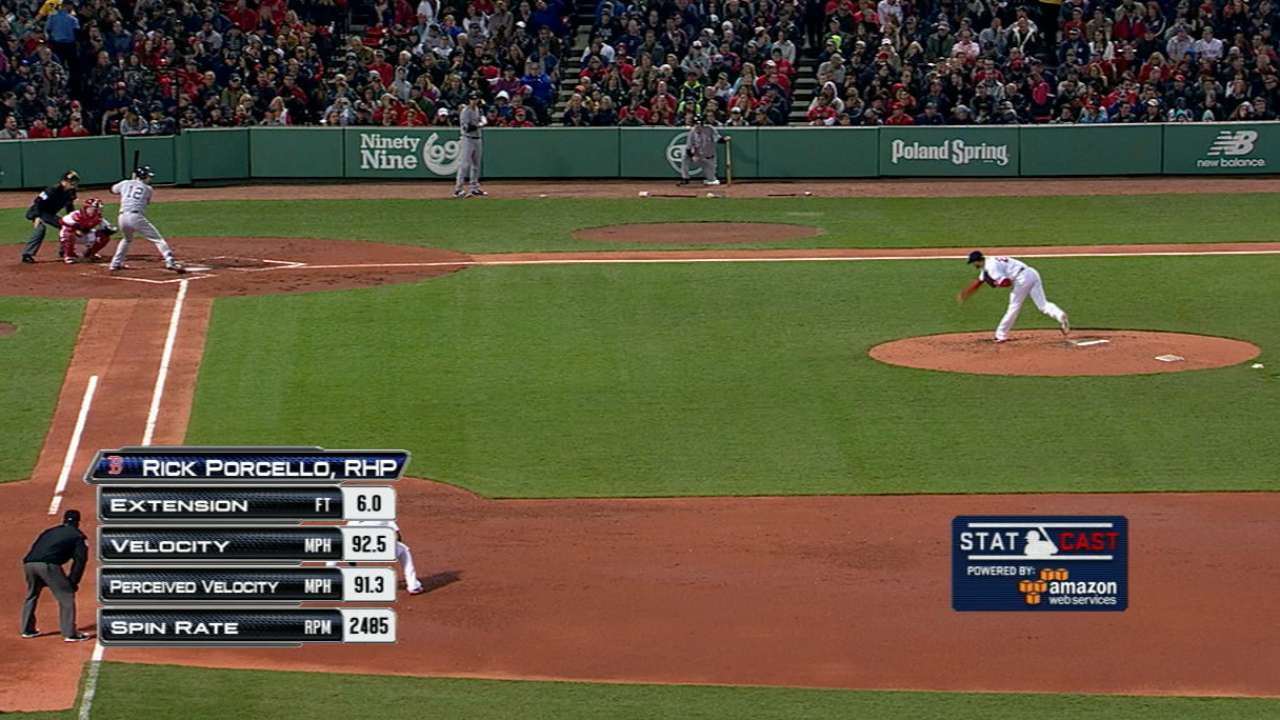 ROOM FOR IMPROVEMENT
Price searching for groove
Price is hardly the first player to sign a big contract in a big market and struggle in his first month. Don't expect it to last. Price has a track record of building arm strength and pitching better as the season goes on. The fact that all three of Price's bad outings have come at Fenway is surprising, only because the lefty was 6-1 with a 1.95 ERA while pitching as a visitor in Boston.
"It's just execution," said Price. "I haven't executed in this ballpark as well as I know I'm capable of. That's frustrating, but it's something I can fix."
Buchholz again an enigma
Once again, the Red Sox are trying to figure out what is wrong with Buchholz. The righty has given up five runs in four of his five starts. Just when everyone was ready to give up on Buchholz at this time last year, he went on one of the best stretches of his career, only to have it derailed by another injury.
"We still have room for improvement -- we know that," said Farrell. "We've got to get Clay going, particularly. He's an important part of our rotation, an important part of this team. We've got to get him on track."
How do they do that?
"I can't say that it's a glaring thing from a mechanical standpoint. There are times when we've seen Clay execute pitches with a greater conviction to the pitch," said Farrell. "There are other times where maybe he's pitched away from contact maybe a little bit too much, and not attacked the strike zone. To me, there comes a point where an attitude on the mound has to be prevailing."
Where is the power?
The one thing the Red Sox haven't done particularly well yet at the plate is hit home runs. The club has 21 homers over the first 25 games, tied for 11th in the AL. But as the Royals have shown the past two years, home runs aren't always necessary to win. The Sox lead the league in runs, batting average and on-base percentage. Ortiz (five homers) and Mookie Betts (four) have displayed the most power so far. Expect Shaw and Hanley Ramirez to hit for more power in the coming weeks. Pedroia, Bradley and Bogaerts all have the ability to hit at least 15 homers.
Ian Browne has covered the Red Sox for MLB.com since 2002. This story was not subject to the approval of Major League Baseball or its clubs.