April surge a sign V-Mart back to pre-injury form
CLEVELAND -- The buzz had barely begun to hush from Miguel Cabrera's second home run last Monday night -- his statement that his bat was back -- when Victor Martinez struck with his latest declaration.
Two pitches separated Cabrera's three-run homer into the right-field corner with Martinez's solo shot, an estimated 425-foot drive to some of the toughest seats to find at Comerica Park. It not only cleared the out-of-town scoreboard in right-center, it landed about five rows back.
That came off Martinez's left-handed swing, the side that powered the switch-hitter two years ago but plagued him last year. It went almost overlooked in Cabrera's hit display, but not in the Tigers' dugout.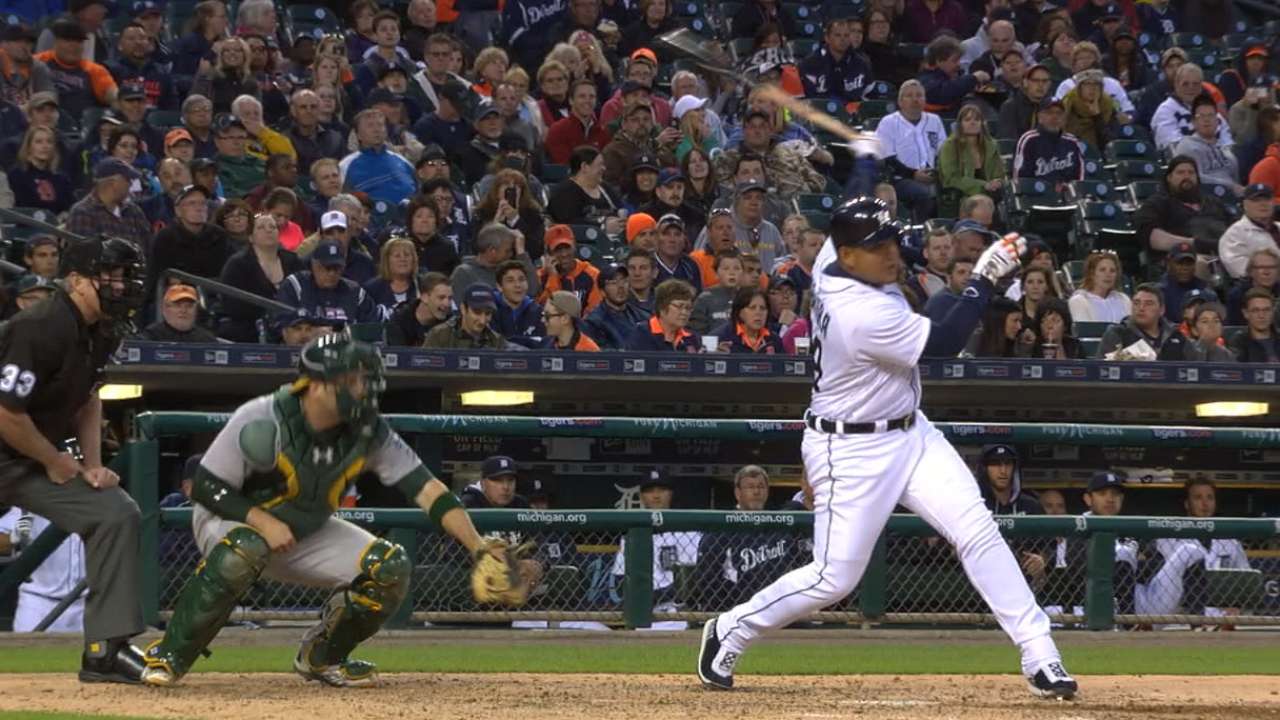 "He looks much more similar to the 2014 V-Mart than he did in 2015," manager Brad Ausmus said. "Not even close for me."
One night later, Martinez drove in Detroit's only run with a double to the warning track in straightaway center. He hit a three-run homer to right the next night, Each one came off that left-handed swing, the power evident in his legs, the turn putting pressure on that 37-year-old left knee, 15 months separated from a torn meniscus.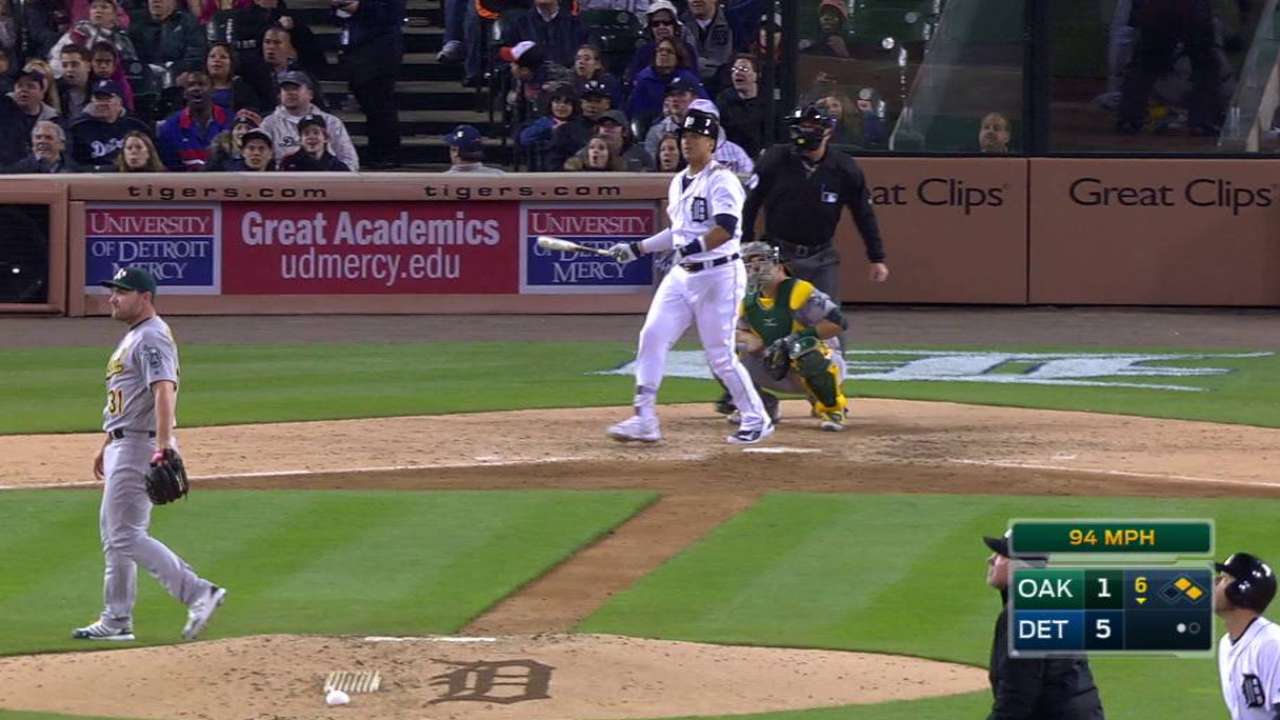 It's only one month, but so far, the knee has been strong enough to carry that swing. And at times, the swing has been strong enough to carry the Tigers' offense.
Martinez began his 2014 greatness with a .298 (25-for-84) average, four homers and 13 RBIs through April, good for an .817 OPS. He closed out last April batting .231 (15-for-65) with one extra-base hit. On Saturday, Martinez finished April batting .329 (25-for-76) with five homers and 18 RBIs. His 1.038 OPS, along with David Ortiz's 1.071 clip, were the highest OPS at the end of April (at least 80 plate appearances) by a player age 37 or older since 2007, according to baseball-reference.com.
Add in nine doubles, and it was Martinez's strongest, most productive April since 2009.
Martinez entered Monday's off-day leading the American League with a 1.072 OPS, trailing only Josh Donaldson with a .663 slugging percentage and ranking third in the league with a .350 batting average. He's one behind the AL doubles lead with 10. And on Monday, he earned recognition for his recent hot stretch, winning the AL Player of the Week Award.
This is the form Ausmus spent most of last summer hoping Martinez would rediscover, looking for signs that the left knee was stabilizing.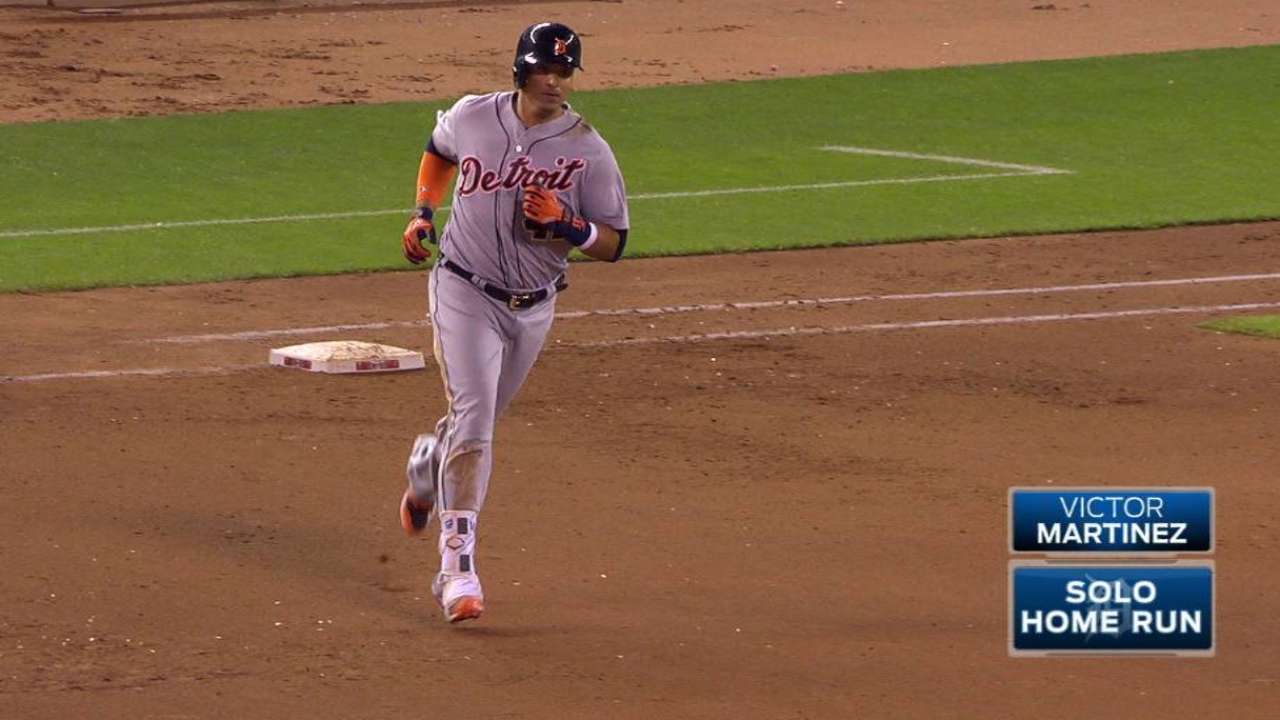 "There were times it felt like he was getting close," Ausmus said, "and then something would happen. He'd jump out of the way of a ball inside and it looked like it bothered him, or he'd run down the line and it looked like it bothered him."
In hindsight, Ausmus said, Martinez might have been better off with more time to strengthen the knee, maybe opening last season on the disabled list instead of waiting until he was batting .216 in mid-May. But a home run in the Detroit's Grapefruit League finale at Tropicana Field made him believe.
Now, just when age made such a comeback unlikely, Martinez has everyone believing.
"For me, at this point," Martinez said April 20 after his 1,000th RBI, "[I'm] just trying to stay healthy and finish my career strong."
Jason Beck has covered the Tigers for MLB.com since 2002. Read Beck's Blog, follow him on Twitter @beckjason and listen to his podcast. This story was not subject to the approval of Major League Baseball or its clubs.