MLB.com Columnist
Anthony Castrovince
5 eye-opening stats from the season's first month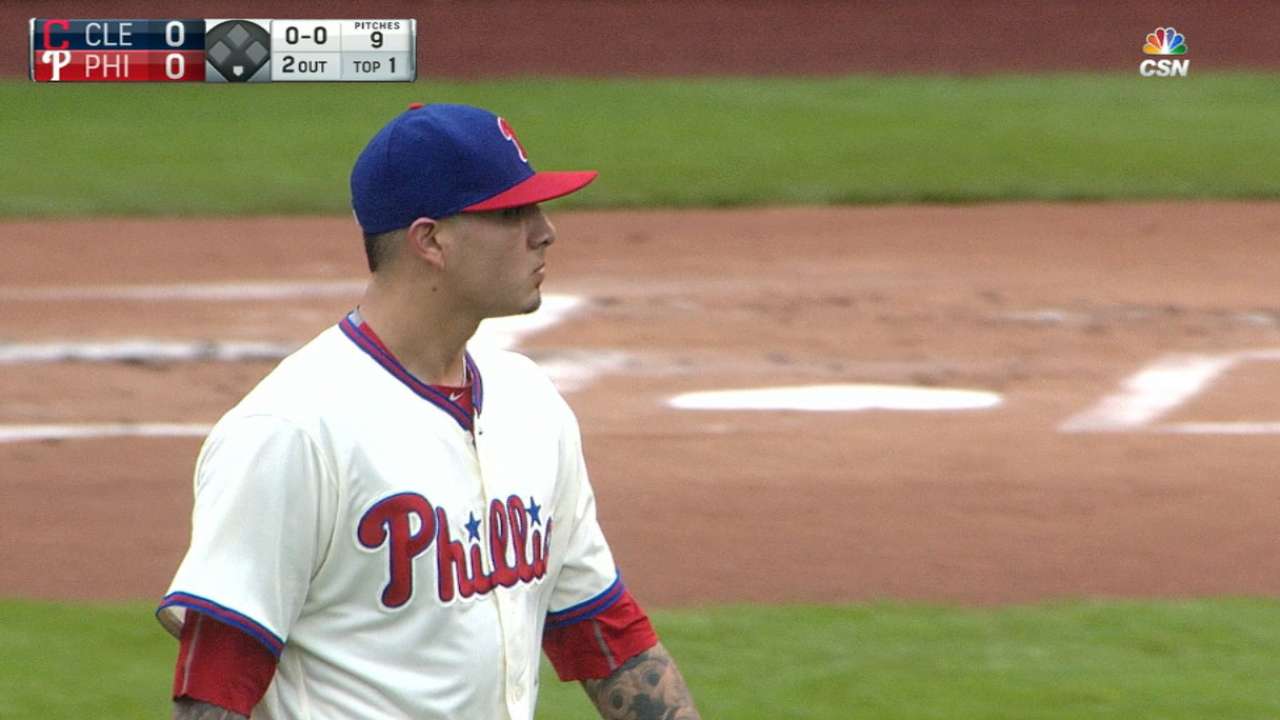 The eventual American League West-champion Rangers were 7-14 at the end of April last season, which tells you how much we should be paying attention to the standings right now. One player tied for the highest home-run total for the month of April 2015 was Hanley Ramirez, which tells you how much we should be paying attention to individual numbers.
But man, there's got to be something we can pay attention to, right?
Well, how about a few team- and league-wide trends that have pleasantly caught us off-guard?
1. The Phillies rotation's fielding independent pitching mark (2.89)
Philadelphia's 15-10 record is eye-opening enough on its own. But it's largely borne of this.
Fielding independent pitching (FIP) is basically an ERA adjusted for the things a pitcher can control -- walks, strikeouts, home runs, hit by pitches. The Fightin' Phils, surprisingly, ranked third in this metric entering the week, behind only the Mets and Nationals. This has been the chief contributor to the Phillies escaping April of a rebuilding year with a winning record. And while it's not enough to change the definition of this season from just that -- "rebuilding year" -- it is enough to make you wonder if perhaps this rebuilding process might be quicker than many of us assumed.
What's encouraging about the Phillies' outlook is the upside. Vince Velasquez, who struck out 25 batters in his first 15 innings and was terrific in a win over the Indians on Sunday, and Aaron Nola, who has allowed one run in his past 14 innings, will take their lumps at times, for sure. But they've already provided flashes of the future, and the Phillies haven't even dipped into a prospect pool highlighted by right-handers Mark Appel and Jake Thompson.
Basically, the Phillies aren't making you squint too hard to see the seeds of a contender at Citizens Bank Park.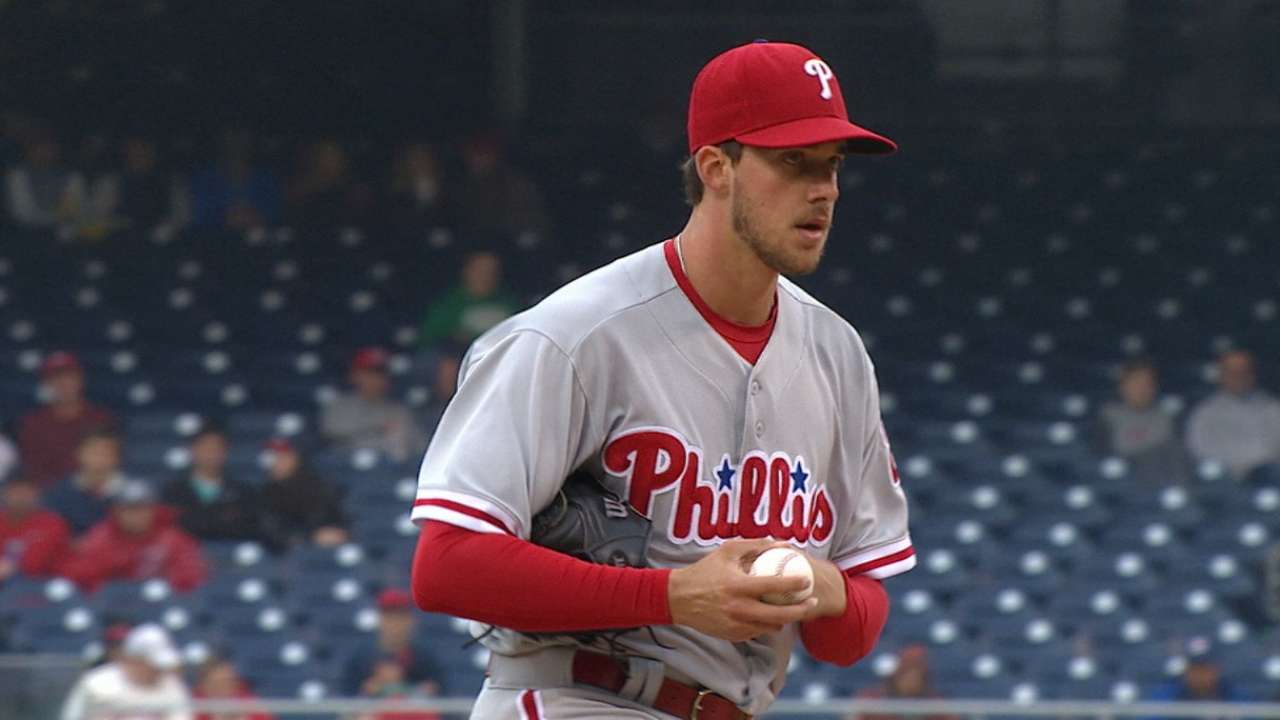 2. The White Sox defensive efficiency (.731)
We could talk about the pitching that's carried Chicago to an 18-8 start. Those of us who felt a staff that begins with Chris Sale and Jose Quintana and ends with David Robertson was worthy of more love than it was getting have had that opinion justified (I just don't know anyone who thought Mat Latos would have a sub-2.00 ERA after five starts).
The improvement of the defense, though, has arguably been the real eye-opener. The Sox ranked 28th in the Majors in Baseball Prospectus' defensive efficiency metric (the rate at which balls in play are converted into outs) with a .689 mark last season. So not only was their lineup struggling to produce runs, it was coughing them up on the other end. Not a good formula.
Now, Chicago ranks seventh in the game in that stat category. The White Sox have also climbed in defensive runs saved (DRS), from a -20 mark to +5. They aren't routinely ripping the cover off the ball, but they're fielding it cleanly (most notably when they turned that crazy 9-3-2-6-2-5 triple play a couple weeks back). While the arrival of Todd Frazier at third base has helped, the real key was Adam Eaton's transition to right field -- a move necessitated by the spring arrival of Austin Jackson. Eaton went from a growing defensive liability to a real strength, turning in 10 defensive runs saved already.
And of course, that defense has allowed the pitching to maximize its potential.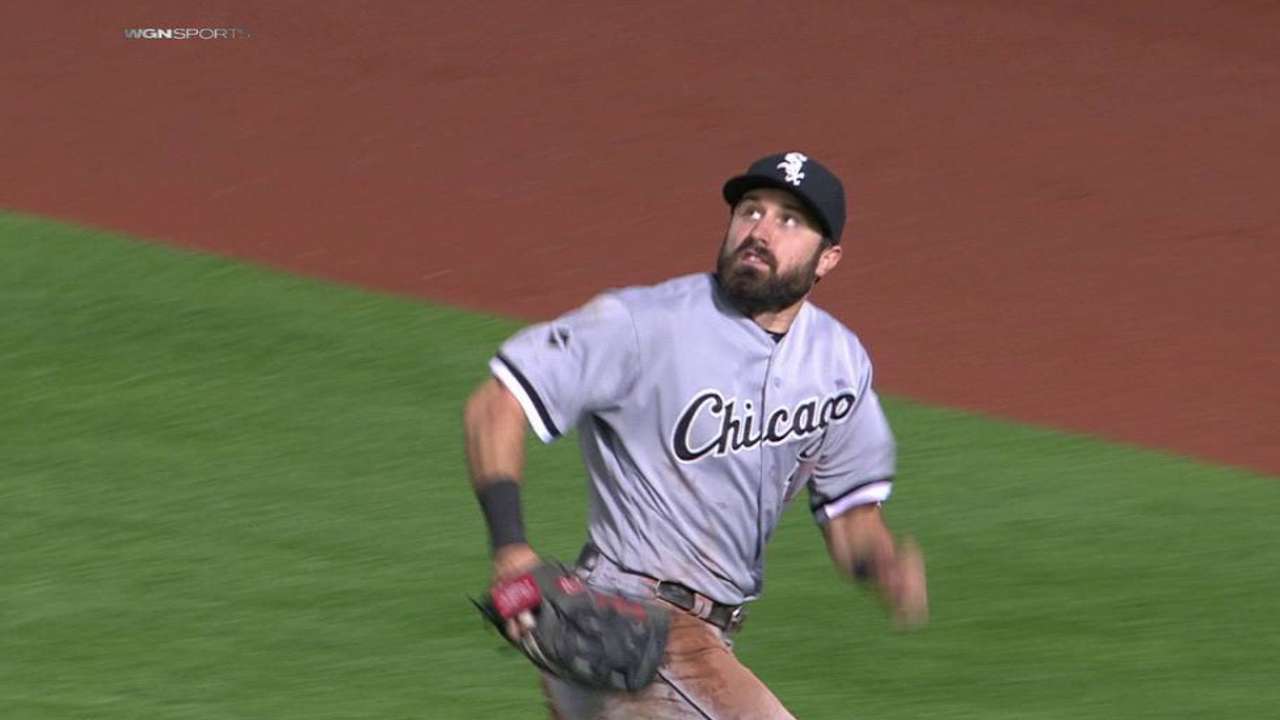 3. The National League's runs-per-game rate (4.5)
That rate is higher than that of the AL (4.0). The last time the NL outscored the AL was 1974, the second year of the designated hitter's existence.
So yeah, this is a little odd. Even if you want to chalk the NL's run-production rise to it having more rebuilding clubs (and hence, poorer pitching staffs) or the 12-point rise in OPS by NL pitchers (way to go, guys!), that doesn't explain why AL teams are scoring nearly one-third of a run less per game than they did last season, on average.
This is probably just one of those little blips that can make the early season so beautifully bizarre. But maybe, thanks to Bryce Harper and Nolan Arenado and Anthony Rizzo and the league-leaping Yoenis Cespedes and a host of others, the balance of power is shifting slightly.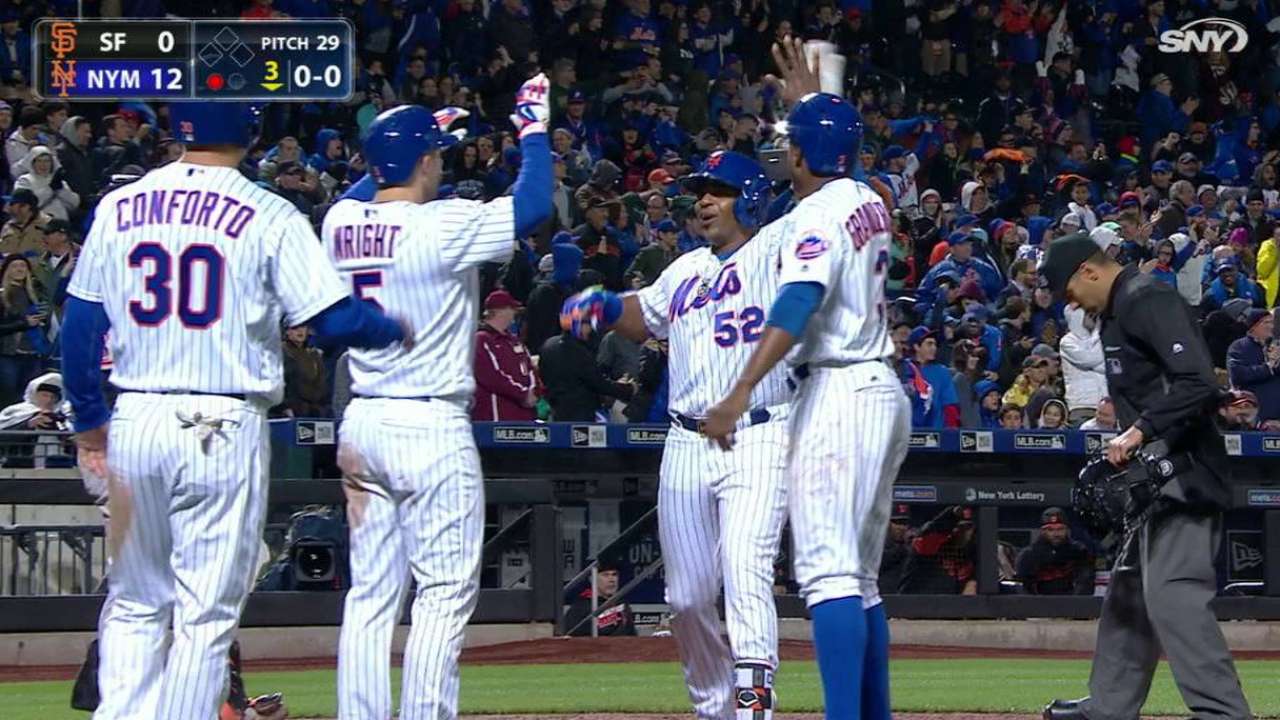 4. The Cardinals' slugging percentage (.473)
A common critique of St. Louis' offseason was that it did not do enough to address a clear offensive deficiency in the power department. While the Cards were an October team in 2014 and '15, they recorded sub-.400 slugging percentages in each of those seasons. And it was an open question whether their pitching could continue to carry them.
Despite the lack of high-profile signings (and the loss of Jhonny Peralta to injury), the Cards came out slugging. The faith that general manager John Mozeliak displayed in Stephen Piscotty has largely been rewarded (four homers, six doubles), but the real revelations have come from rookie shortstop Aldemys Diaz (four homers, eight doubles, one triple) and 28-year-old rookie outfielder Jeremy Hazelbaker (five homers, four doubles, two triples). Combine those unexpected contributions (it took an injury to Peralta-replacement Ruben Tejada for these guys to even make the team) with what has been a bounceback binge from Brandon Moss (six homers), and Matt Holliday has not been a man on an island, as feared.
As a result, the Cards, on a per-game basis, have been the Majors' most productive team not named the Cubs (with the Pirates looming close behind, because those NL Central elites are always bumping heads). Alas, now it's the pitching struggling to keep up, and that's why the Cards are currently a sub-.500 squad.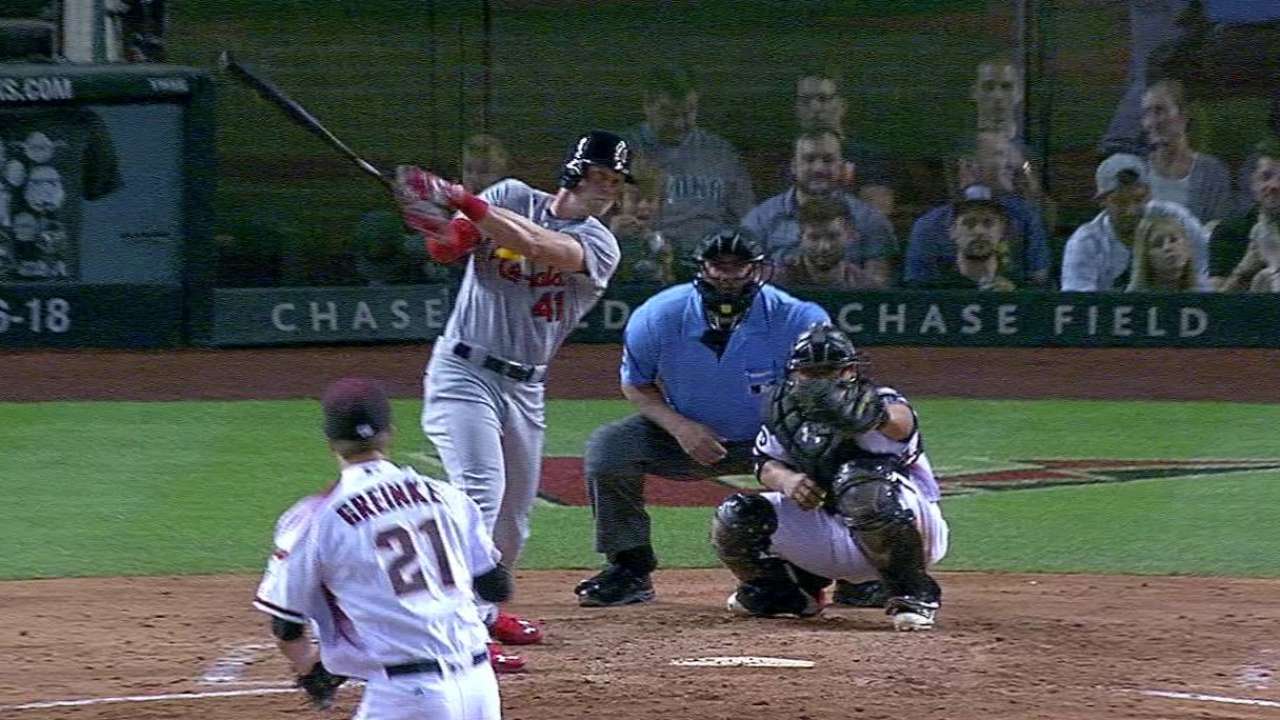 5. The Major League home-run rate (one per 32.49 at-bats)
Strikeout rates continue to rise, as they have for the past decade. But we're finally seeing those free-swinging tactics net the power output that is supposed to accompany the Ks. Late last season, there was a sudden spike in home-run production -- and, ergo, run production -- and it was fair to wonder if it would continue into a new campaign.
Short answer: It has. The above rate is the best in a decade (31.07 in 2006).
One thing to keep an eye on as the season evolves (especially now that Trevor Story is in our midst) is the percentage of those homers hit by players 25 or younger, who we know are making a major impact on offensive production in today's game. As of this writing, those players had accounted for 25.1 percent of all homers hit.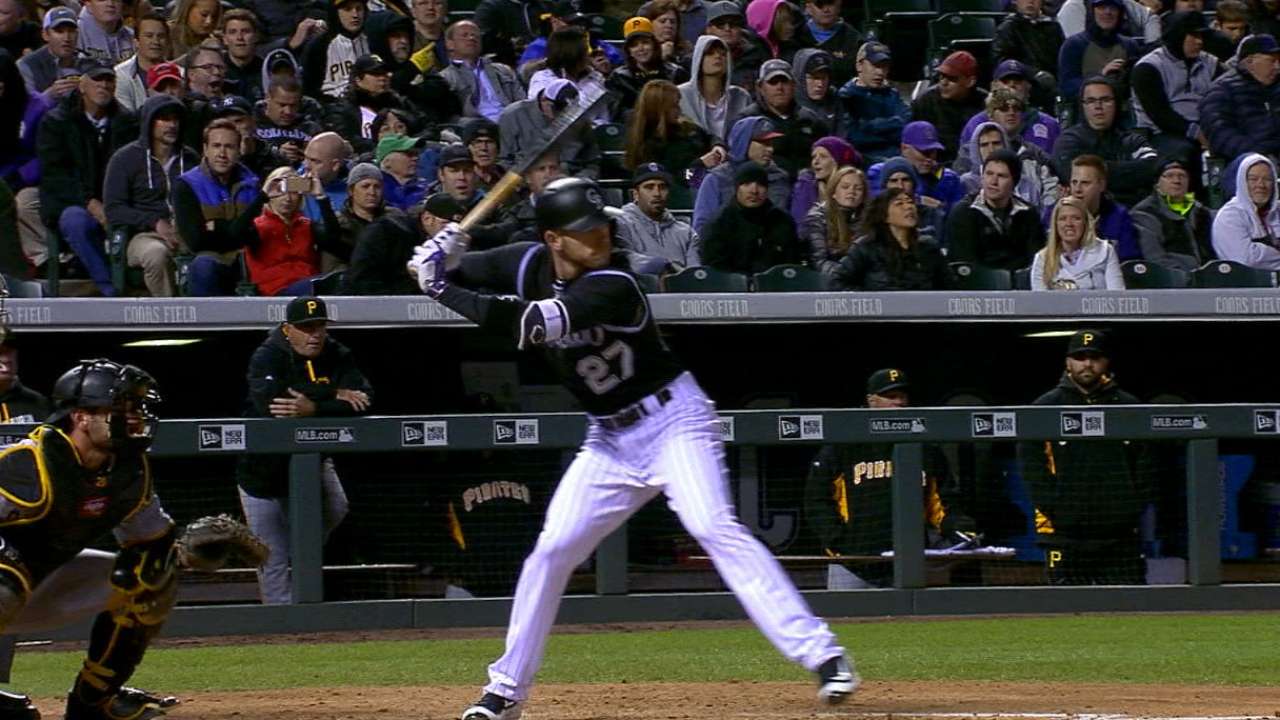 Anthony Castrovince is a reporter for MLB.com. Read his columns and follow him on Twitter at @Castrovince. This story was not subject to the approval of Major League Baseball or its clubs.