Second mock Draft has Gators' Puk at No. 1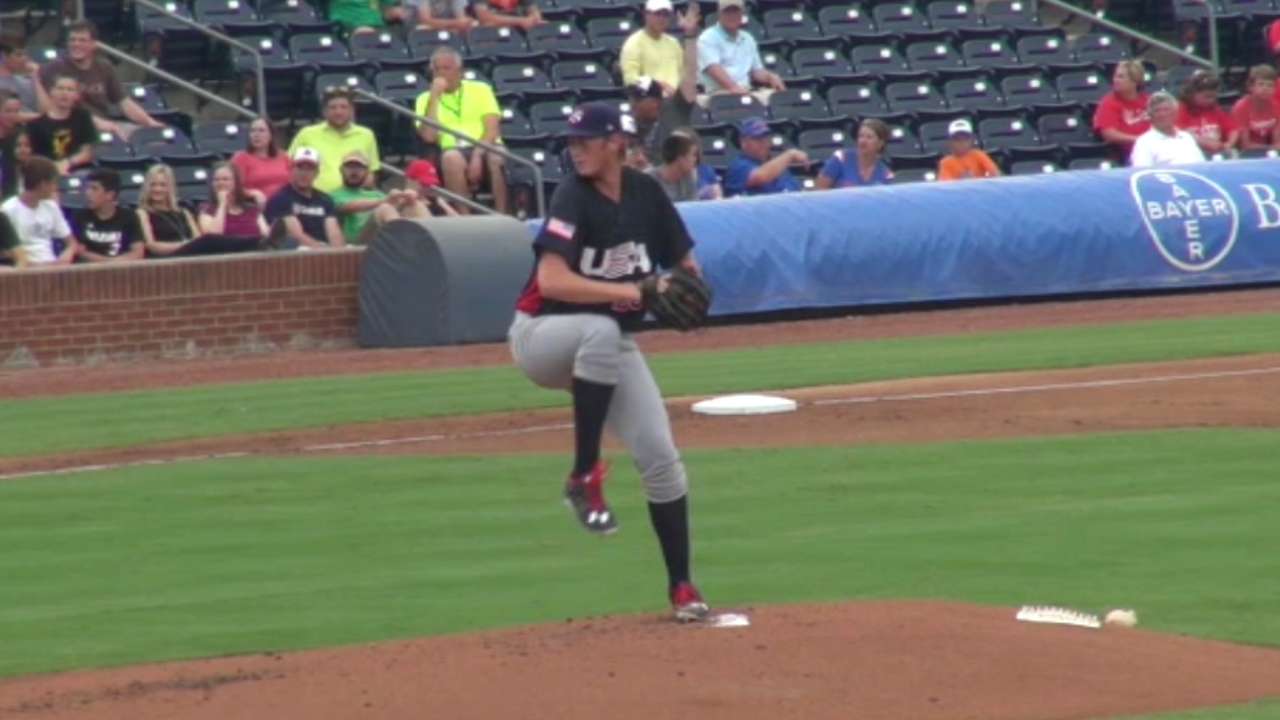 We predicted the first 10 selections when we unveiled the MLBPipeline.com Top 50 Draft Prospects in December, and we're back at it again now that we've expanded and updated the list to a Top 100. We're surprisingly in accord, matching exactly on four of the first five choices and on nine of the same players for the 10 picks. High school pitchers Jason Groome and Riley Pint are MLBPipeline's top-rated prospects, though they may last longer than expected because the industry is leery of the risk involved with prep arms.
The Draft runs from June 9-11, with Day 1 broadcast coverage on MLB Network and MLB.com, and Days 2 and 3 on MLB.com.
1. Phillies
Callis: A.J. Puk, LHP, Florida. Though he has dealt with back spasms and hasn't dominated on a regular basis, Puk has wipeout stuff at his best and seems to be the guy Philadelphia hopes asserts himself as the top pick down the stretch. (First mock: Jason Groome)
Mayo: Puk. He may have been inconsistent, but the big lefty has tremendous stuff and the ability to move quickly through a system. (First mock: Puk)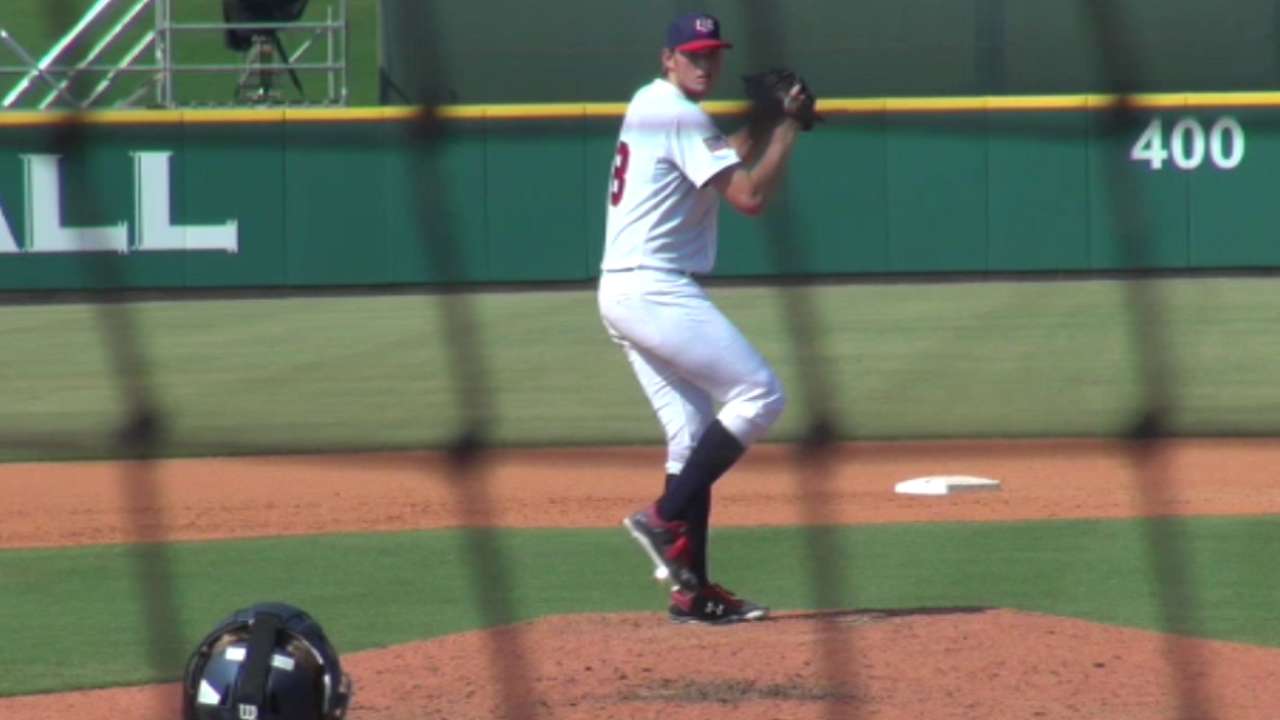 2. Reds
Callis: Kyle Lewis, OF, Mercer. He has the best combination of ceiling and floor in the Draft, as a prototype power-hitting right fielder who may be able to play center. He overcame small-school concerns by starring in the Cape Cod League -- a showcase circuit for top prospects -- last summer. (First mock: Alec Hansen)
Mayo: Lewis. He may have separated himself as the best position player in the Draft with more upside than any college bat, even if he has to move to a corner. (First mock: Groome)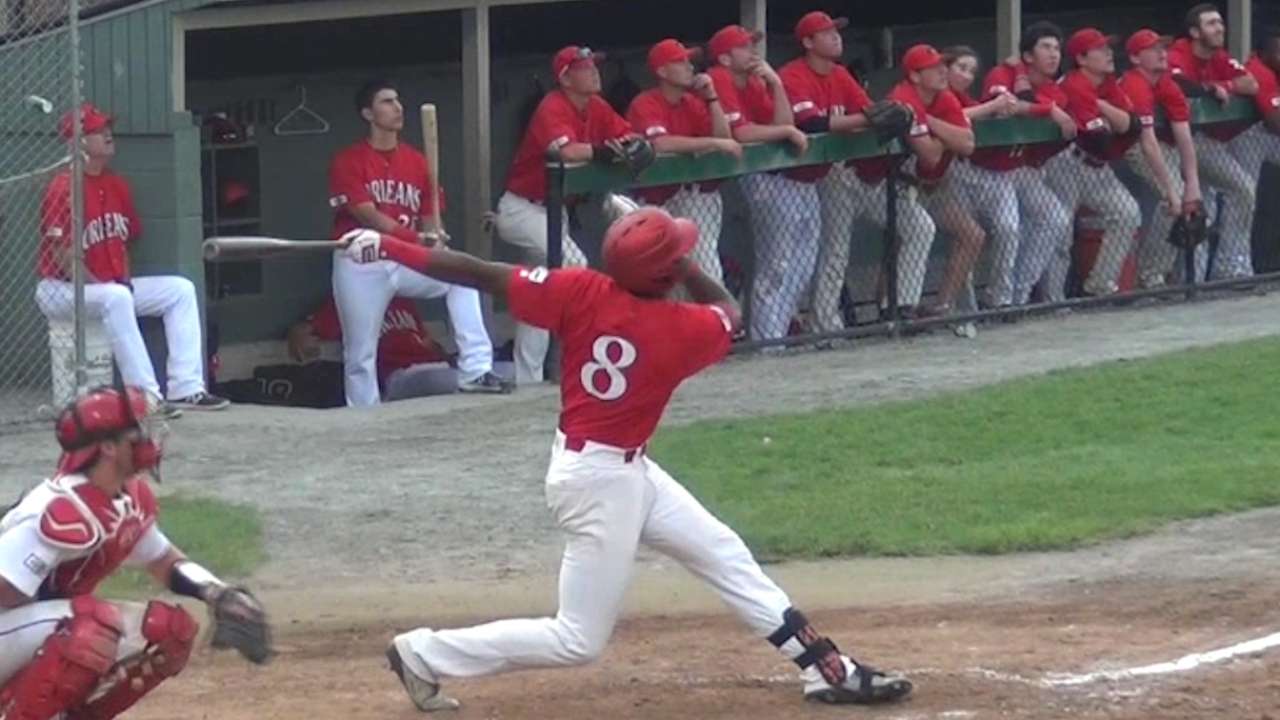 3. Braves
Callis: Corey Ray, OF, Louisville. Atlanta desperately needs some lineup help and pronto, so the best college bat remaining would make sense. If home state product Lewis is gone, that would leave Ray. (First mock: Ray)
Mayo: Jason Groome, LHP, Barnegat (N.J.) H.S. He's No. 1 on our list for a reason, with a combination of stuff and polish unseen in most high schoolers. (First mock: Blake Rutherford)
4. Rockies
Callis: Dakota Hudson, RHP, Mississippi State. Colorado has gotten little out of a huge investment in Tyler Matzek, and the early returns on Mike Nikorak were disappointing last year, so it may not want to go for another high school pitcher in the first round. That could lead to Hudson, the most consistently dominant college starter in a Draft short on that commodity. (First mock: Rutherford)
Mayo: Hudson. All the talk is about the Rockies looking for an arm, and Hudson has been the most consistent college pitcher in the nation. (First mock: Riley Pint)
Complete Draft order, coverage on Draft Central
5. Brewers
Callis: Delvin Perez, SS, International Baseball Academy, Ceiba, P.R. New Milwaukee general manager David Stearns had a positive experience with a Puerto Rican prep shortstop with the Astros (Carlos Correa), and he could go that route again with Perez, who has the highest ceiling of any high school position player in this Draft. (First mock: Puk)
Mayo: Perez. He may be unfairly compared to Correa, but he has tools, ceiling and he will stay up the middle. (First mock: Buddy Reed)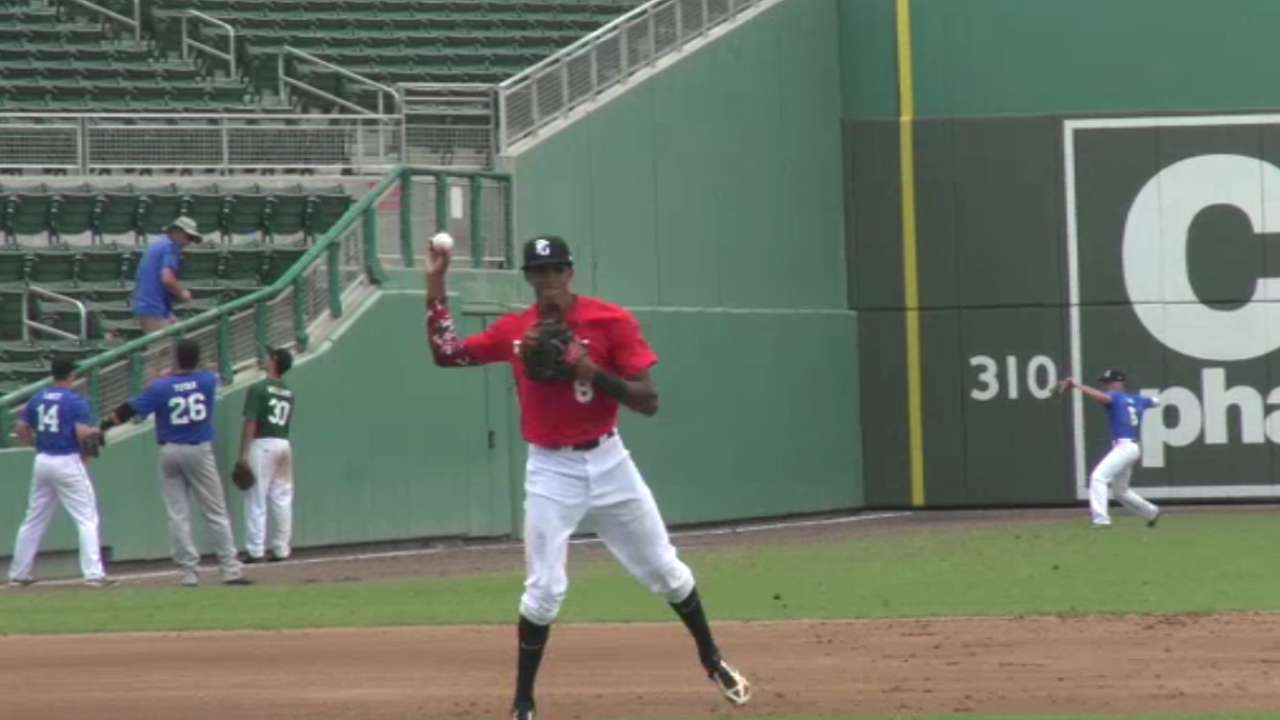 6. Athletics
Callis: Mickey Moniak, OF, La Costa Canyon H.S., Carlsbad, Calif. He's polished for a high school hitter and he immediately would become the best center-field prospect and all-around athlete in Oakland's system. (First mock: Bryan Reynolds)
Mayo: Nick Senzel, 3B, Tennessee. He's worked hard to become a solid third baseman and he has an advanced approach at the plate. (First mock: Ray)
7. Marlins
Callis: Senzel. A thin system can use someone who could provide offense and move quickly. Senzel is somewhat reminiscent of Colin Moran, whom Miami drafted sixth overall in 2013 and traded to Houston a year later. (First mock: Reed)
Mayo: Moniak. He has some helium as the Draft approaches, with speed, the ability to stay in center field, advanced hittability and now some added power. (First mock: Hansen)
8. Padres
Callis: Groome. San Diego GM A.J. Preller isn't afraid to swing for the fences for high-ceiling talent, so it's hard to envision Groome falling any further than this. (First mock: Lewis)
Mayo: Ray. Whether he can play center remains in question, but his power-speed combination is very intriguing to a number of teams. (First mock: Lewis)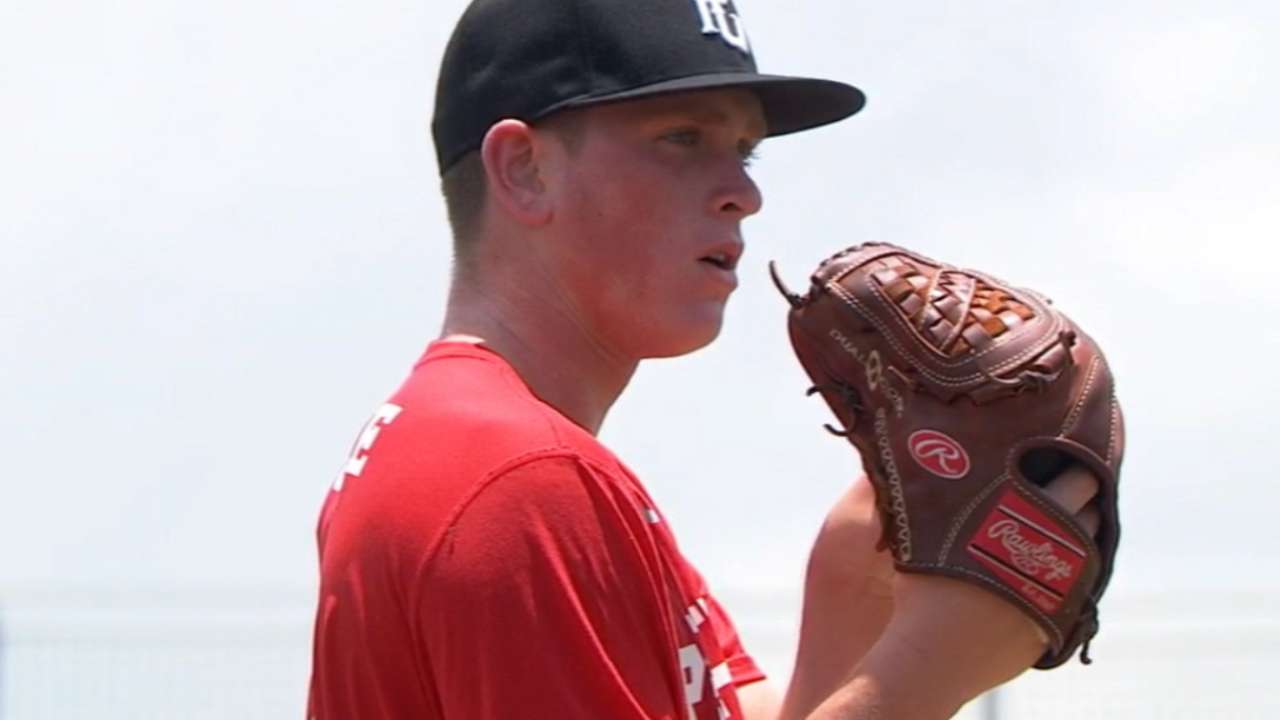 9. Tigers
Callis: Riley Pint, RHP, St. Thomas Aquinas H.S., Overland Park, Kan. Detroit loves power arms and it took high school pitchers with its top choice in two of the last four years, so the club is a natural fit for Pint, who has the highest ceiling in the Draft. (First mock: Pint)
Mayo: Pint. The Tigers taking a hard-throwing pitcher should surprise no one, and no one throws harder than Pint. (First mock: Perez)
10. White Sox
Callis: Zack Collins, C, Miami. There are mixed reviews about his ability to stay behind the plate, but Collins' bat has him soaring up Draft boards and gives him star potential even if he moves to first base. (First mock: Jordan Sheffield)
Mayo: Braxton Garrett, LHP, Florence (Ala.) H.S. He has pitched well on big stages, and he is far more polished than your typical prep pitcher. (First mock: Cal Quantrill)
Jim Callis is a reporter for MLB.com. Follow @jimcallisMLB on Twitter. Jonathan Mayo is a reporter for MLBPipeline.com. Follow him on Twitter @JonathanMayo and Facebook. Listen to Jim and Jonathan on the weekly Pipeline Podcast. This story was not subject to the approval of Major League Baseball or its clubs.