Bullpen of the Week: Relievers solidify sweeps
No shortage of work as Phillies win six games by three runs or fewer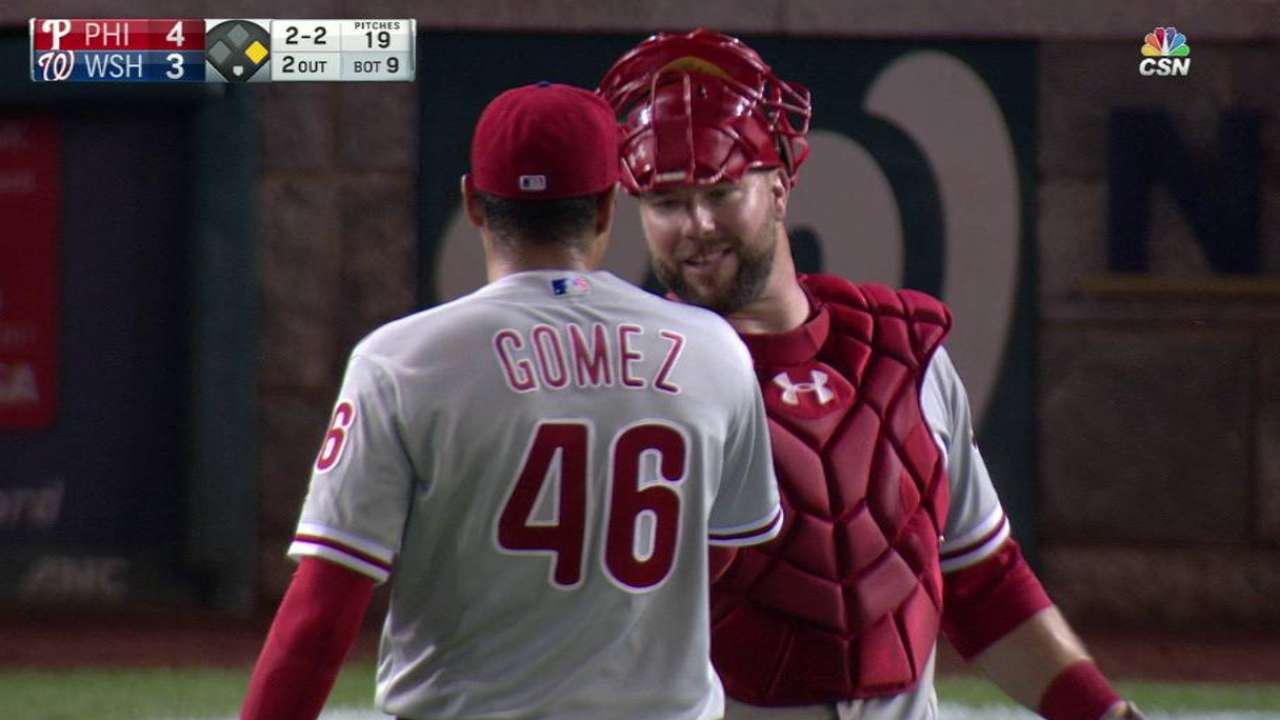 The Phillies were undefeated last week, sweeping a pair of three-game series against the Nationals in Washington and Indians in Philadelphia.
Each of the six victories was won by a margin of three runs or fewer as the Phils leaned on their bullpen to back some strong outings from their starters. The efforts cemented Philadelphia's status as "Bullpen of the Week presented by The Hartford."
BULLPEN OF THE WEEK WINNERS
As part of the MLB Prevailing Moments program, each Monday throughout the 2016 season, MLB.com is honoring the "Bullpen of the Week presented by The Hartford." An industry-wide panel of MLB experts, including legendary stats guru Bill James, constructed a metric based on James' widely renowned game-score formula, to provide a weekly measurement of team-bullpen performance.
Here's how the Bullpen Rating System is compiled for each week. For reference, a weekly score of 100 is considered outstanding:
• Add 1.5 points for each out recorded
• Add 1.5 points for each strikeout
• Add 5 points for a save
• Subtract 2 points for each hit allowed
• Subtract 4 points for each earned run allowed
• Subtract 2 points for each unearned run allowed
• Subtract 1 point for each walk
• Subtract 5 points for a blown save
The Philadelphia bullpen totaled 114 points by allowing just one run and 10 hits in 19 innings of relief. Relievers struck out 23 batters against seven walks, and they earned three wins and five saves.
Closer Jeanmar Gomez was among the unit's standouts, tossing four scoreless innings and recording three saves. David Hernandez also impressed with five scoreless frames, eight strikeouts, two holds and a win.
Like any great bullpen, the Phillies' relievers demonstrated an ability to withstand adversity and succeed in spite of unexpected circumstances. Here's a look at their biggest obstacle:
The unexpected: Gomez was unavailable Sunday after pitching four times in the past five games, so the Phillies had to go a different route when yet another save situation presented itself against the Indians.
How they prevailed: Right-hander Hector Neris came through for the Phillies with his first career save. Neris gave up a solo homer to Carlos Santana, the lone run allowed by Philadelphia's bullpen last week, but he retired his next two batters to end the inning and clinch a second straight series sweep.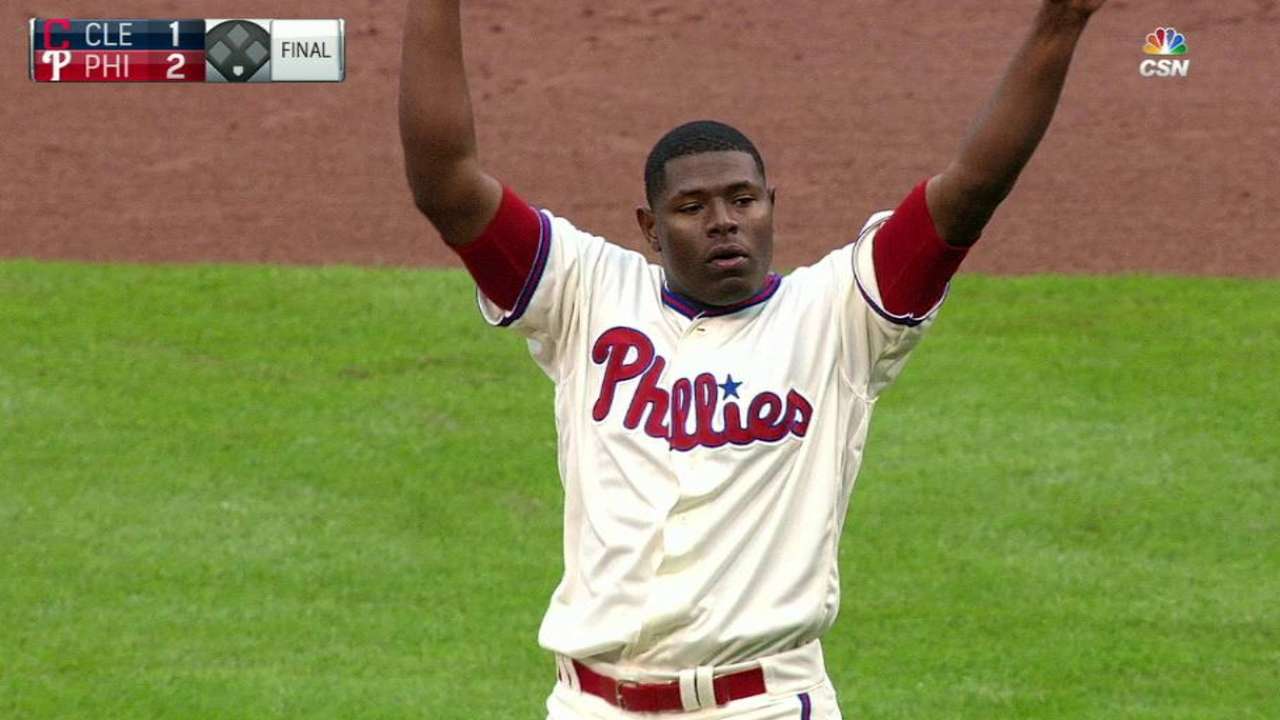 The Phillies were well ahead of the pack last week, more than 10 points ahead of the next closest team in BRS score. The only other club to crack the century mark was Detroit, which came in at 102.5 points. The Tigers' relief unit still features two pitchers -- Justin Wilson and Alex Wilson -- who have yet to surrender a run this season.
Chad Thornburg is a reporter for MLB.com. This story was not subject to the approval of Major League Baseball or its clubs.