Yu fires 2 hitless innings in first rehab start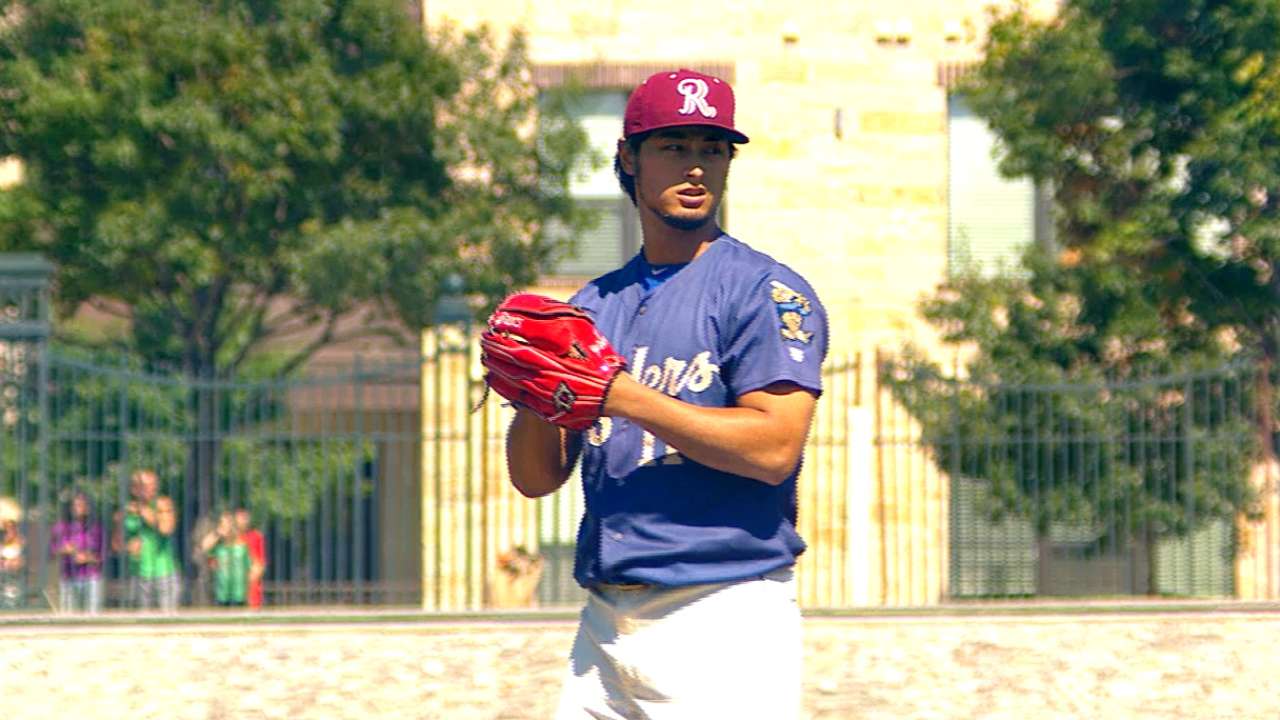 FRISCO, Texas -- After his first rehab start for Double-A Frisco on Sunday, right-hander Yu Darvish answered questions from the media with his eyes constantly looking up at the Rangers game playing on the television in front of him.
With a few more outings like Sunday, it won't be long until he's with his teammates.
Darvish, who hadn't pitched in a game since hurting his right elbow in a one-inning outing during Spring Training in 2015, pitched two hitless innings in his first start since undergoing Tommy John surgery last March.
Darvish struck out two, walked one and threw 32 pitches.
Although the start was short, it did allow Darvish to answer the biggest question he had going into the game.
"Seriously, I hope I'm not going to blow my elbow," Darvish said of his pre-start thoughts. "That's what I was thinking."
Instead, he started the game with a 94 mph fastball to Corpus Christi outfielder James Ramsay. He struck out Derek Fisher on a curveball for the second out of the first and threw 17 pitches in the frame. He struck out Danry Vasquez in the second and finished his scheduled two-inning start by getting a fly ball from Trent Woodward.
Darvish mixed in sliders and curveballs to an arsenal that also included his two-seamer and cutter, and he felt fine after the start.
"Physically I had no problems," he said. "Maybe, mentally, it was my first outing, so maybe I was a little overexcited. That's probably it."
The Rangers have mapped out a rehab plan for Darvish. They will meet with him Monday and then determine when his next start will come.
Darvish's fastball topped out at 97 mph on the stadium gun at Dr Pepper Ballpark, but he joked that he heard the radar at the park was a couple of miles per hour slow. He said he began his preparations for Sunday's outing Saturday. His warmup pitches before the game drew a huge crowd for Frisco, which had its fourth-largest crowd at 11,842.
While it was a big game attendance-wise, it also felt like a big game for Darvish, too.
"It's been a while since I pitched in a game situation," he said. "This was my first rehab outing. I felt like I was pitching with the bases loaded in a big league game every pitch. That's what I felt like."
Catcher Chris Gimenez, who, like Darvish, is rehabbing with Frisco, said he could tell Darvish was a little anxious Sunday. Darvish started his pregame routine earlier than normal and told Gimenez it was because it had been so long since he pitched he forgot when he was supposed to warm up.
Gimenez liked what he saw once the game started.
"I thought he did a pretty darn good job considering that was his first real game action in a year," Gimenez said. "Obviously, he was a little excited to be out there. I think the radar gun possibly showed that a little bit. The fastball was awesome today. The secondary stuff, the sharpness was there, just the continued execution is something he'll have to work on."
The fans at the park also sensed how big Sunday was. He received a standing ovation when he left the game.
That didn't go unnoticed by Darvish, who tipped his cap to the fans.
"I'm glad the fans didn't forget me for not pitching for a year," he said.
Anthony Andro is a contributor for MLB.com based in Arlington. This story was not subject to the approval of Major League Baseball or its clubs.