Mallex rewards Fredi's faith with 3-hit game
Speedy center fielder executes pivotal hit-and-run in decisive 10th inning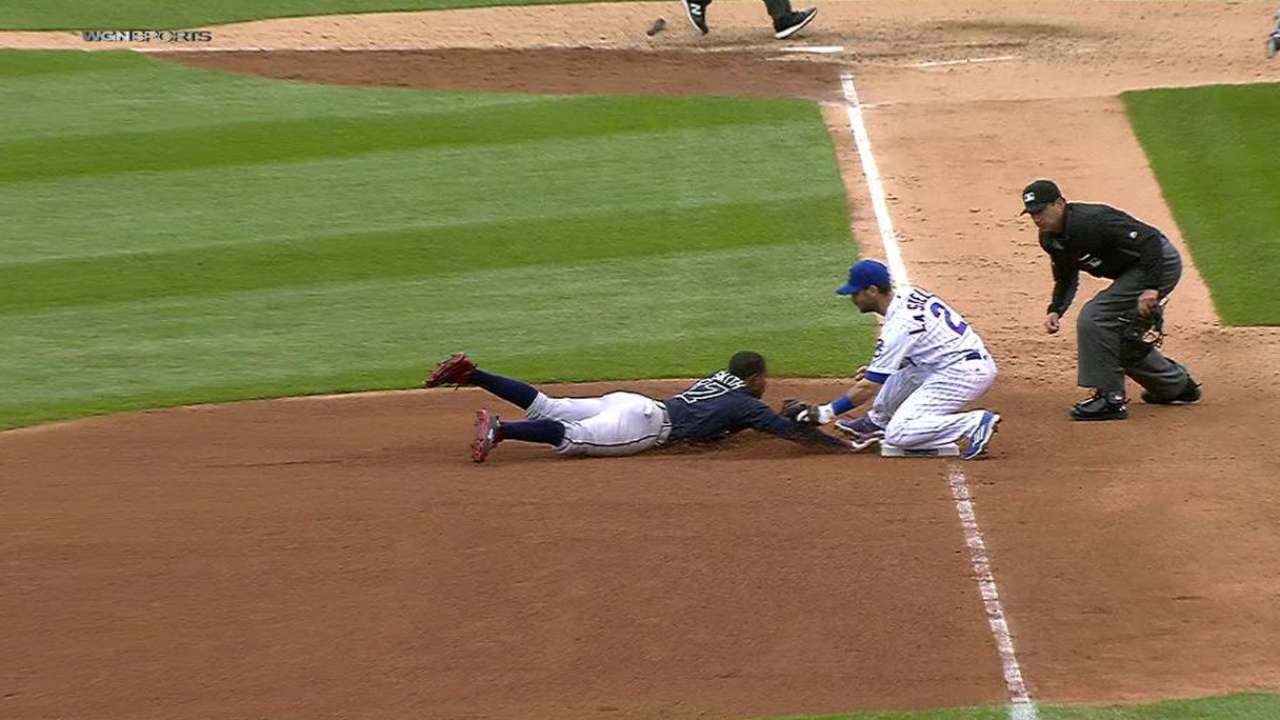 CHICAGO -- While some in the Braves organization have questioned the wisdom of allowing Mallex Smith to continue taking his lumps at the Major League level, manager Fredi Gonzalez kept the faith and preached the need to be patient with the talented young center fielder.
Smith rewarded Gonzalez's efforts at Wrigley Field on Sunday afternoon, when he highlighted his second consecutive three-hit game with a clutch single that positioned Daniel Castro to score the decisive run for the Braves in a 4-3, 10-inning win over the Cubs.
"I think it's just him getting comfortable with the league," Gonzalez said. "He still makes a mistake here and there, but this guy can play up here. It's just a matter of him getting some time and some at-bats and us being patient with him."
Gonzalez opted to bat Julio Teheran eighth and put Smith ninth for the first time on Sunday. He plans to continue to utilize this arrangement whenever the speedy outfielder is in the lineup over the next few days.
Before recording three hits in Thursday's win over the Red Sox, Smith had been hitting .136 (6-for-44) and with a .240 on-base percentage through the 50 plate appearances he had compiled since being called up on April 11 in response to Ender Inciarte's hamstring injury.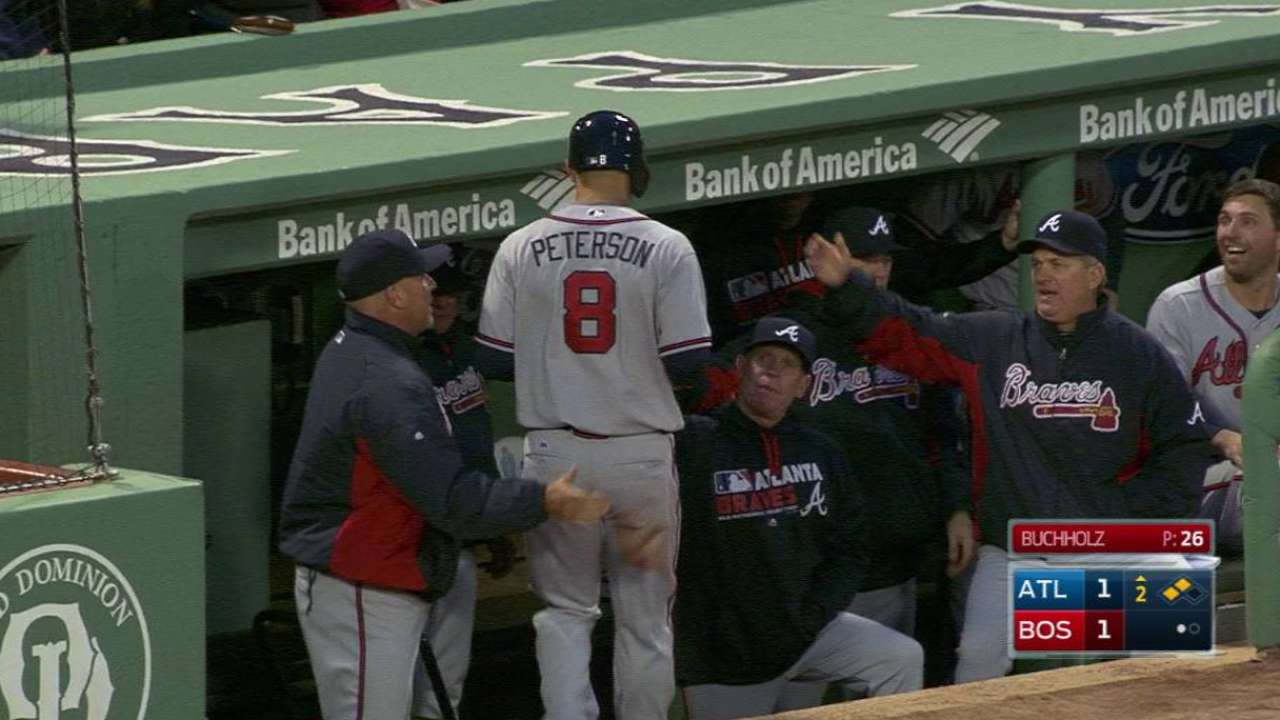 Between Thursday and Sunday, Smith has recorded as many hits as he had compiled through his first 13 games. But no hit has been bigger than the 10th-inning single he sent to left field as Castro neared second and made his way to third base. Castro then scored on Nick Markakis' tiebreaking sacrifice fly.
"Three weeks ago, he wouldn't have [executed the hit-and-run properly]," Gonzalez said. "He'd have swung through it, popped it up for a fly ball."
The pressure to produce from the leadoff spot in his four games there or challenging matchups against tough left-handers like Clayton Kershaw may have contributed to Smith's struggles. But Gonzalez has long believed his young outfielder is mentally strong enough to use the obstacles as learning experiences that might now begin paying dividends.
"Baseball is a game of failure," Smith said. "You're going to fail. So, you've just got to know that, stay positive, learn through your failures and just keep pushing. Every day is a new battle. You just keep coming to the field and putting your all out there."
Though Smith has speed that at least puts him in a similar category as Reds outfielder Billy Hamilton, he has still shown some inexperience on the basepaths. He was thrown out attempting to stretch a double into a triple in the eighth inning on Sunday. Replays indicated Smith might have actually been safe. But as was the case with two stolen-base attempts on Thursday, the ensuing replay review did not go in Smith's favor.
"He's starting to come around," Gonzalez said. "Every league he's gone to, he's been a slow starter. I don't know if it's a comfort level or what. But these last three or four games, he's starting to swing the bat and put the ball in play. We're starting to see what he can do."
Mark Bowman has covered the Braves for MLB.com since 2001. This story was not subject to the approval of Major League Baseball or its clubs.