Inconsistent Hamels sees streaks end
Texas had won 14 straight with lefty, who doesn't pitch into 6th for first time as Ranger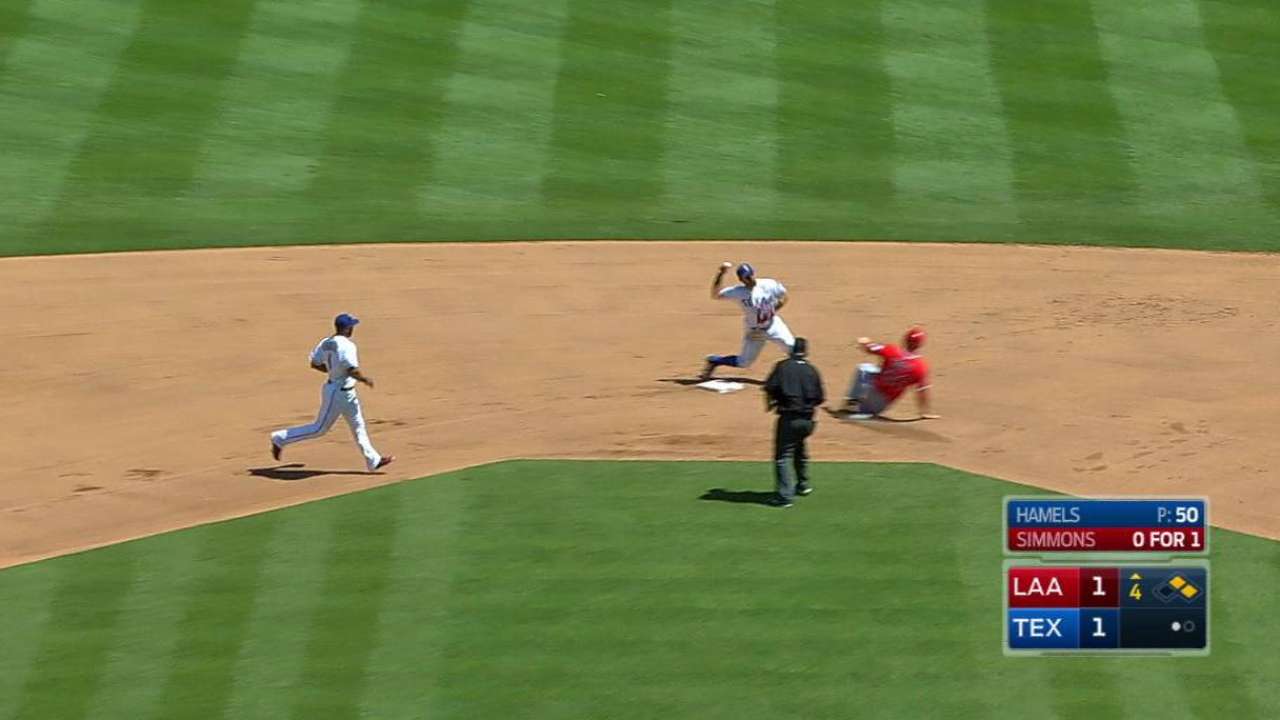 ARLINGTON -- The Rangers strung together an impressive 14 wins in a row with Cole Hamels on the mound, but their ace couldn't string together enough strikes Sunday, and the streak went astray in a 9-6 loss to the Angels.
Hamels walked four, including the game's first batter and three more in a troublesome fifth inning in which he threw 36 pitches and only 17 strikes. Three of the six Angels who reached base against Hamels in that inning scored, and the lefty did not pitch into the sixth inning for the first time in 17 starts as a Ranger.
"I just can't walk that many guys, I've got to challenge them," Hamels said. "Even though they are a good team, you just have to make them earn the bases.
"I just wasn't able to get the consistency of my two-seamer. It was moving in a couple different directions on my release point, so I just wasn't able to harness that and get that understanding of where to actually throw it and then let it move. It was kind of going all over the place."
Hamels' 10-game winning streak, the longest of his career, remained intact nonetheless. Tom Wilhelmsen shouldered the loss after allowing back-to-back singles and a sacrifice fly in the sixth. Sam Dyson threw a scoreless seventh, but Jake Diekman made the bullpen's difficult day worse when he allowed three earned runs in the eighth.
Still, it wasn't just the relievers who kept the Rangers from winning for the 15th consecutive Hamels start. It was the lefty himself who put them in peril early. Even before the fifth-inning breakdown, Hamels had given up five hits and a walk. A pair of inning-ending double plays helped Hamels hold the Halos to one run through the first four frames.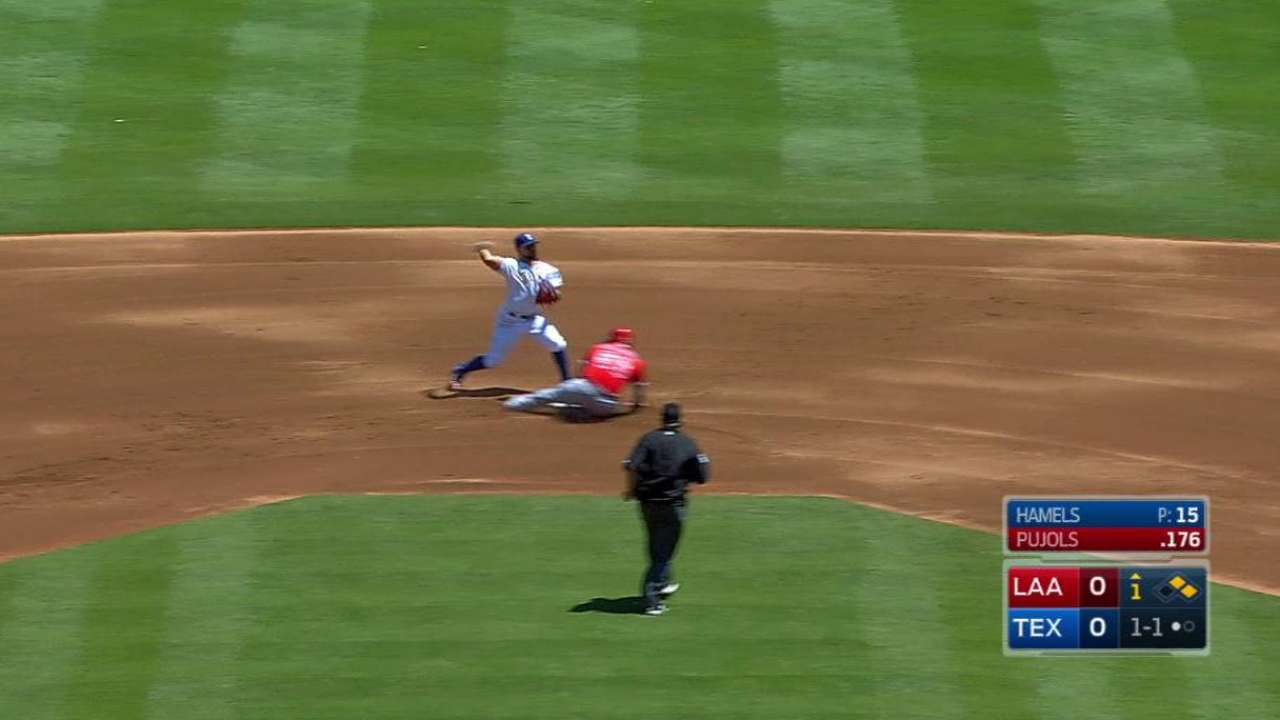 Hamels skipped his previous start because of a sore groin, though he said that had nothing to do with his performance Sunday. However, the extended time off could certainly have contributed to Hamels' twinge of wildness. It was the first thing the manager mentioned in his postgame news conference.
"Ten days down. He had some small misses," Banister said. "The four walks, obviously not the command that he's used to, but most of the misses were small. He gave up singles. Essentially, he really didn't get hit that hard."
All seven hits Hamels gave up Sunday were singles. His 87 pitches -- 49 of them strikes -- tied for the fewest he's thrown in his brief Rangers career.
Without accurate command of his two-seam fastball, Hamels said he pitched cautiously in the fifth. But he nibbled around the edges a little too much, as the walks wound up hurting him, too.
"I do want to challenge them, but you do want to be careful. You don't want to leave something up, because I did understand that part of the game," Hamels said. "But it ended up biting me a little bit when everything was over with."
Dave Sessions is a contributor to MLB.com and covered the Rangers on Sunday. This story was not subject to the approval of Major League Baseball or its clubs.