Hoz, Royals get back to business of winning
Timely offense, stout defense, quality pitching are KC hallmarks vs. Seattle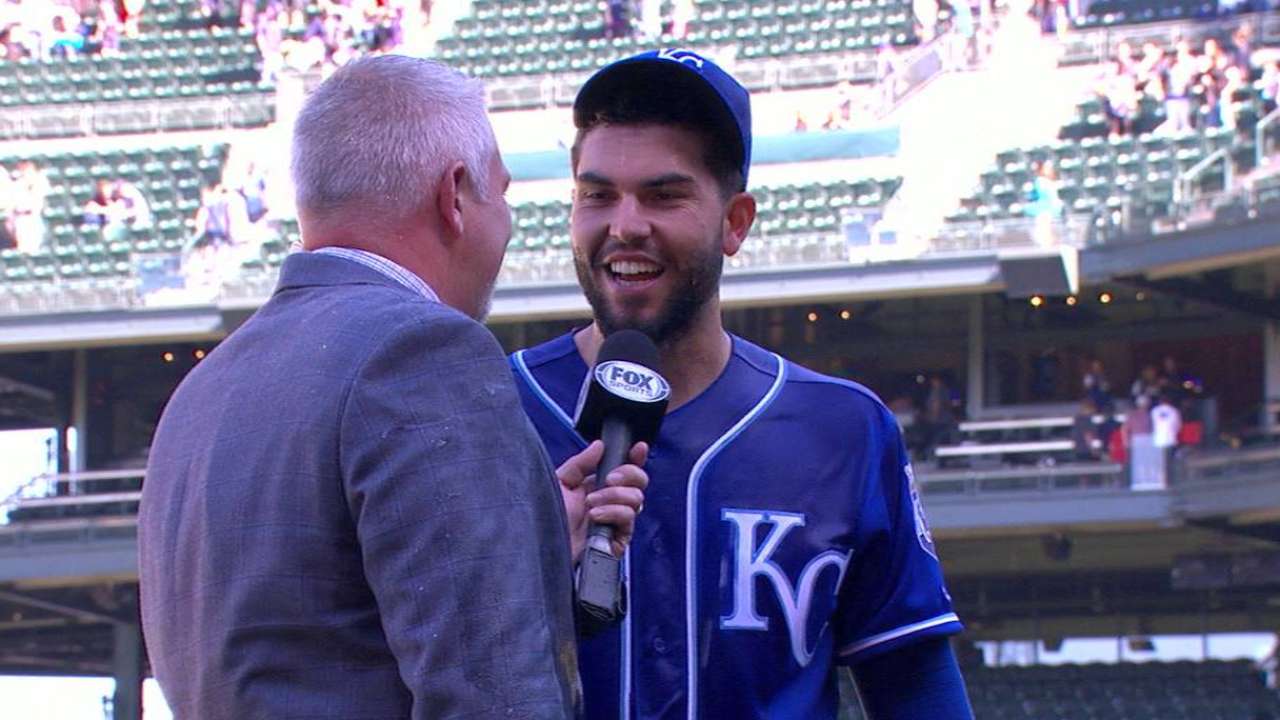 SEATTLE -- The Royals had been waiting so long to be the Royals again. Five games is a lot when you're the defending World Series champions. And five games seems like a lot more when you're not scoring runs.
So it ended with a 4-1 win over the Mariners on Sunday, the first losing streak of this length for the Royals since May 1-5, 2014, back when they were just future Fall Classic participants, not ring-bearing winners. Kansas City broke out of a 27-inning scoreless funk, a seven-game road skid and the five-game overall losing string all at once.
But as the shadows took over Safeco Field following a brutal West Coast swing through Anaheim and Seattle, the Royals, who went 1-5 on the trip, could board their team plane back home knowing, at least, that they were playing their game again.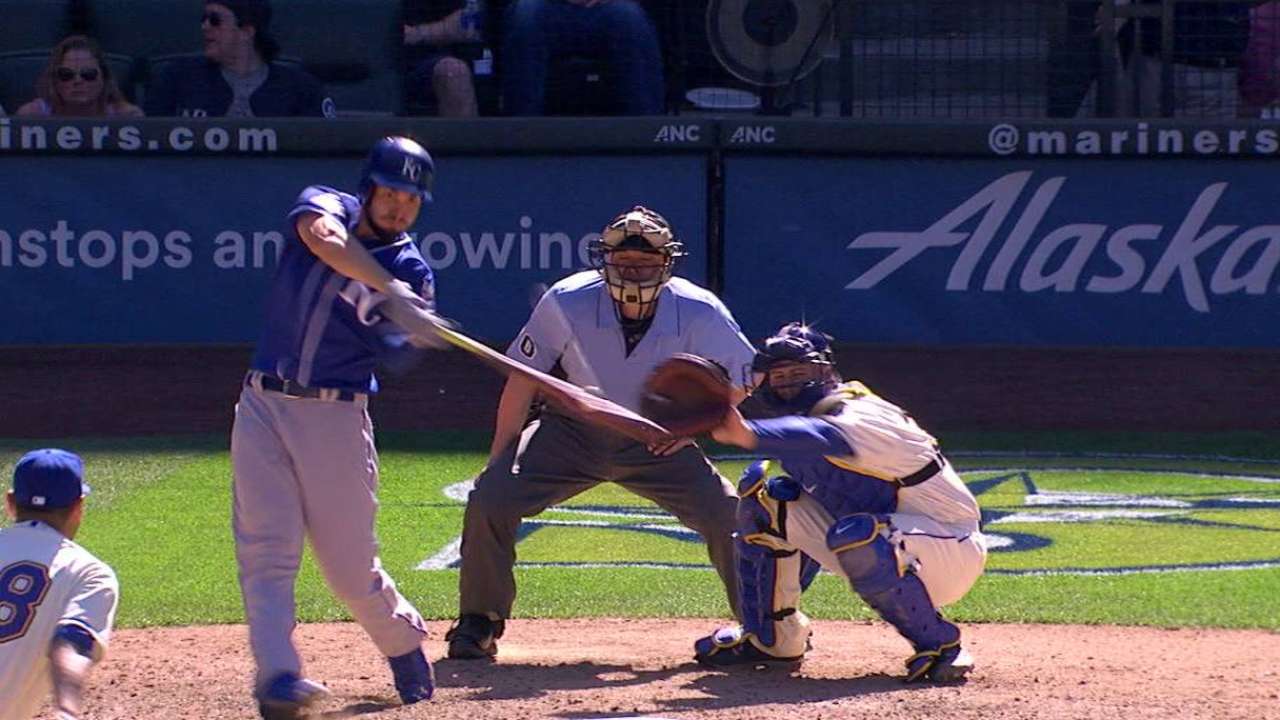 "It feels good," said first baseman Eric Hosmer, who homered for the fourth run in Sunday's finale. "We still have confidence in each other, we still have confidence in this team. We just realized we were going through a stretch of tough times, bad luck, and just stuff wasn't going our way.
"We just had to continue to play hard, and it's good to get this win before we head back and play a tough team in Washington at home."
The biggest comfort might have been that the way they won was very Royals-ish on Sunday.
Good enough starting pitching that wasn't quite spectacular? Check. Ian Kennedy went five-plus innings with a good fastball and little else, as he described it, then departed with none out in the sixth and the bases loaded and a 3-0 lead. But since this is the Royals, he knew he had a great bullpen behind him to pick up the slack.
So left-hander Danny Duffy came in and got out of the jam, for the most part, but another staple of Kansas City's success the last two years, defense, also played a big role. With two out in the inning, Chris Iannetta slapped a single to right. One run came in, but Robinson Cano tried to score and right fielder Jarrod Dyson, all 5-foot-10, 165 pounds of him, nailed Cano at the plate to end the inning.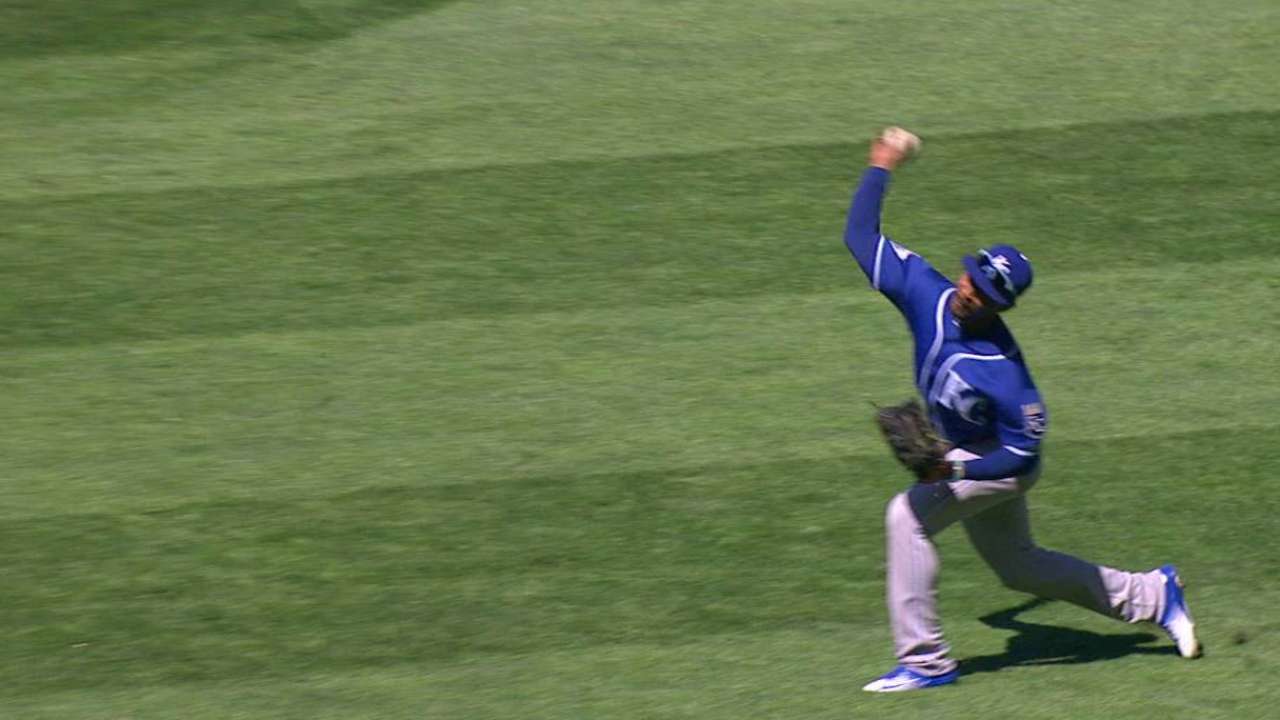 Royals manager Ned Yost wasn't surprised by the throw, even though other teams might be.
"Dyson is deceiving with his arm," Yost said. "They look at a little guy, a speed guy, but he's got a right fielder's arm out there. He comes up and makes really strong and accurate throws. That was a big one there. That's the difference between the game being ahead 3-1 or 3-2, and he made a perfect throw."
The rest was typical Royals, with Joakim Soria handling the seventh, Kelvin Herrera pitching a shutout eighth and Wade Davis back to doing Wade Davis things, closing out the ninth for his eighth save in as many opportunities.
Along the way, the opportunistic and at times famously relentless Royals offense peppered the field with bloopers and opposite-field hits that gave them enough ammo to hang a W for a change.
The Royals insisted that they were never truly concerned about the funk, but they didn't mind at all saying that they were happy to get out of it.
"It's been a while since we've won one," Duffy said.
"So it was nice to end the trip on the right foot, go home, and we've got to handle business at home now."
Doug Miller is a reporter for MLB.com and covered the Royals on Sunday. Follow him on Twitter @DougMillerMLB. This story was not subject to the approval of Major League Baseball or its clubs.