Scherzer makes minor switch in return to form
Nats right-hander strikes out nine over seven innings vs. Cardinals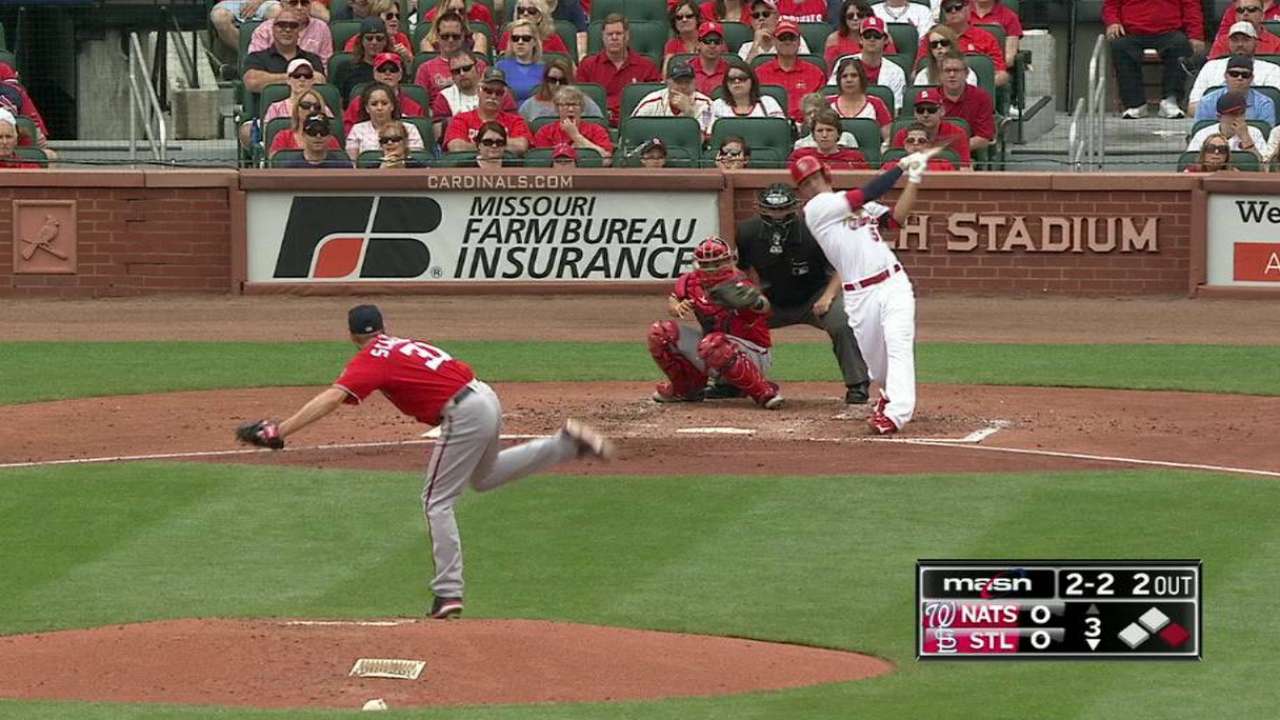 ST. LOUIS -- After his first few pitches Sunday afternoon at Busch Stadium, Max Scherzer could tell he was back to his old self. A mechanical adjustment that was hindering his fastball command had been corrected and Scherzer came out firing the ball down in the strike zone, locating where he wanted and flummoxing the Cardinals offense.
In his best start of the season so far, Scherzer struck out a season-high nine batters and scattered four hits in seven shutout innings to help guide the Nationals to a 6-1 victory and a three-game sweep over the Cardinals.
"I instantly could feel like I was on top of the ball. Any time I needed to throw the fastball, it was down at the knees," Scherzer said. "That's when I'm at my best. When I can throw a fastball over in the count, just throw strikes both in and away, it just sets up all my stuff. I was back to working ahead in the count. That's where I have success, and that's where I was successful today."
Scherzer posted a 4.35 ERA through his first five starts and had repeatedly been tagged for runs in the first inning. He maintained that it was not time to worry, however, because he saw the adjustment he needed to make on video and considered it minor. He said he shortened up his arm action, an issue he remembered correcting in 2010 that allows him to get on top of the ball and drive it down in the zone.
He considered the fact that the issue was so small and easily correctable comforting and told pitching coach Mike Maddux that there was no need to sift through hours of video to correct it.
"We know what's wrong. It's simple just to go out there and do it, fix it," Scherzer said. "I know how to pitch. I'm not broken."
The results were encouraging for the Nationals, who finished this last turn through the rotation with a 1.08 ERA with 33 strikeouts and eight walks. And now their ace seems to be rounding into form.
"That's the best I've seen Max this year," manager Dusty Baker said. "He was sharp. … Hopefully Max can get on a roll like he can get on."
Jamal Collier covers the Nationals for MLB.com. Follow him on Twitter at @jamalcollier.
This story was not subject to the approval of Major League Baseball or its clubs.