Led by Pence, Giants get clutch hits vs. Mets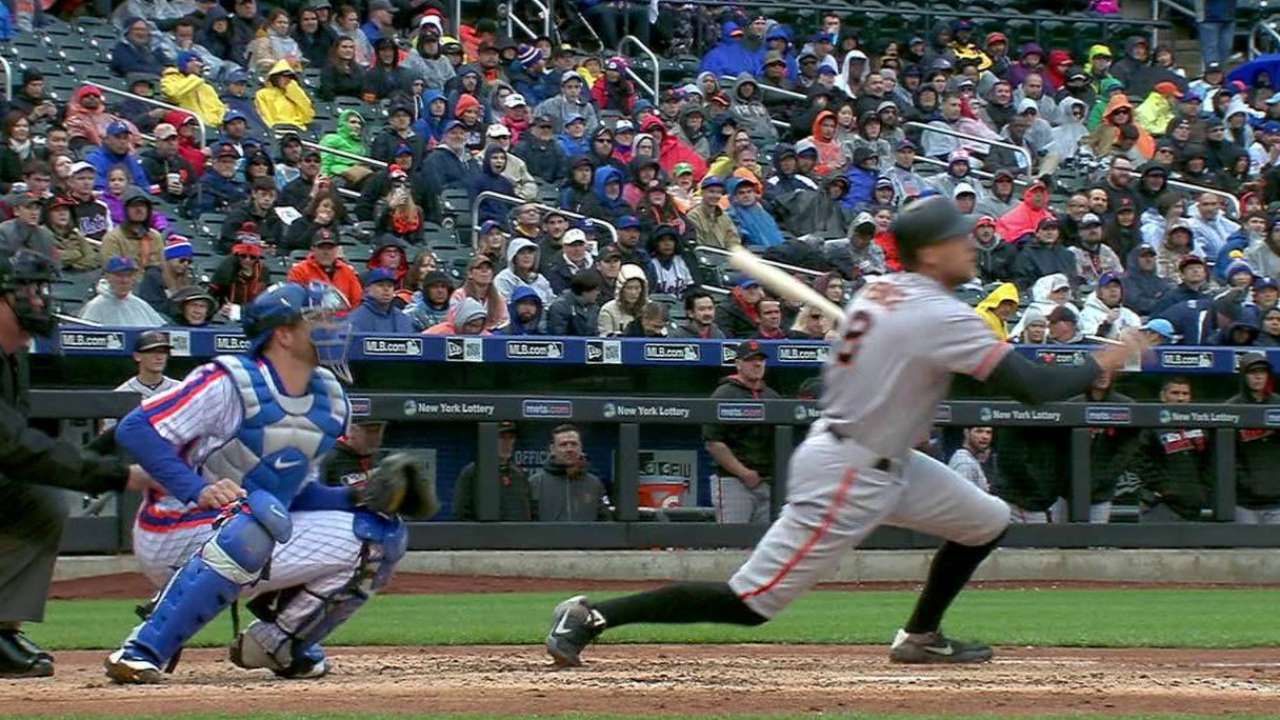 NEW YORK -- For the second time in a little more than a week, the Giants pulled the plug on an opposing starter possessing unquestionably electric stuff as they halted the New York Mets' eight-game winning streak Sunday with a 6-1 triumph.
Hunter Pence led the Giants as they regained their knack for delivering crucial hits. After mustering one hit in 11 at-bats with runners in scoring position in the series' first two games, the Giants went 4-for-9 in those situations in the series finale, with Pence homering and singling to drive in three runs.
The Giants' clutch tendencies re-emerged against an unlikely foe -- Mets right-hander Noah Syndergaard, who recorded a 1.69 ERA with 38 strikeouts and four walks in 26 2/3 innings spanning his first four starts. But just as they did April 23, when they subdued Miami ace Jose Fernandez, the Giants humbled the hard-throwing Syndergaard. Pence's two-run, fourth-inning homer was the afternoon's most breathtaking moment for the Giants, and for statisticians.
• Cast your Esurance All-Star ballot for Pence and other #ASGWorthy players
According to Statcast™, Pence sliced his opposite-field homer to right on a Syndergaard fastball with a "perceived velocity" of 99.1 mph. Not only was it the first homer Syndergaard had yielded this year, but it also was the fastest perceived velocity on a pitch struck for a home run this season, exceeding a 97.9 mph heater thrown by Boston's Craig Kimbrel to Houston's Colby Rasmus on April 24.
Perceived velocity attempts to quantify how fast a pitch appears to a hitter, by factoring the velocity of the pitch and the release point of the pitcher. Standing 6-foot-6, Syndergaard tends to throw many pitches that look faster than they actually are, given his considerable arm extension.
Pence didn't do anything fancy. He simply tried to meet the pitch solidly.
"It's just numbers and timing," Pence said. "Obviously, the harder they throw, the harder it is to square up. I happened to be on time with it. When they're throwing that hard, that supplies the pop if you get a good part of the bat on it."
Pence, who has 199 career home runs, is among the few Giants whose performance has fluctuated lately. He's hitting .419 (13-for-31) with three doubles, a triple and three homers in his last nine games. He might find himself elevated from the sixth spot in the Giants' order extremely soon.
The Giants frequently set up scoring opportunities by accumulating a season-high four stolen bases, seizing upon one of Syndergaard's flaws. But the most industrious running they engaged in didn't result in a theft. Pence's homer capped a three-run uprising that broke a scoreless tie, but Syndergaard nearly survived the inning unscathed. Each run in that inning was made possible by Giants manager Bruce Bochy putting Buster Posey in motion from first base on a 3-2 pitch to Brandon Belt with one out and Matt Duffy on third. Posey reached second base safely. That prevented an inning-ending double play, enabled Duffy to score and prolonged the inning for Pence.
"You have to do the little things," said Giants left-hander Madison Bumgarner, whose six shutout innings constituted a big thing. "There's obviously some games where you can get by without it, where things just go your way. But if you want to be a winning team, you have to do the little things right, and that's what we did today."
Chris Haft has covered the Giants since 2005, and for MLB.com since 2007. Follow him on Twitter at @sfgiantsbeat and listen to his podcast. This story was not subject to the approval of Major League Baseball or its clubs.