Rolling Arenado: MLB HR leader also gold with glove
Rockies third baseman swats 11th home run of season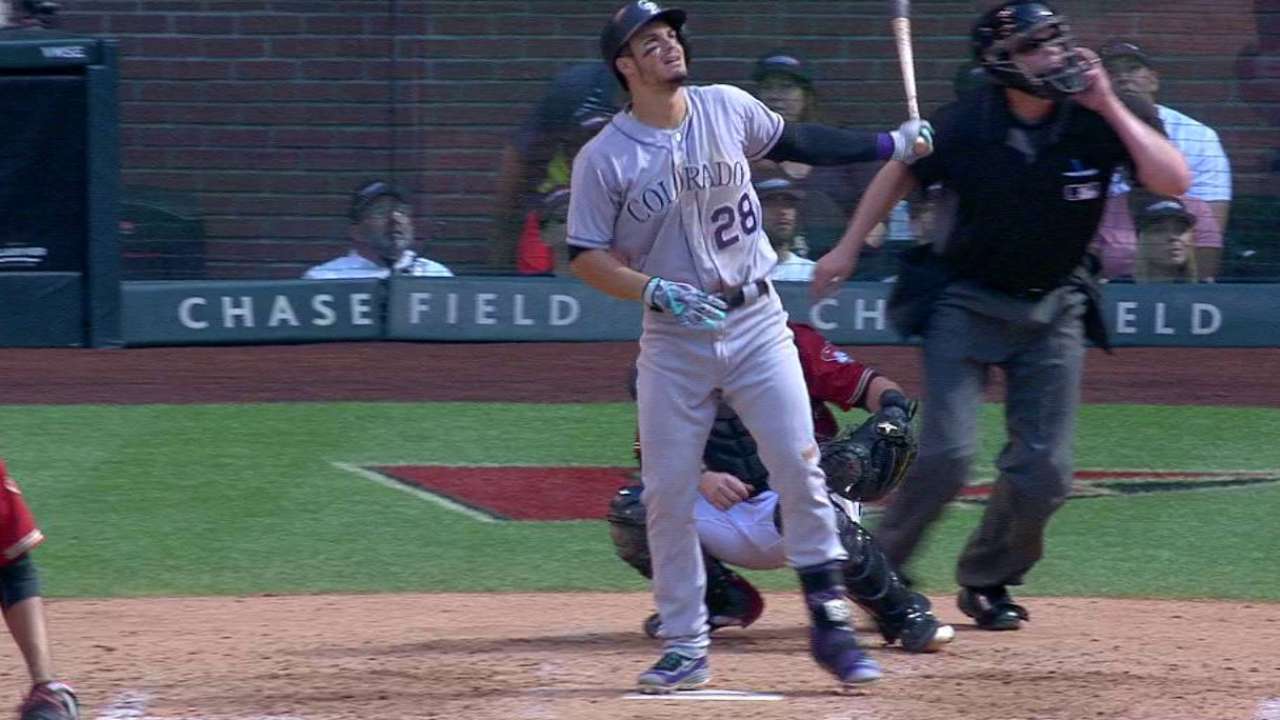 PHOENIX -- On a day when Nolan Arenado regained sole leadership in the Major League home run race with his 11th of the season, his manager couldn't stop praising him -- for his defense just as much as the game-changing homer in the Rockies' 6-3 victory Sunday.
This is what the Rockies see on a regular basis from their All-Star third baseman, and Walt Weiss wants more people to know it.
"You can say, 'How big was Nolan?' all day," Weiss said. "He hits the home run to give us some breathing room, and he makes a few unbelievable defensive plays. We just shake our heads when he makes those plays. We've seen it so many times now. Man, it's still amazing to watch."
• Cast your Esurance All-Star ballot for Nolan and other #ASGWorthy players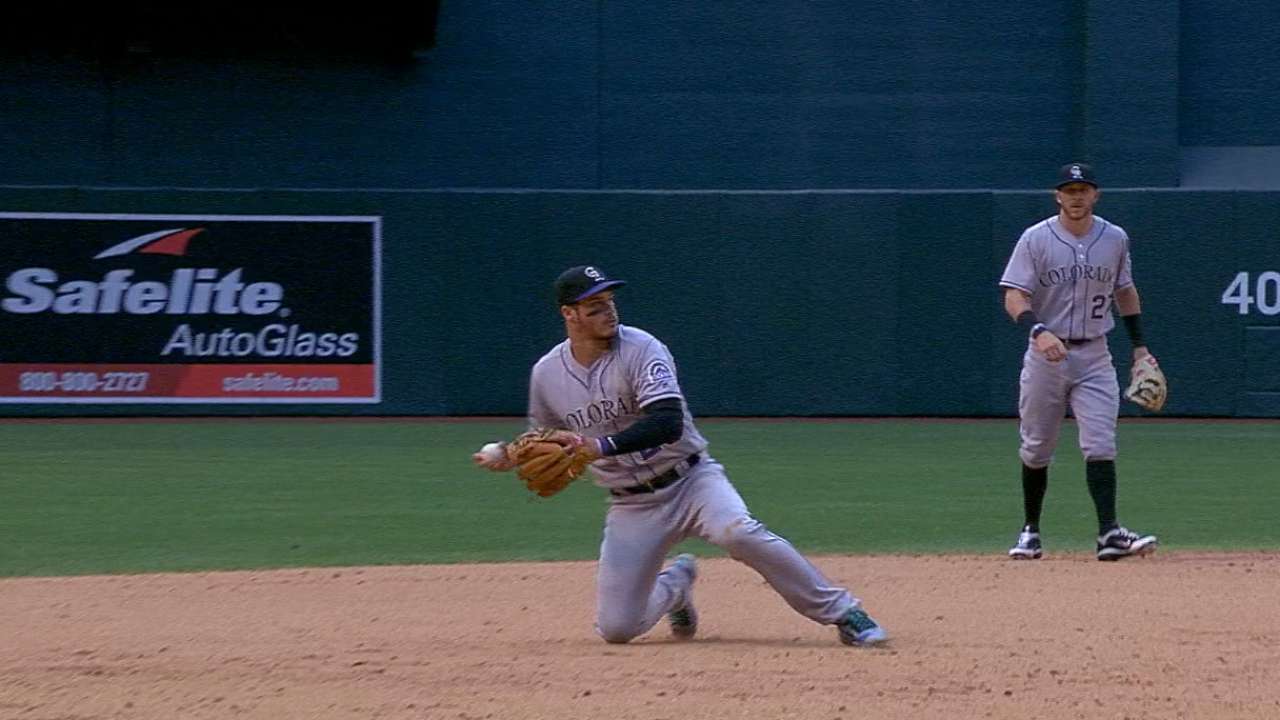 "I've never seen a better defensive third baseman," Weiss added. "I tell people, you take all the best guys you've ever seen at that position and mold them into one guy, and that's Nolan."
Arenado's two-way performance fueled Sunday's victory, which completed a three-game sweep of the D-backs -- Colorado's first in 12 years at Chase Field.
Here's a breakdown of Arenado's highlight-reel moments:
After the D-backs crept to within a run in the previous half-inning, Arenado kept a high drive inside the left-field foul pole for a pivotal two-run homer off Randall Delgado in the top of the seventh.
"When I hit balls over there, they usually go foul," Arenado said. "I'm just happy it stayed fair, happy I hit the ball hard. We were up by three, and then they came back, so to have a quality at-bat there and drive in two runs was nice. What's most important is that we won the game."
The Rockies' lead stayed at three partly because of Arenado gems in the eighth and ninth innings. First, he stole a hit from Chris Owings with a play on a high chopper to his right, complete with an off-balance, fadeaway throw.
Then Arenado made a glove save to his left on Rickie Weeks Jr.'s wicked smash and completed that 5-3 play with a throw from his knees.
"Not only does he have the range to get to balls, he finishes those plays. They're outs," Weiss said. "A lot of guys may make a great play and get to the ball, but the runner is safe at first. Nolan finishes."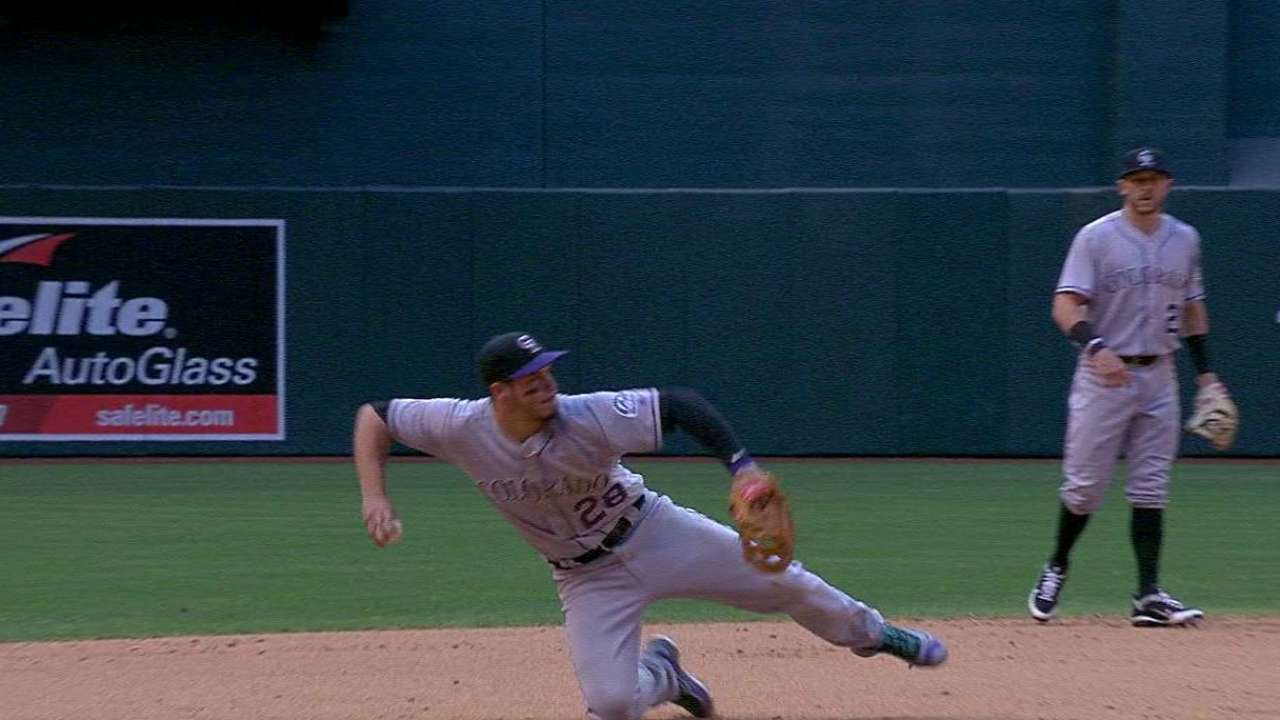 A Major League scout who has watched Arenado over the past few seasons agreed with Weiss' assessment. This spring, the scout favorably compared Arenado to Hall of Famer Brooks Robinson, saying Arenado displays more range and a better throwing arm than the 16-time Gold Glove winner. The scout's playing career as an American League infielder overlapped Robinson's for parts of five seasons in the 1960s.
When told of that assessment, Arenado said: "Wow, tell [the scout] I said thanks."
You won't get any argument from Weiss on this subject.
"I don't even know how you rank [the great defensive plays] anymore," Weiss said. "There's like 750 of them. But people who don't see him on a regular basis don't understand. He doesn't get his due. I know the kid in Baltimore [Manny Machado] is really good, too, but I don't get to see him much.
"[Arenado] literally impacts the game on both sides of the ball almost every single day. That's why it's so hard to give him a day off. He can go 0-for-4 and still change the game."
Tony DeMarco is a contributor to MLB.com based in Phoenix and covered the Rockies on Sunday. This story was not subject to the approval of Major League Baseball or its clubs.