Angels chase Hamels, beat Rangers' bullpen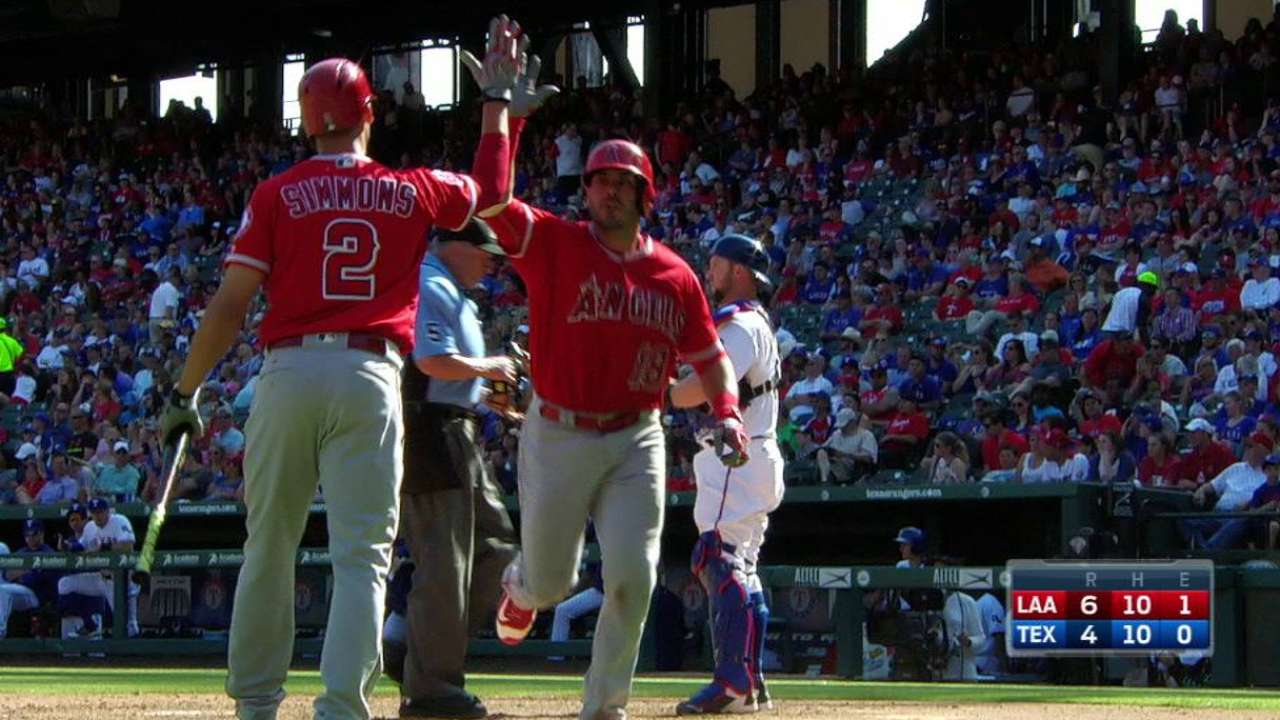 "That's a good win, especially after the first two games here," Angels manager Mike Scioscia said. "The guys had a lot of energy."
The Rangers used a three-run fourth inning to take a 4-1 lead off Angels starter Garrett Richards, but his offense scored three runs of its own in the fifth and took the lead on Yunel Escobar's sacrifice fly in the sixth.
Hamels (five innings) and Richards (four) each had their shortest starts of the season, leaving it up to the bullpens to decide the outcome.
"He really didn't get hit that hard," Rangers manager Jeff Banister said of Hamels. "Some balls off the end of the bat, some ground balls, he was able to get some double-play balls earlier. He didn't quite really get out of that last inning the way we've seen and are accustomed to."
The Rangers got back-to-back two-out singles off Salas in the seventh, but the veteran reliever struck out Ian Desmond to keep the Angels' one-run lead intact. The Angels then tacked on three runs in the eighth, getting a solo homer from Soto, an RBI single from Calhoun and a run-scoring double off the right-field wall by Mike Trout.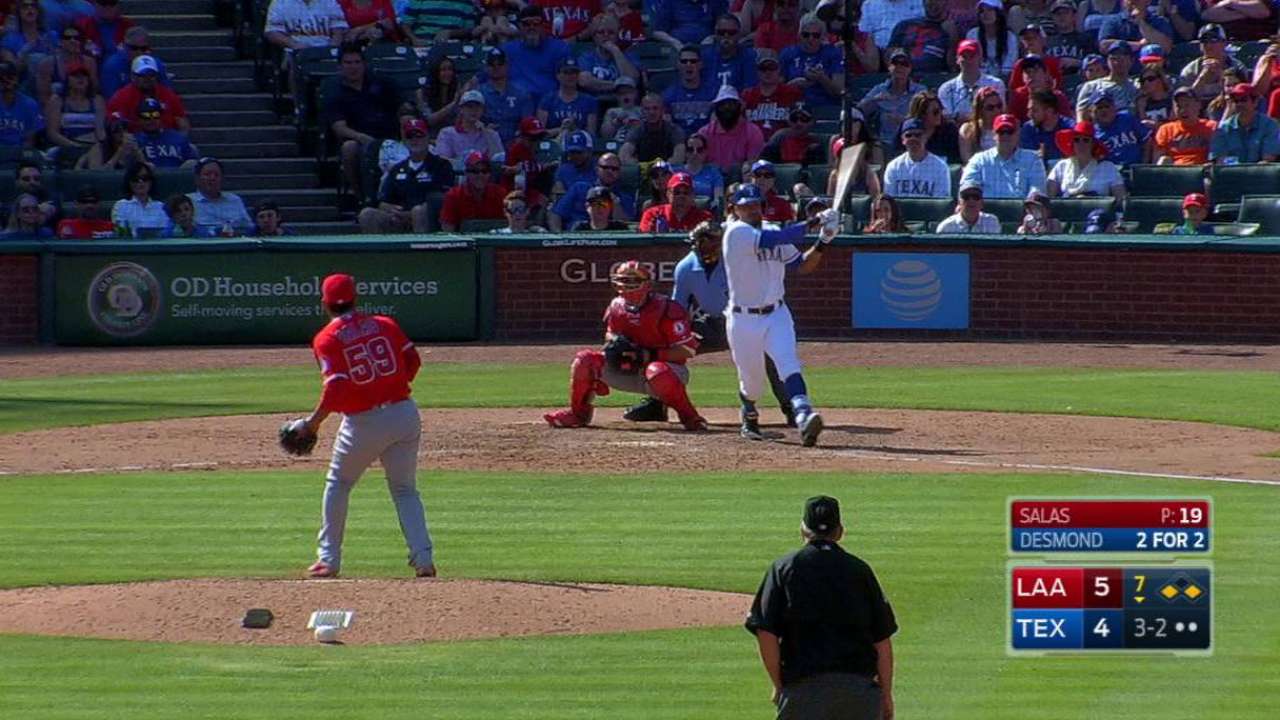 "These guys played a [heck] of a game," Richards said. "They bailed me out."
MOMENTS THAT MATTERED
Game of Cron: With the bases loaded, two outs and the Angels trailing by two against a tiring Hamels in the fifth, Cron came up big, lining a two-out, two-run single to right field to tie the game. Cron entered Tuesday with a .153/.242/.220 slash line, but he has reached base in 10 of his last 17 plate appearances. The Angels need his bat, especially with Trout and Albert Pujols going a combined 6-for-25 in the weekend series.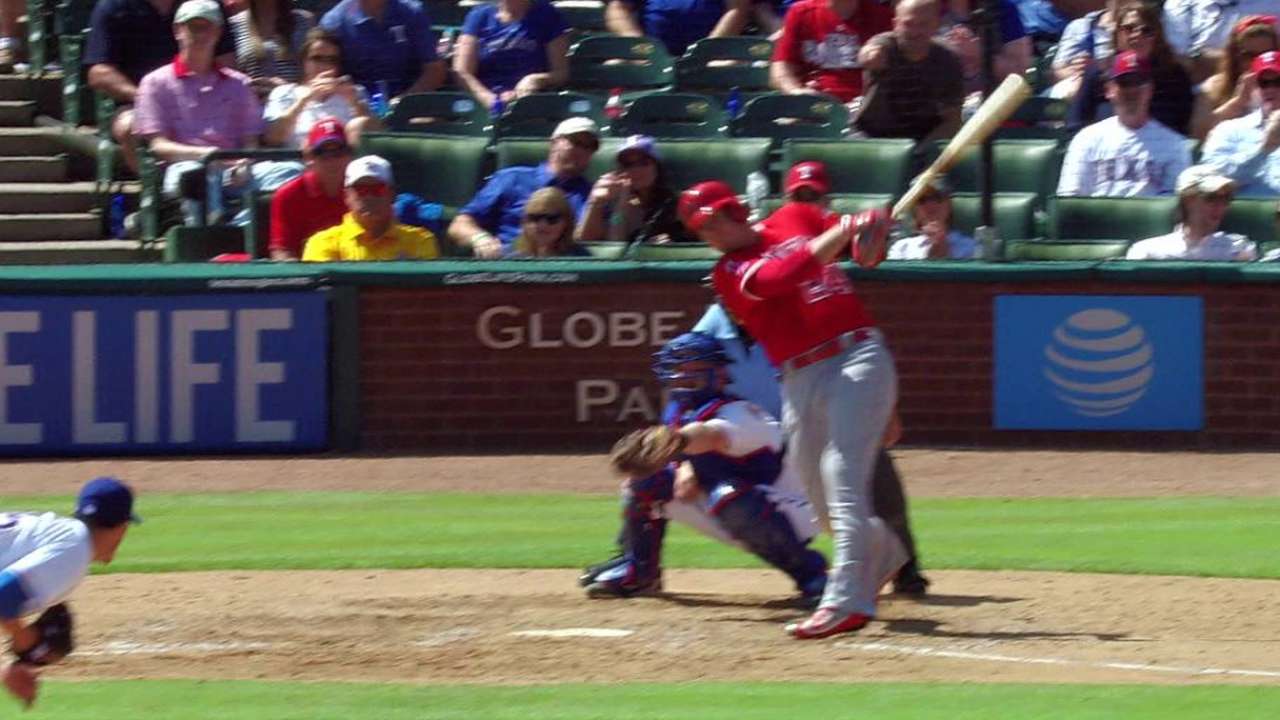 "He's getting some hits to fall in," Scioscia said. "He's still not driving the ball like he can. But it's good to see him using right field. He's getting closer, but he's not quite where we think he'll be."
A time to gain, a Tom to lose: Tom Wilhelmsen had a shaky first month with the Rangers and got off to an inauspicious start to May, shouldering the loss after allowing back-to-back singles and a sacrifice fly in the sixth. Wilhelmsen's early season has been so difficult that his ERA actually went down Sunday, from 11.25 to 11.00, but his opponents' batting average climbed to a ghastly .400 thanks to the hits by Robinson and Pennington, the bottom two hitters in the Angels' order. Neither hit the ball hard, but Robinson beat out an infield hit to shortstop and Pennington threaded a bouncer just over Wilhelmsen's glove up the middle. Robinson scored the go-ahead run on Escobar's sacrifice fly.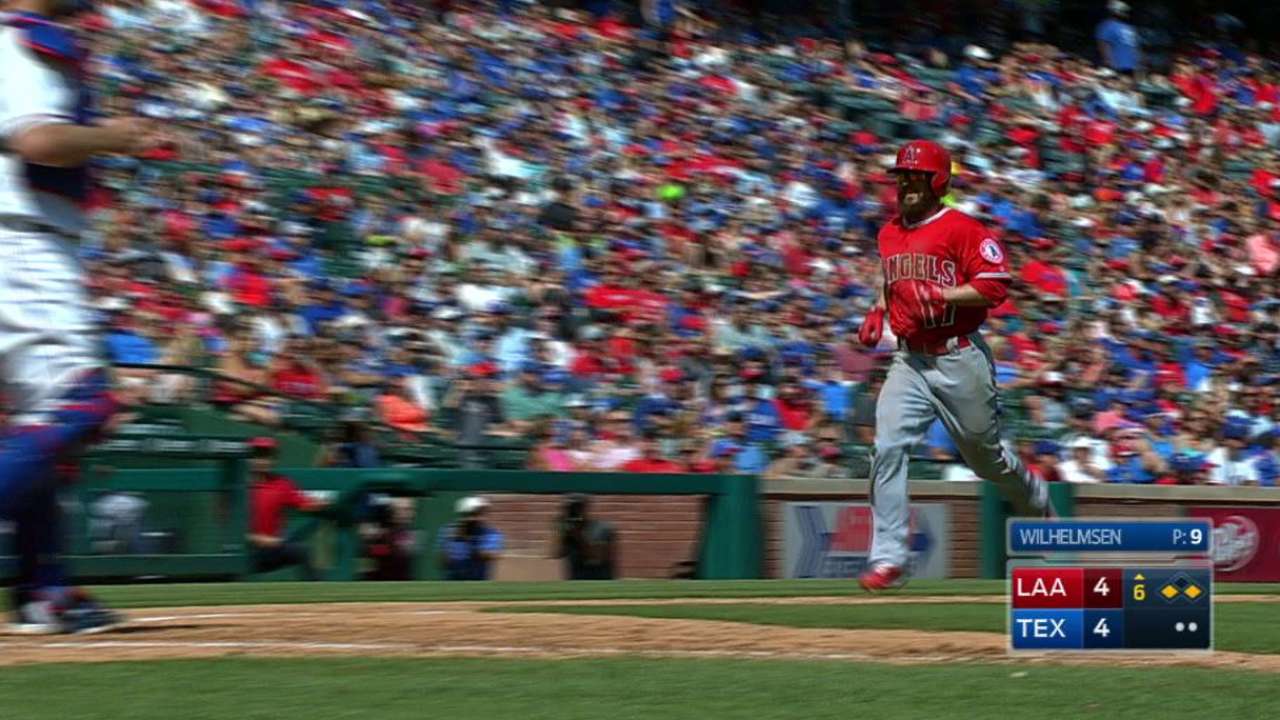 "I felt like he made some good pitches," Banister said. "The ground ball that doesn't leave the infield, a tough play with a fast runner and kind of a do-or-die play. [Pennington's hit] was a broken-bat flare. ... I still feel like he threw the ball well."
Wide right: Richards' arduous, 33-pitch fourth inning could've been avoided had he thrown accurately to second base on a potential 1-6-3 double play. The Angels' hard-throwing right-hander fielded a comebacker from Prince Fielder and threw well wide of shortstop Andrelton Simmons, putting both runners on to start the inning. Richards faced six more batters after that and didn't come out for the fifth, ending his outing at only 79 pitches. Richards exited because he was dehydrated; not because of any injury.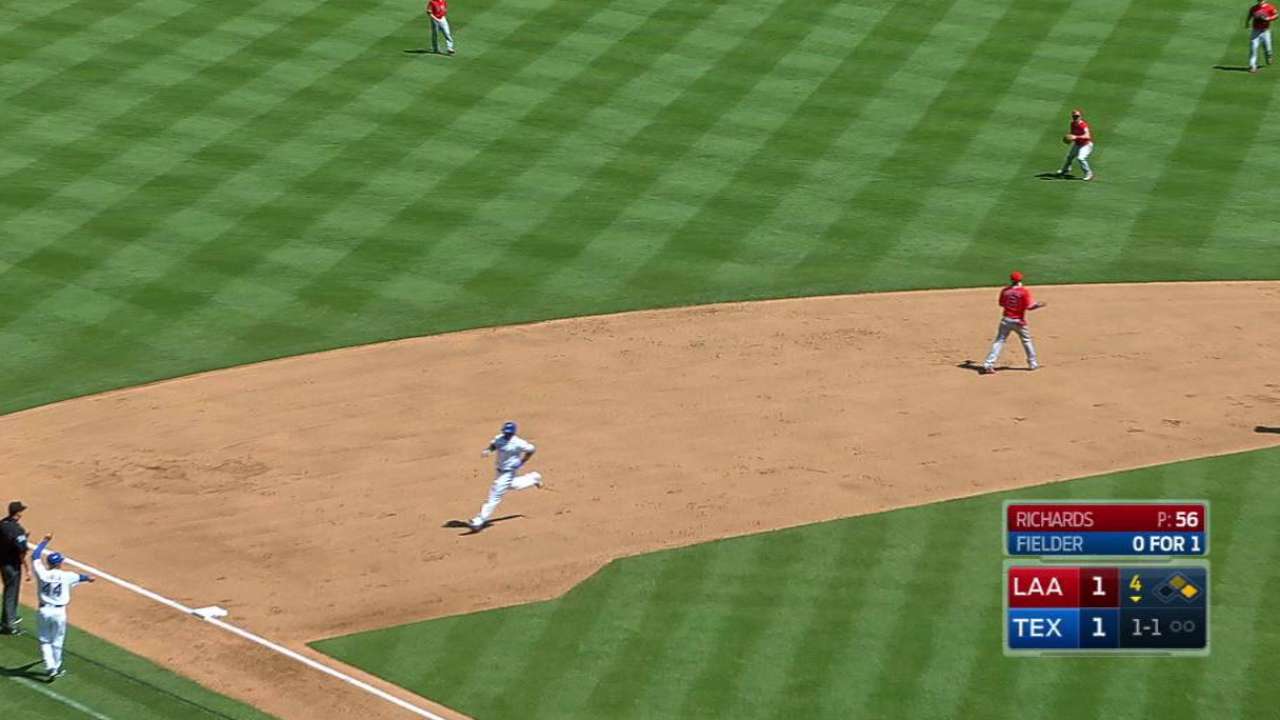 "It's just precautionary stuff," Richards said, saying it was Scioscia's decision to take him out. "It shouldn't affect my in-between [work]. I'm just going to focus on my next start."
Hamels goes wild: The Angels tied the game with a three-run fifth inning in large part due to a sudden bout of wildness by Hamels, who walked three of four batters at one point during the inning. Hamels walked three batters in three of his previous four starts, but never so close together in such a critical sequence. Hamels threw 36 pitches -- and only 17 strikes -- in the inning.
"When the ball's not moving into that location that you want ... they were being pretty patient," Hamels said. "They don't have to swing." More >
FOR THE HIGHLIGHT REELS
Trout made a leaping catch with the Rangers threatening in the bottom of the ninth, ranging up against the fence to rob Adrian Beltre of extra bases and limit him to a sacrifice fly.
Said Calhoun: "He always does something, right? It's a big catch. I don't know if it was going out, but definitely a big play that turned around that inning right away."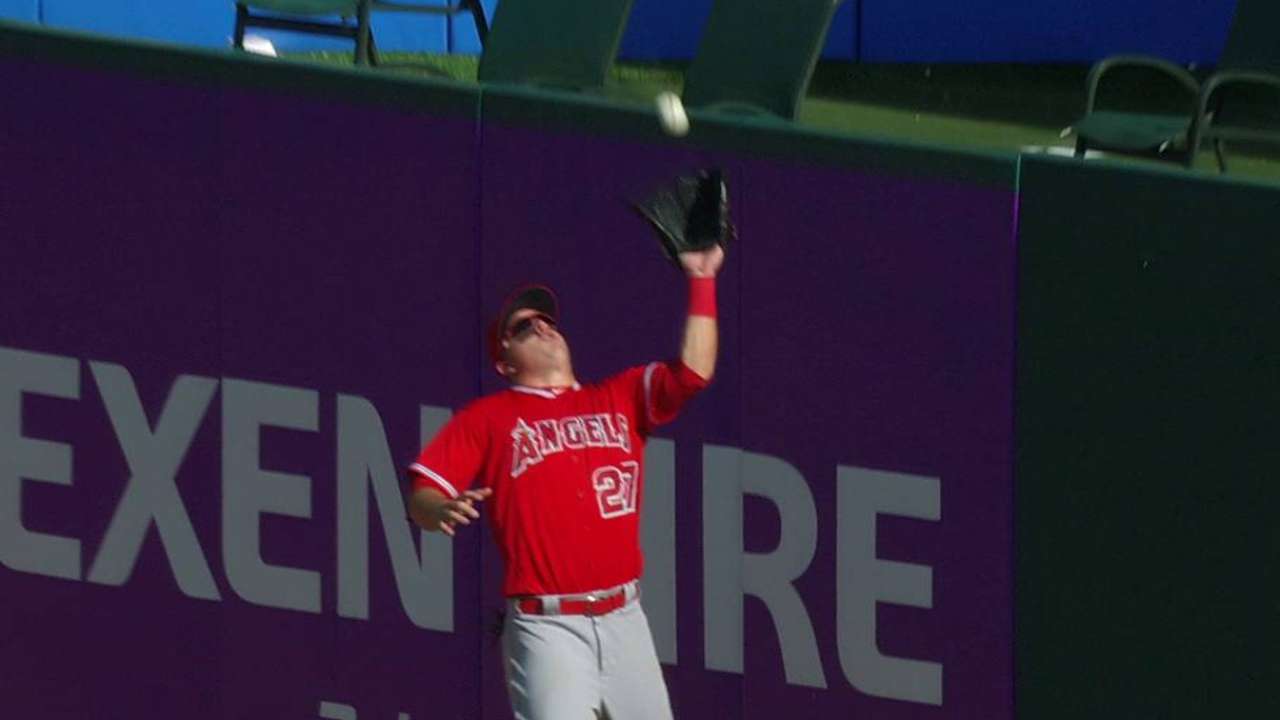 MILESTONES
Mahle picked up his first career victory, throwing a scoreless fifth inning just before Escobar's sacrifice fly in the sixth. He struck out Mitch Moreland with two on and two outs, then got the baseball and some ticket stubs from the game.
"It'll be cool," Mahle said. "My parents will really appreciate that."
SOUND SMART WITH YOUR FRIENDS
The Angels hit only 13 home runs in their first 19 games, but they've now homered in 10 consecutive contests, connecting on 17 of them in that span.
REPLAY REVIEW
The Angels challenged Beltre's double in the fifth inning, arguing that the Rangers' third baseman didn't touch first base. Beltre put his right foot down next to the bag as he rounded first, but the Angels questioned whether the side of his foot actually touched the base. The call was confirmed after a review of one minute, 27 seconds.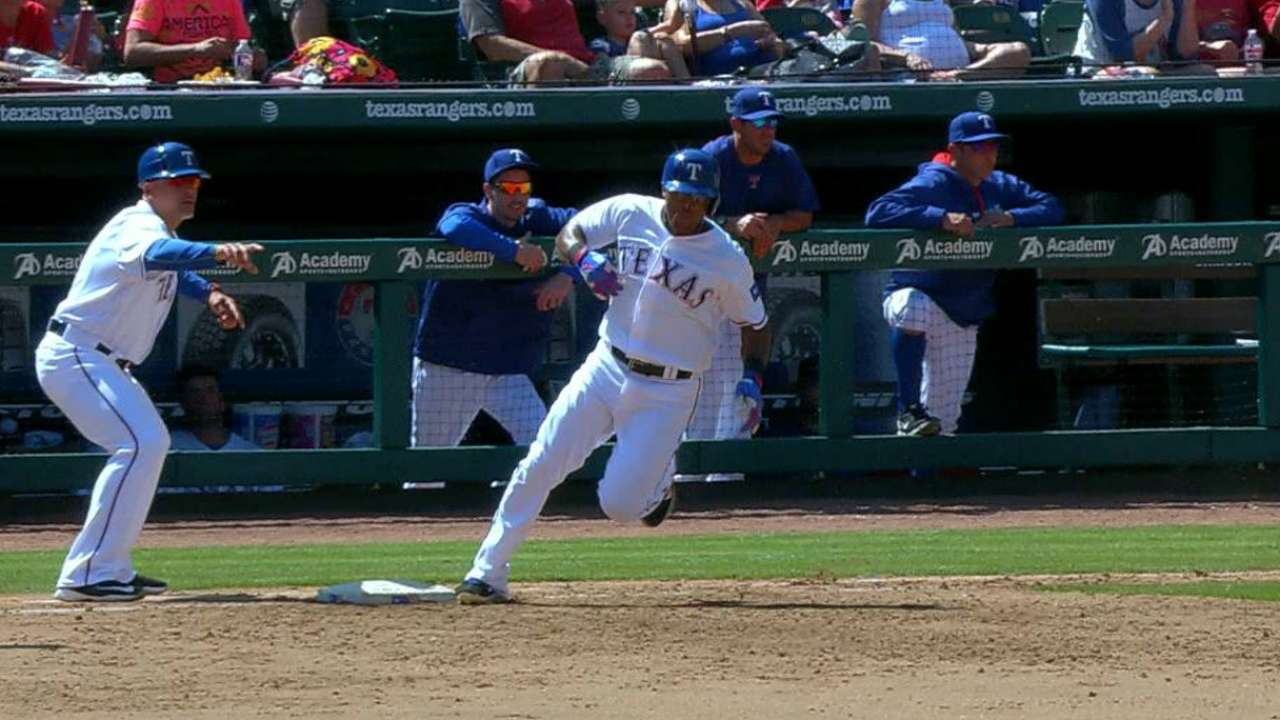 It took umpires just 51 seconds to adjudicate the game's second review after Rougned Odor was caught stealing at second base in the seventh inning and Banister decided to challenge the tag on a close play. The call was confirmed in short order, but Banister's appeal made sense, given that a reversal would have put the tying run in scoring position with no outs.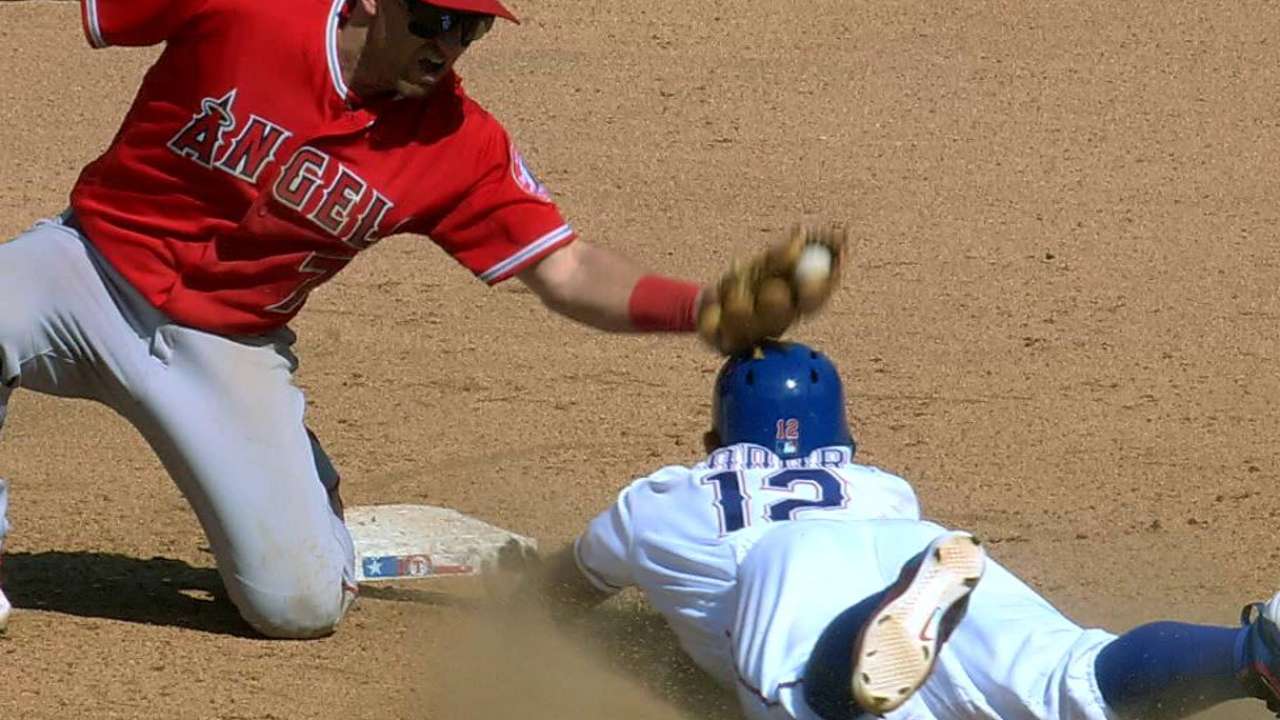 WHAT'S NEXT
Angels: Jered Weaver gets the ball opposite fellow righty Jimmy Nelson when the Angels open a three-game Interleague series against the Brewers at Miller Park on Monday, with first pitch set for 6:20 p.m. PT. Weaver is 3-0 with a 3.86 ERA.
Rangers: In their first trip back to Toronto since last year's painful Game 5 loss in the American League Division Series, the Rangers will send newcomer A.J. Griffin to the mound to face knuckleballer R.A. Dickey on Monday at 6:07 p.m. CT.
Watch every out-of-market regular-season game live on MLB.TV.
Alden Gonzalez has covered the Angels for MLB.com since 2012. Follow him on Twitter @Alden_Gonzalez and Facebook , and listen to his podcast.

Dave Sessions is a contributor to MLB.com who covered the Rangers on Sunday.

This story was not subject to the approval of Major League Baseball or its clubs.