Gardner says top of lineup needs to spark Yanks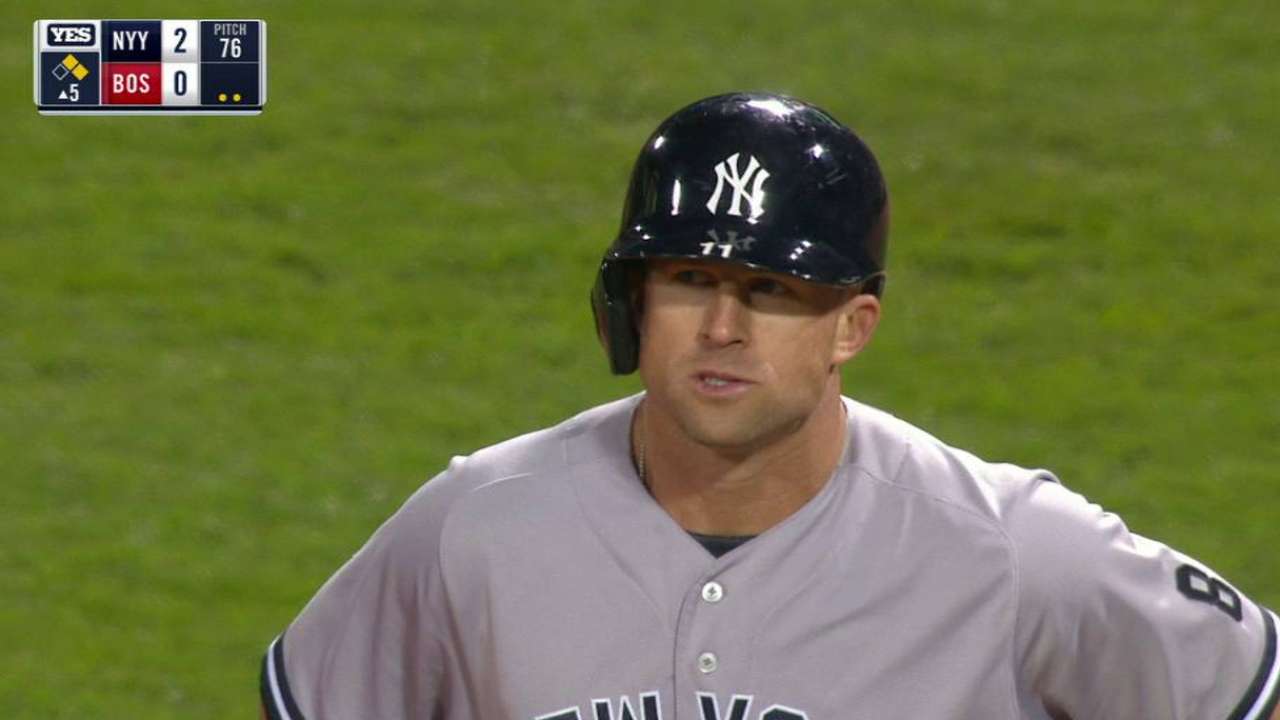 BOSTON -- You could choose pretty much any spot in the lineup to point a finger at the Yankees' offensive woes, but Brett Gardner has no issue saying that he and leadoff hitter Jacoby Ellsbury must take responsibility for their recent run shortage.
"It's frustrating to be a part of it, and frustrating to not do my job, which is to get on base and score runs," Gardner said. "Obviously, up at the top of the lineup, Jacoby and me haven't done a good job of setting the table recently. It all starts with us, and we've got to do a better job."
Ellsbury and Gardner each entered Sunday's series finale against the Red Sox at Fenway Park with three hits in their last 23 at-bats (.130) over their last six games. The Yankees have averaged just 2.3 runs per game over their last 16 contests, a stretch in which they have gone 4-12.
"It's a little bit different when you're playing from behind every night," Gardner said. "That's not really our starting pitching's fault. That's our fault as an offense. It's been tough to score runs and for us to score runs first. The formula is you'd like to get on the board first and give the pitcher a little room to work with."
Eyeing a three-game set against the Orioles following their Sunday showdown with Boston left-hander David Price, Gardner said that it will be crucial for the Yankees to resume scoring early in games. They led the Majors in first-inning runs last season, but they currently rank dead last in runs overall (76) among the 30 Major League clubs.
"When you're ahead, you're obviously much more relaxed than when you're playing from behind," Gardner said. "We've been playing from behind almost every game recently. It's definitely very frustrating, but the good thing about this game is when things are going well you get a chance to wake up tomorrow and do it again. It's not like football, where you have to sit around and think about it for a week."
Yankees manager Joe Girardi has been puzzled by the extended woes, which have plagued almost every department of the batting order. New York's collective .663 OPS is the fourth-lowest in the Majors.
"You always wish you could just flip the switch, and you can't," Girardi said. "It just happens. Hitting is strange, and it's hard to figure out. I know the one thing that always remains important is your approach. I know there's been times when, as a player, I'd go look at video and I couldn't see the difference between my good swings and my bad swings. It usually had to do with the pitch selection, what I was swinging at or my approach."
Gardner said that he still believes the Yankees are one good showing away from turning the page on their sluggish April -- the club's 8-14 showing was its weakest in the calendar month since 1991.
"I know it sounds old, I've been saying that for a week," Gardner said. "I think we're all still waiting, but I don't think it's from lack of effort. Guys are working hard, guys are hitting extra, guys are, I feel like for the most part, putting together some pretty good at-bats. For whatever reason, things just aren't going our way right now, so we have to keep working at it. Hopefully [Sunday] is the day."
Bryan Hoch has covered the Yankees for MLB.com since 2007. This story was not subject to the approval of Major League Baseball or its clubs.