Eovaldi's momentum stalls at Fenway Park
BOSTON -- The Yankees never seem to be quite sure what they will get out of Nathan Eovaldi, and that inconsistency continues to be a piece of the hard-throwing right-hander's resume.
Coming off arguably his best start as a Yankee, in which he took a no-hitter into the seventh inning on Monday against the Rangers, Eovaldi was knocked around for six runs on 10 hits over five-plus innings in an 8-7 loss to the Red Sox on Sunday.
"I think it was fastball command," Eovaldi said. "I didn't feel like I was locating it very well. The split and the slider, I felt they both were up in the zone as opposed to last outing, I was able to get ahead and stay ahead. I fell behind in a lot of the counts, and when I was ahead, I missed in the middle with my offspeed."
To manager Joe Girardi, whose Yankees have lost five straight games, Sunday's loss may have been the most frustrating of the weekend because the club's offensive troubles finally abated, only to have the pitching wobble.
"He really didn't have a good split tonight," Girardi said of Eovaldi. "I didn't think he commanded it like he did his last start. I thought that was the difference."
Eovaldi was staked to a 3-1 lead in the third inning by Jacoby Ellsbury's RBI double and Alex Rodriguez's two-run homer, but he gave three runs back to Boston in the bottom half of the frame.
Rodriguez's two-run double and Mark Teixeira's RBI single in the fifth put the Yankees back in front, but Eovaldi gave that lead up as well, with Travis Shaw unloading on a long two-run homer that hooked inside the Pesky Pole in right field.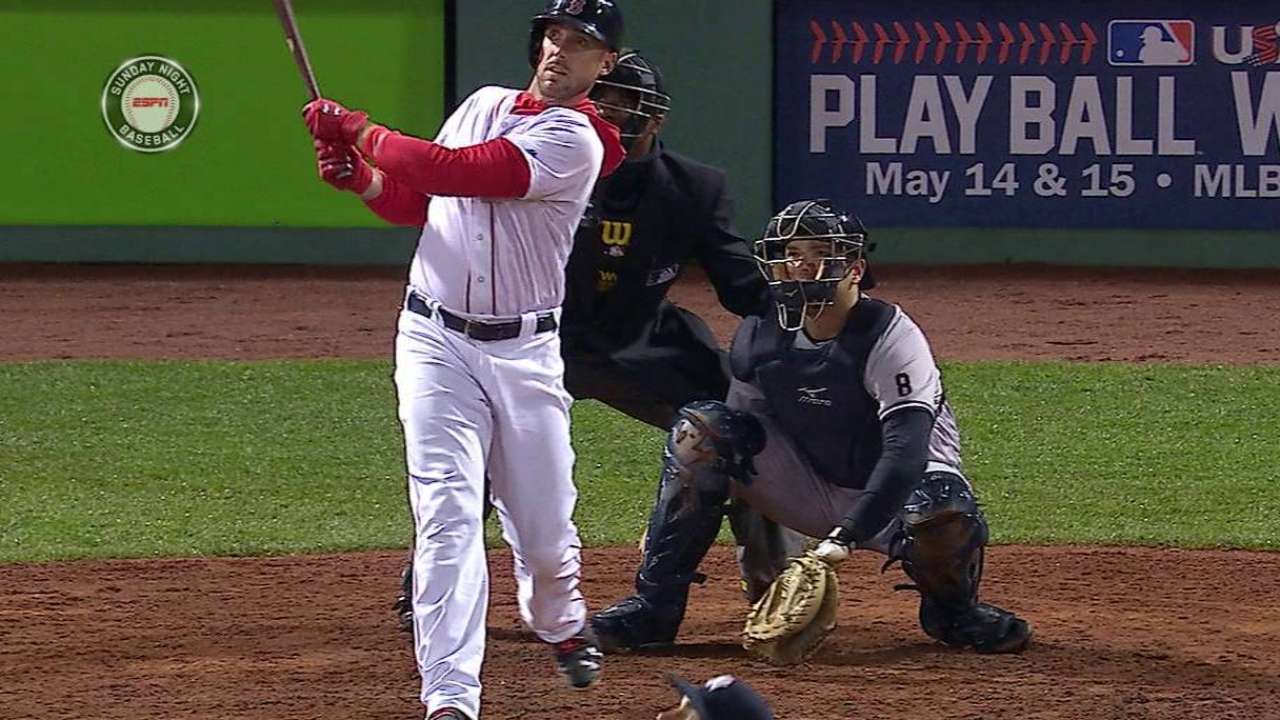 "Any time you fall behind, it's rough," Eovaldi said. "I think the most frustrating part for me is we kept scoring tonight and I wasn't able to hold the lead for the team."
Eovaldi was 0-2 with a 6.11 ERA through his first three starts of the season prior to Monday's gem. Given the follow-up performance, the Texas outing just seemed like a tease of what the Yankees wish they would see more regularly.
"I feel like one day we're hitting and we're not pitching, and then we're pitching and we're not hitting," Eovaldi said. "That's just baseball. Things will turn around and we'll be right back in it."
Bryan Hoch has covered the Yankees for MLB.com since 2007. This story was not subject to the approval of Major League Baseball or its clubs.