Save Neris: Fill-in picks up 1st save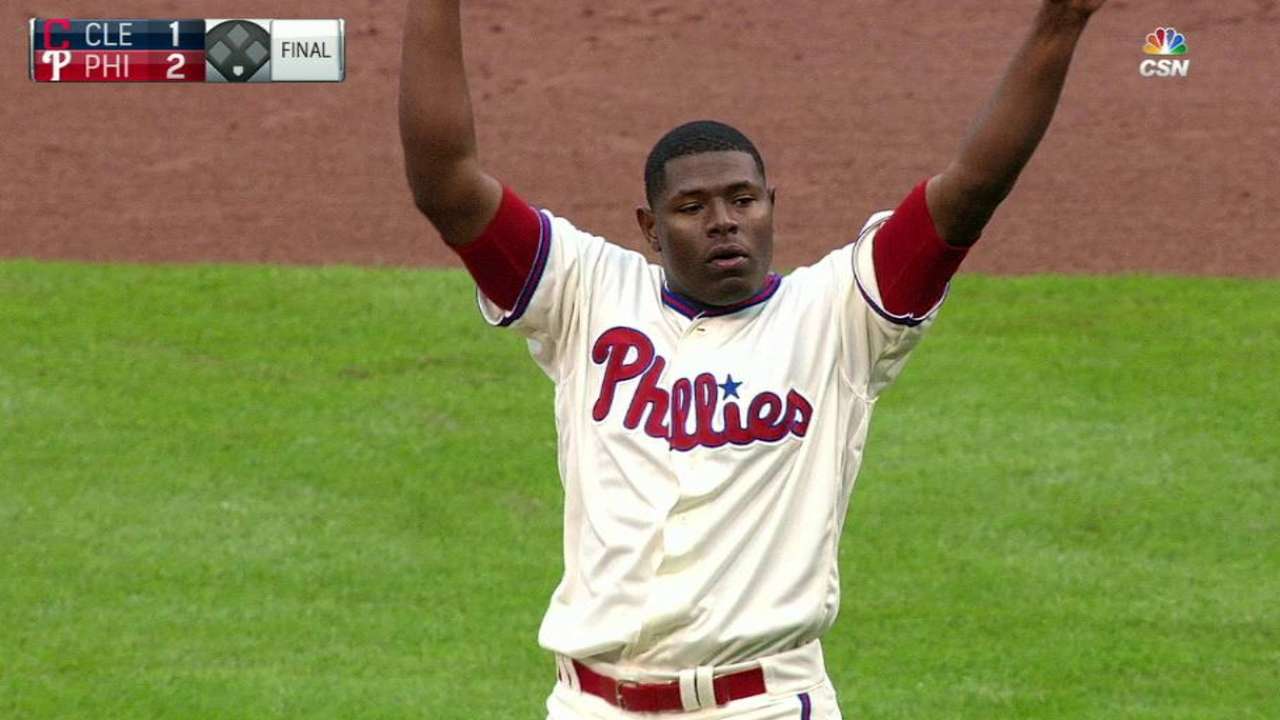 PHILADELPHIA -- Phillies right-hander Hector Neris tucked the baseball into his backpack Sunday evening at Citizens Bank Park.
It sat right on top, perhaps so he could keep an eye on it.
"I won't lose it," he said, laughing.
Neris, 26, recorded the first save of his big league career in a 2-1 victory over the Indians, and he kept the ball to remember the moment. He allowed a solo home run to Carlos Santana with one out to cut the Phillies' lead to one, but he got Yan Gomes to line out to left field for the second out and he struck out Tyler Naquin swinging on an 88-mph splitter to end the game, clinching a second consecutive series sweep for the Phillies.
Neris removed his cap and raised both arms toward the sky after Naquin swung and missed. He is feeling pretty good these days.
"I don't have time to be mad," he said, laughing again.
Neris pitched because Phillies closer Jeanmar Gomez, who is 8-for-8 in save opportunities, had pitched four times in the past five days and was not available. But the fact Neris got the call at all is a testament to how well he has performed this season. He entered Spring Training a candidate to make the Phillies' bullpen as a middle reliever. But a lethal splitter has turned him into a late-inning standout for a bullpen that has posted a 2.89 ERA in its last 20 games.
"Neris is one of those guys -- you have them in every organization - where they've got a good arm and good stuff but they don't command their pitches," Phillies manager Pete Mackanin said. "Neris learned how to do that, or all of a sudden started doing that. We told him late in the spring to start throwing that split more than he has been. He shows us that he's got good command of it. Even when it's down in the dirt, it's tough to lay off of as a hitter."
Neris has a 1.17 ERA in 14 appearances. In 15 1/3 innings, he has allowed just seven hits, two runs, four walks and has struck out 24. He entered the afternoon with a 0.63 ERA, which ranked first among National League relievers. His 23 strikeouts also led NL relievers.
"It was incredible, man," Neris said of pitching in the ninth. "They gave me the opportunity and I'm trying to do well for my team and myself. I'm doing something to help my team win. When I can do that, it's good. When you can do that you can be happy."
Todd Zolecki has covered the Phillies since 2003, and for MLB.com since 2009. Read his Phillies blog The Zo Zone, follow him on Twitter and listen to his podcast. This story was not subject to the approval of Major League Baseball or its clubs.