One slip gets Salazar in loss to Phillies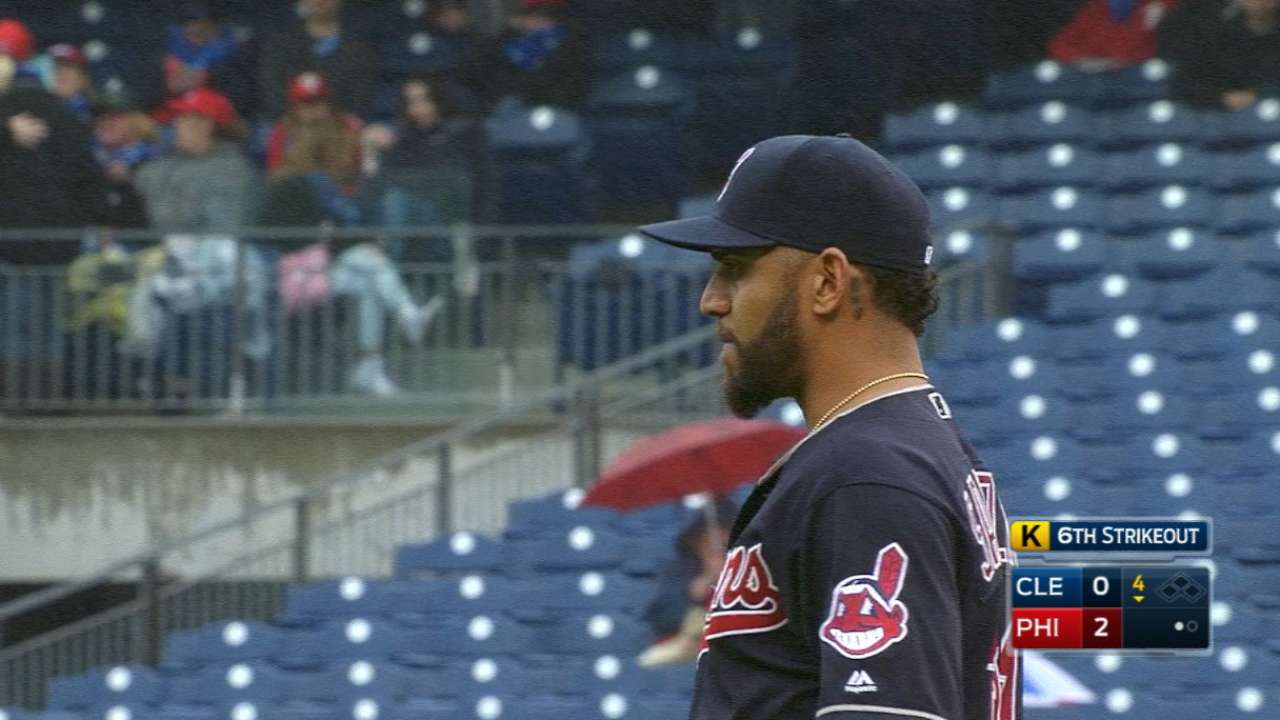 PHILADELPHIA -- Like it's been so often of late for the Indians, just one slip was the difference between a win and loss on Sunday as the Phillies completed a three-game sweep at Citizens Bank Park, 2-1.
Danny Salazar tied a season high, pitching seven innings. He struck out eight Phillies and contained the damage on the scoreboard to the third inning. But on a damp Sunday afternoon, Salazar slipped on the mound during a delivery to Maikel Franco, scoring Freddy Galvis on a balk for the second run the Phillies scored.
"When we're playing games like we are right now, everything is so magnified," manager Terry Francona said. "That ended up being all they got, but it was enough."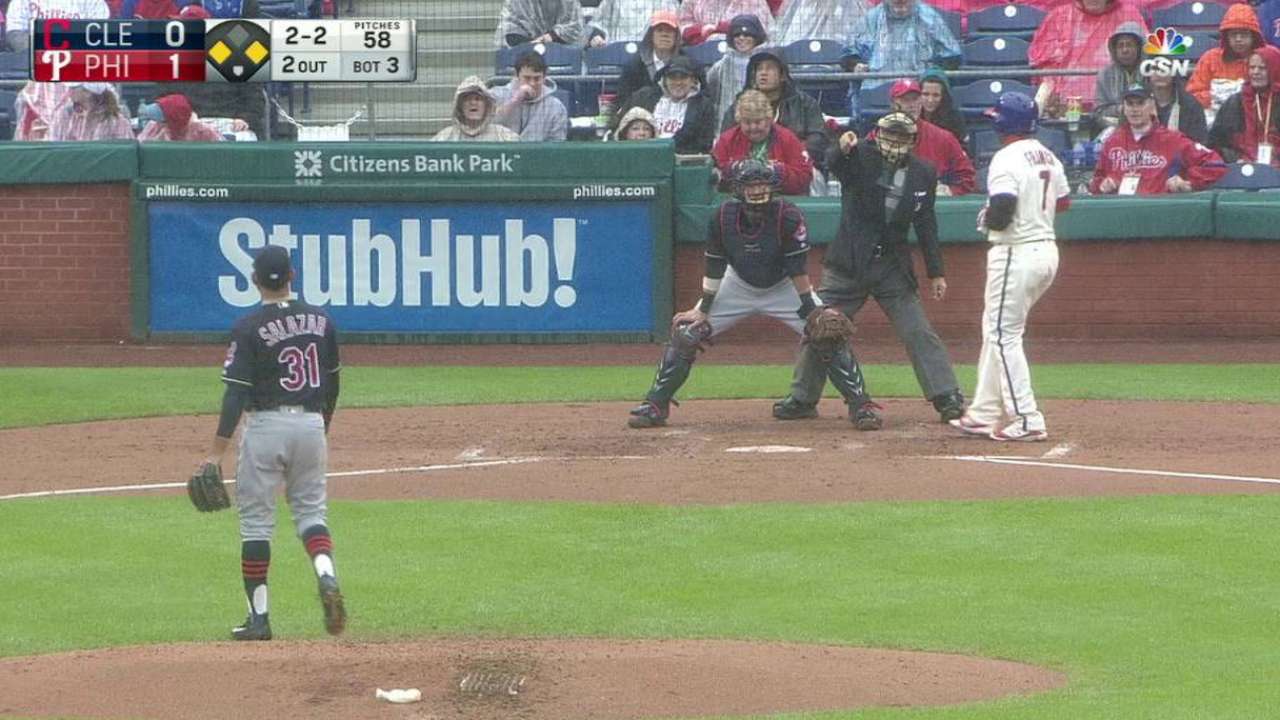 Thanks to Carlos Santana's ninth-inning home run, Sunday's game became the sixth in a row decided by one run for the Indians. In that span, they're 1-5. The last time they had a string that long of one-run contests was Aug. 2-8, 2006.
Salazar, the Indians' 26-year-old righty, prefaced the fatal third inning by striking out five straight Phillies. He followed it up with four consecutive 1-2-3 innings.
Salazar rebounded from his worst start this season -- walking four in 4 ⅔ innings against the Twins on Monday -- by going seven innings, allowing two runs and striking out eight. But all it took was one slip of the foot to make it all for naught.
"It's unfortunate that as good as he pitched and as good as his line was, the two runs they got were enough," Francona said.
Francona was under the impression that the wet field conditions didn't cause Salazar's balk -- that it was just him tripping -- but Salazar clarified, that yes, he slipped on the rubber while he was pushing off.
"My right foot, when I was trying to push, it went back a little bit," Salazar said. "The mound was getting a little bit wet, and [the video] shows my foot half in the dirt and half on the rubber."
In the top half of the next inning, Phillies starter Vince Velasquez walked the first two batters. That came immediately after Salazar's third inning, with no treatment to the dirt on the mound. After the leadoff walks, Velasquez summoned the grounds crew to put a drying substance around the rubber and landing area. He retired the next three Indians in order.
Chalk it up to a homefield advantage? Not so fast, Salazar said.
"You just have to ask," Salazar said. "They're going to do whatever they can. … I should've."
Evan Webeck is a reporter for MLB.com based in Philadelphia. This story was not subject to the approval of Major League Baseball or its clubs.