Buchter's fastball is a serious weapon
Padres reliever relies heavily on his high spin-rate heater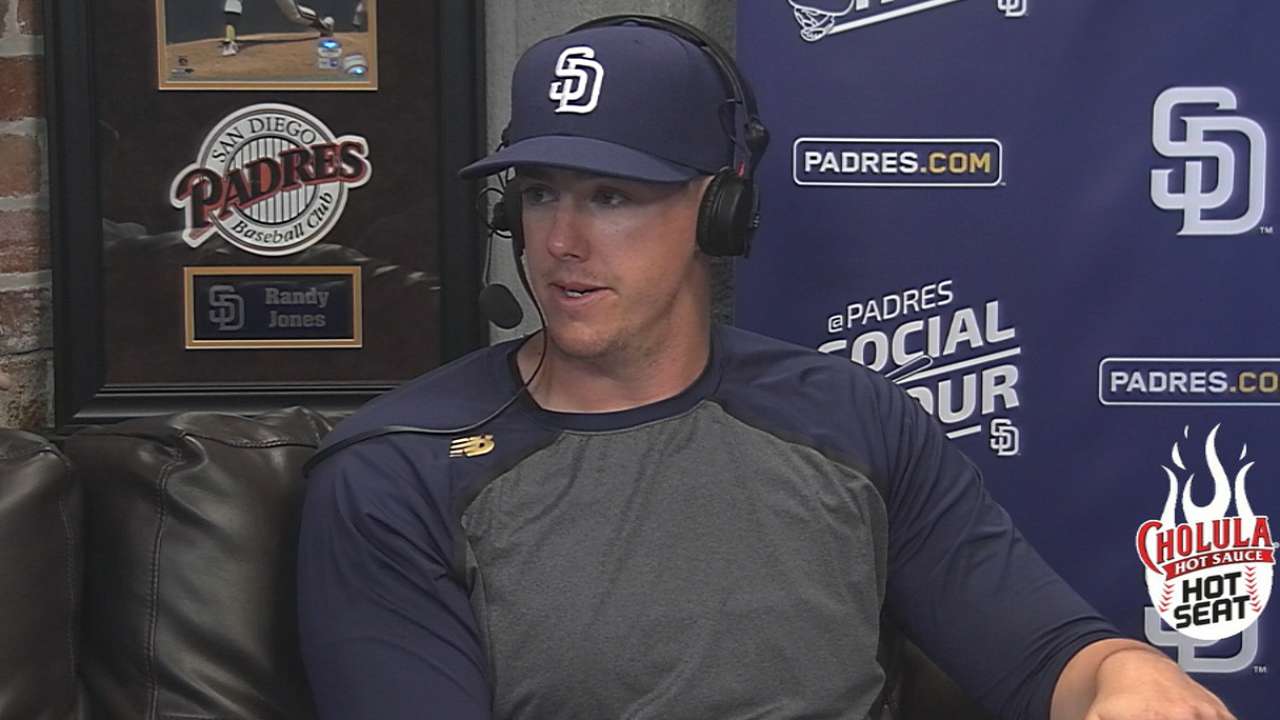 LOS ANGELES -- There's no secret what's coming when Ryan Buchter is on the mound. Entering Sunday's finale against the Dodgers, the Padres left-hander had thrown 209 pitches this season. According to Fangraphs, 192 of them have been fastballs.
Buchter estimates that he throws his four-seamer 90 percent of the time. (He also uses a cutter.) And yet, even though opposing hitters know the heat is coming, they've had trouble squaring it up.
Sure, Buchter can reach the mid-90s, but his average fastball velocity of 92.2 mph is precisely the league average in 2016.
Nonetheless, his above-average spin rate, combined with pinpoint command have made him one of the Padres' most reliable options out of the 'pen this season.
"I don't know if command is the best word," Buchter said. "I think, honestly, it's just about being aggressive, but not really ever giving in."
In 11 1/3 innings, Buchter has allowed just one run on six hits, while striking out 16. Of those punchouts, he's finished off 15 with four-seam fastballs.
"This isn't some anomaly month where he showed up in the big leagues out of nowhere and all of a sudden he's striking people out," said Padres manager Andy Green. "He's always done that. That's who he's been. That's where our interest was in him in the offseason."
Green spoke at length about the way Buchter's fastball "plays in the strike zone." Essentially, Buchter doesn't need to be timid around the corners with the pitch, because hitters aren't squaring it up, even when it's a strike.
Part of that can be attributed to the late life on the four-seamer, which appears to take off as it approaches the plate. One way to quantify that "life" is spin rate.
According to Statcast™, Buchter's spin rate is 2,338 revolutions per minute, putting him in the top quarter of the league.
"It's a high spin-rate heater, and guys just have trouble with it," Green said. "It gets on them. You go back all the way with him, historically, his strikeout numbers through the Minor Leagues have been very, very high."
The late life is just one part of the battle, however. Buchter also needs to know how to use it.
"My goal, obviously, is to get ahead," Buchter said. "I get strike one, and then I keep attacking the hitter."
Erlin will be re-evaluated
Left-hander Robbie Erlin, who was recently backed off of his throwing program, will be re-evaluated in San Diego this week. It remains unclear whether Erlin -- who has been out since mid-April with an elbow strain -- will receive an MRI. But the Padres will make a decision on that in the next couple of days.
"It's nothing where he's in tremendous amounts of pain by any stretch," Green said. "He feels like he can go out and solider on. But the whole purpose was: Let's get Robbie Erlin right and feeling good."
Quotable
Much has been made about Derek Norris' loud outs this season. (He owns the highest average exit velocity on the Padres, but the lowest batting average.) On Saturday, Norris shaved his head, and immediately hit a 99-mph rocket, which just barely dropped for a single -- the kind of luck he has seen very little of this year.
"He shaved his head, so he lost a little bit of the hair power behind it," Green said before Sunday's game. "It fell in front of the right fielder instead of getting all the way to him."
Why didn't Norris get a haircut sooner?
"Bad managing," Green quipped. "I take full responsibility. We'll get him to the barber sooner next time."
AJ Cassavell covers the Padres for MLB.com. Follow him on Twitter @ajcassavell. This story was not subject to the approval of Major League Baseball or its clubs.