Toronto-bound Rangers reflect on wild ALDS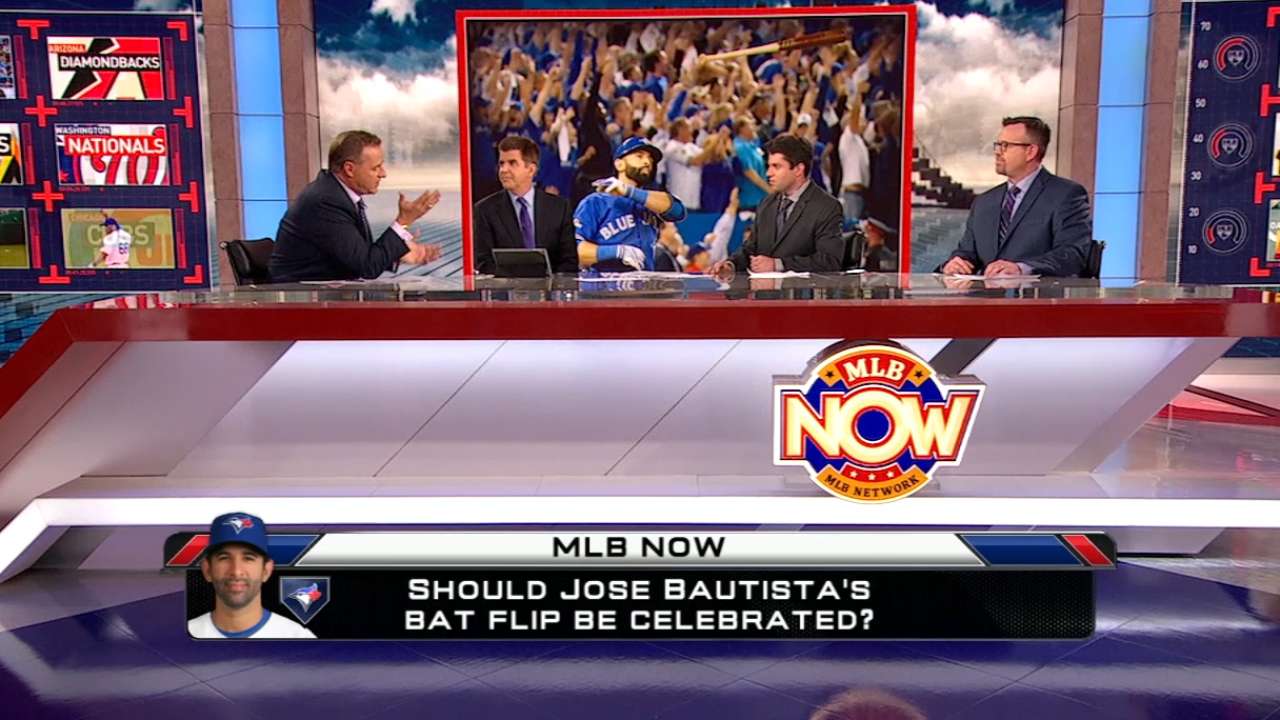 ARLINGTON -- The Rangers are headed to Toronto for the first time since a wild Game 5 of the 2015 American League Division Series ended their season there, and memories of that series, and especially that last game, are still fresh in players' minds.
There was the go-ahead run Rougned Odor was awarded, after umpires huddled to discuss a rule and reversed their original call, prompting Blue Jays fans to unleash a deluge of beer cans and trash onto the field. Then came the bizarre bottom half of that inning, when the Rangers made three errors -- two of them by Elvis Andrus -- and then watched helplessly as Jose Bautista crushed a three-run homer and launched a theatrical, controversial bat flip as he watched it sail into the Rogers Centre seats.
"It was a game that I probably won't forget for a while for a lot of reasons," Rangers closer Shawn Tolleson said. "The seventh inning was just crazy. It was an eventful inning and yeah, it's a memory that I have and I think about once in awhile. It should be fun. The first time playing that team since they beat us, for me, yeah, there's a little bit of a carryover and a little bit of excitement, a little extra juice for those games."
Odor, perhaps unlike most Rangers, said he wasn't all that shocked by Game 5. Most of his teammates don't have his experience of playing in front of rowdy crowds in his native country in winter ball.
"It's normal for me in Venezuela -- it happens all the time," Odor said. "That's why I play there."
Worth noting
• The Rangers placed top prospect Joey Gallo on the disabled list Sunday after the Triple-A third baseman suffered a strained left groin Saturday night in Round Rock's game. General manager Jon Daniels said team physician Dr. Keith Meister will examine Gallo in Arlington to determine the severity of the injury.
"We're going to probably get him evaluated [Monday] just to make sure," Daniels said. "We put him on the DL today to play it safe. He had a groin deal a couple years back."
Gallo is hitting .254 (17-for-67) in 20 games for the Express this season, with seven homers and 16 RBIs.
• Manager Jeff Banister said he was pleased with the Rangers' April, in which they went 14-10. He cited several areas for improvement, though, including starting pitchers' continuing quest to walk fewer batters, the offense's need to string innings together instead of relying mostly on big innings, and the team's efforts to be more effective on the basepaths, especially when it comes to stolen bases.
"It's a never-ending quest though for me, it's never [being] satisfied with where you are," Banister said. "Just because the calendar flips over, it doesn't mean there's a different set of thoughts. We'll continue to progress as though this is still April 1."
• Toronto's Rogers Centre has a fully furnished dirt infield this season instead of the small dirt cutouts around the bases it had in the past. That's a good thing for infielders, especially the Rangers' Adrian Beltre, whose 37-year-old legs took a pounding playing third base on the Blue Jays' turf.
Beltre has often been given rare days off when his team plays north of the border, but that may not be necessary anymore.
"I would think it's a lot better for the players, but that all depends on how he feels," Banister said.
• Odor executed a nifty slide Saturday night, going headfirst into third base leading with his right hand. As Yunel Escobar prepared to make a certain tag, Odor suddenly pulled his right hand back and over Escobar's glove, then touched the base with his left hand. Odor said such contortions are just something he's picked up over his young career. Odor said he goes into a slide looking to see where the tag will likely be applied, and then adjusts accordingly.
"I did it a couple times before. ... Sometimes I see when he's going to tag me and I just try to change hands and I've gotten safe a couple times, so I'm just going to try to keep doing it," Odor said. "It's slow in my mind. I don't know why, but I can see it in slow motion."
Dave Sessions is a contributor to MLB.com who covered the Rangers on Sunday. This story was not subject to the approval of Major League Baseball or its clubs.