Angels send Gentry to DL, Shoemaker to Minors
Outfielder Robinson, reliever Achter recalled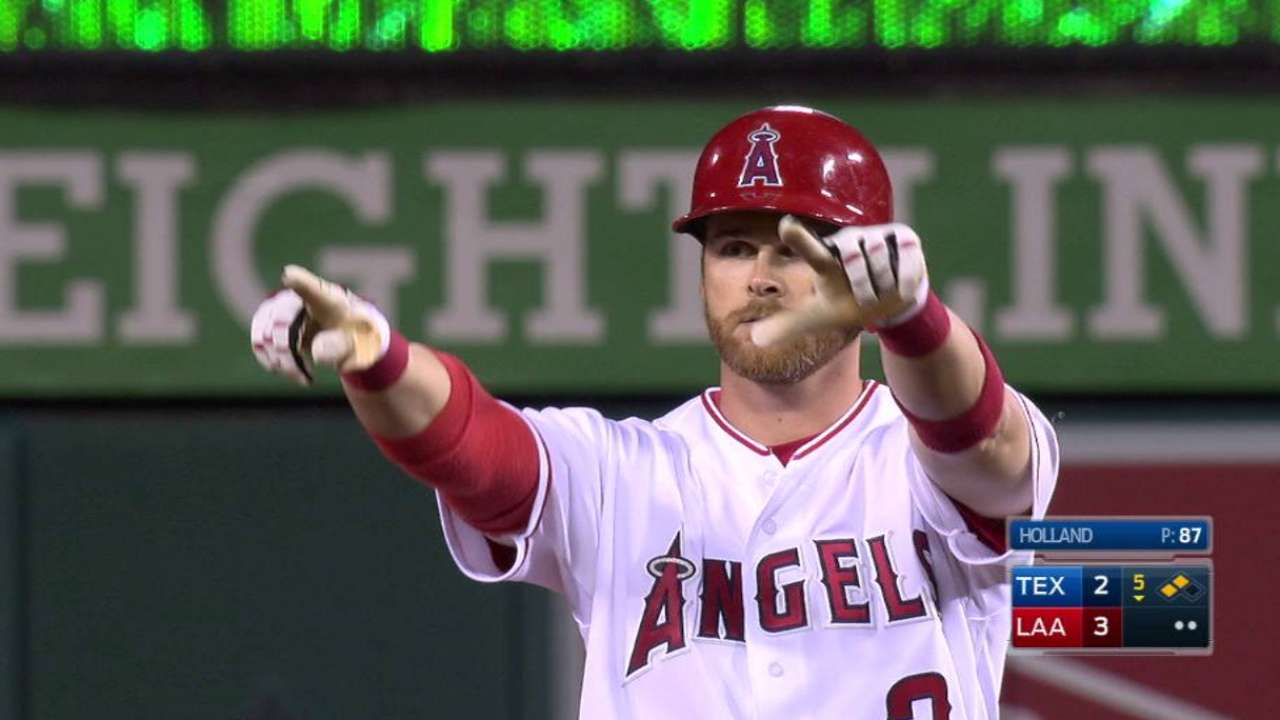 ARLINGTON -- Angels outfielder Craig Gentry landed on the 15-day disabled list with a lower-back injury and starter Matt Shoemaker was optioned to Triple-A Salt Lake on Sunday morning, prompting outfielder Shane Robinson and reliever A.J. Achter to take their spots.
Robinson -- who, like Gentry, hits right-handed and can play all three outfield positions -- was inserted into the starting lineup against Rangers lefty Cole Hamels, batting eighth. To create room on the 40-man roster, starting pitcher C.J. Wilson, out until at least the middle of June with shoulder issues, was transferred to the 60-day DL.
Shoemaker was sent to Triple-A a few hours after a rough Saturday start at Globe Life Park, giving up seven runs on nine hits in 2 1/3 innings. It marked the third time in five starts that Shoemaker couldn't record an out in the fourth inning, and it put his ERA at 9.15.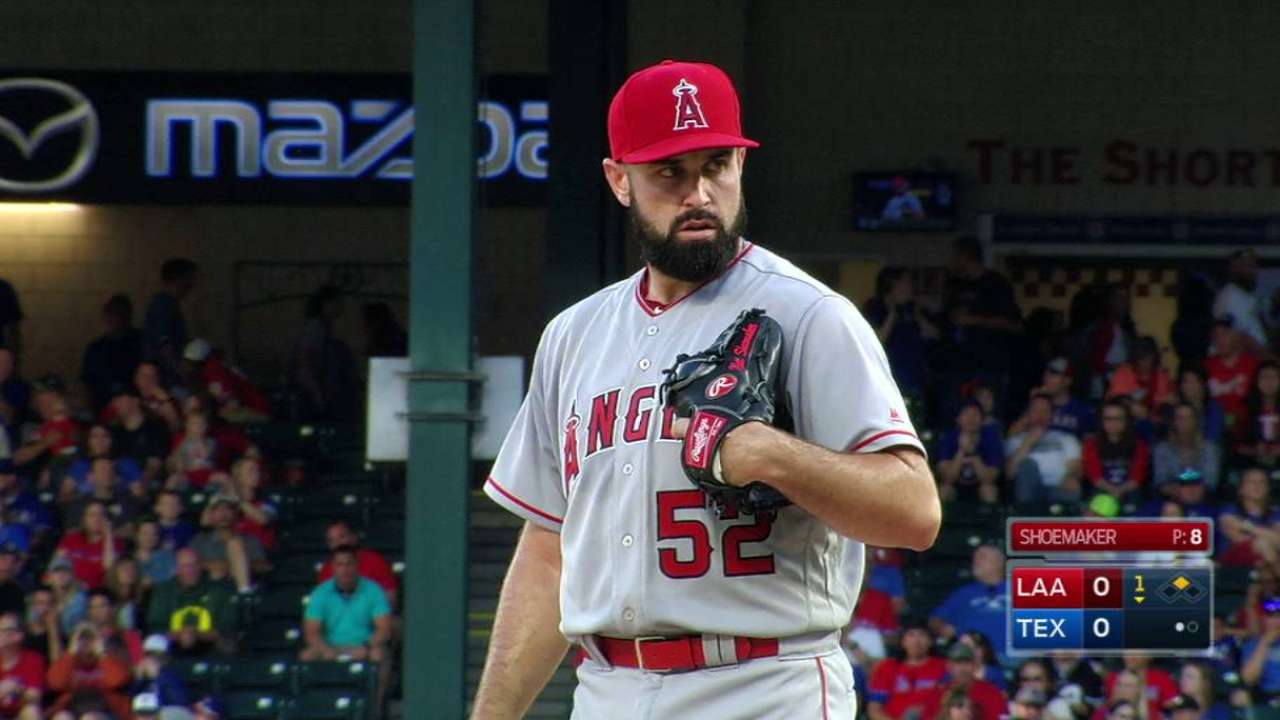 The Angels don't need a fifth starter until May 14, so Shoemaker has some time to make adjustments in the Minor Leagues.
"Matt is very accountable," Angels manager Mike Scioscia said. "I think he understands that the results just haven't been, not only what we're looking for, but the way he can pitch. So we're going to see where we're at in a couple of weeks. There's no doubt he needs to work on a couple things."
Gentry's DL stint is retroactive to Tuesday, meaning he's eligible to be activated as early as May 11. The 32-year-old is on the shelf with what the team called a right lumbar spine strain, a similar ailment to one Gentry had while in Spring Training with the A's in 2014.
"I just had to wait it out," Gentry said. "Just do a bunch of exercises to start feeling better."
Robinson, 31, was signed to a Minor League contract on March 31 and was batting .306/.348/.371 in 68 Minors plate appearances. He spent most of his professional career with the Cardinals, then joined the Twins in 2015, and he has batted .237/.302/.313 in 351 Major League games, spread out over six seasons.
Scioscia said Robinson is "on the depth chart for what you would expect Craig Gentry to do," specifically speed, defense and hitting lefties.
Achter, another former Twin, had a superlative spring for the Angels, posting a 0.84 ERA while striking out 11 batters and walking only one in 10 2/3 innings. The 27-year-old right-hander had a 2.45 ERA in Triple-A and can pitch as many as three innings, giving the Angels' bullpen some much-needed length one day after accounting for the final 5 2/3 innings.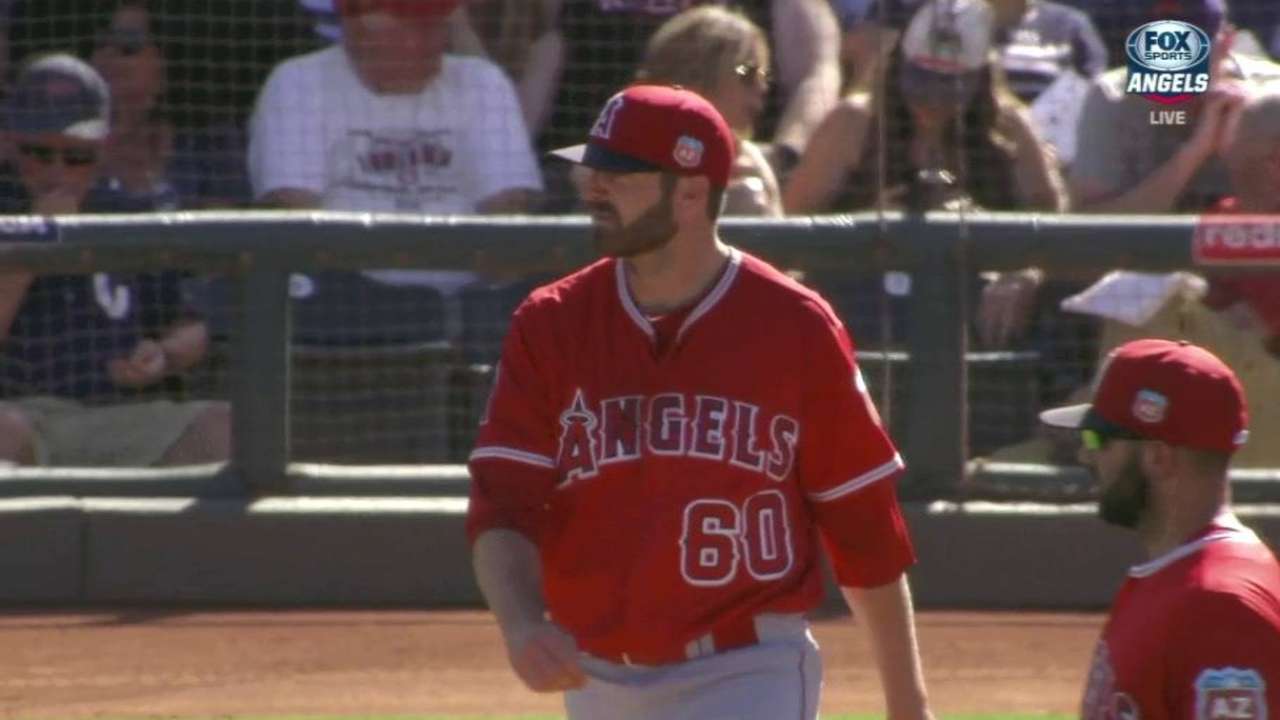 Shoemaker only has time to make one Triple-A start if the Angels want him to rejoin the rotation by May 14. The other options are Nate Smith (3.94 ERA in Triple-A), Kyle Kendrick (6.94), Yunesky Maya (5.92) and Chris Jones (7.88). With Wilson, Tyler Skaggs and Andrew Heaney still out a while, Scioscia didn't rule out the possibility of temporarily going to a bullpen game every five days, which would be started by either Cory Rasmus or Jose Alvarez.
"Our focus is to win games," Scioscia said. "From the rotation standpoint, if we have to bridge it, until [some injured starters get healthy], then we'll do that. We're here to win games. If we have to do this for a while, we'll do it. If some of the guys coming back add depth, better yet."
Alden Gonzalez has covered the Angels for MLB.com since 2012. Follow him on Twitter @Alden_Gonzalez and Facebook , and listen to his podcast. This story was not subject to the approval of Major League Baseball or its clubs.