Royals' bulldog approach shapes WS winner
Yost, Moore dial in on players who love to compete, crave success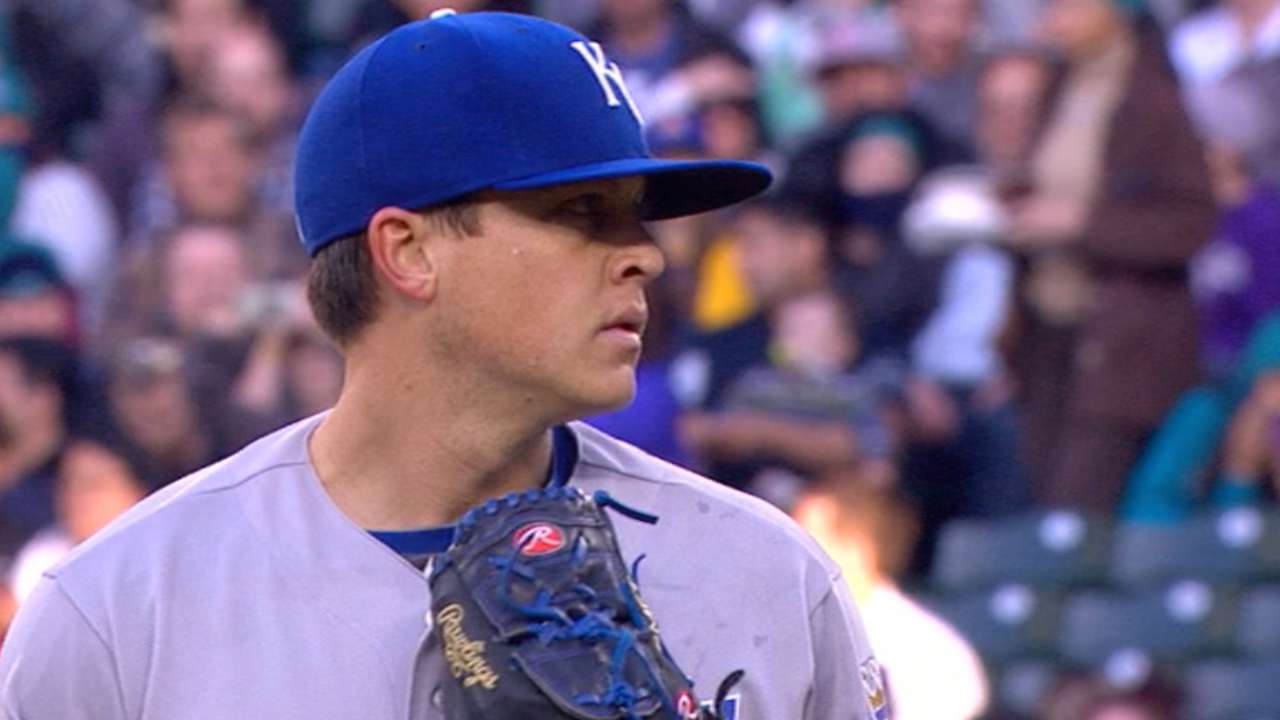 SEATTLE -- Royals manager Ned Yost remembered a night in the winter of 2013 when he and general manager Dayton Moore were watching baseball and thinking about possible free-agent signings. They locked in on a rather unimpressive Angels start by left-hander Jason Vargas.
"We were watching Vargy pitch and he was getting his [tail] kicked," Yost said before Sunday's series finale against the Mariners. "It was like, 9-1. Dayton goes, 'Man, I'm gonna try to go after this guy.' And it was 9-1, right? And I've always liked Vargy, but I'm like, 'Why?'
"And he goes, 'Look at him. Watch him.' He said, 'The score's 9-1. Watch him compete. He's competing his [tail] off out there.' And he ended up signing him."
So goes one of the many stories of how Moore and Yost and the Royals built a World Series winner. A cursory glance through the visiting clubhouse at Safeco Field on a sunny Sunday morning revealed several players brought in to the fold because of that mold.
Starters Chris Young and Kris Medlen were question marks with injury-riddled pasts that have succeeded in Kansas City and have 2015 World Series rings to prove it. Long relievers Dillon Gee and Chien-Ming Wang were Minor League signings who made the club out of Spring Training this year. Ryan Madson made the team out of nowhere last spring, became in indispensable late-inning reliever, and signed a lucrative multi-year deal with Oakland over the winter. Fully healthy again, he's now the A's closer.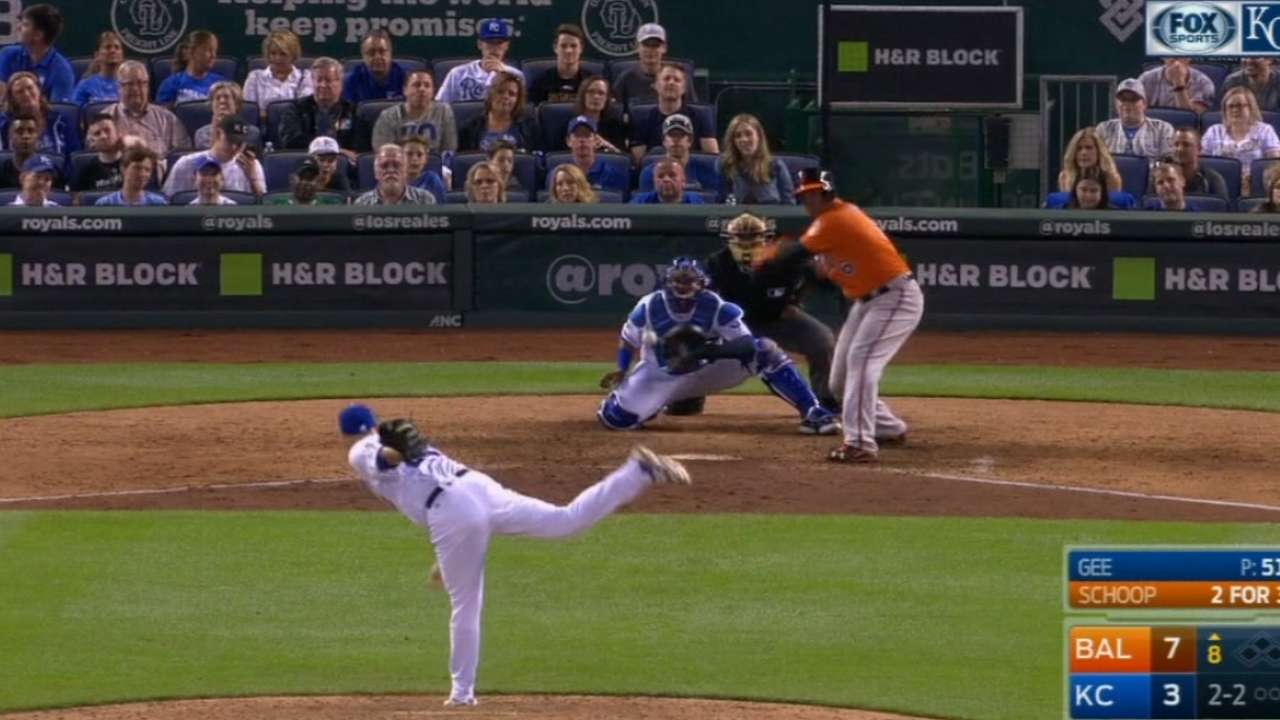 These players fit the Royals' budget and clubhouse culture, but they also get the job done on the field in the roles they're given.
"A lot of those are the guys who come in with a chip on their shoulder, that little bit of an edge of wanting to prove people wrong, or, for the people who have believed in you the whole time, to prove those people right," Medlen said.
"Those are good guys to take chances on. It's cool to see guys bounce back, and I think it adds to the character of your club as well."
The success rate for some of these flyer-type signings might be hard to sustain over time, but Yost said the Royals' approach is what has enabled the strategy to work.
"We want to win, but when we're looking at players, we're looking at the process," Yost said. "We can see their stuff. We can judge and rank and grade their stuff. You can do that on a TV screen.
"But it's the other intangibles that are so important. And that's what we look at."
Gordon trying to find it
The Royals could use a hot week or two from left fielder Alex Gordon. Heading into Sunday's game, Gordon, like a few of his established teammates, hasn't clicked at the plate yet in 2016. Gordon entered with a .208 average, two home runs and five RBIs.
Yost kept Gordon in the six-hole in the lineup on Sunday and didn't seem compelled at all to shake up the order any time soon.
"He's just struggling," Yost said. "It's really funny. It seems like over the years that when he's cold, he's cold. But then he'll get hot as a firecracker. It seems like everything he swings at, he crushes somewhere. So he's just in a rough stretch."
Looking forward to home
The Royals entered Sunday having lost five games in a row and had gone scoreless in their previous 26 innings, so naturally Yost was looking forward to escaping this West Coast trip and getting back to Kansas City, where his club will host the Nationals on Monday in the opener of a three-game set.
"I don't know, man," Yost said. "There's something about this place. The water or something."
Doug Miller is a reporter for MLB.com and covered the Royals on Sunday. Follow him on Twitter @DougMillerMLB. This story was not subject to the approval of Major League Baseball or its clubs.