Britton would be 'surprised' to land on DL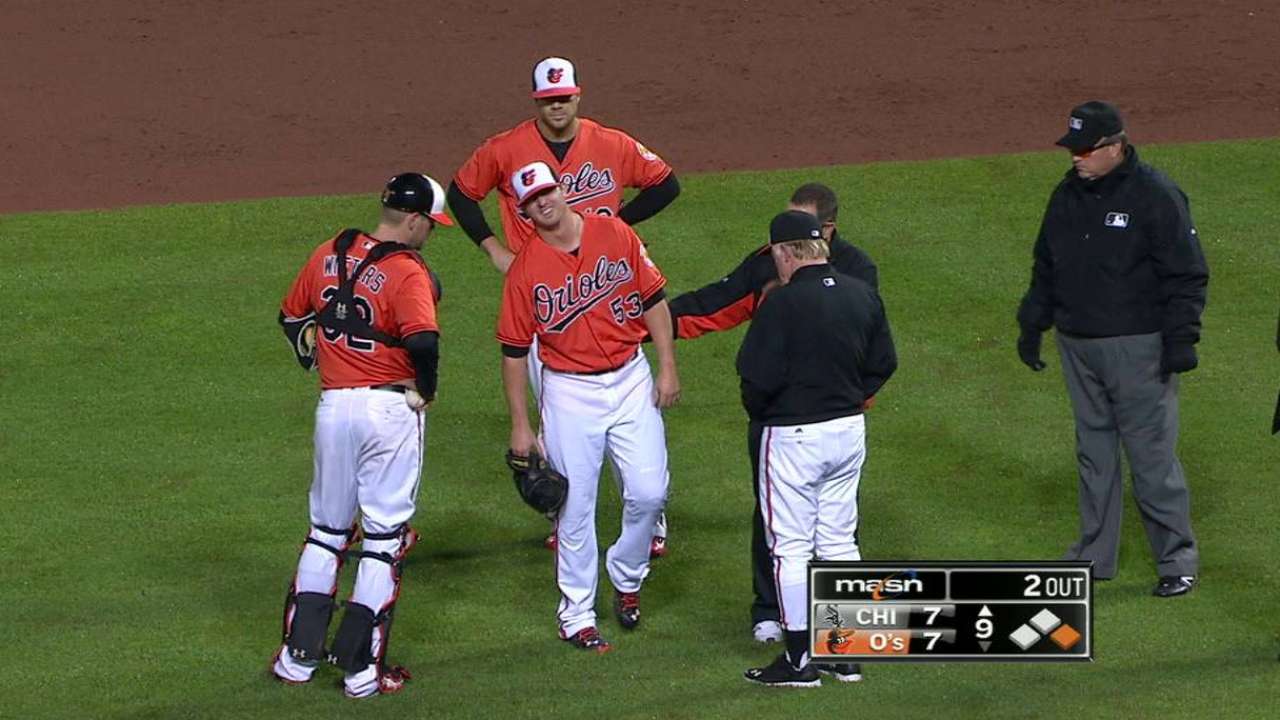 BALTIMORE -- Orioles closer Zach Britton stood in the clubhouse Sunday morning with a walking boot on and with crutches and said he was hopeful that he would be able to throw again in a few days.
"I'd be surprised if I had to go on the DL, but we'll see how it feels," Britton said of a left ankle sprain suffered during Saturday's 8-7 loss to the White Sox. "It feels pretty good compared to yesterday, but still some tenderness in there, and obviously I'm not walking great. So I think you've got to walk fine before I can even start pitching again. Hopefully, it's just a few days and maybe I can throw a [bullpen session] or at least run on [the ankle]."
Britton said X-rays taken on Saturday came back negative, and he wasn't sure yet if there will be an MRI done. The injury occurred while he was trying to make an on-the-run scoop and flip with his glove on Adam Eaton's two-out bunt single.
"I've never done anything to my ankles, so I didn't really know what I was feeling. Didn't feel very good," Britton said. "Just kind of felt like I had jammed it, I guess. The best way to describe it. But Richie [Bancells, head athletic trainer] kind of took charge and said, 'That's it.'"
"There's some areas that are painful right now, but overall, it's isolated compared to last night. Last night, it was kind of everywhere. And this morning, it's in one spot, which is a good thing, from what the doctor said. Now, we kind of have an idea of what it is."
Britton doesn't have much swelling and said he's already feeling better.
"I think he'll be a pitcher shortly, hopefully," manager Buck Showalter said. "It's the left one. I kind of like that better than the right [ankle]. I'd rather have that one as opposed to the landing foot. I think he jammed the capsule a little bit as opposed to turning it. … The lack of swelling kind of reiterated what Richie thought it was, looking at the tape."
Without Britton, the Orioles will likely play matchups and won't necessarily just slot everyone back an inning and have setup man Darren O'Day in the ninth.
"I think about anybody that gives us the best chance to win," Showalter said, when asked if Dylan Bundy is an option. "All eight guys in there are in play. Not one more than the other."
Brittany Ghiroli has covered the Orioles for MLB.com since 2010. Read her blog, Britt's Bird Watch, follow her on Facebook and Twitter @britt_ghiroli, and listen to her podcast. This story was not subject to the approval of Major League Baseball or its clubs.