Myers, Kemp, Jay, Ramirez finish April strong
Maurer running hot and cold in 12 appearances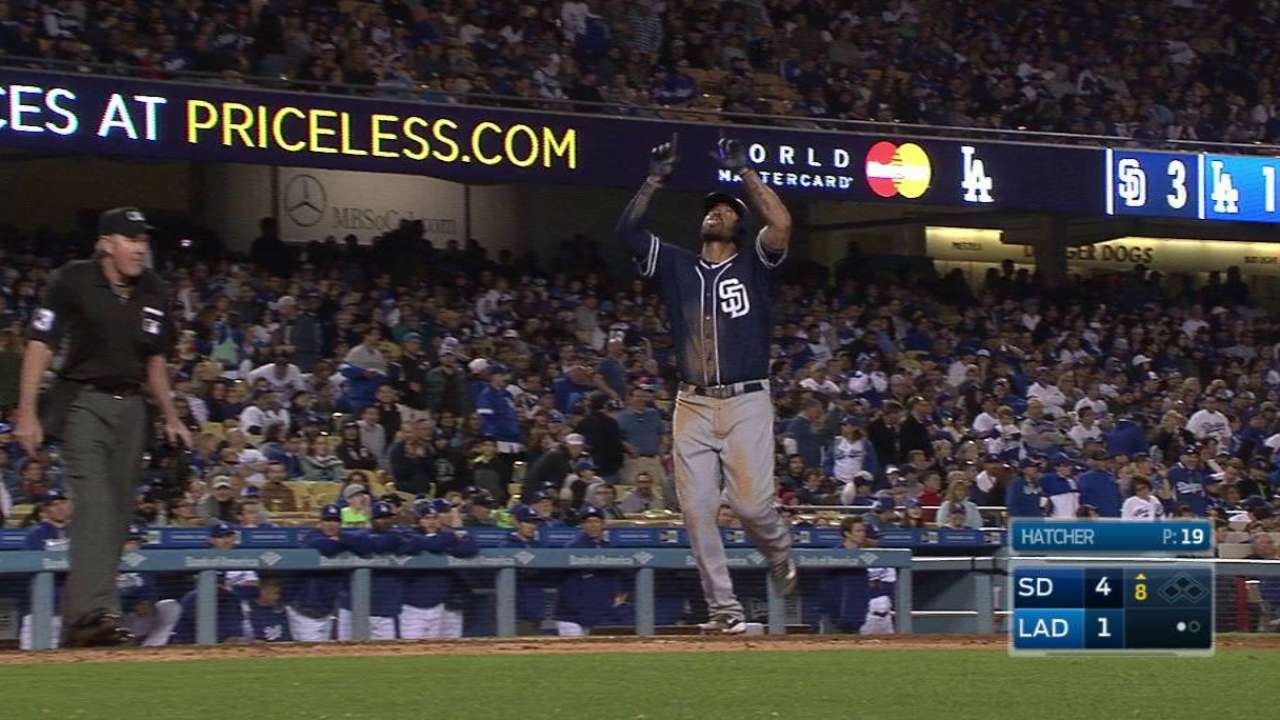 Four of the key hitters in the Padres' lineup -- Wil Myers, Matt Kemp, Jon Jay and Alexei Ramirez -- have warmed up considerably recently.
First baseman Myers has hit safely in 13 of his past 14 games. Center fielder Jay has hit safely in 11 of his last 12 games. And shortstop Ramirez has the Padres' longest current hitting streak at six games. Right fielder Kemp, meanwhile, went 11-for-30 over the last 11 games of April with seven doubles, two homers, eight RBIs and seven runs scored. That's a .800 slugging percentage.
Kemp finished April hitting .283 with seven homers and 19 RBIs. Last season, he hit .326 in April in his first season with the Padres with one homer and 16 RBIs. He played 23 games in both Aprils.
But Kemp had a monthlong slump in May, hitting .186 with no homers and 10 RBIs.
Myers is 21-for-58 (.362) over his last 14 games with five doubles, three home runs, 10 RBIs, nine runs scored, six walks and two steals. He has a .422 on-base percentage during the run with a .603 slugging percentage for a 1.025 OPS.
Jay is 14-for-50 (.280) over his last 12 games with six walks for a .357 on-base percentage.
Ramirez is 10-for-24 (.417) in his six-game streak with a double and four RBIs.
NOTES FROM THE SCOREBOOK:
--Eighth-inning setup man Brandon Maurer has blown extremely hot and cold in his first 12 appearances of the season leading to an overall 5.25 ERA. Saturday night was the right-hander's eighth scoreless appearance. In those eight games, Maurer has allowed one hit and three walks with 13 strikeouts in eight innings. In his other four appearances, Maurer has allowed seven runs on nine hits -- including two homers -- and three walks in four innings.
--Right-hander Colin Rea joined Drew Pomeranz Saturday night as the second starting pitcher with two wins. Rea held the Dodgers to two runs -- on a Chase Utley homer -- on four hits and three walks with three strikeouts in six innings. He threw 96 pitches, or an average of 16 pitches per inning. It was his second-lowest average pitch count in his five starts.
--Right-handed closer Fernando Rodney was limited to eight appearances in April and only four of those in save situations. He shot his arrow in each of those chances. Rodney has yet to allow a run, giving up six hits and four walks with eight strikeouts in 8 1/3 innings.
--Left-handed reliever Ryan Buchter has made nine straight scoreless appearances since allowing his only run of the season on April 8. During the run, Buchter has allowed three hits and four walks with 12 strikeouts over 8 2/3 innings to lower his ERA to 0.79.