Royals get bats going to snap 5-game skid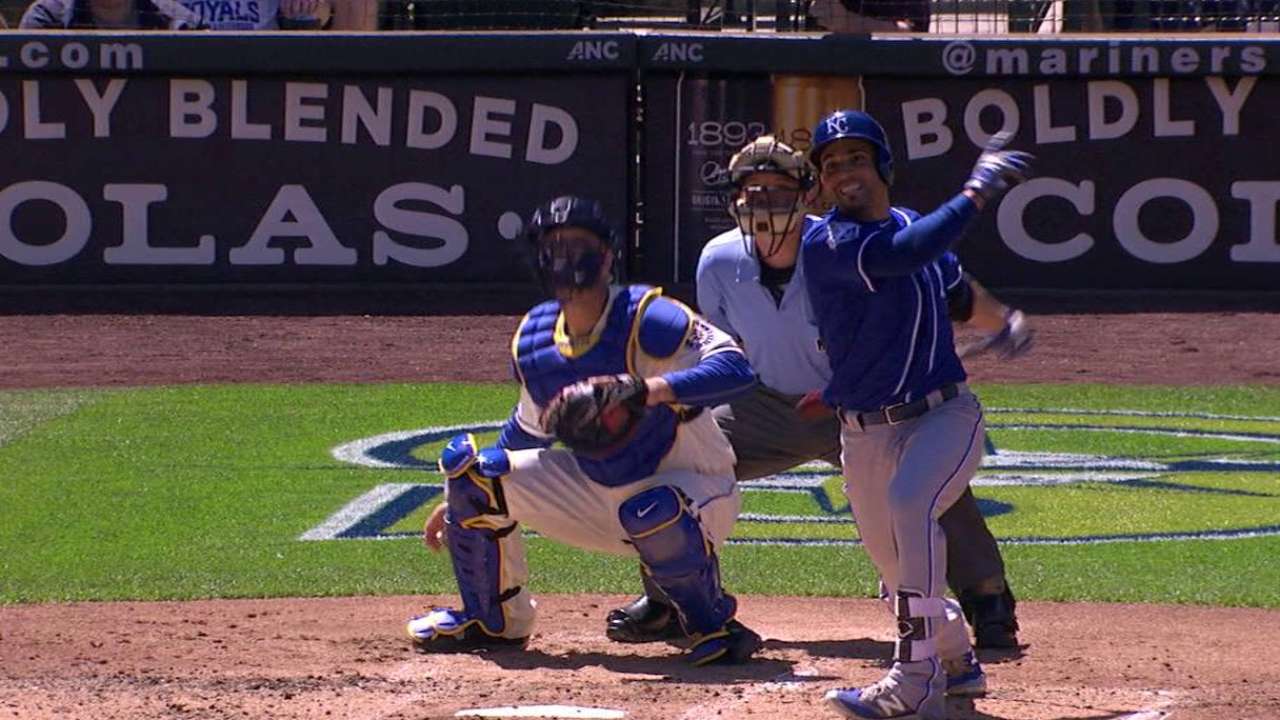 SEATTLE -- The Royals looked a lot more like themselves on Sunday, snapping a five-game losing streak with a 4-1 win over the Mariners at Safeco Field that allowed them to head home with one victory from an otherwise dreary West Coast swing while slowing down hot Seattle in the process.
It was a typical Kansas City victory blueprint, with five effective innings from starter Ian Kennedy (one run on four hits and six strikeouts), good bullpen work (Danny Duffy, Joakim Soria, Kelvin Herrera and Wade Davis pitched innings 6-9), solid defense and timely hits.
"It's been a rough road trip, and any time you can get the lead after six and get to our bullpen, we've got a lot of confidence that we're going to win that game," manager Ned Yost said. "So it was good that we were able to do that."
Kansas City hadn't scored a run in 27 innings until it put one on the board in the second after Alex Gordon was hit by a pitch by Seattle starter Taijuan Walker and Salvador Perez and Omar Infante followed with soft singles. The Royals tacked on another run in the third when Alcides Escobar led off with a bloop double and scored two batters later on Lorenzo Cain's base hit.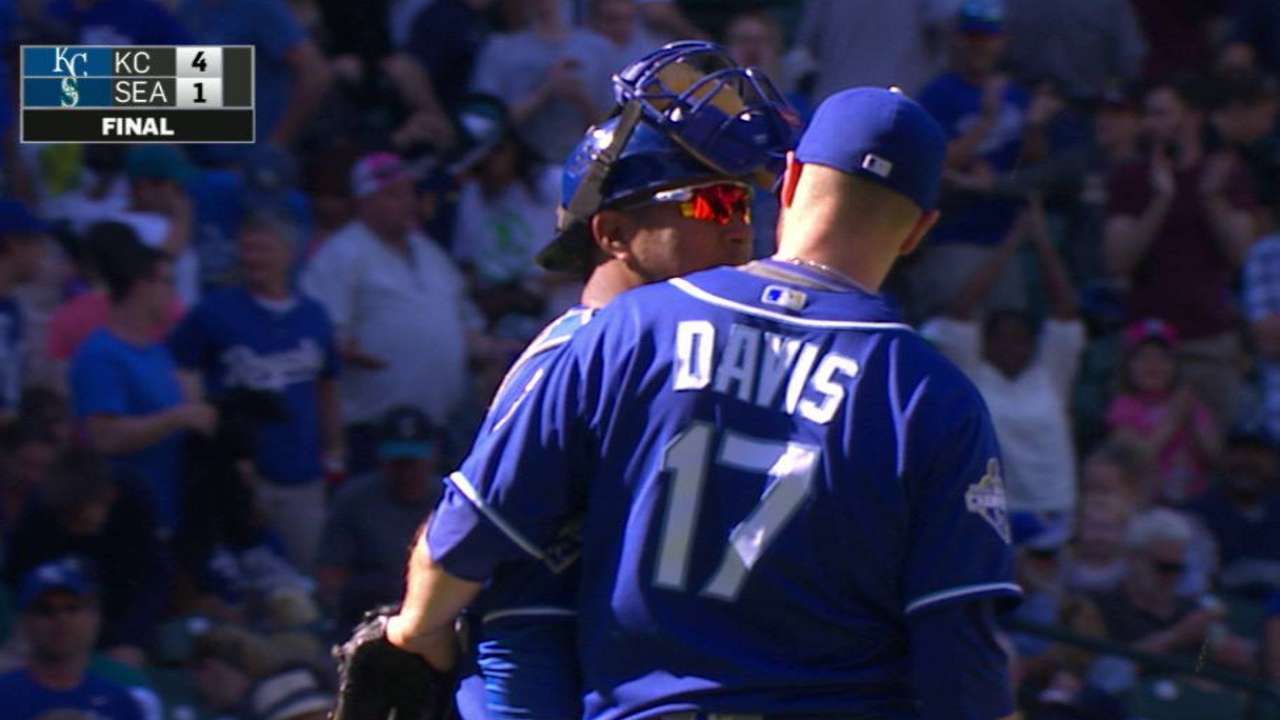 A Ketel Marte error led to the Royals' third run, and the Kansas City bullpen did its job, particularly in the sixth, when the Mariners loaded the bases with none out against Kennedy, who was over 100 pitches. Duffy was able to wiggle out of it having given up only one run. That was partially because of an inning-ending assist by right fielder Jarrod Dyson, who threw out Robinson Cano at the plate after Chris Iannetta's single scored Seth Smith.
Walker fell to 2-1 in his only start this season in which he didn't pitch at least six innings. He gave up three runs (two earned) on seven hits in five innings while striking out four. Hosmer provided the Royals' fourth run with a solo home run to right center field in the eighth.
Several of the hits off Walker were bloopers that simply found holes.
"That's baseball. It's one of those games where stuff just falls their way," Walker said. "I'm sure we'll have games like that where stuff will fall our way and I'm sure I'll pitch games where they hit the ball really hard, but just at people. That's just how baseball works."
MOMENTS THAT MATTERED
Royals finally get on board: Kansas City got on the board comparatively early on Sunday, pushing one across in the second inning. After a quick two outs, Gordon was hit by a Walker pitch and scooted to third on a Perez single. Infante's ensuing blooper to right-center broke the drought for the Royals and gave them a 1-0 lead. More >
"We got some things going on the bases today, we got some big hits, and I think that was one of the key things were missing," Royals first baseman Eric Hosmer said. "We got hits with guys in scoring position, so it was good to cash in on those today. It's good to get a good win off a tough team and a tough pitcher."
Mariners throw away a run: The Royals scored an unearned run in the fifth to make it 3-0. Cain singled to right with two out and stole second. Hosmer was credited with a single on his bouncer to shortstop Marte, who threw wildly over the head of first baseman Adam Lind, allowing Cain to score.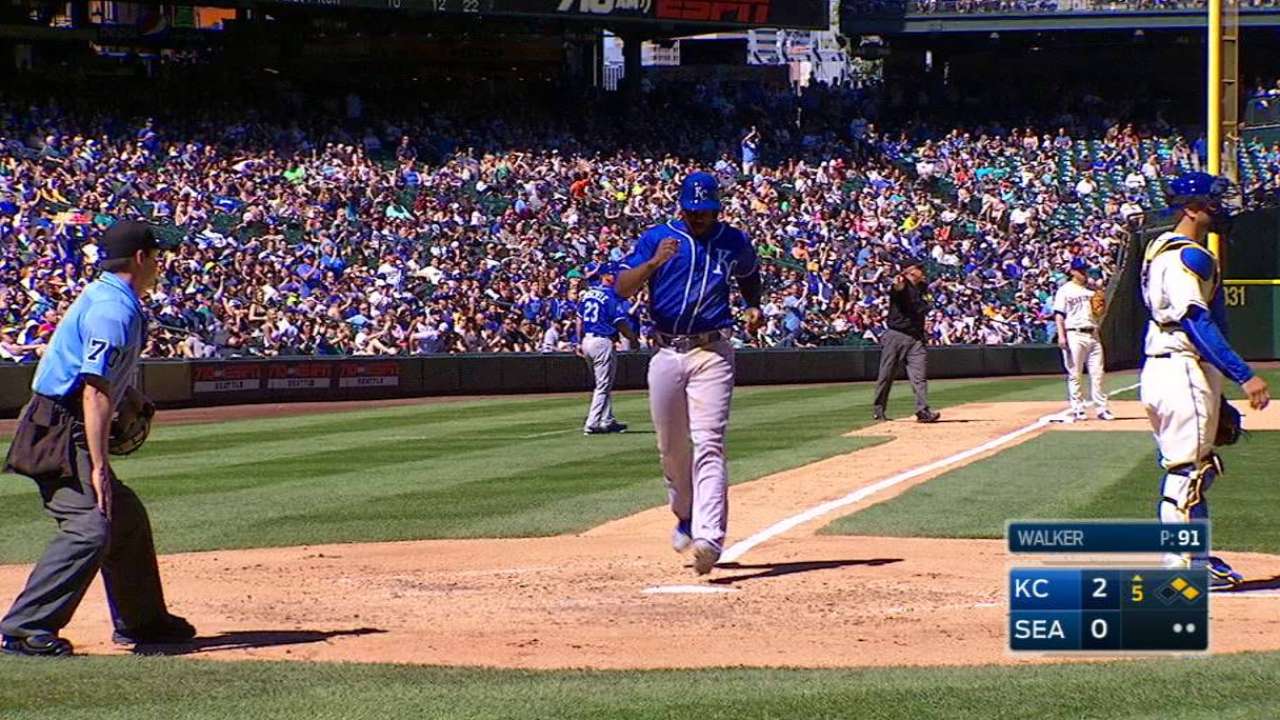 Great escape in sixth: Kansas City got out of a big jam in decent shape in the sixth inning thanks to solid relief pitching by Duffy and a great play in the outfield. Seattle loaded the bases off Kennedy, chasing the right-hander with none out. Duffy was called on to minimize the damage and struck out pinch-hitter Dae-Ho Lee and Kyle Seager. Iannetta was next and singled in a run, but right fielder Dyson got the Royals out of the inning with only one run on the board by fielding the hit cleanly and throwing out Cano at the plate.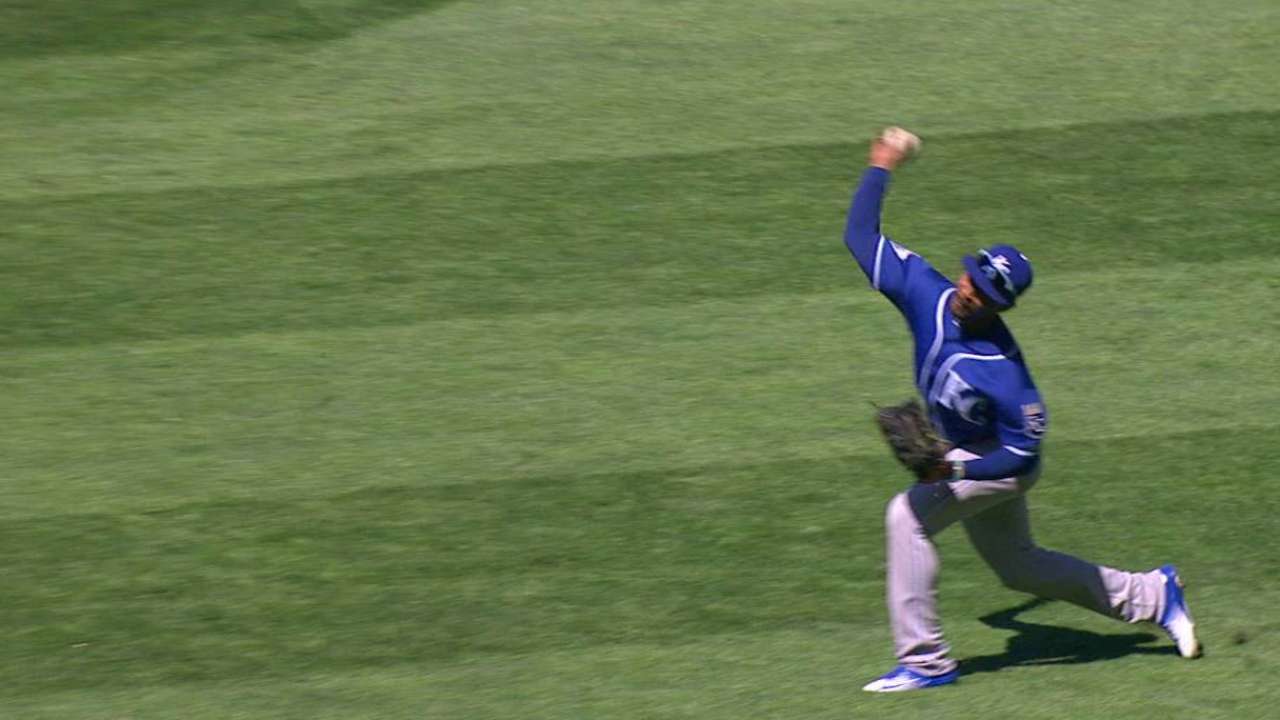 Watching Walker's pitch count: Although Walker had thrown 96 pitches and was not as sharp as in previous starts, manager Scott Servais said the earlier workload entered into his decision to not send Walker out for the sixth inning.
"His last couple outings, we had extended him," Servais said. "You're going to have to look at groups of three or four outings, what you're doing with guys. He wasn't quite as sharp today, that's going to happen."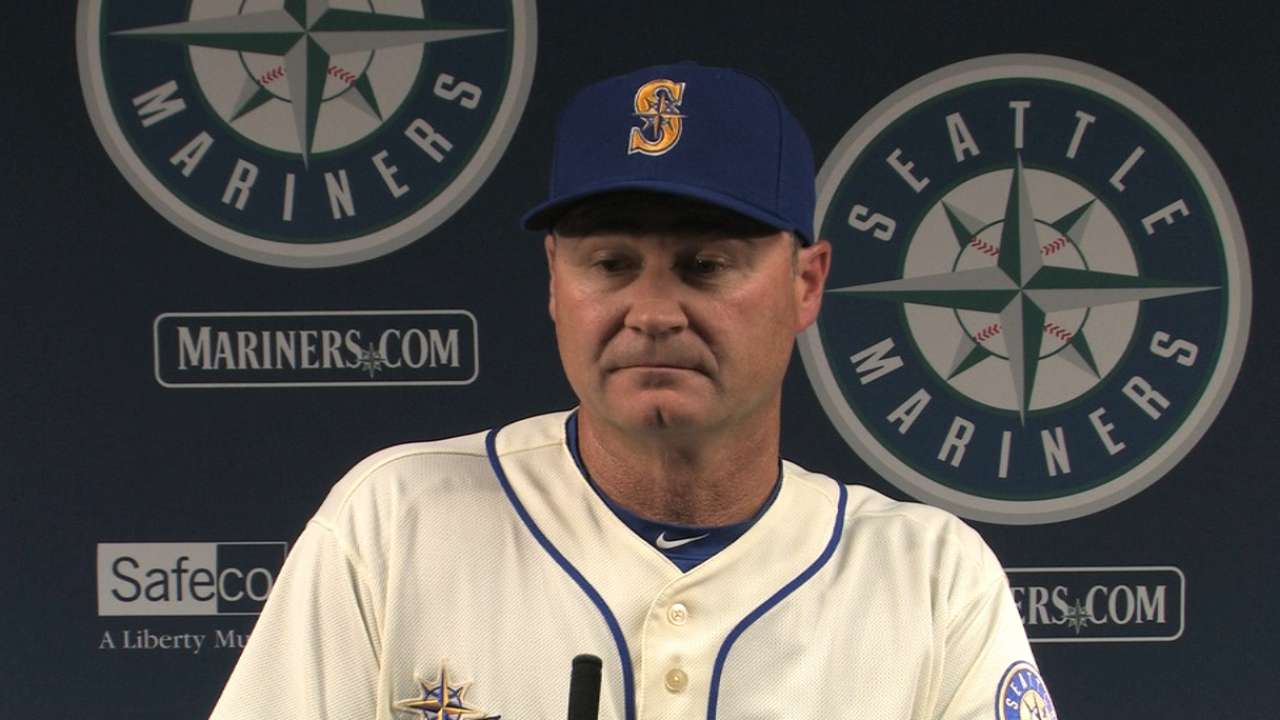 Walker's pitch count had climbed in each of his first four starts, from 100 to 108 to 110 to 118.
WHAT'S NEXT
Royals: Right-hander Edinson Volquez (3-1, 3.34 ERA) will look to bounce back from his first loss when he takes the ball on Monday at 7:15 p.m. CT for the opener of a three-game set against the Nationals at Kauffman Stadium. Volquez gave up a career-high 12 hits and allowed eight runs in his previous outing against the Angels.
Mariners: Right-hander Nathan Karns (2-1, 3.63) will get the call on Monday at 7:05 p.m. PT for the opener of a three-game set against the Athletics at Oakland Coliseum. The 28-year-old is coming off his best start of the season, seven scoreless innings against the Astros last Tuesday.
Watch every out-of-market regular-season game live on MLB.TV.
Doug Miller is a reporter for MLB.com and covered the Royals on Sunday. Follow him on Twitter @DougMillerMLB.

Jim Hoehn is contributor to MLB.com and covered the Mariners on Sunday. This story was not subject to the approval of Major League Baseball or its clubs.