Catch by Bourjos saves save for Gomez
Phillies right fielder makes impressive grab on liner by Kipnis to end game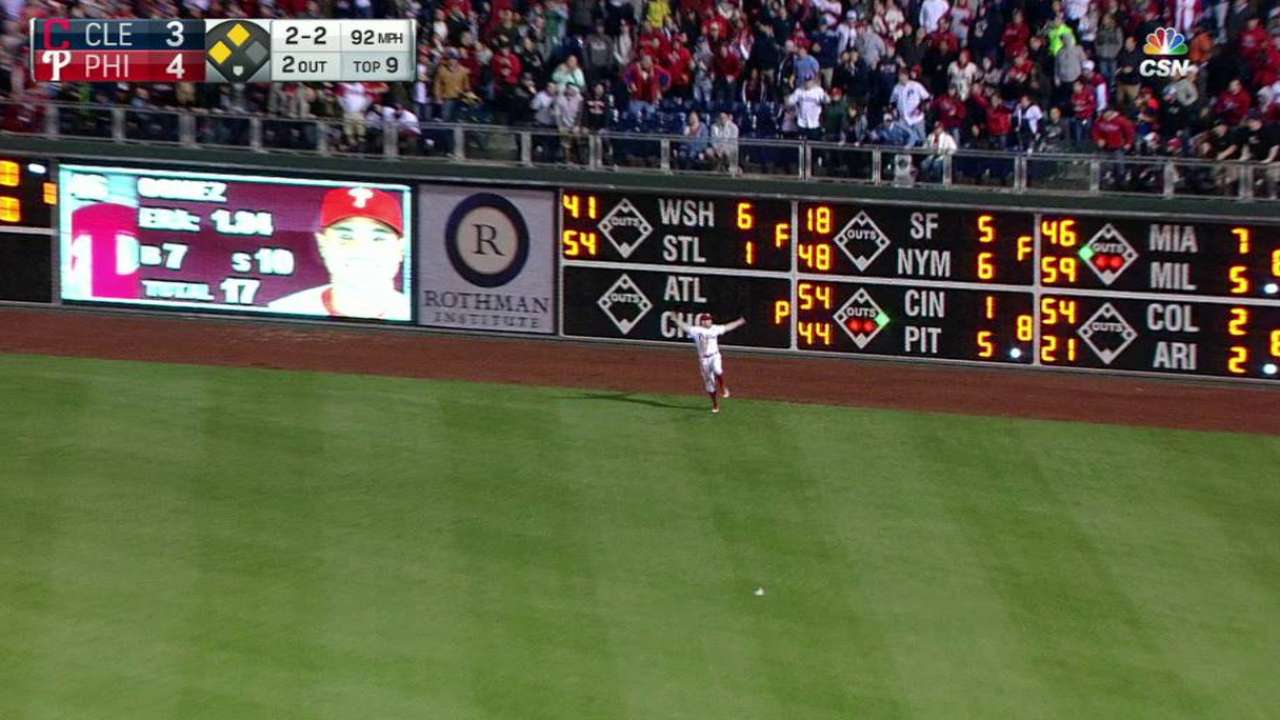 PHILADELPHIA -- Peter Bourjos froze momentarily before he broke toward the right-field wall in the top of the ninth inning Saturday night at Citizens Bank Park.
Indians second baseman Jason Kipnis had just hit a rocket to right with runners on second and third and two outs. If the ball had fallen both runners would have scored and the Indians would have taken a one-run lead. But Bourjos, whom the Phillies acquired in December because they loved his defense, got a good read on the ball. At the last possible moment he turned, leapt and outstretched his glove to make a spectacular game-ending catch in the Phillies' 4-3 win.
"Thank God for Bourjos catching that ball," Phillies closer Jeanmar Gomez said.
The almost miraculous catch helped the Phillies finish April at 14-10, making it the first time they have been four games over .500 since they finished the 2011 season at 102-60.
"I broke on it and I froze just to make sure it wasn't a topspin," Bourjos said. "A couple steps into it I realized I had a pretty good bead on it, and as long as I had enough room to catch it I would."
Bourjos is hitting .164 (11-for-67) with five doubles, one triple, three RBIs, two walks, 22 strikeouts and a .457 OPS in 22 games. Clearly, he needs to be much better offensively. But the Phillies' front office thinks Bourjos' defense has been beneficial to a young pitching staff that has been surprisingly successful the first month of the season.
"I expect to go out there and play good defense," Bourjos said. "I expect to be hitting better than I have. I take a lot of pride in all aspects of the game. Obviously I'm not swinging the bat very well and the defense needs to be there, and it always has been. I think I'd be feeling better if I was hitting .280 right now and playing the defense I am. Hopefully it comes soon."
Gomez praised Bourjos afterward, although he deserves plenty of credit for his own performance. He has been one of the team's biggest surprises this month, opening April as a middle reliever and finishing it as the closer.
Gomez is 8-for-8 in save opportunities, establishing himself to the point that he picked out his entrance music for the ninth inning.
He certainly flipped the script from Jonathan Papelbon's selection of Meek Mill's "Bout That Life" and Ken Giles' selection of Avenged Sevenfold's "Hail to the King." Gomez for the first time entered to Julissa's "El Gran Yo Soy," which is a religious ballad.
"It's Christian music, talking about God," Gomez said.
After the catch Bourjos made Saturday, there is no reason to change it.
Todd Zolecki has covered the Phillies since 2003, and for MLB.com since 2009. Read his Phillies blog The Zo Zone, follow him on Twitter and listen to his podcast. This story was not subject to the approval of Major League Baseball or its clubs.