MLB Plus provides different take on Yankees-Red Sox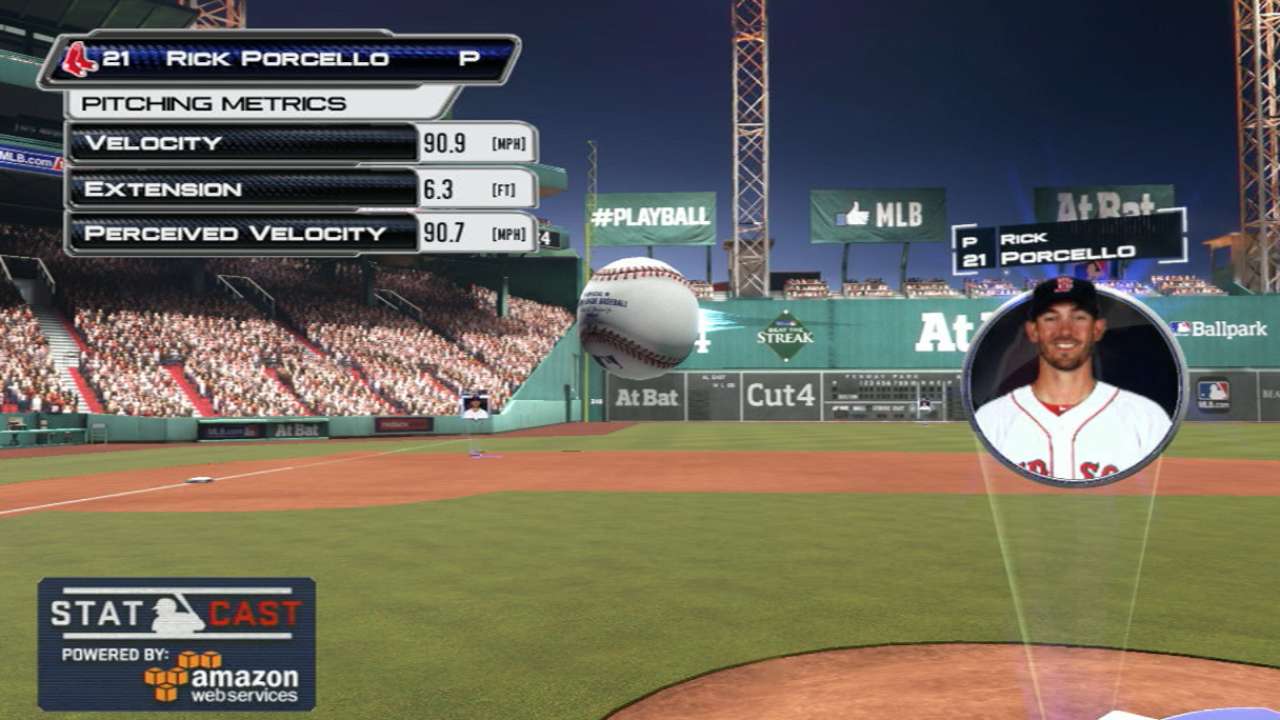 After MLB.com introduced MLB Plus for Friday's Yankees-Red Sox game, the data-driven online broadcast returned for an encore during Boston's 8-0 victory on Saturday night at Fenway Park.
MLB Plus, which features Statcast™ and other advanced analysis, will be available as a companion to each MLB Network Showcase game this season. The next broadcast will be at 7 p.m. ET on May 6, when the Yankees and Red Sox lock horns again, this time in the Bronx.
Here is a look at some MLB Plus highlights from Saturday.
Porcello's spin rate
Red Sox starter Rick Porcello, who ultimately tossed seven scoreless innings, caught the Yankees' Chase Headley looking at a called third strike in the top of the third inning. That prompted a discussion of Porcello's pitching metrics.
The strike in question had a velocity of 92.5 mph, a perceived velocity of 91.3 mph and a spin rate of 2,485 rpm, according to Statcast™. As MLB.com stats analyst Mike Petriello explained, that type of pitch typically fares better with a lower spin rate, which causes the ball to sink more. On the other hand, the pitch may have fooled Headley, causing him to take it for strike three.
It also had more horizontal than vertical movement, which can be tough in its own right.
"We learned that from [Greg] Maddux. James Shields does it really, really well. Roy Halladay did it great," said analyst and former big league outfielder Fernando Perez. "That's a pitch … you have to remind yourself the pitcher has that in his repertoire, so that when you see it, you don't freeze. That's exactly what happened to Headley there."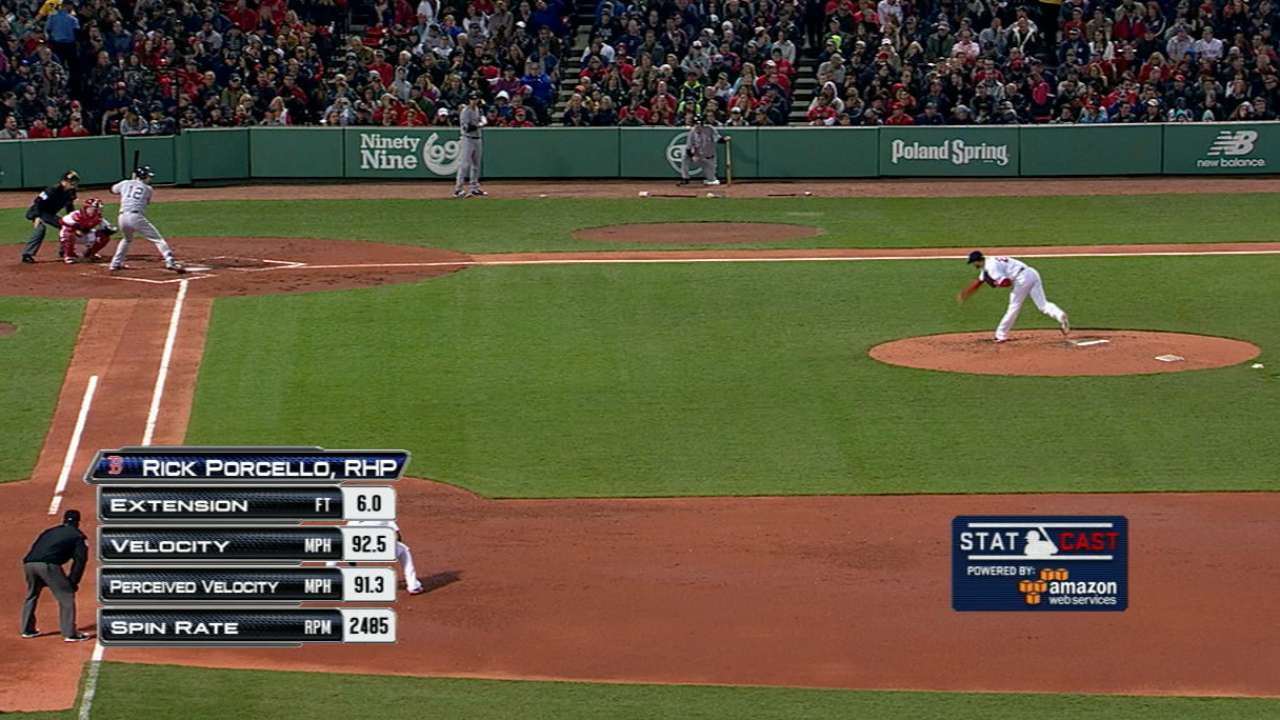 Bradley the ballhawk
With the Red Sox holding a 2-0 lead in the top of the sixth inning, the Yankees' Brett Gardner ripped a line drive deep to left-center field. Boston center fielder Jackie Bradley Jr. glided over for the catch, and the MLB Plus team used that as a jumping-off point to discuss Bradley's defensive prowess.
As an on-screen graphic showed, Bradley entered the day with a league-leading 13 catches on batted balls with a hit probability of 50 percent or greater. In other words, he has been the best at catching balls that have an expected batting average of at least .500, based on their exit velocity and launch angle.
"He covers so much ground in the outfield, and I think it really just goes to show, pitchers must love this guy," Petriello said. "They must love having him out there, because those balls that they give up, they should hurt them. But they're not, because Bradley Jr. is out there tracking them down."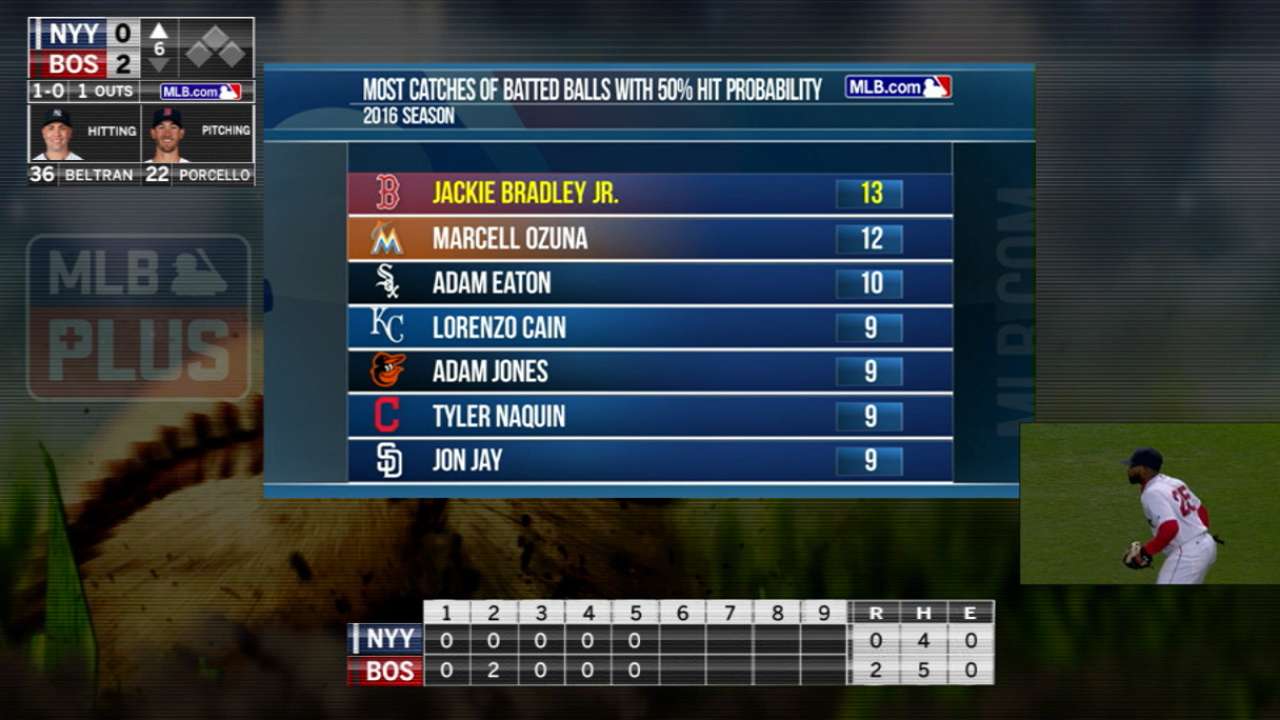 Beltran bombards the Monster
One out after Bradley's catch, there was nothing he could do to turn a Carlos Beltran drive into an out. The Yankees veteran sliced a line drive off the Green Monster in left-center field, although left fielder Brock Holt was able to play the carom adeptly and fire the ball back in to hold Beltran to a long single.
Statcast™ showed that Porcello threw the pitch with a perceived velocity of 89.1 mph and a spin rate of 2,430 rpm. The ball left Beltran's bat at 104.3 mph and with a 19.5-degree angle, which as the broadcast explained, is a winning pair of numbers.
"When you have a combination of that exit velocity and that launch angle, what's the league hit? .787," Petriello said. "When you do that and don't end up getting a hit out of it, it's bad luck or bad positioning [for the hitter]."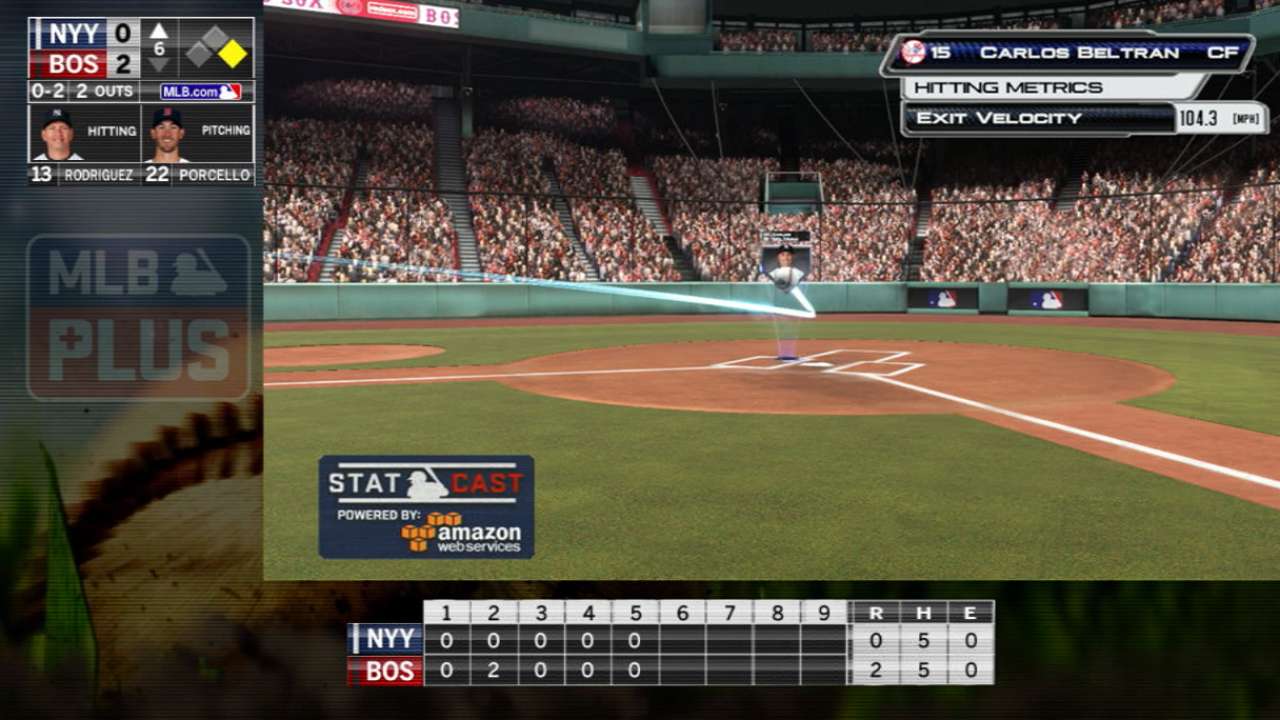 Big Papi bash
So far, David Ortiz has homered in every MLB Plus broadcast. On Saturday, he launched a solo shot off Yankees reliever Johnny Barbato to lead off the seventh inning, making it a 5-0 game and giving him 508 homers in his career.
Ortiz crushed the ball a projected 399 feet, with a 106.9-mph exit velocity and a 30.1-degree launch angle. The blast came one pitch after Ortiz whiffed on a 95.1 mph fastball from Barbato.
"I was just going to say that his leg kick looked a little bit large," Perez said. "For just getting blown away by a fastball, that leg kick looked a little bit big. But, why not?"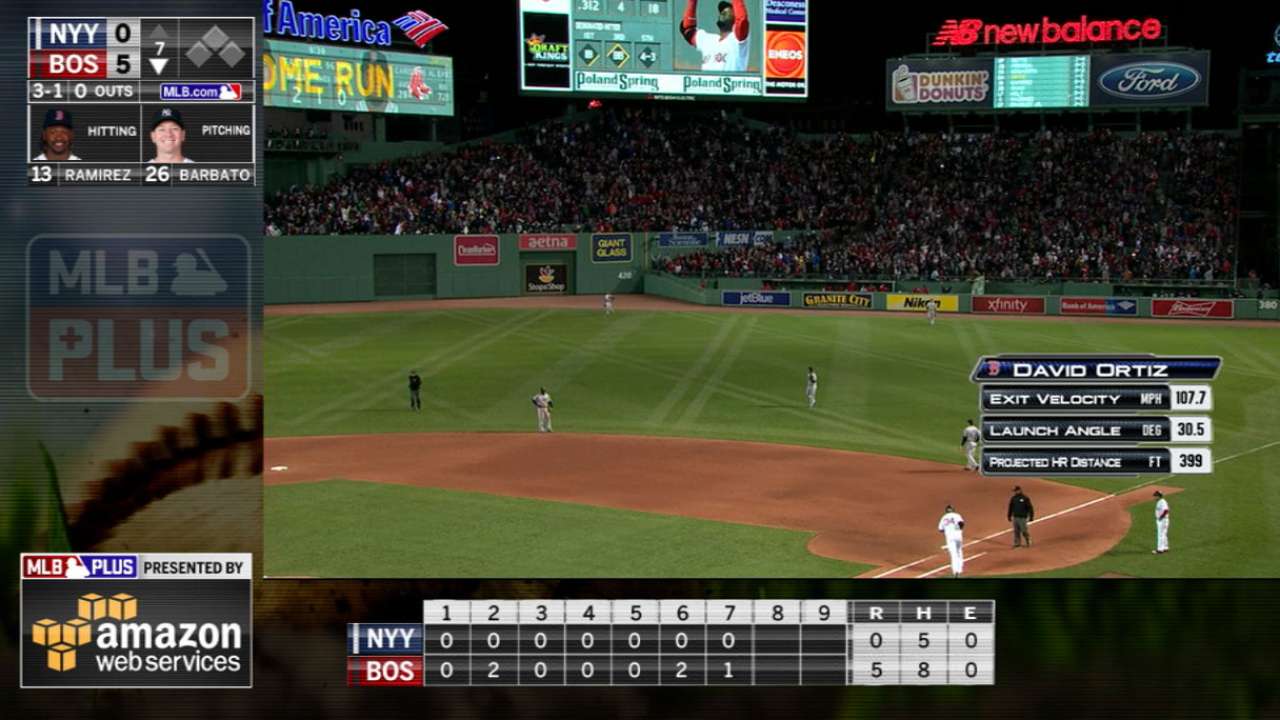 Andrew Simon is a reporter for MLB.com. Follow him on Twitter @AndrewSimonMLB. This story was not subject to the approval of Major League Baseball or its clubs.