Shoemaker calls performance 'unacceptable'
Angels starter gives up 7 runs in 2 1/3 against Rangers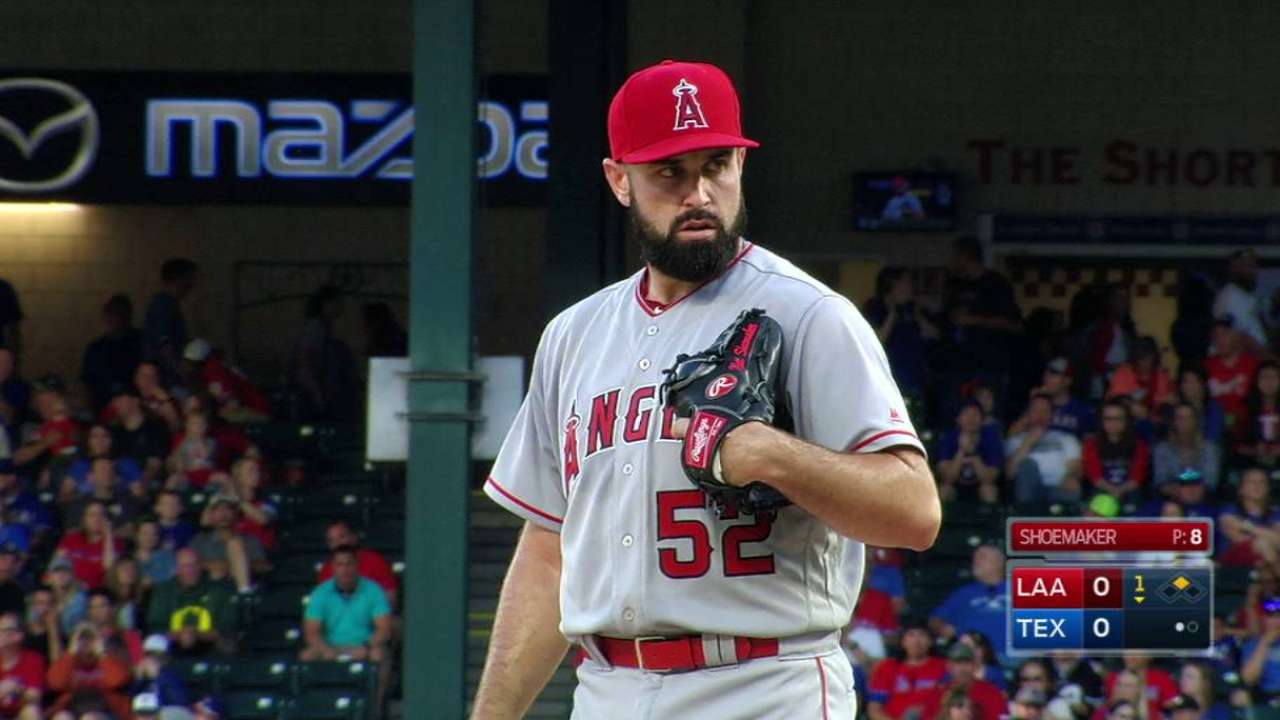 ARLINGTON -- Angels starter Matt Shoemaker said he took the mound at Globe Life Park on Saturday night feeling better than he had for any other start all season.
"That's kind of the weird thing," he said, long after that sensation evolved into the worst outing of what had already been a troubling season for the bearded right-hander, in the Angels' 7-2 loss to the division-rival Rangers.
Shoemaker was unable to record an out in the fourth inning for the third time in five starts, a development he called "unacceptable." He exited with only one out in the bottom of the third, after giving up seven runs on nine hits to inflate his ERA to 9.15. Six of those runs came in the third inning, which culminated in a three-run homer from Mitch Moreland and ended after five consecutive hits.
"I felt great," Shoemaker repeated. "I wish there were other reasons for things."
Shoemaker has pitched brilliantly in two starts this season, giving up a combined two runs in 12 2/3 innings in Oakland and Chicago. But he has imploded in the other three, scorched for a combined 20 runs (19 earned) on 22 hits and six walks in 8 1/3 innings.
The 29-year-old recorded only nine outs and let the first five batters reach in his season debut against this same Rangers team on April 8. At home against the Mariners on Sunday, he gave up four runs in the first and exited after putting the first four hitters on in the fourth.
On Saturday, he needed only 17 pitches to give up seven hits in the third inning.
Delino DeShields singled, Rougned Odor doubled, Nomar Mazara added a sacrifice fly to the left-field warning track, then Adrian Beltre, Prince Fielder and Ian Desmond strung together consecutive singles, setting the stage for Moreland's back-breaking three-run homer. It came on a 1-0, 90-mph fastball, one that was supposed to be located low and away, but sailed up and in.
"Definitely up," Shoemaker said of the pitch to Moreland, which went for the sixth home run he has allowed in 20 2/3 innings.
"Sometimes those are pitches that you want -- popups that you're going for, swings and misses. But they've just kind of been in the wrong counts, or guys have been on them. It's simple, really -- pitch lower in the zone more consistently. I just haven't done it yet, except for one game."
Shoemaker identified his April 13 start against the A's, a one-hitter through six, as the one night he consistently located down in the strike zone.
The Angels need a lot more than that, because they don't really have anywhere else to turn. Three of their starters -- C.J. Wilson, Andrew Heaney and Tyler Skaggs -- are rehabbing injuries that will take a while to fully heal. The Angels have some off-days coming up, and won't need a fifth starter again until May 14, so they could give Shoemaker some time to figure things out.
But, as Mike Scioscia said, "What we need is Matt Shoemaker throwing the ball to his potential."
He flashed that potential in an astonishing 2014 season, which finished with 16 wins, a 3.04 ERA and a runner-up finish for the American League Rookie of the Year Award. And he's pretty much been searching ever since.
"Mentally I'm always strong," Shoemaker said. "I know that for a fact. I've battled my whole career trying to get here. I'm still mentally strong, but it doesn't help. It's just something you have to battle through, something else you have to battle through. That's really it."
Alden Gonzalez has covered the Angels for MLB.com since 2012. Follow him on Twitter @Alden_Gonzalez and Facebook , and listen to his podcast. This story was not subject to the approval of Major League Baseball or its clubs.