Logan's run in April ends with a bang
Second baseman goes 3-for-3 with game-tying HR vs. Blue Jays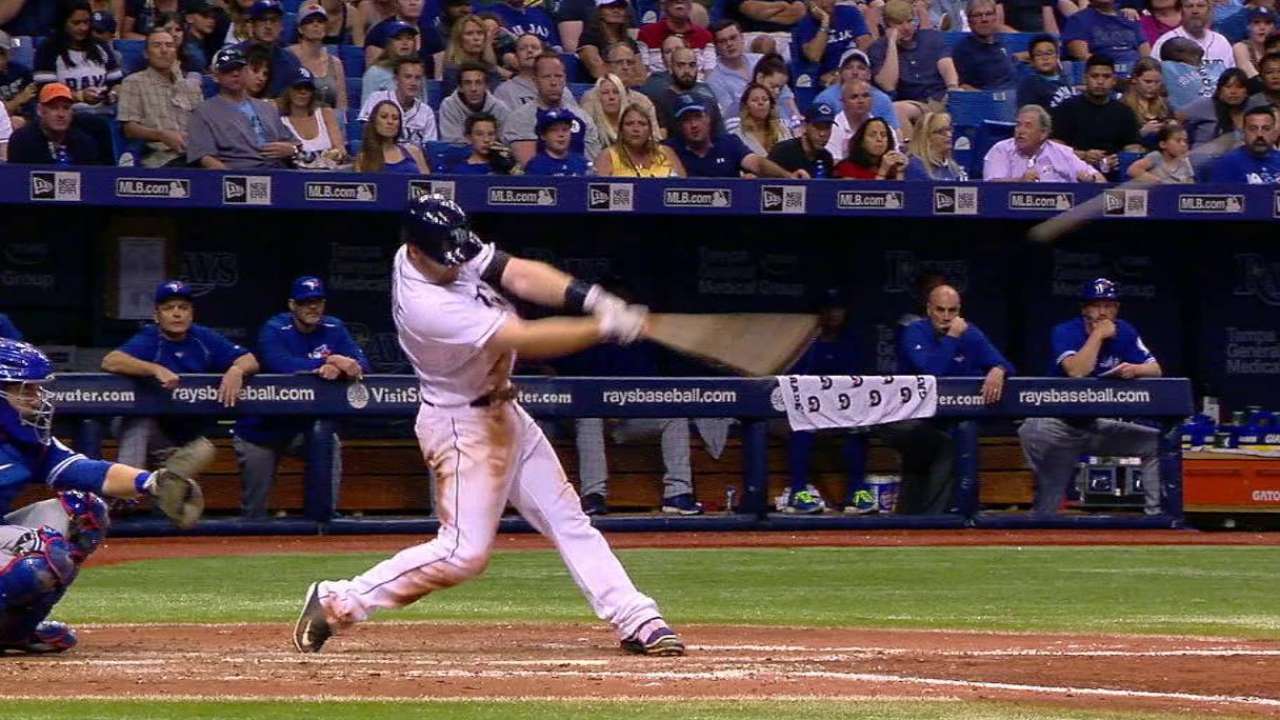 ST. PETERSBURG -- Logan Forsythe is the Rays' top offensive weapon at this juncture. Saturday night he put an exclamation point on his first month of the season with two big hits in the Rays' 4-3 win over the Blue Jays at Tropicana Field.
"I'm seeing pitches well," Forsythe said. "But at the same time, my approach at the plate, I'm kind of sticking to that. Just trying to be consistent with it and the results are coming out."
Forsythe energized the Rays' offense, going 3-for-3 with an RBI single and a game-tying home run in the seventh, and his presence in the ninth didn't hurt, either.
• Cast your Esurance All-Star ballot for Forsythe and other #ASGWorthy players
The Rays trailed, 2-0, in the third when Kevin Kiermaier stole second with two outs and Forsythe batting. After battling Blue Jays starter J.A. Happ for six pitches, Forsythe singled to center to drive home the Rays' first run. Typical of Forsythe's style of play, he took the extra base on his single when center fielder Kevin Pillar bobbled the ball.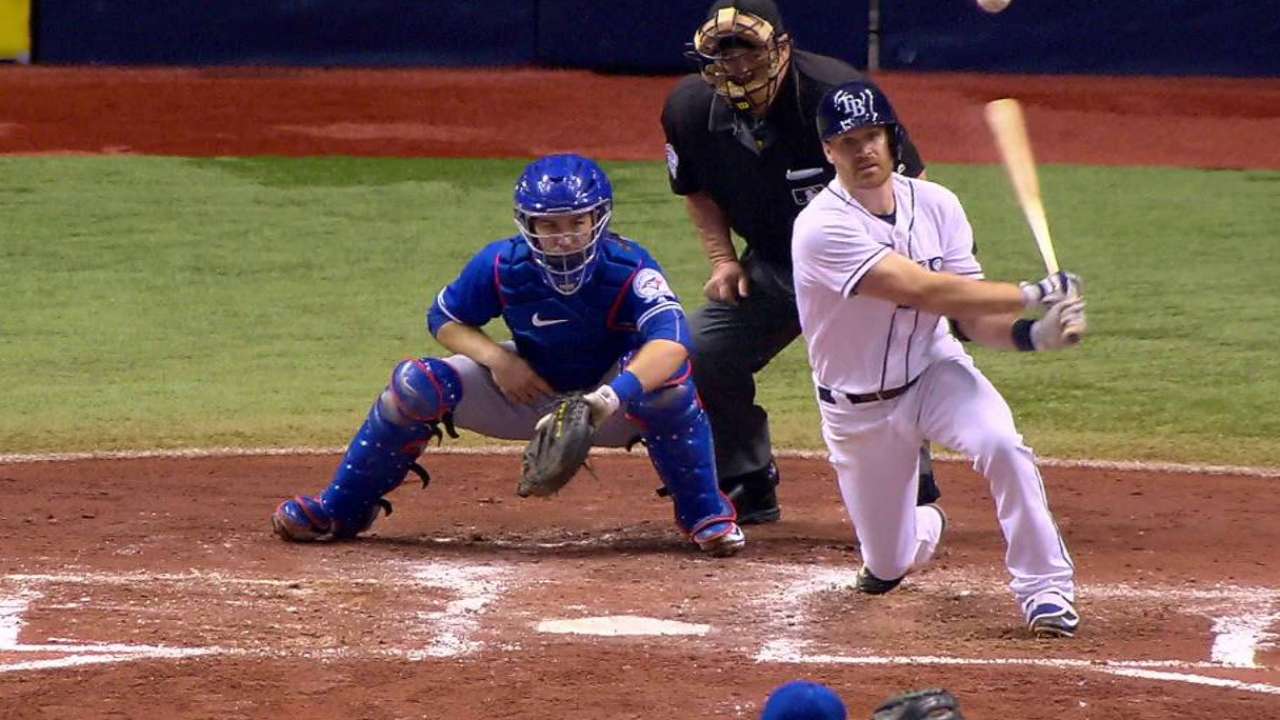 Forsythe came through again in the seventh. The Rays trailed, 3-2, after Pillar had homered in the top half of the inning. Facing a 1-1 count, Forsythe drilled Happ's third pitch -- a 92 mph fastball -- over the center-field wall to tie the score at 3.
Forsythe said he wanted to drive the ball back up the middle.
"His ball had real good sink tonight," Forsythe said. "You could tell the first couple of innings by the groundballs he was getting to the left side. We talked, and for him we were trying to drive the ball back up the middle and get the ball out over the plate, so that's what I was trying to do. Get the barrel to it."
• Forsythe comfortable in leadoff spot
Forsythe then stood in the on-deck circle when Curt Casali got the game-winning hit with runners on second and third, no doubt putting the pressure on the Blue Jays to retire Casali so they could walk Forsythe with the open base.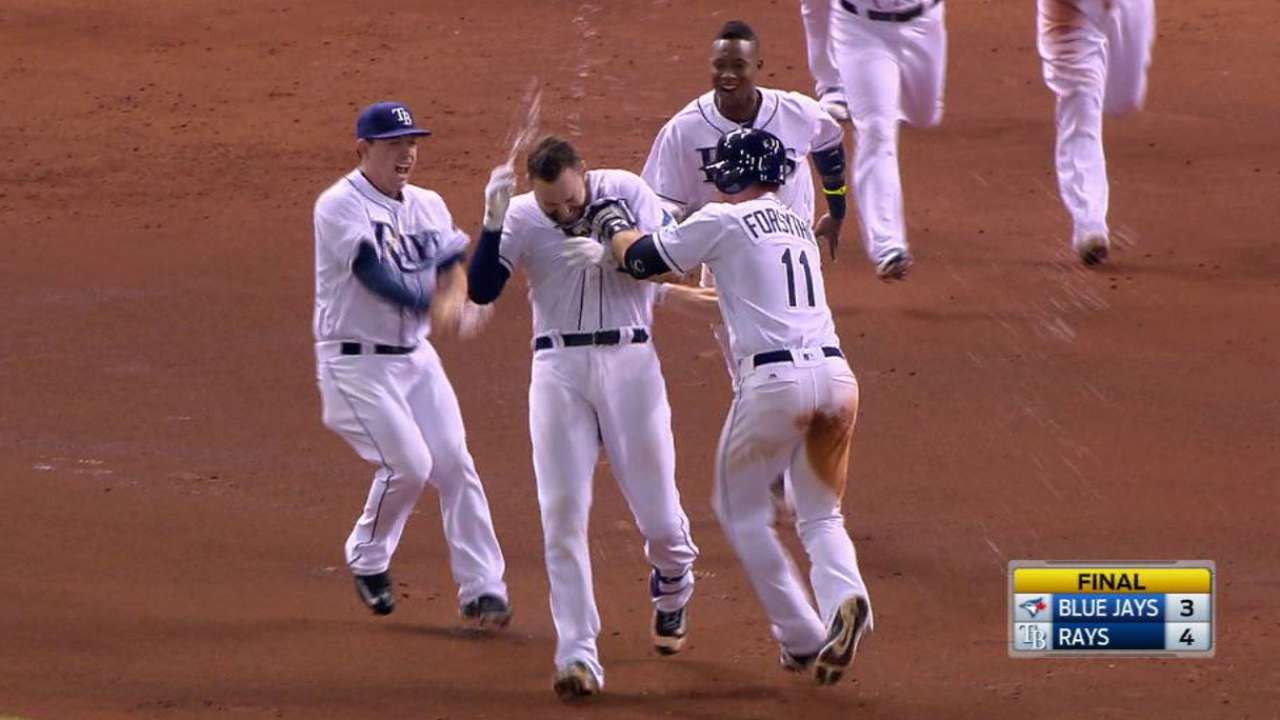 Forsythe will head into May sporting a team-leading .341 average with four home runs and 10 RBIs.
"Logan Forsythe, he just continues to do a lot of great things for us," Rays manager Kevin Cash said.
Bill Chastain has covered the Rays for MLB.com since 2005. This story was not subject to the approval of Major League Baseball or its clubs.