Faith in Casali pays off for Cash, Rays
Catcher had been 0-for-3 with two strikeouts before walk-off hit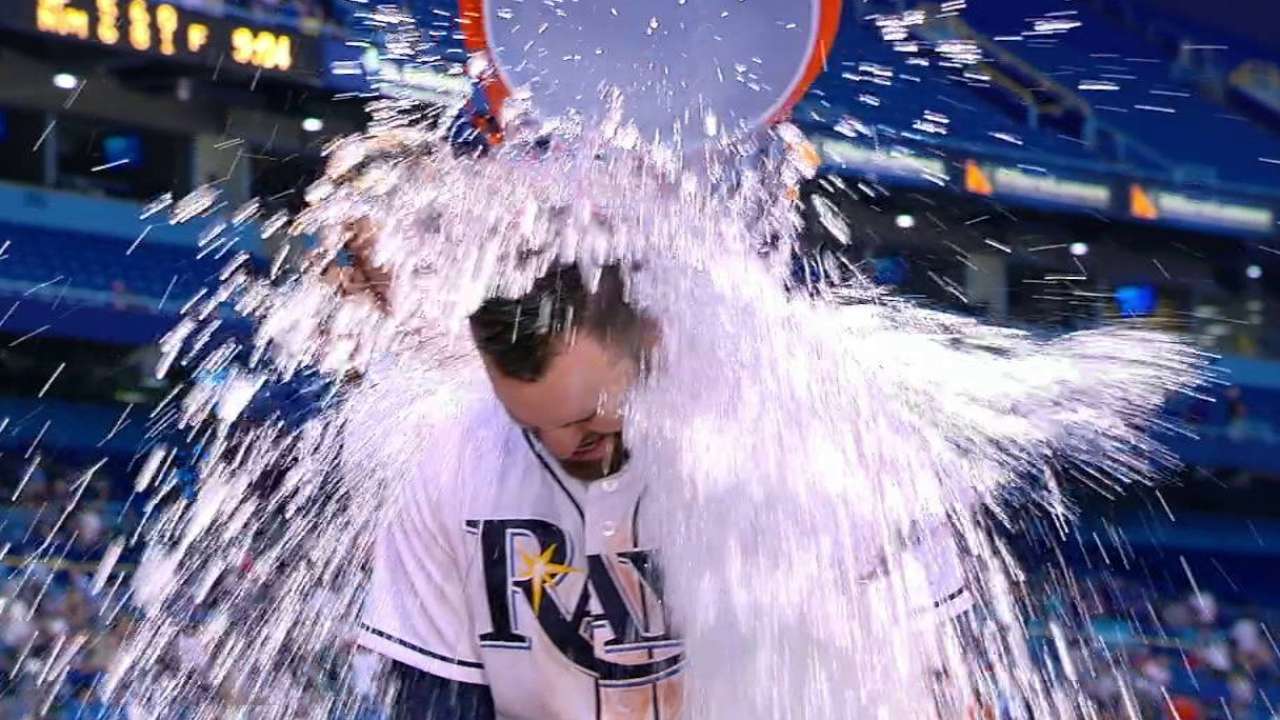 ST. PETERSBURG -- Curt Casali had been scuffling. The .136 batting average entering Saturday night's game said as much.
Still, Rays manager Kevin Cash stuck with him when the game was on the line. That confidence in Casali helped deliver a 4-3 walk-off win over the Blue Jays at Tropicana Field.
"I'm just glad they gave me an opportunity, especially [with] how things have been going for me lately, personally," Casali said. "We got the win first of all."
Casali was 0-for-3 with two strikeouts when he walked to the plate to face Brett Cecil in the bottom of the ninth with the score tied at 3, no outs, and runners at second and third. Logan Forsythe, the most locked-in Rays hitter in the lineup, stood in the on-deck circle.
The count reached 3-1, then Casali swung at Cecil's fifth pitch and lined a ball into left field to drive home Brad Miller with the winning run.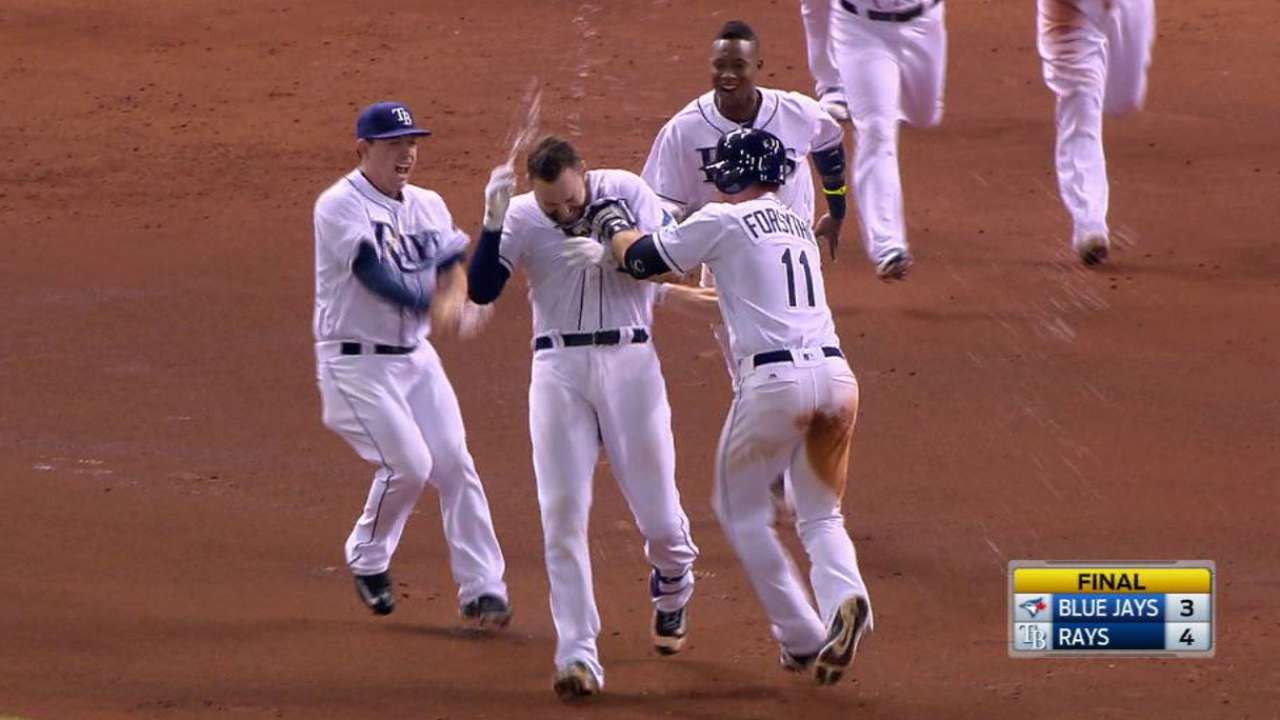 "I'm thinking he's going to try and throw that little cutter again," Casali said. "He snuck one in earlier. It was a little inside the first time. But I figured that was his best bet. Just trying to maybe saw me off, or get a ground ball. I'd do the same thing in that situation, thinking as a catcher. I didn't think a curveball was coming, but I didn't think a fastball was coming either. But it worked out."
"Curt Casali, I don't know if he needed that hit more, or we needed that hit more," Cash said. "But it worked out for both of us. Curt's been grinding. He's been doing such a good job with our pitchers. And you want that reward for him to go up there and contribute, offensively. And it was good that he did. We wanted to win it right there, and good for Curt."
Casali reiterated how happy he was that, "Cash has stuck with me."
"He had faith I'd get the job done," Casali said. "I have to admit, I definitely realized Logan Forsythe was on deck. So I figured if I was in their shoes, [I'd] want to pitch to me as well. And I was fortunate enough that he finally gave me a pitch that I could hit."
Casali's walk-off hit was the first of his Major League career.
"It was fun," Casali said. "Just seeing the excitement [from] everybody. The fans. My team. Above all, just an important win for us against a tough team."
Bill Chastain has covered the Rays for MLB.com since 2005. This story was not subject to the approval of Major League Baseball or its clubs.