Giants' early slips prove too costly vs. Mets
Cain unable to escape first two innings unscathed; Belt makes baserunning flub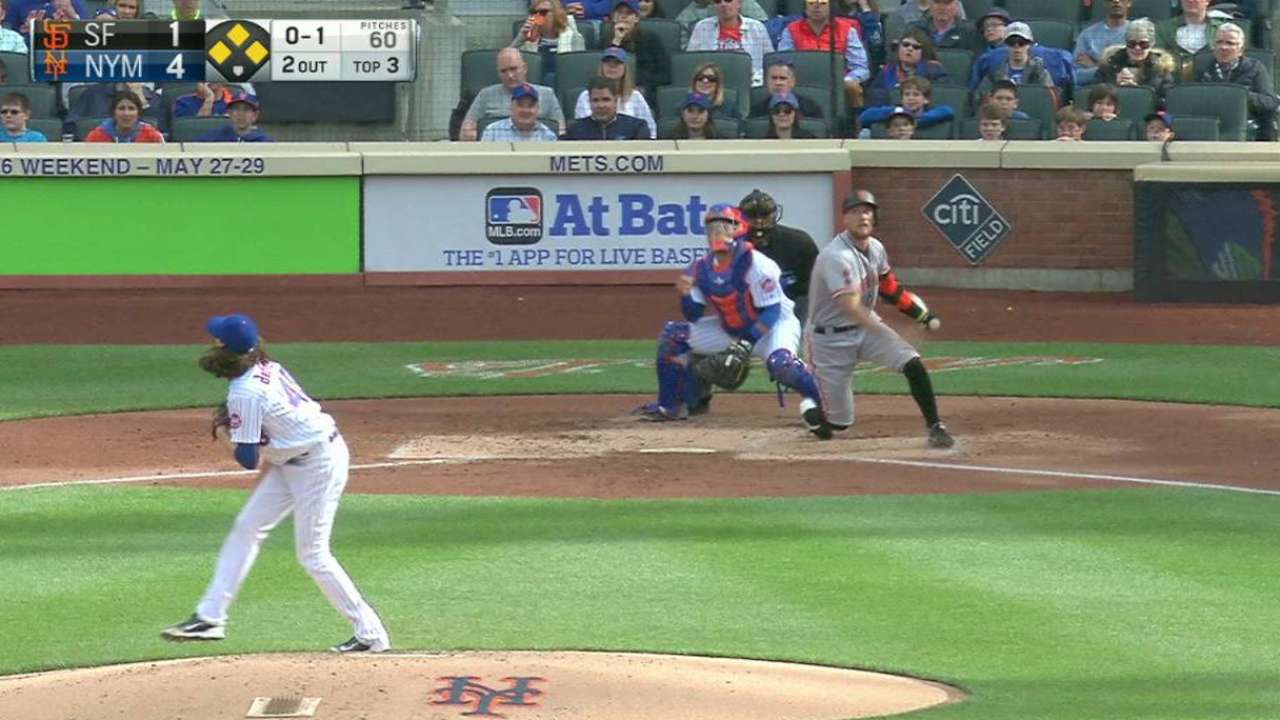 NEW YORK -- The Giants rallied ferociously in Saturday's final three innings against the New York Mets, who outlasted San Francisco to win, 6-5. Yet Giants manager Bruce Bochy dwelled primarily on the game's first three innings in his postgame analysis.
San Francisco brought the potential tying or winning runs to the plate in each of the last three innings. However, Bochy said, "the first two innings were the difference in the game," referring to the span when New York furnished a 4-0 lead for the formidable Jacob deGrom. Bochy ultimately broadened his summary to include the Giants' half of the third inning, when they scored three runs yet, in his view, squandered a chance for more.
Making his 12th consecutive winless start, the longest such stretch of his career, Matt Cain surrendered a pair of runs in each of the first two innings. The first inning proved particularly annoying, since Cain forged ahead on the count, 0-2, against Lucas Duda and Neil Walker with two outs and no runs in but couldn't retire either hitter. Duda coaxed a walk, loading the bases, before Walker blooped an 0-2 pitch barely past lunging second baseman Kelby Tomlinson for a two-run single.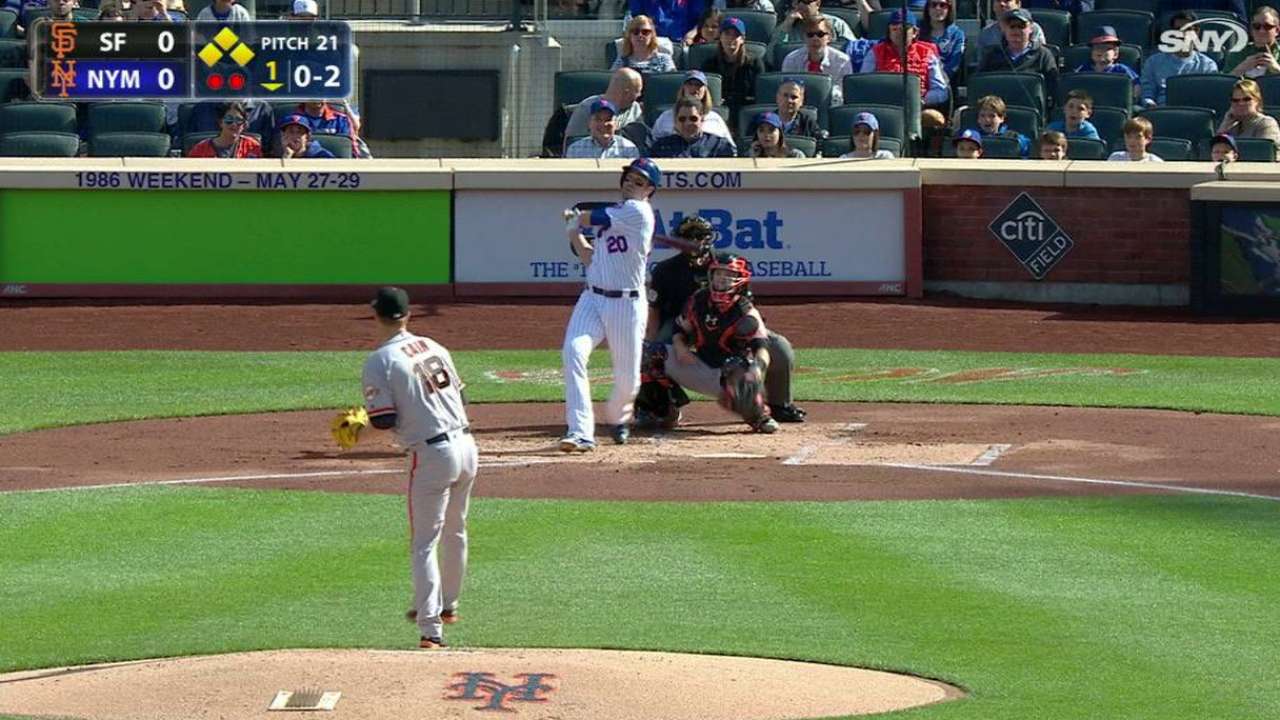 Cain explained poor execution prompted his walk to Duda. As for Walker, Cain said, "I made the pitch I wanted to and he just hit it where nobody was."
Cain allowed six runs in six innings as his record dipped to 0-3 with a 7.00 ERA. But Bochy insisted he wasn't considering any changes in the back end of San Francisco's rotation involving Cain or Jake Peavy (1-2, 8.61).
"I have too much confidence in these two guys," Bochy said. "We're in April and I'm seeing some good things. I know both of them are close [to full effectiveness]. I think when it's all said and done, these two will get their wins and help us a lot."
Michael Conforto, who went 3-for-4 with three RBIs, smacked a two-run double to account for the Mets' second-inning scoring.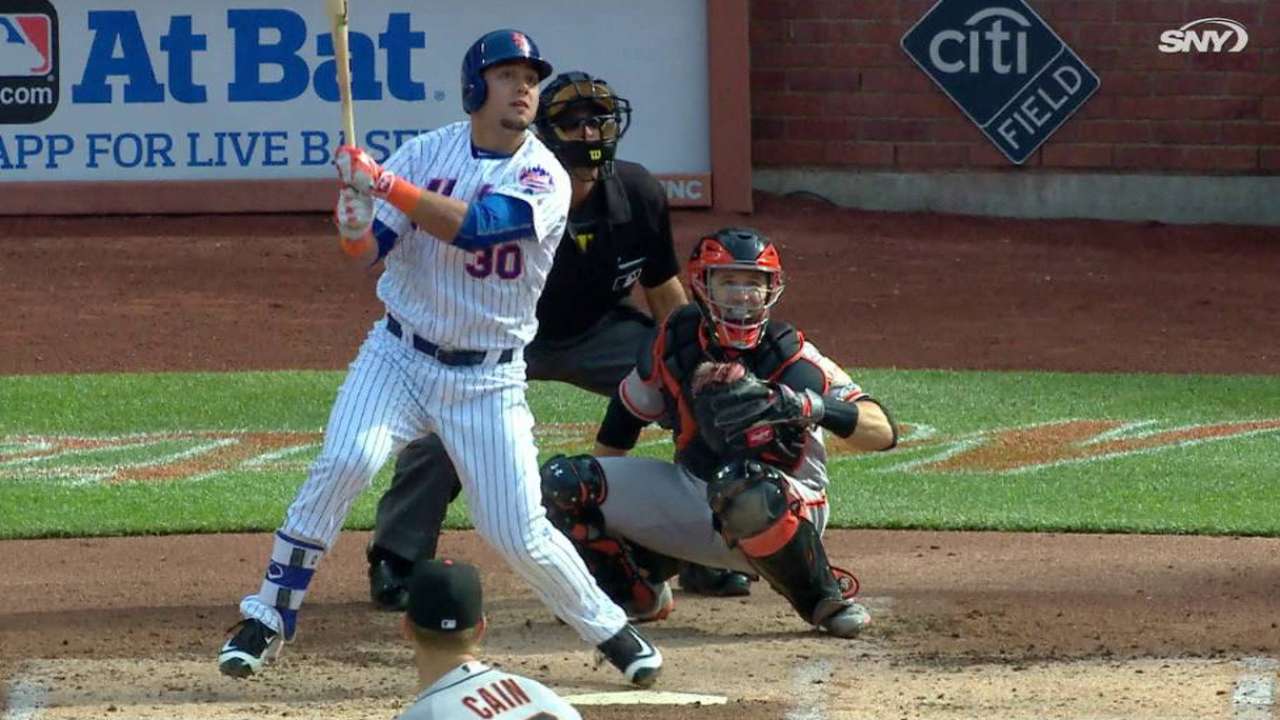 New York needed that hit to fend off the Giants in the third inning, when they caused trouble with two outs and nobody on. A throwing error by Mets third baseman Wilmer Flores on a Matt Duffy grounder helped San Francisco load the bases before Brandon Belt drew a walk to force in a run. Hunter Pence's two-run single narrowed the Mets' edge to 4-3. But Belt was thrown out at third base on the play, ending the inning.
Bochy lamented the surge's conclusion.
"I know [Belt's] trying to get to third, but we've got a guy [deGrom] on the ropes. That didn't help matters."
Belt said he wanted to draw a throw to prevent the Mets from focusing on Buster Posey, who scored on Pence's hit.
"You need to trade the out for the run right there," Belt said. "I wish I could have been safe, but that's the way it goes sometimes."
Except, Bochy said, "they didn't have a play at home. I don't know if [Belt] hesitated."
Referring to deGrom, Bochy added, "We're getting his pitch count up, he's having a tough time getting out of that inning and you hate to stop the mojo -- and a play like that does stop it. He got settled in and pitched better after that."
In fact, deGrom retired all nine hitters he faced from the fourth through sixth innings before he was removed.
Chris Haft has covered the Giants since 2005, and for MLB.com since 2007. Follow him on Twitter at @sfgiantsbeat and listen to his podcast. This story was not subject to the approval of Major League Baseball or its clubs.