KC skid not dampening clubhouse confidence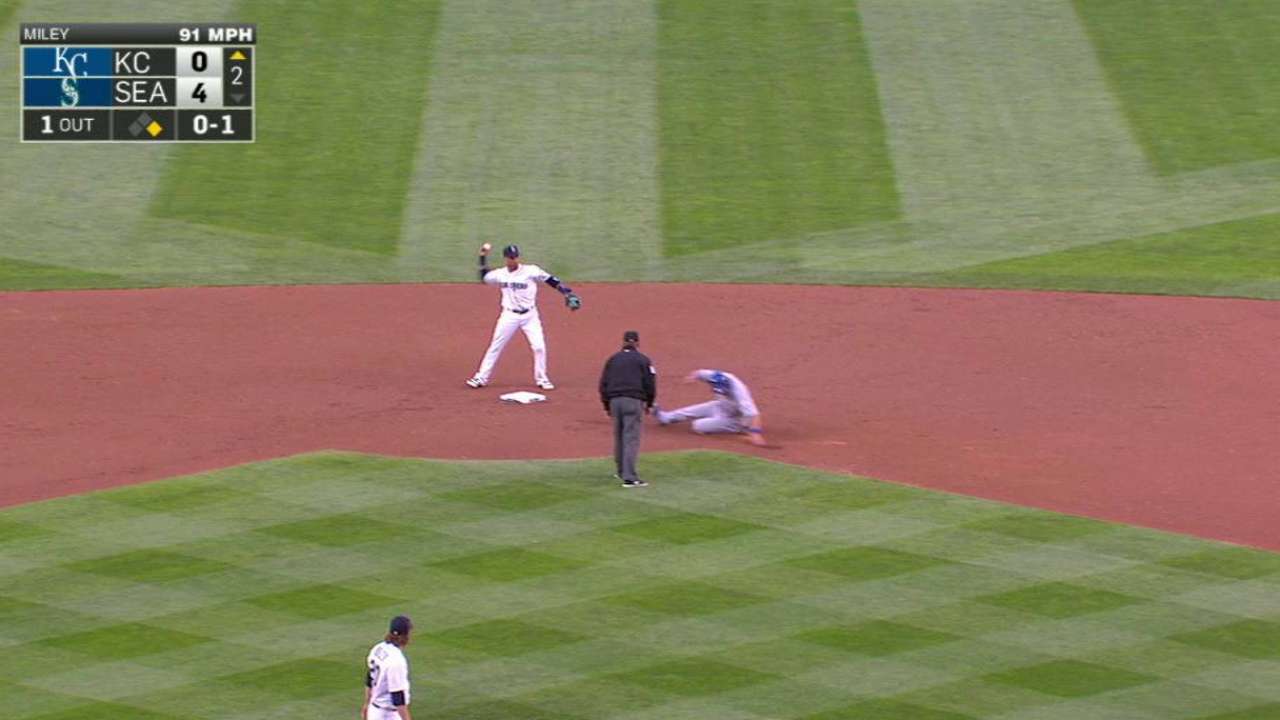 SEATTLE -- Two things about the Kansas City Royals have become glaringly clear on this trip to Seattle.
The first, after watching them get shut out by the Mariners for the second consecutive night, this time Saturday night by a score of 6-0, is that they are seriously scuffling on the offensive side of things.
Prior to this loss, their fifth in a row, the Royals were mired in an 0-for-22 slump with runners in scoring position. On Saturday night, they only got one such opportunity.
The second? There's no such thing as panic or even lingering concern when it comes to a club that has been to the last two World Series and won the whole thing last October.
"I've gone through this 100 times," Royals manager Ned Yost said. "You just keep fighting to get out of it. Our energy's good, the guys are fighting in the dugout, they're engaged. We've been through it. You just fight through it."
Still, there have been some unsightly numbers lately. The five-game losing streak is the team's first since May 1-5, 2014. The seven-game road losing streak is the first since 2011. The club is hitting .114 (4-for-35) with runners in scoring position on this road trip.
On Saturday night, they were mystified by Mariners left-hander Wade Miley, who recorded his first career shutout. The Royals had five hits and struck out four times. They were unable to work a walk.
Left fielder Alex Gordon went 0-for-2 and is batting .208 this season. Leadoff man Alcides Escobar was 0-for-4 and is batting .214. Center fielder Lorenzo Cain went 1-for-4 and is batting .220. Designated hitter Kendrys Morales was 1-for-4 and is batting .226. Catcher Salvador Perez was 0-for-3 and is batting .240.
Even first baseman Eric Hosmer, who's hitting .326 and brought a career-high 18-game hitting streak into the night, was held hitless. He lined out to a leaping Mariners third baseman Kyle Seager in his last at-bat in the top of the ninth, a fitting end to the streak given the way the ball has bounced for the Royals lately.
In fact, Kansas City's best offensive performer of the night, third baseman Mike Moustakas (2-for-4), was robbed by fate of what could have been his team's first run of the Seattle excursion.
In the third inning, with speedy Escobar on first base, Moustakas hit a deep fly ball to left-center field that went over Norichika Aoki's head and looked like an RBI double. But the ball bounced into the stands for a ground-rule double that left Escobar on third. Cain followed with a popout to shortstop to end the threat.
"I'm not saying that's why we lost the game," Hosmer said of the bounce, "but that's just the way things go sometimes."
That's how things have been going for Kansas City this week, for sure. But this team has been through way too much success to do anything right now other than what they've become known for.
"You just keep grinding," Hosmer said. "You keep playing. You keep going at it. There's no special trick, there's no special answer. You've just got to continue to fight, continue to put in the at-bats, put in the work, and that's exactly what we're doing.
"That's what so special about this team. We've got that sense of confidence that we know we're going to turn this thing around."
Doug Miller is a reporter for MLB.com and covered the Royals on Saturday. Follow him on Twitter @DougMillerMLB. This story was not subject to the approval of Major League Baseball or its clubs.