Miley on 1st shutout: 'I'm in pretty good place'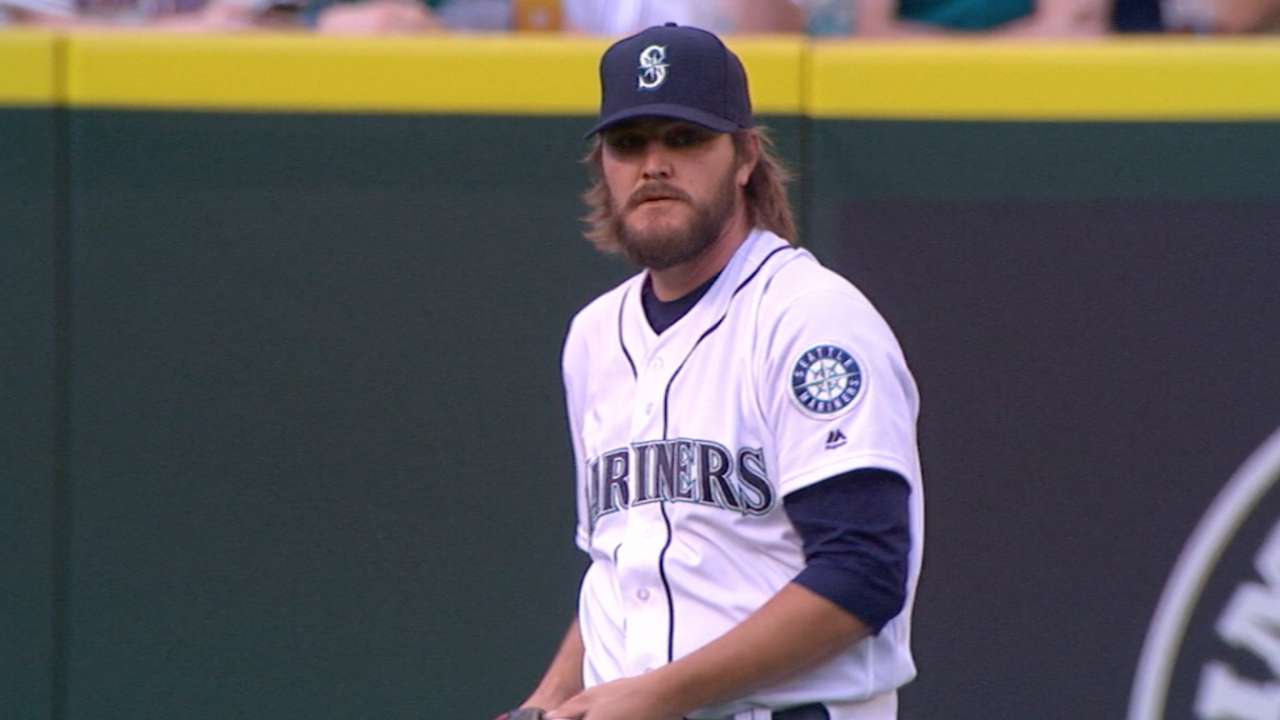 SEATTLE -- This was the Wade Miley the Mariners expected.
After a sluggish start with his new Mariners team, the 29-year-old lefty found his groove early in his last start in Anaheim, and then he put all the pieces together Saturday with his first career shutout in a command performance against the Royals as Seattle topped the defending World Series champs, 6-0, at Safeco Field.
Miley held the Royals to five hits and only allowed two runners past first base -- both in the third inning. He didn't issue a walk and struck out four in a 114-pitch outing.
"It's a cool achievement," Miley said of his first shutout in six years in the Majors. "But in five days, you've got to do it again. That's what we try to do as pitchers every night, just try to go out and get outs, and fortunately, I was able to get 27 tonight."
While Miley downplayed his dominant start, others were less reserved.
"Wow," said manager Scott Servais. "Awesome. A complete-game shutout against the defending [World Series] champs. It was a really good ballgame. Obviously he had it all working, back and forth, mixing speeds, locations, it was outstanding. And I thought Chris Iannetta did a great job calling the game for him tonight."
"Wade was special," said third baseman Kyle Seager, whose three-run homer in the first staked Miley to a 4-0 lead. "That was pretty good. His tempo is always great. He was attacking hitters, he got so many first-pitch strikes. He was going right at guys and got a lot of weak ground balls and popups. He was on point tonight."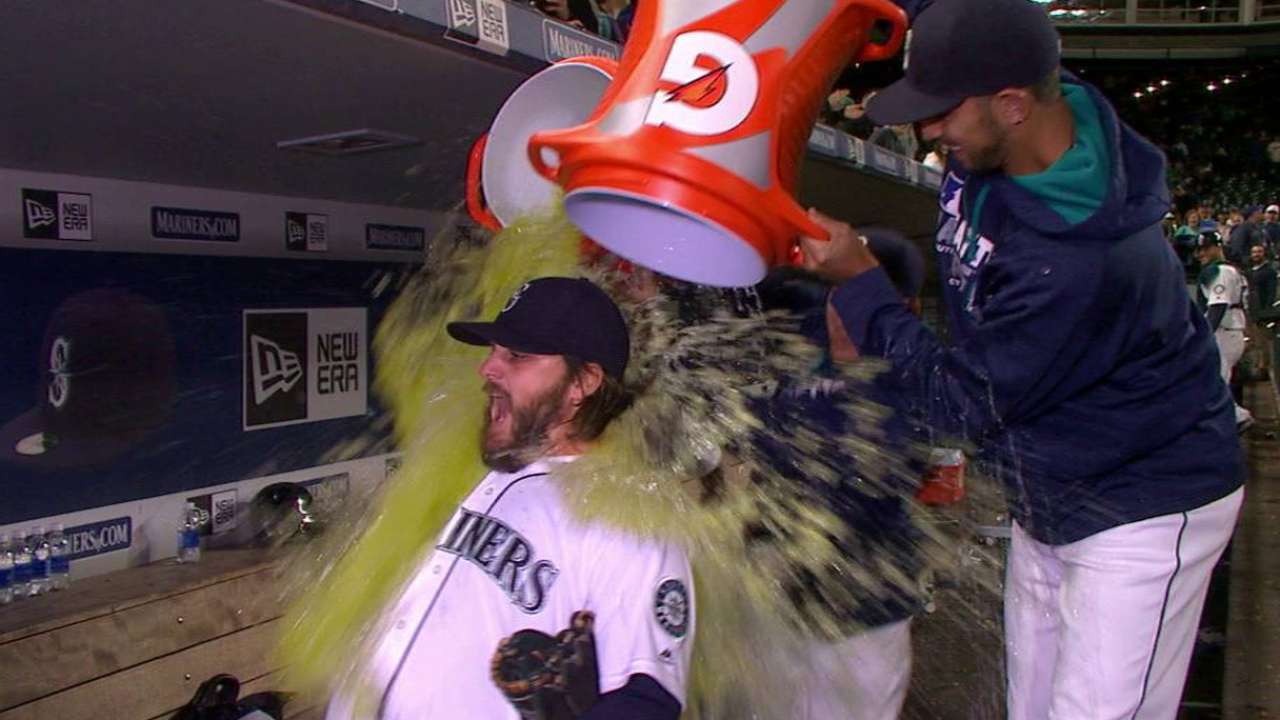 It was just the second complete game for Miley in 139 career starts, a welcome turnabout after he'd gone 0-2 with an 8.04 ERA his first three starts after being acquired by trade from the Red Sox. But after allowing three runs in the first in his last start in Anaheim, the quick-working veteran seemed to finally get in a groove and he finished that game with a 9-4 win, allowing just one more run in 7 1/3 innings.
"I feel like I'm in a pretty good place right now," Miley said after dropping his ERA from 7.04 to 5.06 in one night's work. "I'm able to make pitches and really work down. Elevate when I need to, but when I want to go down, I'm able to go down, and that's where I've been getting ground balls and early quick outs."
Other than a two-out double by Mike Moustakas in the third, the Royals never mounted much of a threat and Miley allowed just a single and one hit batter -- after Nelson Cruz got hit twice by the Royals -- in his final six frames.
"He threw a great game," Royals first baseman Eric Hosmer said after an 0-for-4 night. "He mixed his pitches real well, he got ahead of a lot of guys and just kind of expanded the zone from there. That's the type of pitcher he is, and he was definitely executing his game plan."
And in the process, the Mariners saw the left-hander they expected when giving up young reliever Carson Smith to the Red Sox in a December trade.
"Those first couple starts, if you play this game long enough you're going to have some low spots where you don't pitch like yourself and things aren't working for you, for whatever reason," said Iannetta. "I think he just got back to being himself, and that was inevitable, just how good he is."
On the heels of a 1-0 victory on Friday, the Mariners threw back-to-back shutouts for the 21st time in franchise history, and Seattle's pitchers have posted a 2.37 ERA while winning eight of the club's last 10 games.
Greg Johns has covered the Mariners since 1997, and for MLB.com since 2011. Follow him on Twitter @GregJohnsMLB and listen to his podcast. This story was not subject to the approval of Major League Baseball or its clubs.