Offseason work paying dividends for Joyce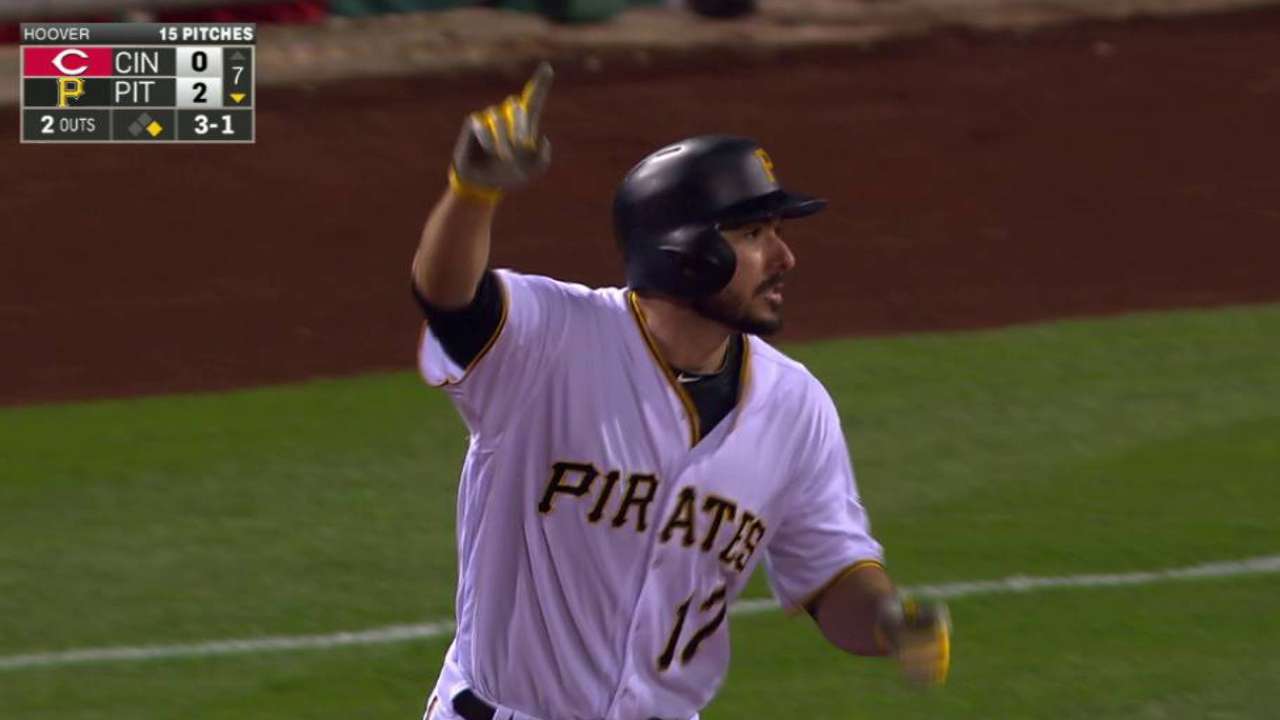 PITTSBURGH -- Coming off the worst season of his career, Matt Joyce knew he needed to make some changes. He wanted to rediscover the swing that took him to the All-Star Game with the Rays in 2011 and made him a productive hitter throughout his career.
So Joyce, a free agent at 31, worked with two hitting instructors. He watched video of himself and other hitters. He spent weeks playing winter ball in the Dominican Republic. As his pinch-hit home run on Friday night proved, he has found the swing that went missing for a year.
"It's just work, man. Being relentless in the face of failure," Joyce said. "Coming off such a rough season, just constantly putting in the work and the grind. Finally starting to show through. It's awesome. It's a great feeling."
Joyce, the Pirates' fourth outfielder and primary left-handed pinch-hitter, entered Saturday night's game against the Reds hitting .357/.514/.750 with three home runs and nine RBIs. He's already launched as many pinch-hit homers (two) as the Pirates did in 2015.
Is this the same guy who batted .174 with the Angels last season?
"Coming off such a rough year, I had to work with a couple guys and felt like I had to get in better positions to hit," he said. "The two guys I worked with late last season and in the offseason showed me a couple things."
Those two guys were Craig Wallenbrock, who helped turn J.D. Martinez into an All-Star, and Bobby Tewksbary, who helped refine the swing of American League MVP Josh Donaldson.
One area they needed to improve? Hitting to the opposite field. The lefty-swinging Joyce has pulled 47.1 percent of the balls he's put in play during his career, with only 21 percent going to left field. Last year the latter figure dropped to 19.7 percent.
So far this season, Joyce has almost evenly distributed his hits -- 40 percent pulled, 30 percent up the middle and 30 percent to the opposite field, most recently his two-run shot on Friday night.
"In the past I've gotten in trouble pulling the ball too much, especially with the defensive shifts. You can see that's the trend in baseball," Joyce said. "For me, hitting the ball the other way and driving the ball to left-center was a really good base and goal for me to shoot for."
Signed as a Minor League free agent at the start of Spring Training, Joyce has proven to be a major addition to the Pirates' bench.
"He knew this was a pivotal year for him to get back in the right direction," manager Clint Hurdle said. "He wanted to pick the right spot."
Adam Berry has covered the Pirates for MLB.com since 2015. Follow him on Twitter at @adamdberry. This story was not subject to the approval of Major League Baseball or its clubs.