Hahn impresses in dominant return to rotation
Righty allows only 3 hits over 6 2/3 scoreless innings in first A's start since July 2015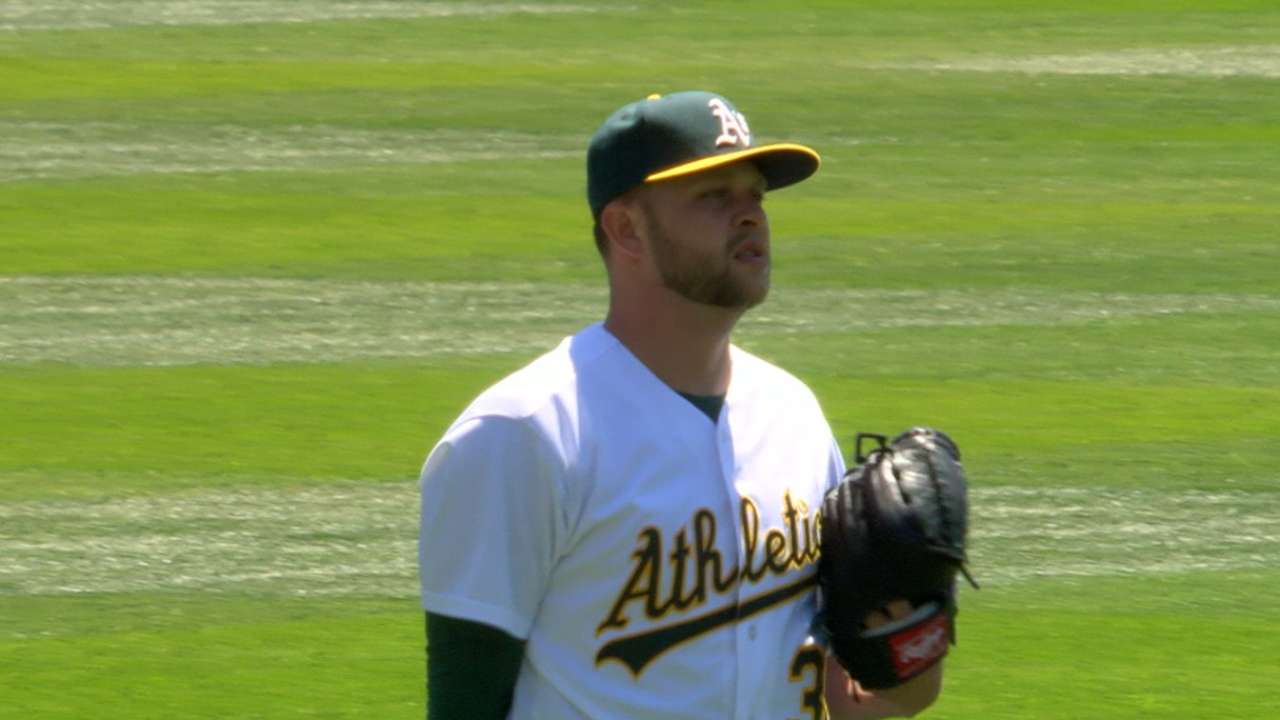 OAKLAND -- Jesse Hahn stamped an exclamation mark on his return to the A's rotation Saturday afternoon with a sensational performance against the Astros. The right-hander filled the zone with strikes, worked efficiently and, simply put, was a treat to watch.
Hahn covered 6 2/3 innings of the A's 2-0 victory, holding Houston to three hits and minimizing bullpen usage amid a demanding week-long stretch for Oakland relievers.
"I don't know that I've seen him better than that," A's manager Bob Melvin said. "Velocity, movement, mixed his pitches, throwing his curveball for a strike, mixing in a changeup, and you're throwing 96, 97 mph and throwing strikes. About as good as we've seen him."
Hahn made quick work of his division foes with an aggressive approach that stemmed from a newfound confidence from Triple-A Nashville, where he used four outings to prove his worth again as a big league option. The way he pitched Saturday, he re-emerged as a likely mainstay.
The right-hander tallied 18 first-pitch strikes from a pool of 23 batters faced. Six times, he recorded outs on the first pitch, needing 12 or fewer pitches in four of his innings, showcasing a lively fastball that routinely hit 96 mph -- occasionally touching 97 -- and a slow, devastating curveball, his signature pitch.
An effective sinker helped him total 12 ground-ball outs, including a pair of double-play balls, compared to just one out in the air. He struck out four and walked two.
"That's the best stuff I've had all year," Hahn said. "I was throwing strikes. That was the most important thing, strike one and being able to put hitters away.
"It helps a lot, it keeps my tempo there, keeps me working fast, and I'm at my best when I'm working fast."
Hahn's spring struggles that led to a month-long Minor League stint were long forgotten by the time he exited in the seventh to a warming applause from the home crowd, which witnessed his first big league victory since July 1, 2015 -- the same date his season essentially ended because of a forearm strain.
"Those guys were awesome," Hahn said. "It just felt great. I felt comfortable, like I need to be here, and to walk off and hear that was very special. I was just excited to be back out there and have a good one. Overall, a great team win."
"Just watching him pitch, his mechanics are so good," closer Ryan Madson said. "He was throwing the ball hard. I didn't realize he threw that hard, and obviously the great curveball. He had that going from the get-go. With those two pitches, man, he can stay here for a while."
Jane Lee has covered the A's for MLB.com since 2010. This story was not subject to the approval of Major League Baseball or its clubs.