Ross impressing in Nats' star-studded staff
ERA stands at 0.79 as right-hander stifles Cardinals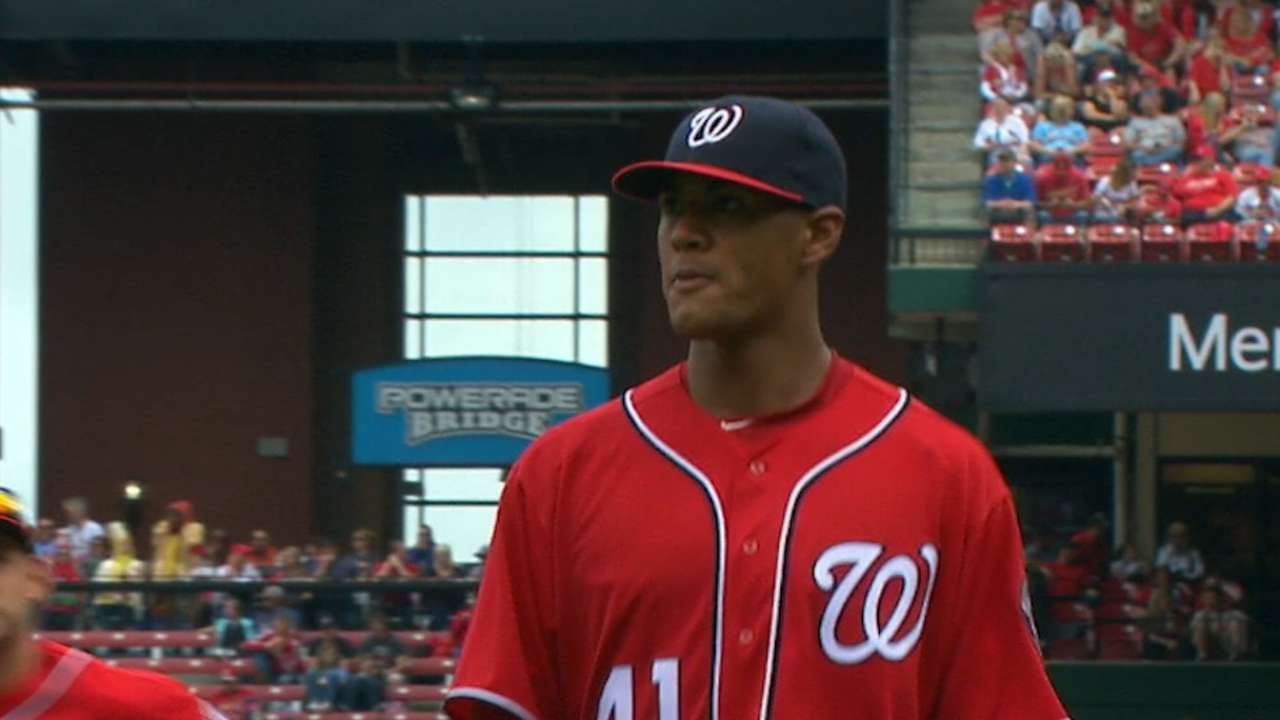 ST. LOUIS -- Before Dusty Baker got a chance to see right-hander Joe Ross pitch live, the Nationals manager had received scouting reports about how Ross' "stuff" stacked up with any other pitcher on a talented Nationals staff, including names like Stephen Strasburg and Max Scherzer.
Through the first month of the season, Ross has been as good as advertised. He held a hot-hitting Cardinals lineup to one run in six innings, leading the Nationals to a 6-1 victory Saturday afternoon at Busch Stadium. The Nationals got off to a fast start in April thanks to their pitching, which entered Saturday with the best ERA in the Majors.
And Ross has been one of the best pitchers in the big leagues. Through his first four starts, he has given up just two runs in 22 2/3 innings.
"I'm impressed, I'm not surprised," Baker said. "There's nothing finer than a young pitcher that gets confidence and knows that he belongs here. And he certainly has confidence. He's not intimidated by being in the big leagues."
Ross would be among the best in the National League with his 0.79 ERA. However, he falls just short of the qualified number of innings because of a blister on his right middle finger that forced an early exit from his last start on April 20, causing the Nationals to skip his last turn through the rotation.
Even though Ross burst onto the scene last season with a successful rookie campaign, he admitted that at times he leaned too heavily on his fastball and slider. He attributes the success to start 2016 to the development of his changeup, which helps him get outs early in counts and force more ground balls.
"It's been feeling good," Ross said. "And that confidence definitely helps me feel better about throwing the pitch. And when [catcher Jose Lobaton] or whoever calls it, I feel good about throwing it."
But Ross had thrown only two innings in the past two weeks prior to Saturday's win. He played catch nearly every day after the blister developed in order to stay sharp between outings. By the time he threw a bullpen session on Thursday afternoon, he was feeling no ill effects. And he was sharp from the start of the game. He did not allow a run until the fifth inning Saturday, snapping a 19 2/3-scoreless-innings streak that was the second longest in the Majors this season behind Jake Arrieta.
Still, the Nationals wanted to be cautious with Ross considering the amount of time he had off. Baker pulled him from the game after six innings and 93 pitches, although the young right-hander wanted to keep going.
"Obviously I wanted to stay in the game and keep pitching, try and go further in the game," Ross said. "But [Baker] was telling me afterwards: 'You were off for X amount of days. So we just need to save you and pull you,' and they went to the bullpen. That was fine with me."
Then Baker allowed Ross to bat for himself in the seventh, despite the fact that he would not pitch the bottom of the inning. It showed Baker's confidence in Ross' ability at the plate (he has reached base in half his plate appearances this season).
Jamal Collier covers the Nationals for MLB.com. Follow him on Twitter at @jamalcollier. This story was not subject to the approval of Major League Baseball or its clubs.