Padres putting the squeeze on opponents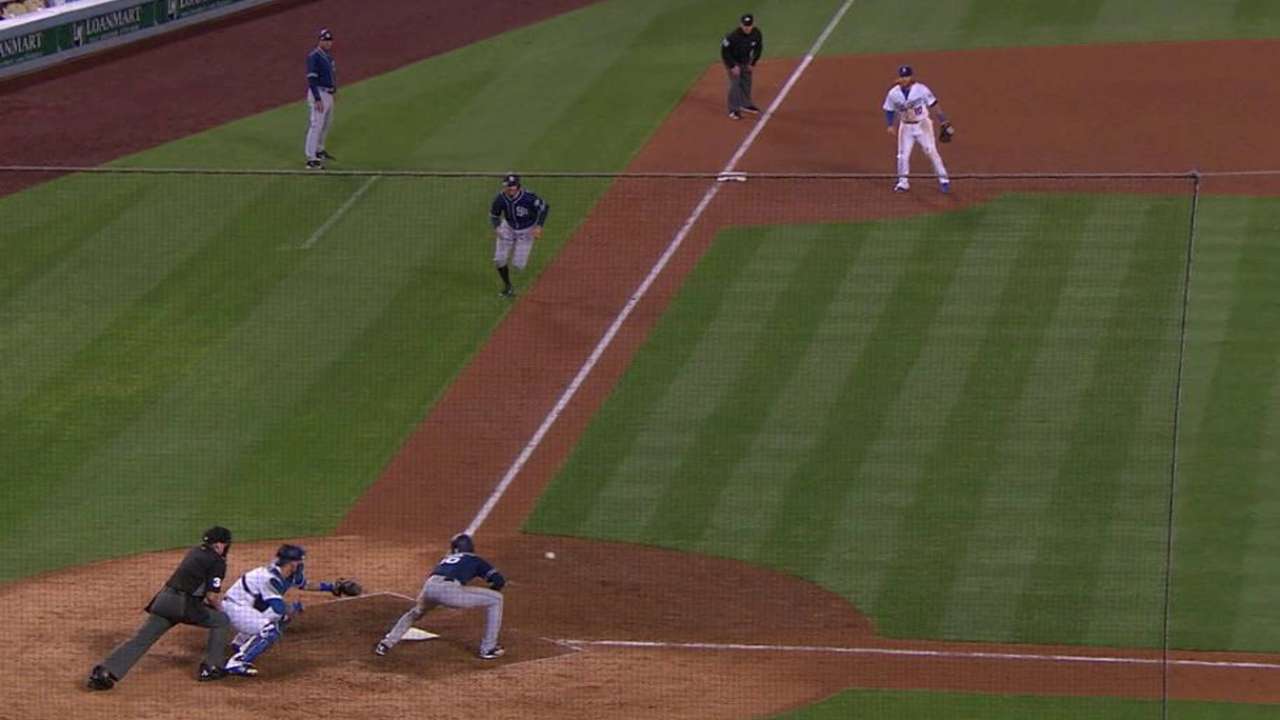 LOS ANGELES -- Adam Rosales broke for home, Travis Jankowski squared and dropped a beauty of a bunt up the third-base line, and the Padres had saddled Dodgers closer Kenley Jansen with his first run allowed this season. The Padres' fifth run in Friday night's 5-1 win wasn't conventional. But for these Padres, it wasn't necessarily out-of-the-ordinary either.
A month into the season, the Padres have plated two runs on bunts. Only the Cubs have more. On about a half-dozen occasions, the Padres have attempted squeeze bunts that went foul. (James Shields also bunted for a hit with a man on third, but that runner was forced to retreat.)
Most importantly, the Padres haven't botched any of their squeeze attempts. In fact, of the three squeeze bunts that were put in play, two resulted in singles.
"It's not a 100 percent proposition ever," Padres manager Andy Green said. "But our guys have bunted and executed, for the most part, very, very well. It helps you win tight games, and it helps you extend a lead in tight games."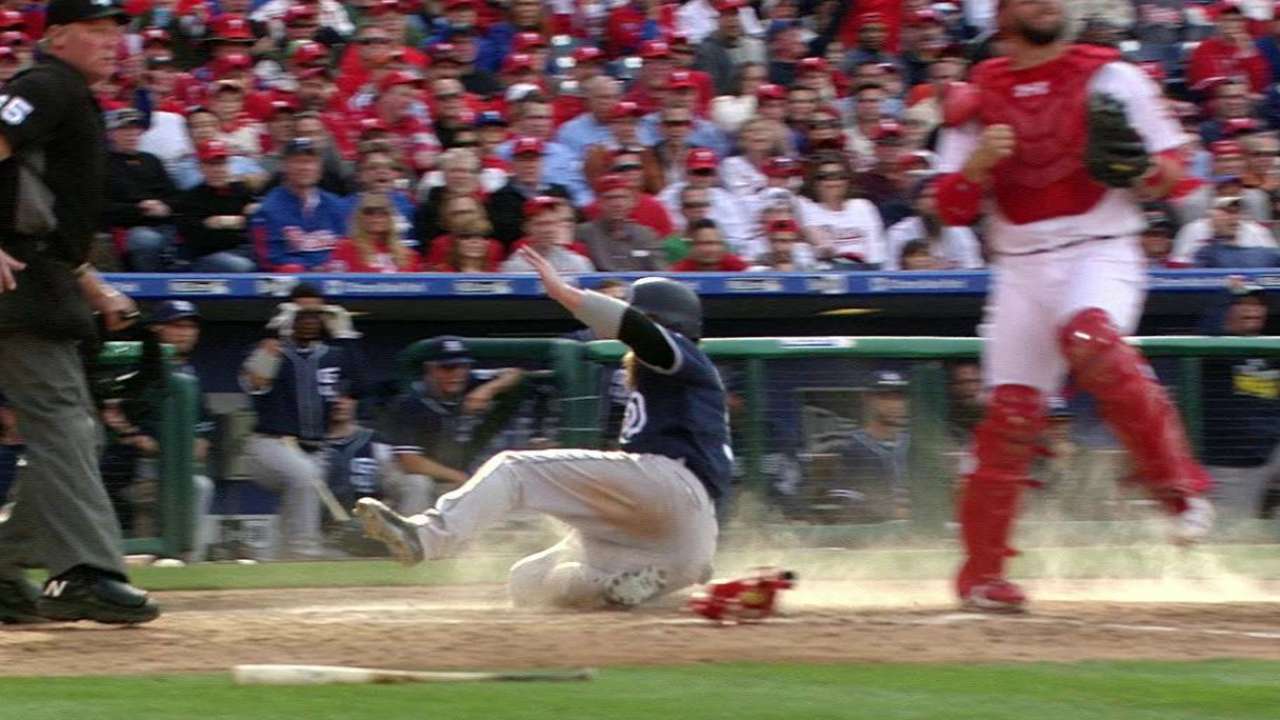 Said Jankowski: "That's just Andy's philosophy. It's kind of like playoff baseball every night, where that one run is huge."
Squeeze bunts are a tricky proposition, with the opposing pitcher instructed to come high-and-tight if he notices the hitter squaring too soon. Both Rosales and Jankowski spoke to the importance of keeping a "poker face."
The Padres spent loads of time practicing that exact scenario during Spring Training. Every day, first-base coach Tarrik Brock used a pitching machine with a quick release. Padres hitters couldn't square until he placed the ball into it.
"You have to make sure the timing of squaring around is perfect," Jankowski said. "A lot of it is about staying calm and just trusting the hard work that you've put in."
Green was quick to note that Jankowski's bunt on Friday allowed him to stay away from closer Fernando Rodney in the bottom of the ninth inning. Ultimately, it may not have mattered in terms of the result, but it could prove pivotal in the scope of the series.
On April 11, the Padres picked up a win as the result of a squeeze, beating the Phillies on Alexi Amarista's seventh-inning bunt.
"It's a tough play to defend," said Rosales. "That's what makes it so useful. If you do it right, it's huge, especially in a tight ballgame when there's a flamethrower on the mound or somebody with nasty stuff."
No timetable for Thornton
Left-handed reliever Matt Thornton joined the Padres on Saturday at Dodger Stadium, where he threw his third bullpen session in his recovery from left Achilles tendinitis. Thornton used his whole arsenal to throw 25 pitches and will likely have another bullpen at the beginning of next week.
"There's no real timeline," Thornton said. "It's about how [the Achilles] reacts. It still gets sore when we push it, but then it gets better."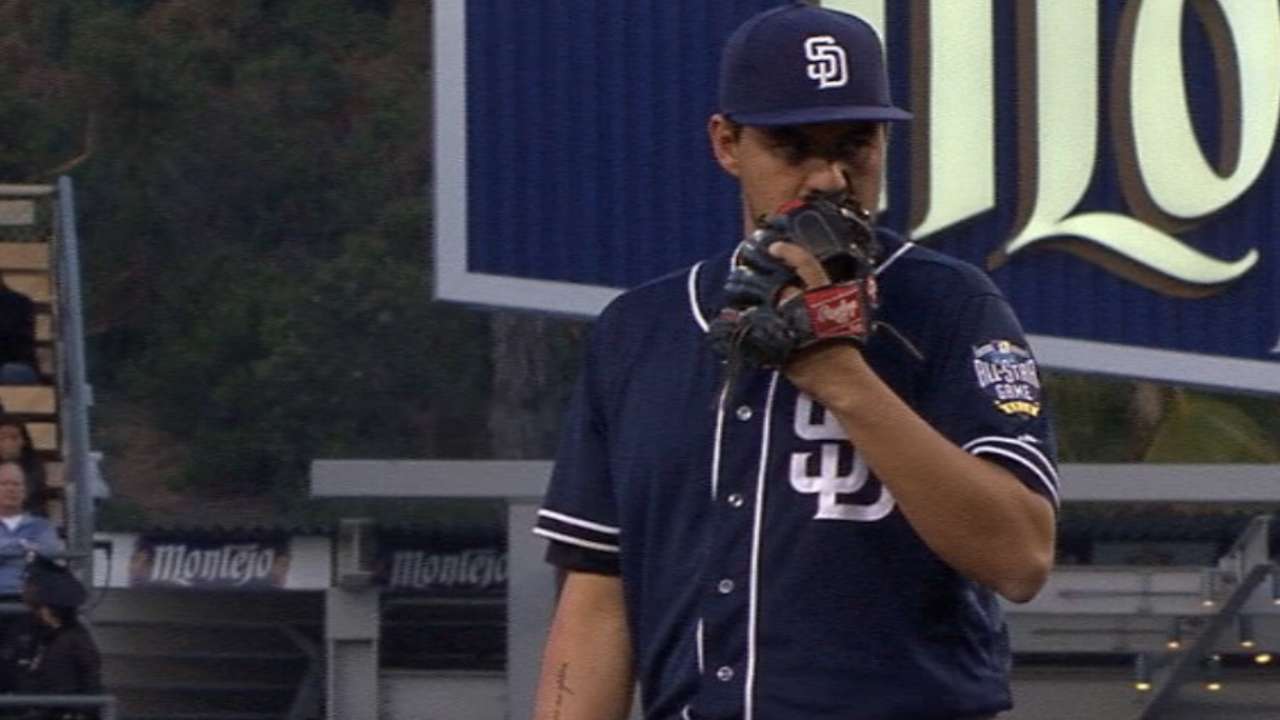 Vargas likely earns another start
After two very impressive outings to begin his career, rookie right-hander Cesar Vargas appears to have earned himself at least one more start -- which would come Thursday in the series opener vs. the Mets.
"I don't see anything changing right now," Green said of his rotation. "I can't guarantee that, but the guy's obviously throwing the ball as well as anybody we've had. We've been somewhat cautious with him, given the fact that the last time he started was [2013] and he wasn't really extended through Spring Training."
In all likelihood, that means right-hander Brandon Morrow, who is recovering from August shoulder surgery, will make at least one more start at either Double-A San Antonio or Triple-A El Paso.
AJ Cassavell covers the Padres for MLB.com. Follow him on Twitter @ajcassavell. This story was not subject to the approval of Major League Baseball or its clubs.