Dodgers tweak rotation so Maeda faces Jays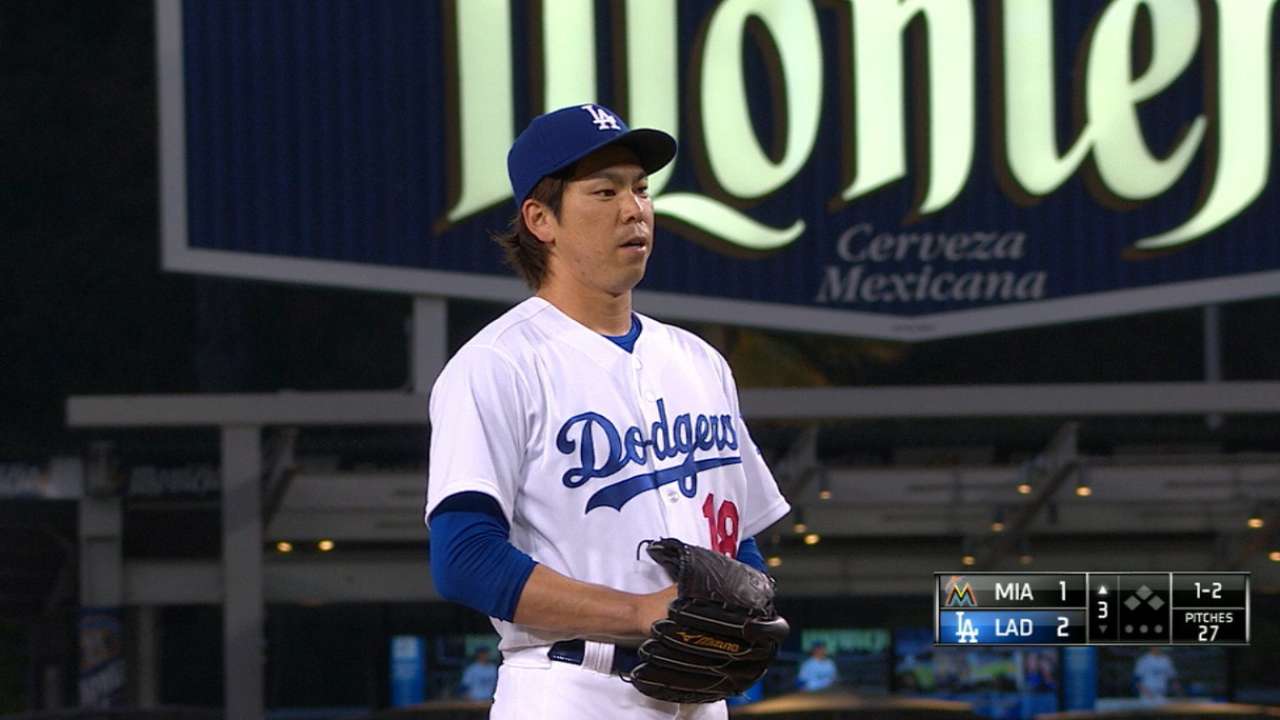 LOS ANGELES -- The Dodgers will use their two off-days in the coming week to shuffle their rotation, pushing Kenta Maeda's start from Wednesday in St. Petersburg to Friday in Toronto.
The move is more about playing the matchups than giving the right-hander extra rest, as he lines up much better against the Blue Jays' heavily right-handed lineup than the left-handed Alex Wood, who will have his start moved up to Wednesday against the Rays.
With a lineup that features righty sluggers Josh Donaldson, Jose Bautista, Troy Tulowitzki, and Edwin Encarnacion, manager Dave Roberts agreed with a description of the group as "right-handed monsters" and repeatedly emphasized Maeda matches up better with them. The seven days of rest will also be the same Maeda regularly received while pitching in Japan.
One move that Roberts does not plan to take is skipping Ross Stripling's start, as the 26-year-old will take his regular turn next Saturday. There was some question whether the team would skip his start since he is on an innings limit this season after receiving Tommy John surgery in 2014.
"Ross has done everything we had hoped for and more," Roberts said. "I like hearing that he wants to get better. You see him talking to Clayton [Kershaw] and the other veteran pitchers and trying to get better. That's fantastic. I expect him to do what he's been doing."
Roberts has been encouraged by the entire rotation, despite the team's five-game losing streak entering Saturday night's matchup with the Padres, saying that the starting pitching has remained strong.
"For me, you win with starting pitching," Roberts said. "I think the last turn of our guys, that's why I'm so optimistic still. We've lost five straight, but [Kershaw] had one bad inning, [Scott Kazmir] was encouraging, Stripling doing what he's doing, the way Wood threw last night, these are good things."
As far as updates on starting pitchers not in the present rotation, Brandon McCarthy and Hyun-Jin Ryu threw bullpen sessions on Saturday morning and had encouraging results.
McCarthy threw three sessions totaling 50-60 pitches, while Ryu was up twice, throwing a total of 40-45 pitches. Both pitchers used their full arsenal.
"Brandon was good today," Roberts said. "I saw him on Tuesday, and he was OK, but today the ball was coming out better for me. The two-seamer and the change were good. The breaking ball and repeating his mechanics, the arm strength building up -- today was a good day for Brandon. Watching Ryu earlier as well, similar good stuff."
The next step for both pitchers is another bullpen session, but Ryu is expected to throw to live hitters after his next session.
Jack Baer is a reporter for MLB.com based in Los Angeles. This story was not subject to the approval of Major League Baseball or its clubs.